Published on January 2nd, 2023
Last updated on January 24th, 2023
What Is The Best Flat Iron Temperature For Hair? Straight Hair Without Damage
Estimated reading time:
6
minutes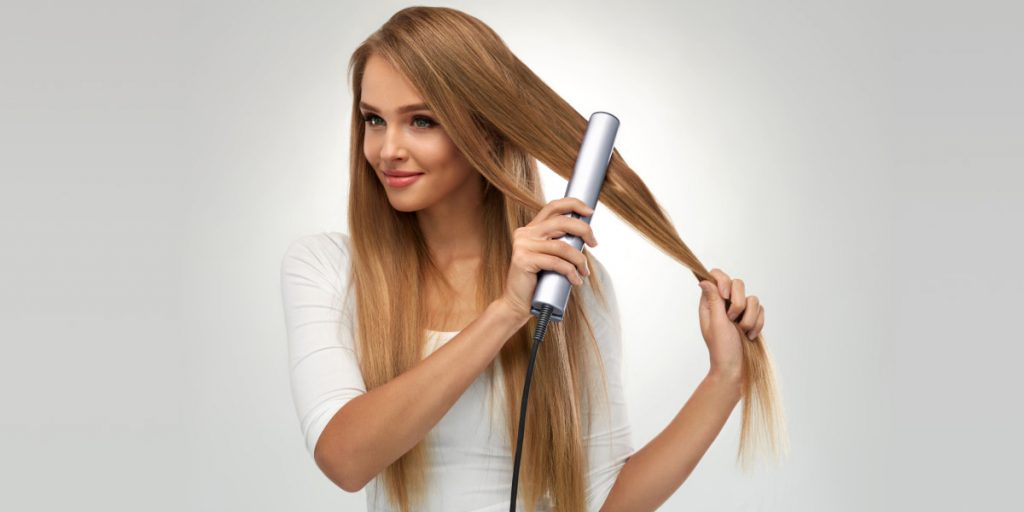 Appearance is the #1 priority for many people. The appearance of a person can tell a lot about them:
How wealthy a person is.
Whether they are hygienic.
Whether they have a sense of taste.
What habits they have etc.
One of the attributes of a person's appearance is hair. Well-groomed and beautiful locks make an excellent impression on others. This is especially true for girls. So, soft and silky curls are the number one goal for girls. But, this effect can be very difficult to achieve.
One useful tool for this is the flat iron. It helps to straighten locks and make great styling. But it can reach high temperatures. This can damage the structure of the curls and spoil their impression of them. Thus, it is crucial to understand the correct temperature for a hair straightener.
In our article, we will tell you about the best flat iron temperature for hair. We will also tell you about typical mistakes when using an iron. And besides we will also show you the products that you can use with the hair tool.
Best Flat Iron Temperature For Hair Straightener
Thick curls
For very thick hair, flat iron temperature for hair should be set to between 410-450°F. It is the most resistant and can withstand high temperatures. However, such locks require much time to smooth out and fit.
Textured locks
Textured curls can easily withstand heat. But for styling, it is recommended to use a comb and hair dryer as extra tools. As for the temperature, you can use the flat iron at 370-410°F.
Wavy hair
According to our guide, the flat iron temperature for wavy locks is 350-370°F.
But, in any case, it is recommended to start styling at the lowest temperature. And only then can you gradually increase the temperature and experiment with hair. Also, use a negative ion flat iron. This device locks in moisture and perfectly smoothes wavy curls.
Normal curls
Your locks are typical if you notice that they are not frail, do not break and are simple to maintain. You can use a hair straightener at high temps in this situation. High temperatures will not harm it since it will respond to them appropriately. But it's important to stay inside the 330°F min recommended range.
If all goes well, you can increase the temperature to 350 degrees. But before using the flat iron on such locks, a protective agent is still necessary.
Fragile locks
It is not as whimsical as synthetic curls. But thin and fragile locks cannot be exposed to high temperatures like normal hair. That is why thin curls need special care. The best temperature to flat iron hair to start is 250°F.
And if it goes best, you can raise the temperature of a hair flat iron to 300°F.
It is also worth noting that both fragile and synthetic strands need pre-treatment. To do this, apply a layer of protective gel to your locks.
Synthetic hair
This type needs the most protection and care. That is why you should use the lowest possible temperature of the curls straightener. You must be extremely careful when smoothing such strands and iron as slowly as possible.
Some models of irons offer a safe temperature for hair straighteners from 140°F. This mode is perfect for synthetic hair.
Tip! You should choose the medium temperature range if your hair type is in between. For example, if you have textured and wavy hair, you should use a temperature between 360-380°F.
What Are The Best Strands Products For Use With Flat Iron?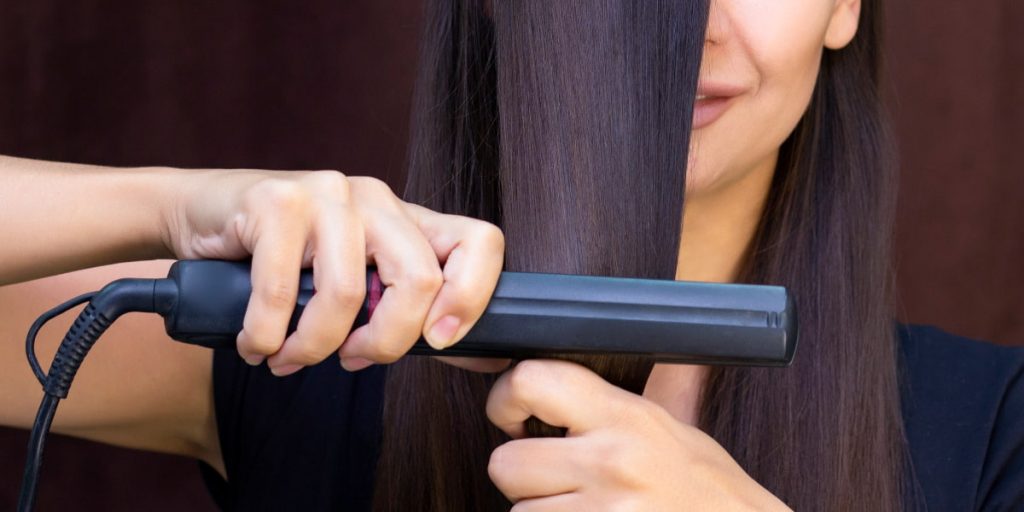 Using a flat iron is one of the best ways to achieve sleek, straight hair. But to ensure the best results, choosing the right products for use with your flat iron is important. It's essential to use hair products to protect your locks from high temperatures:
For best results, start out by using a heat protectant spray. Protecting your hair from the heat of the flat iron is important. So this is an important step whether you use a heated styling tool. A good heat protectant spray protects your hair from damage. And it also adds shine and softness.
If you have frizzy or unruly hair, it's important to choose the right leave-in conditioner. Look for one that is lightweight and designed to make hair more manageable and easier to style. After using the leave-in conditioner, you can then move on to a styling product like mousse or serum. These products will help to add shine and smooth down any frizz.
For particularly dry or damaged hair, deep conditioning is great before styling. This will help to nourish the hair and add moisture, which is essential for a smooth finish when using a flat iron.
Finally, finish off your look with a hairspray or finishing spray. This will help to lock in the style, adding shine and hold. Choose one that also helps to protect your hair from further heat damage.
The best hair products for use with a flat iron help to protect your hair from heat damage. And also they add shine and softness. It's important to choose lightweight and moisturizing products. They will help to make the task of styling your hair much easier.
Mistakes You Make When Using Flat Iron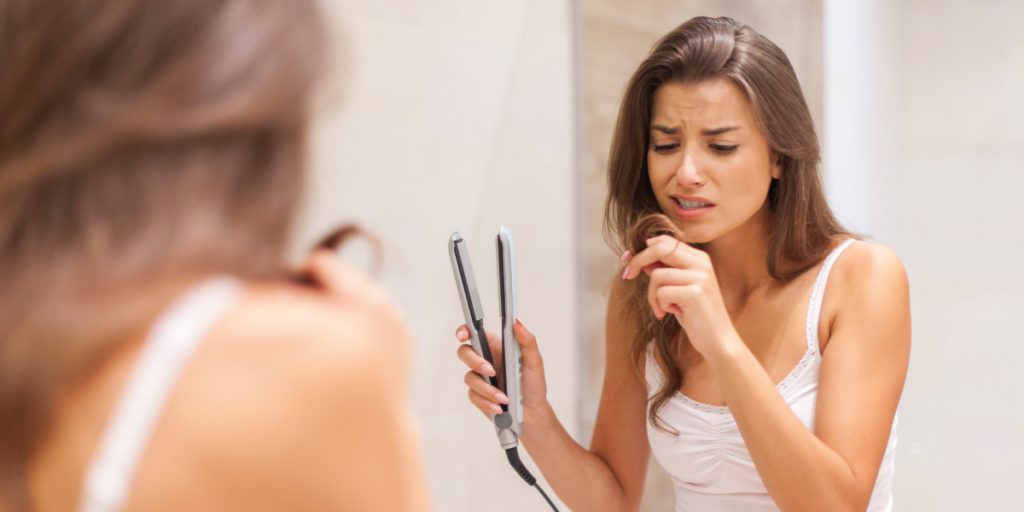 Experimenting with the temperature of flat iron can be interesting. But it's also important to be aware of the most common mistakes when using one:
The number one mistake made when using a flat iron is using it at high temperatures that are too high for your hair type. This can lead to dry and brittle strands of hair. It looks unappealing and can cause breakage, split ends, and damage to the hair cuticles.
Another mistake people make with flat irons is not prepping their hair. It's important to use a heat-protectant product before use. It is vital for keeping the style looking good. Also, it's important to protect against excessive heat damage.
Last but not least, it's easy to forget how hot these tools can get. People must always be attentive when handling or placing them on surfaces. It will help prevent potential burns!
Knowing the mistakes while using flat irons will help ensure that you have beautiful tresses that stay healthy.
Summary
As a result of our flat iron temperature guide, using a flat iron can be a fairly simple procedure. But, many people can make basic mistakes like:
No use of safe temperature for hair straightener.
Lack of hair protection.
Carelessness when using hot appliances.
By taking these precautions into account, you can achieve excellent results while using a curling iron for your curls.
FAQ
How Hot Does A Flat Iron Get?
Flat irons typically have adjustable heat settings, ranging from 370°F to 450°F. The ideal temperature for straightening hair without damaging it is between 300-350°F. Don't exceed this temperature, as higher temperatures can cause irreversible damage to the cuticle of your hair.
What Is The Use Of Flat Iron?
Flat irons are mainly used to straighten, curl or flip the hair. You can use them to add volume and texture to your hair.
What Products Should I Use Before Flat Ironing?
Before straightening your hair, you should use a heat protectant. Heat protectants help prevent damage from the hot flat iron plates. Additionally, you may want to use a small amount of styling product or argan oil. After you finish with the flat iron, they keep your hair looking smooth and shiny.
Does Flat Iron Affect Hair Quality?
Yes, using too high of an iron temperature can cause significant damage to your hair over time. Make sure you use the lowest possible heat setting on your flat iron for the best results.