Published on November 6th, 2022
Last updated on January 24th, 2023
How To Stop Hair Breakage And Shedding? 9 Efficient Ways
Estimated reading time:
11
minutes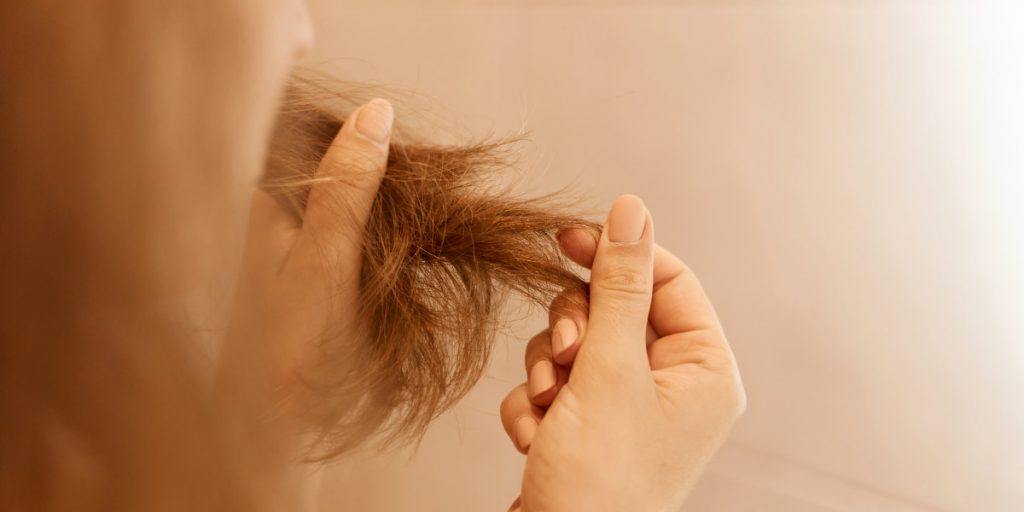 The problem of dry hair is familiar to millions of people worldwide – dull color, dandruff, and, most importantly, hair breakage – dry hair can't be mistaken for anything else. When hair breaks, it is not a congenital problem; it's an acquired one, and any stylist will tell you that. Dry air, poor nutrition, lack of sleep, or aggressive styling? How does brittle hair differ from normal hair? And most importantly, how can you stop hair breakage and shedding, giving your hair back its strength and power? It is possible to improve the situation, to give strands of elasticity and a healthy shine at home without resorting to costly salon procedures.
Reading our tips in this article, you can keep your hair healthy and voluminous.
What Is Hair Breakage?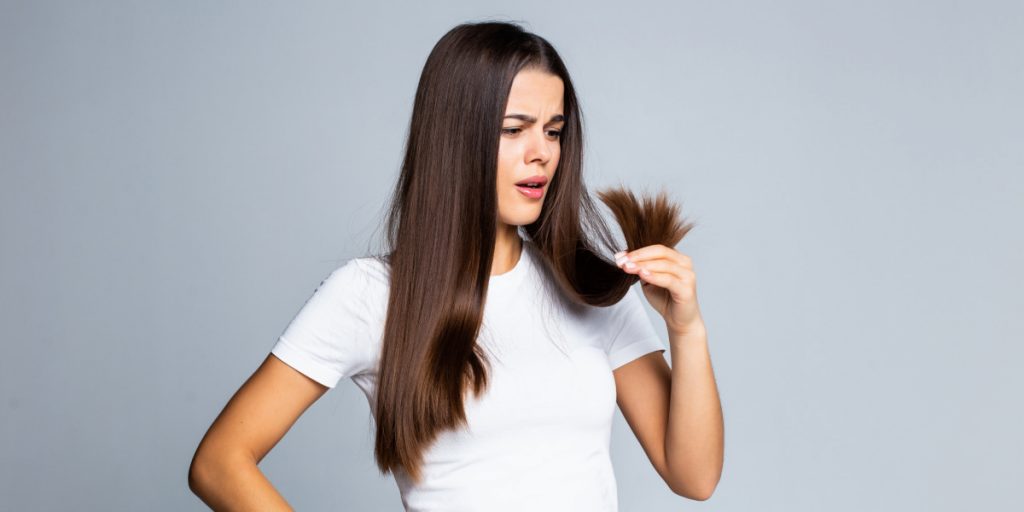 Hair breakage weakens the fibers, leading to hair brittleness and, consequently, split ends. Hair loses its elasticity, is thinner at the tips, and breaks more easily. It looks dull, lifeless, and unhealthy. You see hair falling out in shreds when you brush or style them. It becomes challenging to style, tangled, and difficult to untangle without causing pain, but the hair keeps breaking.
Hair breakage is often confused with hair loss – two different problems:
Hair loss occurs when the hair follicle sheds the hair shaft – a natural process that happens to everyone;
Hair breakage occurs when the hair shaft breaks before it falls out.
The problem of hair breakage can affect anyone-whether you have curly hair, straight hair, or anything in between. Even the healthiest hair can suffer from breakage if not properly cared for.
How To Prevent Hair Breakage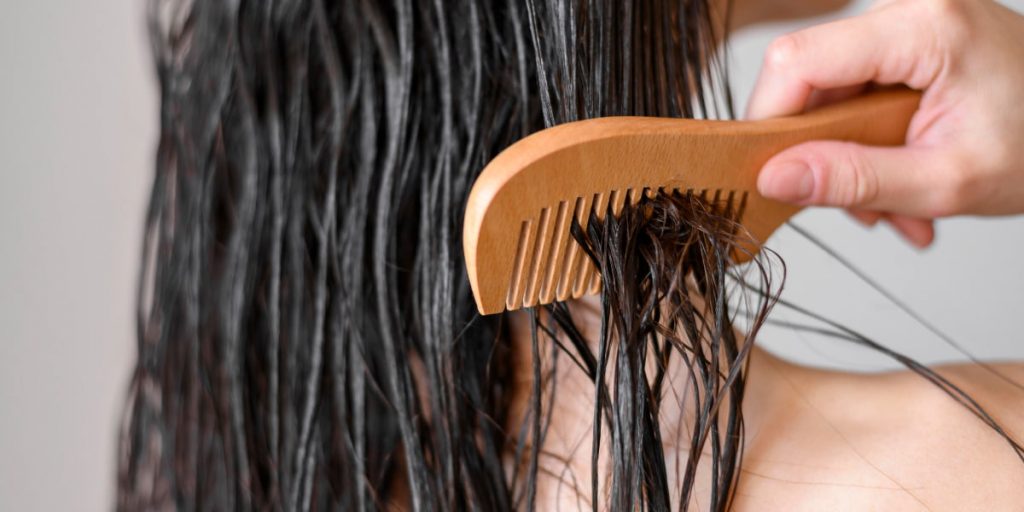 Fortunately, there are a few things you can do to fix hair brittleness and prevent future hair damage:
If hair breakage has already occurred and you are looking for ways to stop hair breakage instantly, look into unique hair care products. These hair care products will help correct hair breakage and give your hair a healthier look. For example, look for hair balms or oils that nourish and moisturize your hair;
Also, be sure to keep an eye on your hair care regimen. If you frequently use hot styling appliances or do complicated and tight hairstyles, these habits can lead to hair breakage. To prevent hair breakage, try to let your hair air dry whenever possible and avoid using hot styling products. Instead, choose gentle hairstyles that will not strain your hair;
Washing your hair too often can strip it of its natural oils, leading to dryness and breakage. Instead of washing your hair daily, try doing it every two or three days. It will help keep your hair healthy and prevent breakage;
Use a deep conditioner as it helps moisturize your hair and prevent breakage. Of course, it can not instantly stop hair breakage, but it will help prevent it from breaking. Look for a conditioner containing protein that can help repair damaged hair and to avoid breakage;
When you brush your hair, use a wide-toothed comb and take your time. Be especially careful when your hair is wet, as it is more prone to breakage;
Protect your hair from the sun. The sun can damage your hair, making it dry and brittle. If you're going to be outside for a long time, be sure to wear a hat to protect your hair from one of the reasons for hair breakage;
Avoid using harsh chemicals. Chemicals can damage your hair and lead to hair breakage. If you dye your hair, use a gentle, semi-permanent hair dye. Also, avoid using aggressive hair care products, such as those containing alcohol. Instead, choose hair care products designed for sensitive hair.
Hair Brittleness Treatment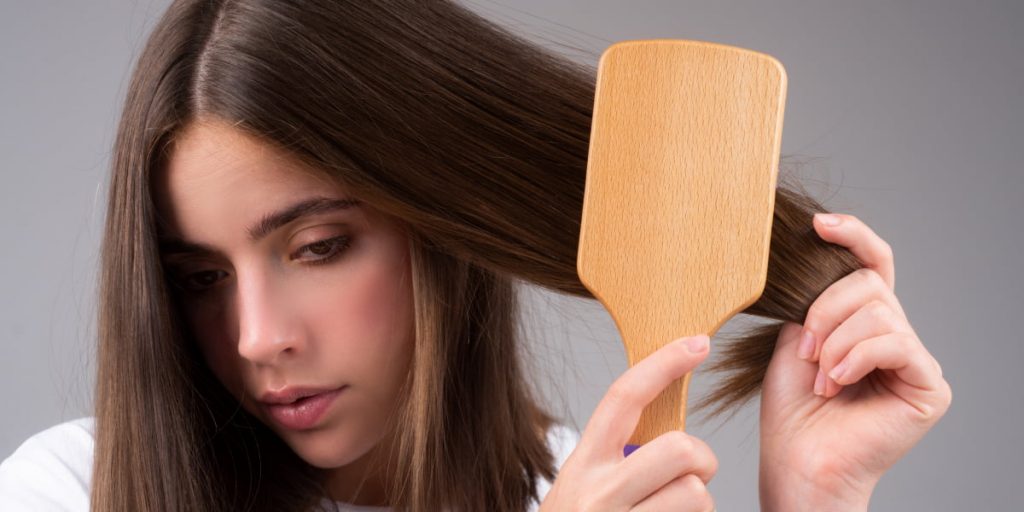 There are several treatments you can use to stop hair breakage:
1. Use A Protein Treatment
Protein is an essential nutrient for healthy hair. Lack of protein in the diet can cause hair brittleness. Protein treatments can help repair damaged hair and prevent future damage. Look for a protein product that contains keratin, collagen, or other beneficial ingredients for hair.
2. Use A Deep Conditioner
Deep conditioners are designed to moisturize and nourish your hair. Be sure to use a conditioner that works for your hair type, but if your hair breaks 85% with 100%, it is a dry hair type.
3. Use A Styling Conditioner
Styling conditioners are a little different than the conditioner you apply after shampooing. Styling conditioners are used as a spray and applied just before you style your hair. They help moisturize and protect your hair from damage. They can also help prevent hair breakage.
4. Use A Hair Mask
Hair masks are designed to nourish and condition hair deeply. They help repair damage. A mask is applied between the shampoo and the conditioner. The mask penetrates the hair shaft and nourishes the hair from the inside, making it more flexible, and hair breaks less.
5. Trim Hair
Trimming will help get rid of damaged hair and prevent further breakage. If your hair is particularly damaged, you may need a shorter trim.
Salon Treatments For Brittle Hair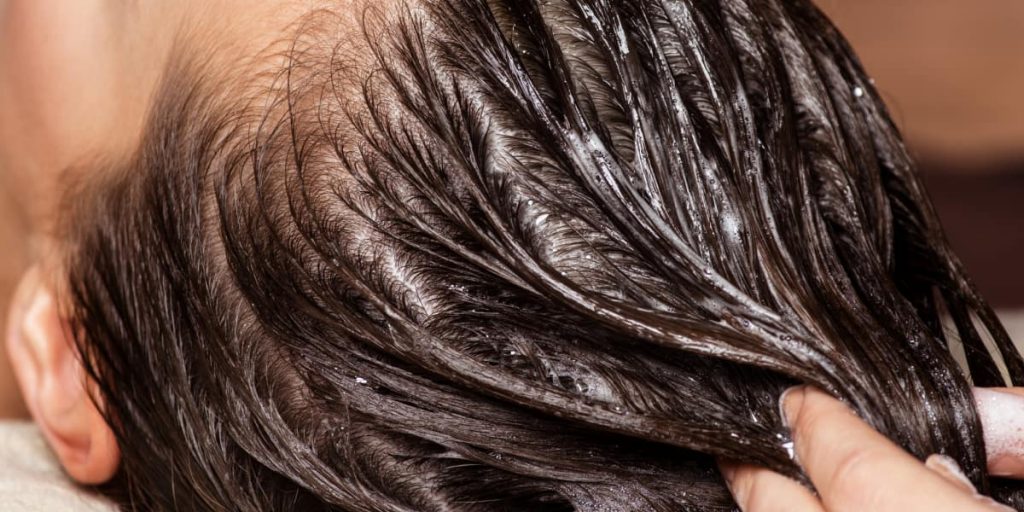 If you dream of stopping hair breakage instantly, there is good news for you, it is possible to do this with one method. But, this method can come out quite expensive because it consists of a trip to the salon and the performance of salon procedures.
If your hair keeps breaking, I recommend performing one of these procedures. But before trying any hair treatment, be sure to consult with your stylist in the salon. They can help you choose the correct hair procedures for your hair type. So, let's take a look at some hair salon treatments that can help prevent hair breakage:
1. Happiness For The Hair
The treatment is comprehensive care for the hair, aimed at restoring the structure of the strands. It is recommended for porous and dry curls that break. For maximum effect, experts recommend undergoing a therapeutic course of 3-7 sessions.
After a thorough cleansing, serums, masks, and sprays are applied to the locks in stages, which help to strengthen and revitalize them. The advantage of this procedure for the hair is that each care product is chosen by a specialist taking into account the current state of your locks and their type. As a result, you get beautiful, shiny, and strong hair.
2. Botox For The Hair
Many people have heard that Botox is used in cosmetology to fight wrinkles. Specialists also decided to create Botox for hair, which fills the hair, instantly stopping hair breakage and making the strands incredibly soft and perfectly smooth.
The procedure is as follows: first, the hair is thoroughly washed, and then a professional product is applied. To get the desired effect, the hair is covered with a polyethylene cap and heated for 15 minutes.
Botox for hair is recommended for damaged, dull, brittle, and unruly curls. As a result, they become healthier and more robust, acquiring a healthy look.
3. Lamination
The essence of the procedure is to apply a particular composition to the hair, including biologically active elements and vitamins, after which each strand is "sealed" with a specific agent.
After this service, your hair will be smooth and manageable. They will get a healthy shine and silkiness. In addition, it is possible to increase hair volume by 15% with lamination, a cherished dream for many women.
4. Keratin Repair
If your hair is breaking, you can have a keratin repair procedure. The procedure is slightly similar to lamination and Botox for hair but has its features.
Curls are washed, and a professional product consisting of minerals, oils, protein, natural extracts, and 90% keratin is applied to them, which prevents hair breakage. As a result, the hair becomes manageable and smooth, gaining a beautiful shine. The effect lasts up to 4 months.
Reasons For Hair Breakage
Do you think you're doing everything right to prevent hair breakage? Maybe you shampoo too often, use the wrong products, or even brush your hair the wrong way. Many factors can lead to hair breakage. Some are within your control, while others are not.
Check out the common and unobvious causes of hair breakage and see if you're making any of these mistakes. Armed with this information, you can start taking steps to better care of your hair and reduce the likelihood of hair breakage.
1. UV Radiation
The damaging effects of ultraviolet rays have a negative impact not only on the skin but also on the condition of the hair. Therefore, although many people still refuse to wear a hat to create a sun-kissed effect on their curls, you should by no means do so.
UVA and UVB rays and heat dry out the hair from the inside, making it more brittle and fragile and reducing the amount of pigment on which the color's brightness and saturation, which can cause hair breakage. That's why the first hot days of spring mean that you can wear light dresses and protect your hair from direct sunlight.
2. Incorrect Use Of Thermal Implements
Although today's manufacturers of stylers, hair dryers, irons, and other styling appliances are competing to create safer devices, it can hardly be said that they do not reason for hair breakage.
In this regard, even if you are in a hurry, avoid too hot temperature modes (200-240 degrees) in favor of 180-190 degrees on the irons and stylers, as well as choose a cold mode when using a hair dryer to avoid excessive dryness and breakage of curls. Indeed, it will slightly increase the time to dry wet hair or create a style, but it will help prevent hair breakage and benefit the hair.
In addition, pay attention to the ionization option and the coating of the devices: titanium, nano-ceramics, or tourmaline-coated ceramics provide a more gentle effect due to excellent gliding.
3. Use Of Accessories
Even though elastic bands from the 90s and large hairpins with beads are at the height of fashion today, it is important to wear both of them competently to avoid harming your hair.
Regularly pulled into a tight ponytail decorated with heavy hairpins, the hair loses strength, breaks, and eventually falls out. Therefore, it is not worth too strenuous to overdress the hair with all the hair accessories from the arsenal on the dressing table. All is good in moderation.
4. Bad Nutrition
Pay attention to what you eat to make your strands more supple, shiny, and strong, and prevent hair breakage. Nutrition can make a huge difference not only to the quality of your hair but also to the quality of your nails and skin.
Include dark green vegetables (broccoli, spinach, cucumbers, chard), uncooked nuts, avocados, chickpeas, lentils, oily sea fish, oysters, turkey, eggs, and dairy products in your daily diet. These foods are rich in nutrients and vitamins and, therefore, will be good for hair that is breaking.
5. Gastrointestinal Problems
A well-functioning gastrointestinal tract ensures that your diet's vitamins, minerals, bioflavonoids, and other nutrients provide stable vitality and healthy hair.
Fact: You can eat right and take spirulina, omega, and biotin capsules but still suffer from vitamin deficiencies, one sign of which is hair brittleness and inability to gain length. In this regard, it is essential to regularly do a lab check-up, which will tell the whole truth about the body's condition.
6. Daily Care
Everyday daily hair rituals, to which you got so used that long ago stopped paying attention to the technique of execution, can also cause hair breakage. For example, curling and wringing curls after washing is forbidden. The right solution is to gently blot the strands with a dry towel without traumatizing them. In addition, in case of breakage hair, you should abandon metal combs in favor of brushes made of natural bristles or wood products.
Bottom Line
So if your hair is breaking, I recommend you change your hair care routine and use some of the hair treatments described above. Be sure to consult your stylist to find which professional hair procedures and hair care products are best for your hair type. Also, don't forget to pay attention to your diet and eat foods rich in vitamins and minerals to maintain healthy hair.
FAQ
What Is Hair Breakage?
Hair breakage is when your hair strands become weak and start to break. But don't worry; there are ways to prevent hair breakage and make your hair healthy again!
What Causes Hair To Break?
The most common causes of hair breakage are heat damage, over-processing, and improper hair care. But there are other causes, such as a lack of vitamins and minerals or improper nutrition.
How To Stop Hair Breakage And Shedding?
If your hair is breaking, we recommend changing your hair care routine and using some of the hair treatments. Be sure to consult your stylist to determine which professional hair procedures and hair care products are best for your hair type. Also, don't forget to pay attention to your diet and eat foods rich in vitamins and minerals to maintain healthy hair.