Published on August 20th, 2022
Last updated on January 25th, 2023
Best Herbs For Hair Growth: Top 10 Herbs
Estimated reading time:
12
minutes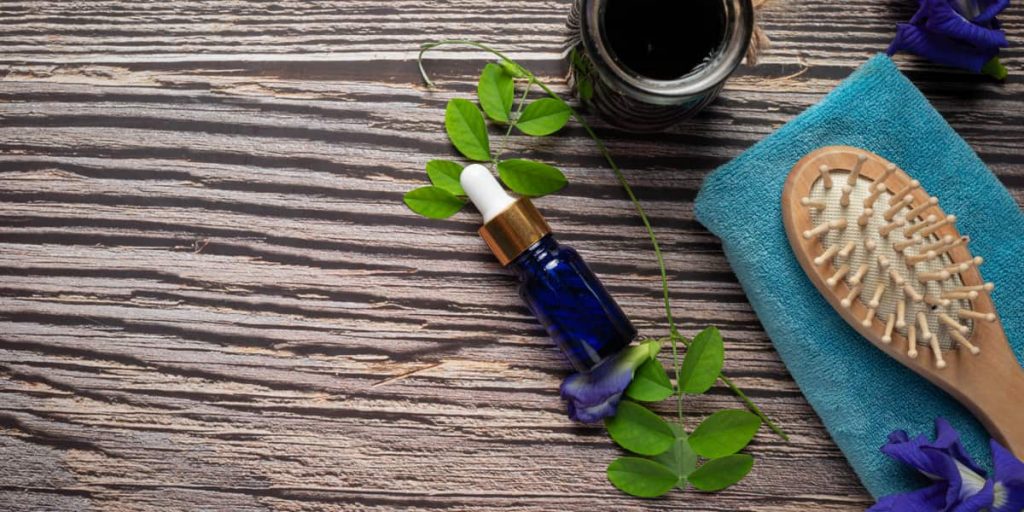 Cosmetology is always moving forward, and we don't even notice how quickly the release of products replaces a new one. Now there are many options for shampoos and hair care with various components. Specialists can choose masks, conditioners, and appropriate shampoos for your hair type. Their composition can include multiple additives. However, folk methods with the best herbs for hair growth are no worse than modern ones.
Since ancient times, people have believed that plants have healing properties that can fight our health problems. One of these problems is hair loss, its cessation of growth, loss of its healthy appearance, and so on. And to avoid them, natural herbs for hair growth will help you.
Genuinely, herbs are sources of nutrients and can bring many benefits. And the main thing is that they do not contain chemical components and can not harm hair. On the contrary, herbs help to grow hair faster and fill them with vitamins. Therefore, many specialists advise using them.
List Of The Best Herbs For Hair Growth
Herbs have hundreds of species, so it is not easy to list them. You can mainly use these medicinal plants as infusions, broths, alcohol tinctures, and extracts.
To make an infusion for hair health, you must choose certain herbs. So, I have prepared the list of most traditional natural herbs for hair growth:
| | |
| --- | --- |
| Nettle | It is used to fight hair loss and dandruff, improve their growth and restore brittle and damaged hair. |
| Calendula | It accelerates wound healing, nourishes roots, makes hair soft, and moisturizes. |
| Peppermint | It refreshes the skin of the head, cleans dandruff, and stimulates hair growth. |
| Chamomile | It gives hair a natural shine and a beautiful golden hue and takes care of oily strands. |
| Aloe vera | It eliminates excessive greasiness and restores brittle and split hair. |
These herbs can be used not only separately. You can combine them, but you need to know which ones. First, decide on your hair type and figure out your problem. In the next section, different herbs have different properties, and we will analyze the best herbs for hair growth in more detail. We will find out why they are helpful and what impact they have.
Likely Top 10 Best Herbs For Hair Growth And Thickness
Do you have problems with your hair? Want to improve their condition and make them more attractive? I advise you to use tinctures from different herbs.
Herbs are a good hair remedy because they are rich in minerals, vitamins, and organic acids. And if you have tried many hair products but none have solved your problem, then try folk methods with herbs. They have countless options as there are so many plants.
So, to make it easier for you to decide on their choice, I have prepared the best herbs for hair growth with an excellent effect.
1. Chamomile As One Of The Best Herbs For Hair Growth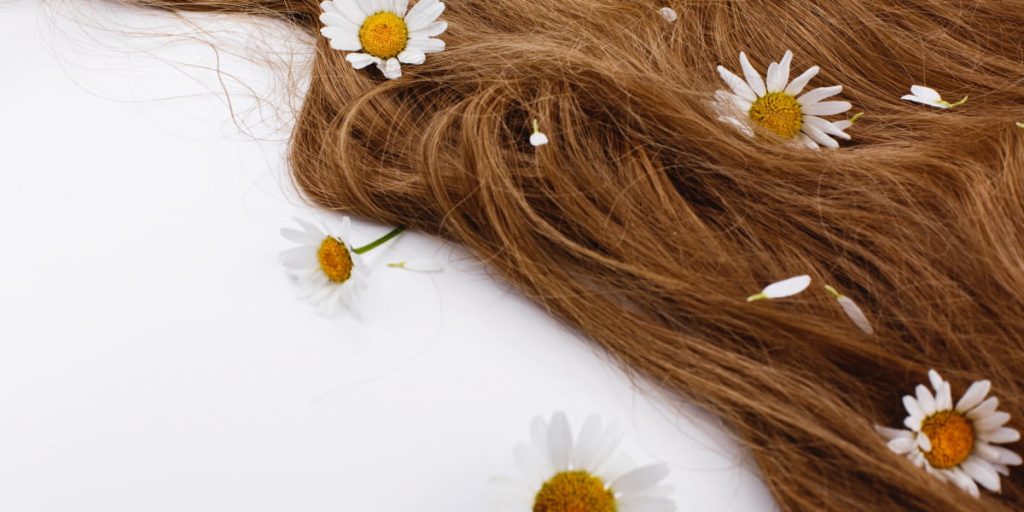 Chamomile is often used for medicinal purposes as it contains many useful substances. It contains potassium, calcium, magnesium, and iron, which restore follicles and accelerate hair growth. That is why chamomile tinctures are traditionally used to improve hair health.
How to make it?
take three spoons of dry chamomile;
pour 0.5 liters of water;
bring to a boil and let it boil for another 10 minutes;
keep in a warm place for 15-20 minutes.
After washing your hair, rinse it with this infusion. You can do this procedure after every hair washing.
Benefits of chamomile:
actively fights against the oily scalp;
gives natural shine and promotes hair growth;
reduces hair loss and strengthens it;
often used as an anti-dandruff treatment;
helps to eliminate irritation and inflammation of the scalp.
2. Nettle Is Here To Help Restore Your Hair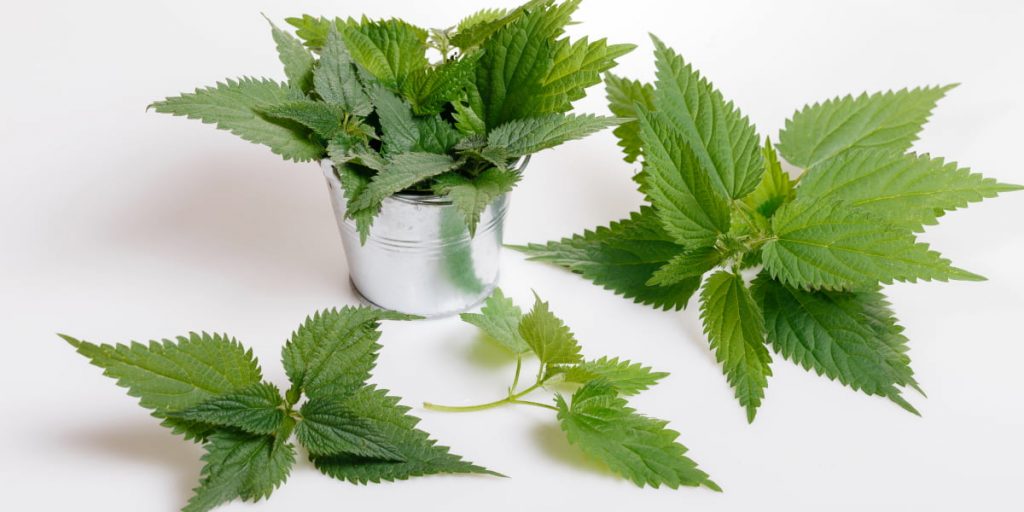 It is one of the best herbs for hair growth and thickness. Before using nettle tincture, you should find out if you are not allergic to it. To do this, apply a drop of infusion to your hand and check whether there are any side effects. Nettle is often added to cosmetic products such as shampoos, creams, and conditioners. It contains vitamin C, chlorophyll, and carotene that promote hair growth and improve blood circulation.
How to make it?
take four tablespoons of fresh or pharmacy nettle;
pour 400 ml of boiling water;
boil for 15 minutes;
let it infuse for 1-2 hours.
When you wash your hair with shampoo, rub this infusion into the roots of your hair. It is not necessary to wash it off. Do this procedure after every head wash for a month, and then take a month off.
Benefits of nettle:
restores brittle and damaged hair;
stimulates hair growth and thickness;
prevents rapid contamination of hair;
makes hair smooth;
gives volume after washing.
3. Calendula As An Effective Herb For Hair Growth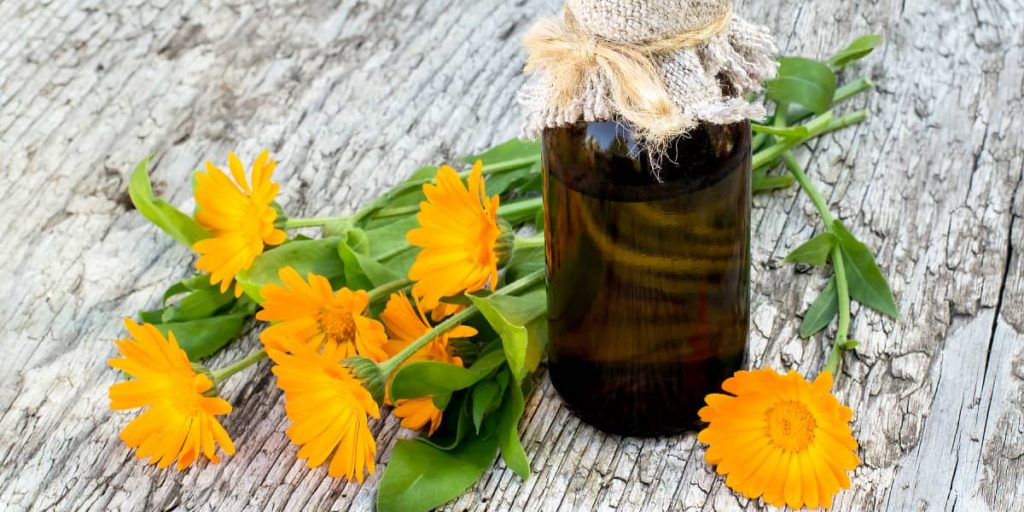 Calendula is considered an effective natural hair growth herb. Using it regularly, you can fight hair problems in a short time. Also, it can be used even simply for prevention. Calendula infusion suits any hair type and can bring it back to life. The main thing is to do the solution correctly.
How to make it?
take three tablespoons of dry calendula;
pour one liter of water;
add a couple of drops of lemon juice;
boil for 25 minutes, stirring;
let cool to room temperature.
Rinse the hair with this after washing and rubbing it into the scalp.
Such a plant is good for hair growth, but you must be careful. Calendula is not always suitable for sensitive skin, so check whether you do not have an allergy.
Benefits of calendula:
helps with inflammatory processes of the scalp;
strengthens hair roots and removes brittleness;
accelerates hair growth and restores it;
fights against the dry scalp.
4. Aloe Vera As The Main Component For Hair Growth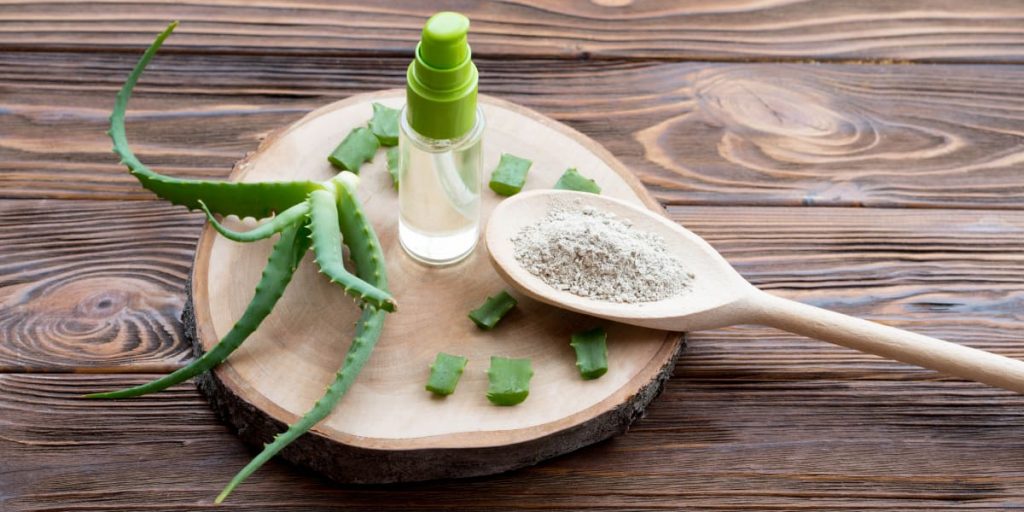 Almost every home has a flowerpot of aloe vera, but few people know how useful it is. This plant is widely used in cosmetology and has effective results for hair growth. Aloe juice affects the length of the hair and the scalp. Also, aloe acts as a strengthening and nourishing agent. So, I recommend using it for health purposes for hair.
How to make it?
one teaspoon of aloe vera juice;
one ampoule of nicotinic acid;
mix it;
apply the resulting mixture to clean, damp hair.
Doing this 2-3 times a week is necessary, and you will see the result after a month. Nicotinic acid fights hair loss, and aloe restores it. Therefore, such a mixture will promote hair growth and improve its appearance.
Benefits of aloe vera:
removes dandruff;
relieves itching;
normalizes the secretion of sebum;
solves problems with hair loss;
strengthens follicles.
5. Lavender Is Not Only Beautiful But Useful For Your Hair
Lavender is not only useful but also has a pleasant appearance. This wonderful herb has a soothing effect and helps to grow hair. Even a simple tincture of lavender alone can relieve your hair of stress. But if you mix lavender with coconut oil, it will work even better. Because mixing other products with lavender only enhances its effect.
How to make it?
use five drops of lavender oil;
one tablespoon of ground red pepper;
four tablespoons of honey;
mix the mixture and apply to the entire length of the hair;
Keep the tincture on your hair for no more than half an hour. Then wash your head with shampoo and rinse with warm water.
Benefits of lavender:
giving shine to thin and lifeless hair;
noticeable growth and reduction of hair loss;
head fat reduction;
providing shine and elasticity.
6. Rosemary As Another Option For Fast Hair Growth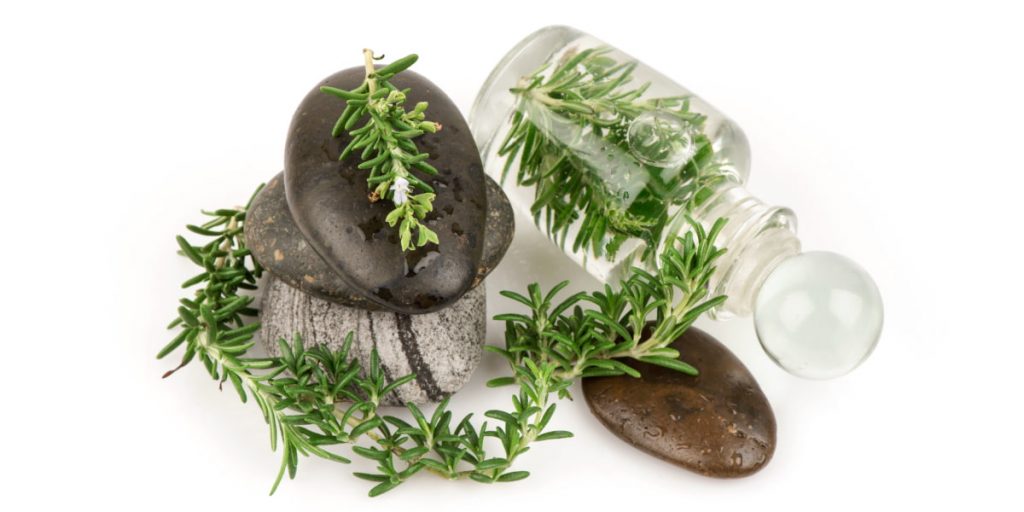 Rosemary has been used for many purposes since ancient times. It contains a lot of vitamins and minerals that have healing properties. Regular use of this plant will give you good hair growth results. Most often, rosemary is used for dry hair and to improve its growth. But it also helps fight oily hair.
How to make it?
put 0.5 liters of water on the fire;
after boiling, put two tablespoons of dried rosemary;
add two tablespoons of apple cider vinegar;
wait for it to infuse for 30 minutes.
Rinse your hair with it after washing it. Twice a week will be enough.
Benefits of rosemary:
strengthens hair roots;
prevents premature graying of hair;
fights dandruff;
promotes rapid hair restoration.
7. Peppermint To Calm Your Hair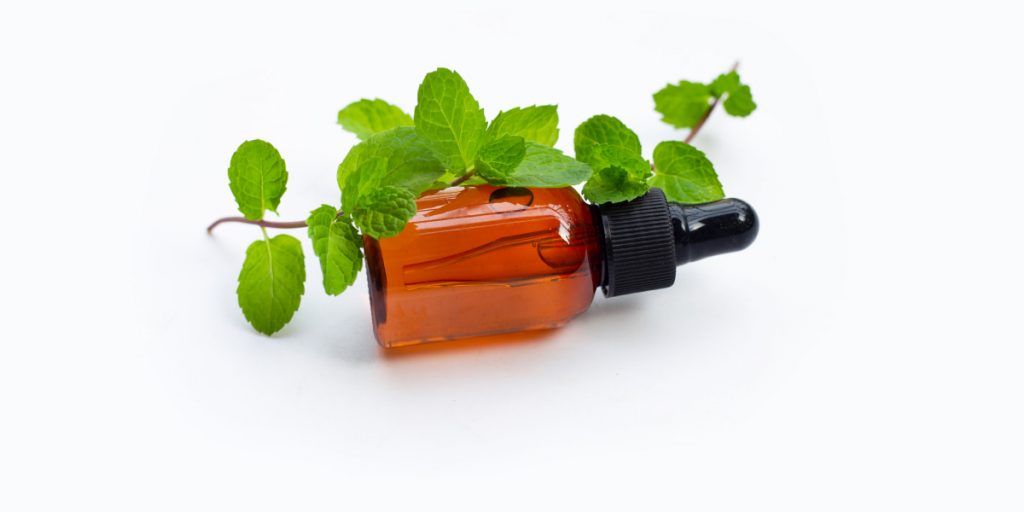 Peppermint has a strong calming effect. It has a perfect impact on the health of the scalp. Improves blood circulation, makes hair thick, and has a cooling effect. Peppermint is best for those who have thin and brittle hair. Therefore, it is the best herb for hair growth and thickness.
How to make it?
put 2-3 tablespoons of peppermint;
one liter of water;
if desired, a couple of drops of lavender oil;
pour boiling water and wait for it to infuse for 30 minutes.
Use the infusion when the hair is washed and wet. However, do not use this tincture all the time. Sometimes the components need to be changed for a better effect.
Benefits of peppermint:
gives incredible shine to hair;
hair growth activity appears;
improvement of blood circulation in the scalp;
hair becomes thicker and stronger.
8. Hibiscus As The Perfect Herb To Increase Hair Thickness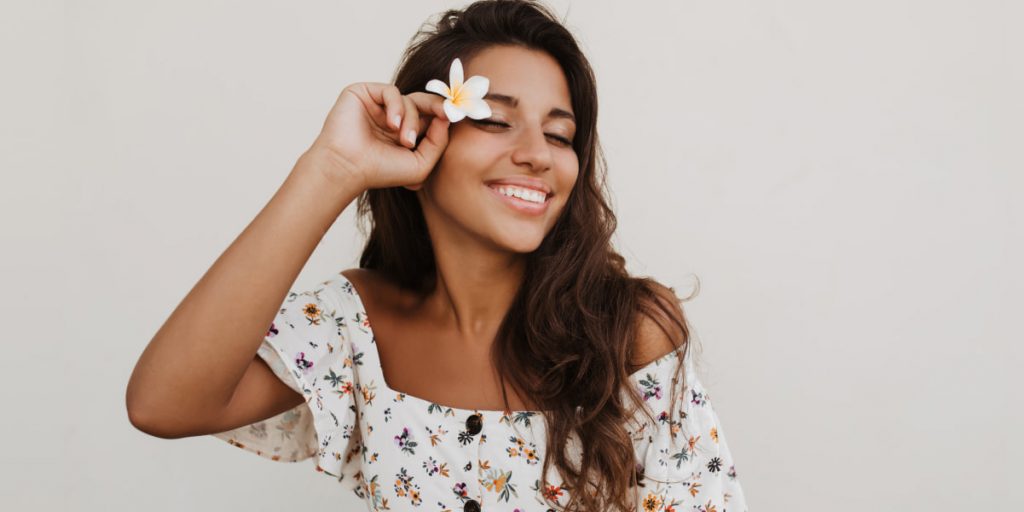 If you want to increase the thickness of your hair, hibiscus will help you. It raises the level of collagen that nourishes the hair. This plant is a source of healing components that are used not only for hair growth. Hibiscus can also be used to treat the scalp. For example, some inflammation or dandruff.
How to make it?
take a couple of hibiscus flowers;
pour 150 ml of water;
bring to a boil and let cool.
This mixture should be rubbed into the roots of the hair in circular motions. Next, put on a cap and wait 30 minutes until everything is absorbed. Then wash it off with warm water. One such procedure per week will be enough.
Benefits of hibiscus:
prevents hair loss;
gives a large volume and increases the thickness of the hair;
reduces oil secretion of sebaceous glands;
gives elasticity.
9. Rose As A Perfect Helper For Hair Growth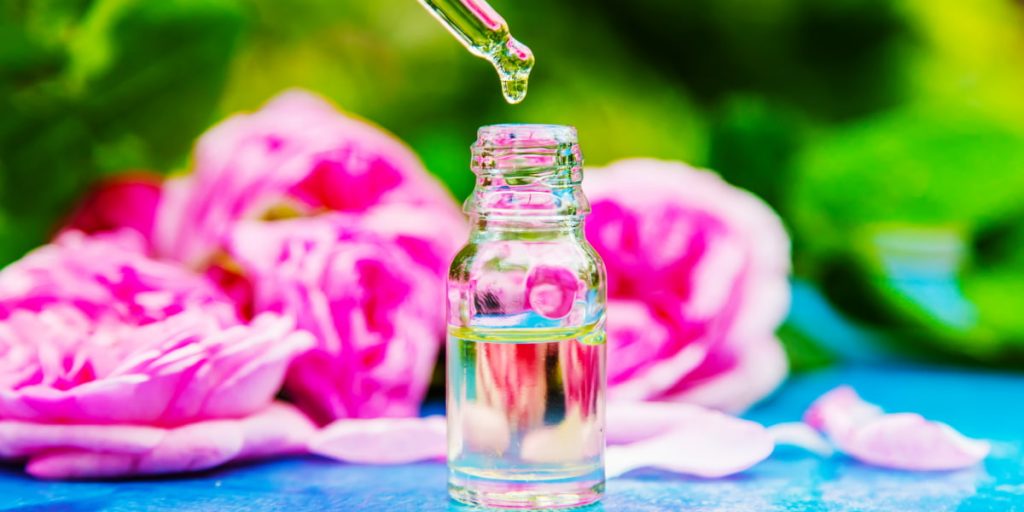 This flower is popular and widely used for cosmetic purposes. It is added to tonics, shampoos, serums, and conditioners. Therefore, you can make your care products from them at home. It has a natural effect on your hair growth and has beneficial herb properties. Since rose petals can be obtained at any time of the year, you can use the following recipe whenever possible.
How to make it?
finely chop 50 grams of petals;
place them in a pan and pour a glass of milk;
boil and wait until the infusion is at room temperature;
after that, apply it to the hair.
You need to wait 15 minutes before washing it off. This tincture is suitable for any hair type and can be used simply for prevention.
Benefits of rose:
has a calming effect;
moisturizes the scalp and relieves dryness;
accelerates hair growth;
makes hair voluminous.
10. Ginger To Help Your Hair Grow Faster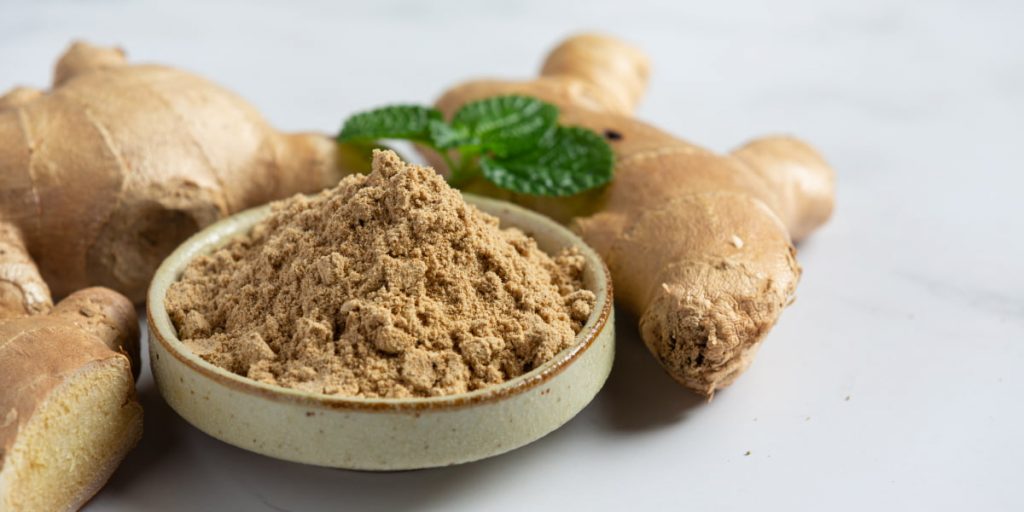 Ginger is used not only in cooking but also for medicinal purposes. It is a natural product that is very useful for hair growth and can not even be compared to other herbs. Ginger helps to grow hair quickly and prevents hair loss. So, both men and women use it to improve the condition of their hair.
How to make it?
grate one tablespoon of ginger;
add two tablespoons each of sesame and burdock oil;
apply the mixture to clean, washed hair.
This mixture should be rubbed into the scalp and left for 30 minutes. This solution will fill your hair with vitamins for hair growth during this time. Then rinse it with warm water.
Benefits of ginger:
improves blood circulation;
many minerals strengthen the hair;
promote rapid hair growth;
fights baldness;
gives a beautiful look to the hair.
Bottom Line
As you can see, there are many types of herbs. Therefore, do not be lazy to make infusions and masks from them because they can help you. Folk methods are always effective because they are made from natural products. So, you can choose the best herbs for hair growth and thickness and take advantage of them for your hair. With regular usage of these tinctures, you will be shocked by the result and will be convinced that the herbs are effective.
FAQ
How Can I Stop Hair Loss And Regrow Hair Faster?
Different herbal tinctures can help you with this. You can mix herbs with various essential oils to enhance the effect. Also, use hair masks with which you should massage the scalp.
What Plants Make Hair Grow Faster?
In general, all herbs promote rapid hair growth. However, if you want to get results as quickly as possible, use aloe vera, rosemary, and lavender herbs. They soothe the scalp, and thanks to this, hair grows faster.
What Vitamins Help Your Hair Grow Faster?
Vitamin B is considered the best vitamin for hair growth. Usually, people who lack biotin in the body suffer from hair problems. Therefore, to improve the condition of hair, you need to use products and herbs that contain this vitamin.
What Is Herbal Oil Infusion?
A herbal infused oil is an oil that is saturated with many valuable vitamins and minerals. The herbs must be invested for a specific time to extract as many useful components as possible.