Published on January 24th, 2023
Last updated on August 15th, 2023
Burgundy Lipstick Trend: How To Make Burgundy Lips
Estimated reading time:
7
minutes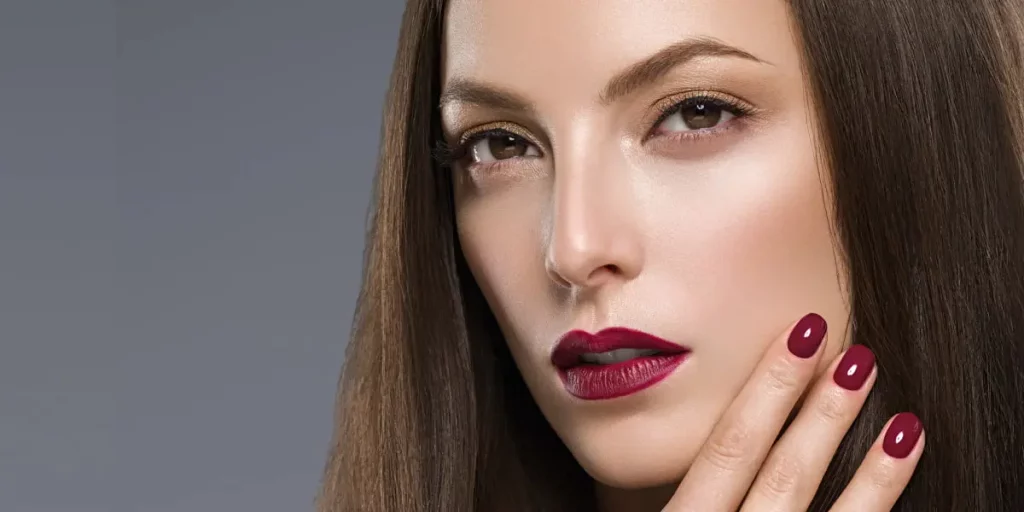 Burgundy lipstick color is a bold solution to extravagant makeup. The bright seductive shade of burgundy lips will turn an ordinary girl into a chic lady. The intense dramatic color combines with the hue contrasts of the makeup. Dark lipstick has advantages and disadvantages.
You should also know the basic rules of its application. For example, you need to carefully even out your face tone and have a couple of brushes in your arsenal. It is also worth choosing the most appropriate shade, and let it be the color of red wine, plum, cherry, or any other.
Hollywood stars use burgundy lipstick a lot and willingly in their makeup, creating bold, extravagant, delightfully elegant looks. You can notice lots of trendy colors on makeup variations. They always catch the attention. Let's follow the example of celebrities and other fashion icons. So, read the article below to learn all the secrets of the burgundy lipstick trend.
5 Secrets To Do Burgundy Lip Makeup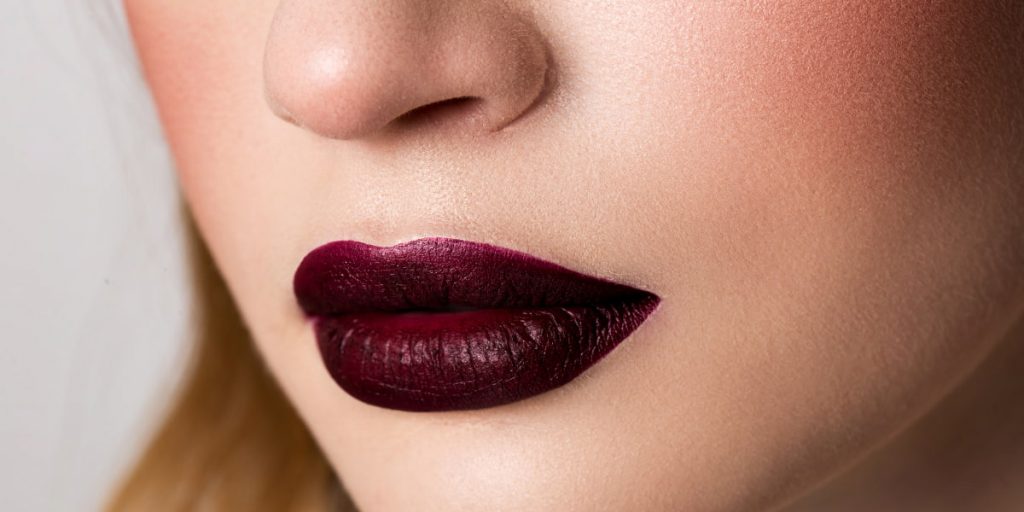 This kind of makeup emphasizes the lips, so do not emphasize the eyes with too bright colors. The most important things in burgundy makeup include:
Choose light and fluorescent shadows. They go best with burgundy lipstick color in brownish, natural beige shades. Expressive black arrows look very well with Bordeaux lipstick. Of course, it is necessary to touch up the eyebrows and eyelashes. The tuxedo eyes in black and white complement this color perfectly. In such monochrome makeup, your lips will be the only bright color spot. And this is very effective.
Burgundy lips makeup does not necessarily have to be matte. You can add a little gloss. It will add volume to the lips. The burgundy color is ideal for full lips, but thin lips look less attractive. Apply a few pearlescent shadows to the inner corners of the eyes. It is especially good with lipstick with glitter. It will make them look mysterious and radiant.
Dark burgundy lip liner is appropriate for evening and New Year's parties, trips to the theater, etc. During the day in the office, it will look too provocative, bright, and even vulgar. It is believed that the color burgundy perfectly harmonizes with dark hair. However, the owners of blonde hair can also experiment with this color. The main thing is to choose a suitable shade. Do not forget about the lip pencil to match your lipstick.
In the past, one of the most important rules for applying any dark lipstick was to emphasize the contour:
First, it makes it easier to "fill" the lips with color.
Secondly, the outlined contour gives the lip makeup look complete.
And thirdly, by using a lip liner, the lipstick you apply next looks neater.
The Application Technique
Make a lip scrub
In order for the bright lip makeup to look perfect before applying burgundy lipstick you should smooth the surface of the lips with a sugar or honey scrub. With this preparation, burgundy lipstick with any texture will lay down more evenly. And it will also be able to last longer.
Choose a shade of lipstick
When deciding on dark burgundy lip liner, it's important to understand what shade with what texture will best accentuate the overall look. Matte will add severity, while satin or glossy will be suitable for an evening out.
Apply lipstick with a brush
Apply the trendy burgundy lipstick with a special brush. You can use it to cover the corners, correct the shape and hide the asymmetry of the lips.
Remove inconsistencies with concealer
To make the contour of the burgundy lips painted with a pencil to match the lipstick look clear. Makeup artists emphasize the corners of the lips with concealer. You should apply it with a wide flat brush.
Complete the look
The burgundy lipstick requires a perfectly even and healthy complexion, so it is better to complement your makeup with a shimmering highlighter and blush.
What Colors And Kinds Of Burgundy Lipsticks Can I Use?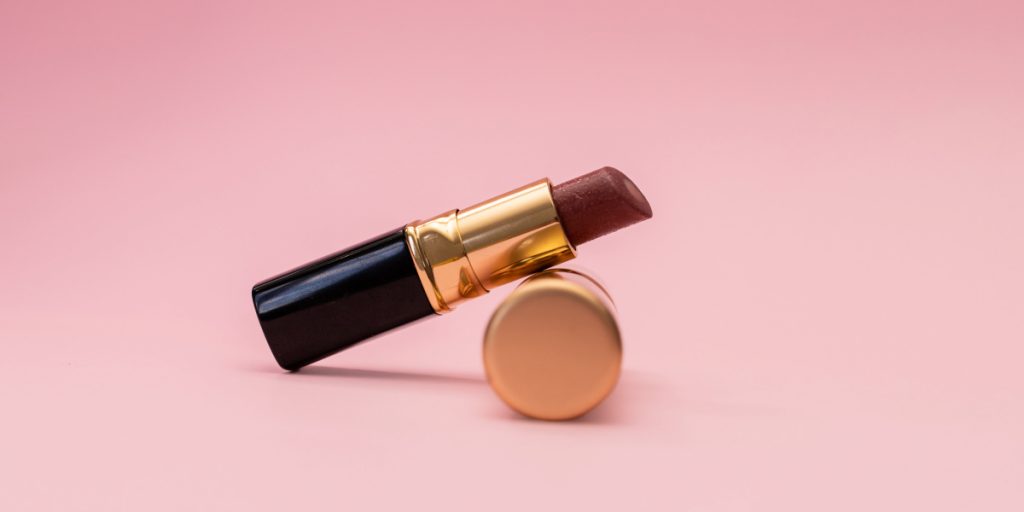 Bordeaux lipsticks can be divided into groups based on several criteria. First, we can divide burgundy lipsticks by their shade:
Warm. It is the same cherry shade, only slightly darker. The red pigment in it is very visible. So the color also seems warm, causing associations with hot mulled wine.
Cold. This category includes lipsticks that have a dark purple undertone. From a distance, it can seem that it is just this color that your lips are wearing.
We can also divide them by texture:
Matte. With this product's texture, the coverage will seem soft and velvety. And the color will be even darker and "deep."
Glossy. Bordeaux gloss is, perhaps, only appropriate for a luxurious evening look. You can add the effect of wet hair and a black satin dress.
Shimmer. Small shimmering particles and a glossy mirror gloss give the burgundy lipstick a more festive look on the lips.
How To Choose The Perfect Burgundy Lipstick Makeup?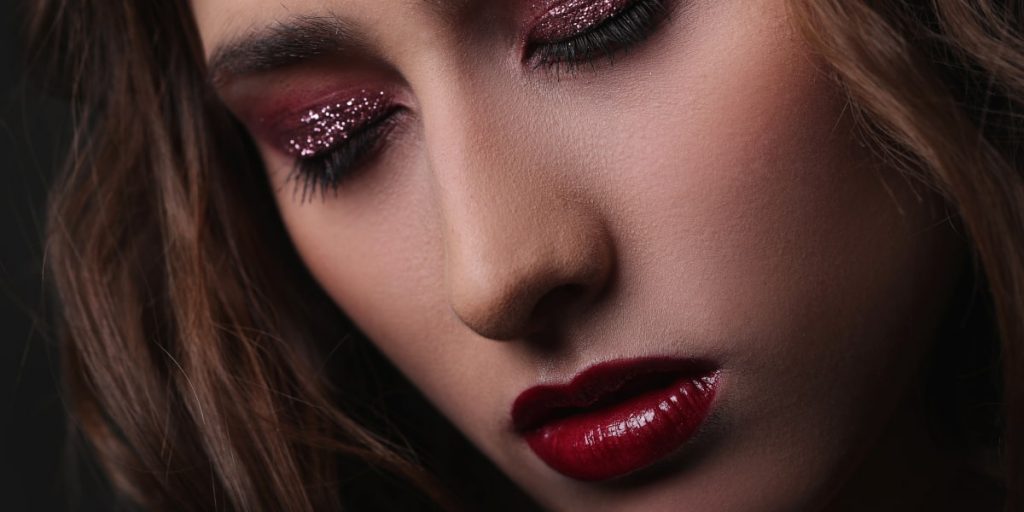 To choose the right burgundy makeup, you need to find out the skin and hair color types. Let's consider these color types:
Blondes
Blonde or russet-haired girls with light blue and light green eyes tone. Bright cherry and red-brown shades are suitable for the summer color type. For the daytime, it is better to use a light maroon color. The image will not be vulgar and flashy.
The spring color type includes blond hair, a warm shade of skin, and a blush on the cheeks. Turquoise or cornflower eyes look great if you apply light shades of burgundy on your lips. You can choose coral or terracotta. Owners of the appearance type "spring" exclude the dark burgundy lip liner. It will help to avoid a vulgar look.
Brown-haired women
Brown-haired – the hair has a dark tone, and the eyes have a brown, cold blue color. It is a type of oriental woman, implying a bright glossy Bordeaux tone. The main condition is a flawless smile, full lips, and an even skin texture without flaws. The result is rich and saturated makeup.
Brunettes
Brunettes have dark curls with a copper hue purple tone of pale face. Eyes – a pronounced cold gray color. Brunettes can afford to wear bold makeup. You can choose a dress in bright colors. A deep burgundy color will emphasize the expressiveness and extravagance of the image.
Redheads
Red hair color implies the presence of freckles on the white skin. For this type of girl, it is inappropriate to choose shades that differ from the tone of their hair. Dark burgundy matte lipstick or lip liner will be vulgar in the image of a redheaded girl. Use a light matte finish for the day out, and leave the bright burgundy for the evening.
When creating makeup, it is important to consider the woman's age. A young lady with fresh skin will look terrible with intensely dark lipstick. Lady in years looks disadvantageous with a frivolous shade on the lips, emphasizing wrinkles.
Bottom Line
So, the burgundy lips will add notes of drama, sophistication, richness, and brightness to your image. This cosmetic attribute will make an ordinary girl a chic woman who knows what she wants from life. Use our tips for choosing and applying such lipstick. Then you will be able to create the perfect image for yourself.
FAQ
What Is A Good Application Technique For Burgundy Lipstick?
Lay off the pencil. When the burgundy lipstick is already on the lips, use your fingertips to "pat" the lip contour to make it a little fuzzy, and blurred. This slight carelessness will give your lips the same look as after a kiss. It is considered one of the most fashionable beauty trends and very sexy. However, it is better to resort to this effect if your lipstick is light enough.
Where Can I Buy Trendy Burgundy Lipstick?
Cosmetics from famous brands such as Maybelline, Lumene, Yves Rocher, and Coco Chanel have pure red shades in their arsenal. The price varies in different ranges. Any woman can find a color solution, regardless of income. It is enough to determine your color type and the occasion you need to look flawless.
When To Use Burgundy-colored Lipstick?
Use burgundy lipstick in the cold season or for an evening out. Such an iconic color requires appropriate clothing. It is best combined with textured, thick winter fabrics and dark blue or olive shades.
Should I Test The Color Of My Lipstick Before Buying It?
Yes, but don't limit yourself to trying out the color on your hand. Use a tester, and then try the lipstick on your lips. Evaluate the shade under different lights, and only then decide to buy.