Published on December 1st, 2022
Last updated on January 24th, 2023
How To Tint Your Eyebrows? Here's A Detailed DIY Guide For You!
Estimated reading time:
6
minutes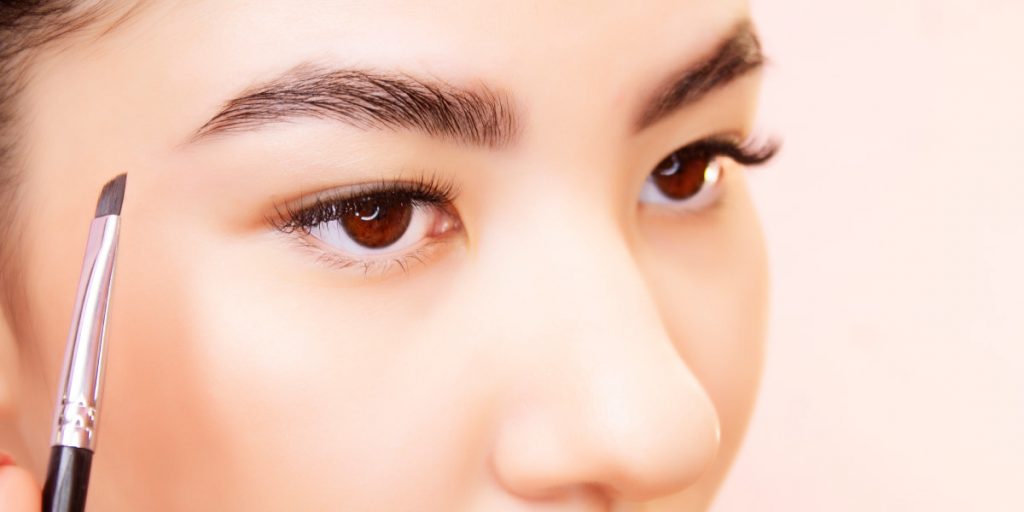 You have definitely heard about eyebrow tinting. It is an easy way of dying your eyebrows. To make it yourself, use the following steps:
Find your paint color;
Make a moisture barrier;
Make a paint solution;
Paint your eyebrows;
Wait a certain amount of time;
Wash off the paint.
Tinting your eyebrows with special paint is an excellent way to get long-term results. Using this method, you do not have to constantly tint your eyebrows with a pencil or other types of decorative cosmetics. You will also be able to spend more time sleeping in the morning instead of doing your eyebrows. Also, the advantage of this procedure is that you can perform it yourself. However, there are essential things you need to know about eyebrow tinting.
In this article, we will tell you how to dye your eyebrows yourself.
How To Dye Your Eyebrows At Home: DIY Brow Tint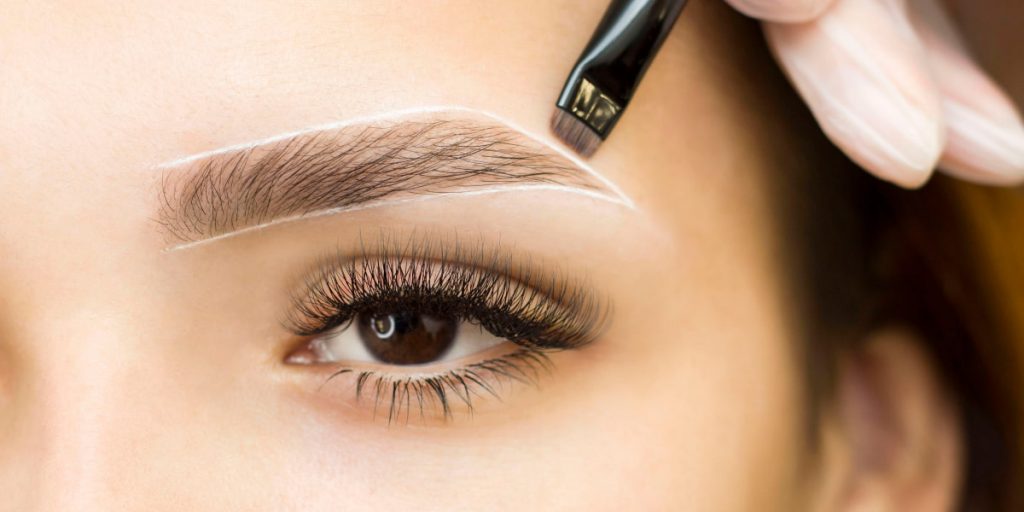 If you decide to dye your eyebrows, you must know how to do it right. Otherwise, your brows may not be tinted, become too dark, or the color may quickly wash off. We have prepared a few steps you should follow to dye your eyebrows properly.
1. Find your paint color
It's the first step you need to follow for tinting your eyebrows. If you have already prepared your eyebrow dye, test it on a tissue. Apply paint to the napkin's edge and leave for a few minutes. Place tissue paper over your brows and see if you want this color for your brows. Do not forget that before dying your eyebrows, it is worth doing a patch test a few days in advance. It will help you try the reaction of the solution to your skin.
2. Make moisture protection
Apply a small amount of vaseline around your eyebrows. It will help keep the skin around your eyebrows clean. Make sure that the vaseline does not get on your eyebrows. They must remain dry.
3. Make a paint solution
First, put on the gloves that come with the eyebrow dye. Squeeze a strip of paint into a mixing container. You may notice a streak in the middle of the paint mixing container. It is necessary so that the base and developer do not mix. Put the paint in one part of the container and the developer in the other. Blend these two components with a brush.
4. Paint on your eyebrows
After you've mixed your brow dye and developer, apply the mixture to your brows. If you have gray eyebrows, start with gray areas.
5. Wait a certain amount of time
You need to leave the dye on your eyebrows for about five minutes. You can use a timer for this.
6. Wash off the paint
After five minutes, wash off the paint from the eyebrows. You can use a kitchen sponge and a small amount of shampoo to do this. Do it carefully.
Eyebrow Tinting Tips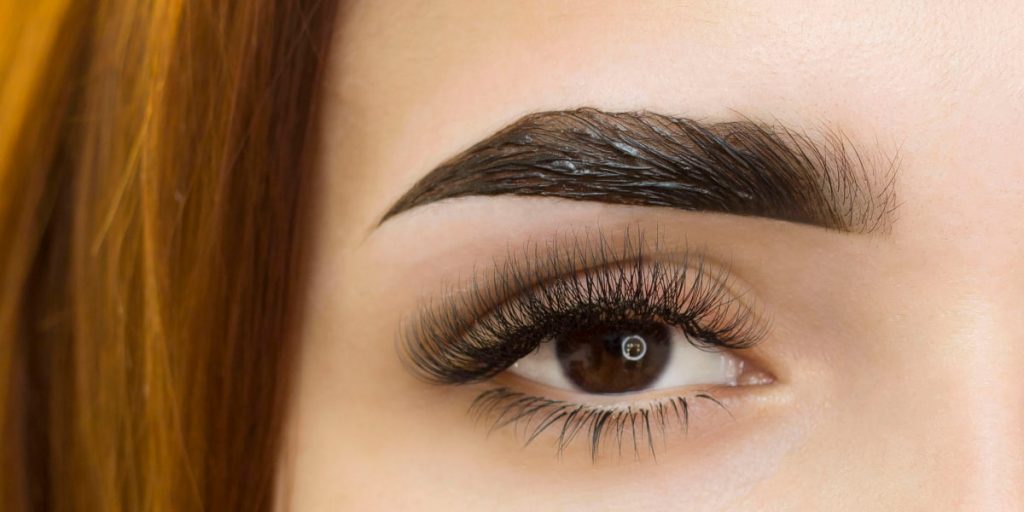 In addition to giving you clear instructions on how to dye eyebrows at home, we also want to provide you with some valuable tips. They will come in handy for you both before and after tinting your eyebrows. Use them to make your brows look as natural and high-quality as possible.
| | |
| --- | --- |
| Tip | How to do it |
| Don't use regular hair dye | Use only special eyebrow paint. Hair dye is not suitable for you to dye your eyebrows. Some people who come to the hairdresser ask them to leave some of the same paint to dye their hair. Don't do this if you don't want eyebrow problems. The paint used to color the eyebrows is too difficult to work with the face. Therefore, choose only the paint that is created specifically for eyebrows. |
| Do a brow patch test | Such a test should be carried out about a day before you plan to work with eyebrow coloring. It is essential to understand what color you will get after tinting your eyebrows and ensure that you are not allergic to the products you are working with. |
| Prepare a sterile solution | If you are dying your eyebrows for the first time, prepare a sterile solution ahead of time that you can use to rinse your eyes if the tint gets in. The dye can get into your eyes if you are dyeing your eyebrows for the first time and your hand is shaky. Try to keep your eyes out of contact with the paint. However, if this happens, start washing your eyes. |
| Apply a small amount of paint to the brush | You must do it to avoid dripping paint at the end of the brush. |
| Follow the clear instructions that you may receive with the paint | Following each recommendation of the instruction is very important. Strictly observe the time that the paint should be on your face. Otherwise, your eyebrows may be too dark. |
| Use a cotton pad lightly dampened with water to remove excess paint | Swipe slowly back and forth over your brow to remove any remaining dye. |
| Tint them every two weeks if you want the most natural look for your brows | Get ready to check your brow color from time to time and tint again. So your eyebrows will always look well-groomed. |
| Use a mild brow cleanser if you have made your brows darker than you wanted | Use a mild brow cleanser. Your color will become duller gradually. |
Bottom Line
We told you about how to tint your eyebrows properly. Tinting your eyebrows is a good way to color them for a long time and forget about pencils or shadows for a long time. Follow our tips from the article, and you will be able to create a beautiful and long-lasting brow look.
FAQ
How To Tint Your Eyebrows?
To dye your eyebrows, wash your face, lubricate the skin around the eyebrows with cream and apply paint to the eyebrows. After five minutes have passed, wash the dye from your eyebrows with soapy water. Such an easy way to dye your eyebrows will allow you to do it yourself at home.
Can I Dye My Eyebrows?
Yes, of course, you can dye your eyebrows yourself. There is nothing difficult about this. However, make sure that you have not had an allergic reaction to the paint. And also, carefully choose the shade of paint so that the eyebrows do not turn out too dark.
How Long Does Eyebrow Tint Last?
If you buy a professional eyebrow dye, its effect will last about a month. Over time, the color will begin to fade. How long the paint will last on your eyebrows will depend on what cosmetics you use and how you take care of your eyebrows.
What Color Should My Eyebrows Be?
Usually, stylists advise making eyebrows a few shades darker than your hair color. Also, the shade of the eyebrows should be less bright than your hair color. So, for example, if you have dark blond hair, a light brown shade for eyebrow paint will suit you.