Published on September 3rd, 2022
Last updated on January 25th, 2023
How To Apply A Concealer Like A Pro: 7 Steps Guide
Estimated reading time:
10
minutes
Do you wake up with dark circles under your eyes and don't like your appearance? Do you have age spots on your face and want to get rid of them as soon as possible? There is an excellent solution to this, and that is concealer. This magical thing helps mask your face from unwanted imperfections and even your tone. Let's dive deep into how to apply a concealer like a pro.
The concealer has long been a fundamental product in every girl's cosmetics and continues to gain popularity. Although this is a popular product, not everyone knows about applying concealer correctly. Many make a mistake in choosing a shade or do not know how to use it correctly. Therefore, you should know that concealer should not be applied all over the face. Concealer application should be used on small skin areas and carefully blended. It is the only way to get natural makeup and look attractive.
Guide On How To Apply A Concealer In 7 Steps
You are probably familiar with the situation when you have a serious meeting and have a pimple or redness that day. Here, a concealer comes to the rescue. It helps to hide skin defects such as redness, dark spots, or scars. However, for a good result, you should know the steps of applying concealer and how to use it. For this, I have prepared the best ways how to apply a concealer:
Step 1: Choose A Suitable Concealer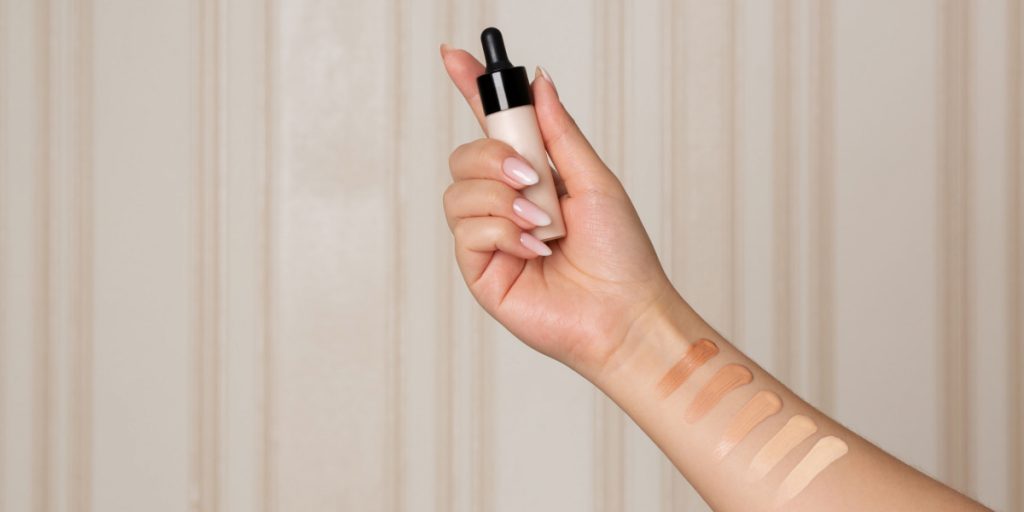 Concealers are different. It can be a liquid concealer or in the form of a pencil. Both options are good, but each is for another skin type.
Use a concealer pencil if you need to cover pimples or minor blemishes. It is light because, when applied point-wise, it better hides spots from acne or the acne itself;
If you have a lot of pores on your face, I recommend using liquid concealer. It will be enough to apply it to the face carefully, and the flaws will be hidden.
Before choosing a concealer, you should also decide on the color of your skin because the wrong tone can spoil your look.
Step 2: Cleanse Your Face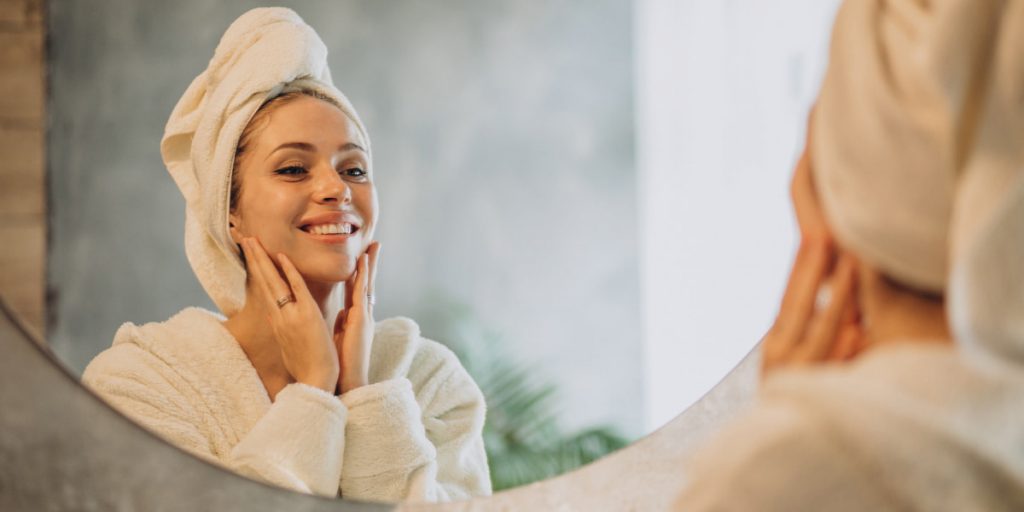 Before applying concealer and cosmetics to your face, you should clean it. Use a foam or gel cleanser, and then apply a moisturizer. After such a procedure, you should wait 10-15 minutes until the cream is absorbed into the skin. This step will help you to clean your pores, remove unwanted residue from your face and make it clean.
Step 3: Apply Concealer Under The Eyes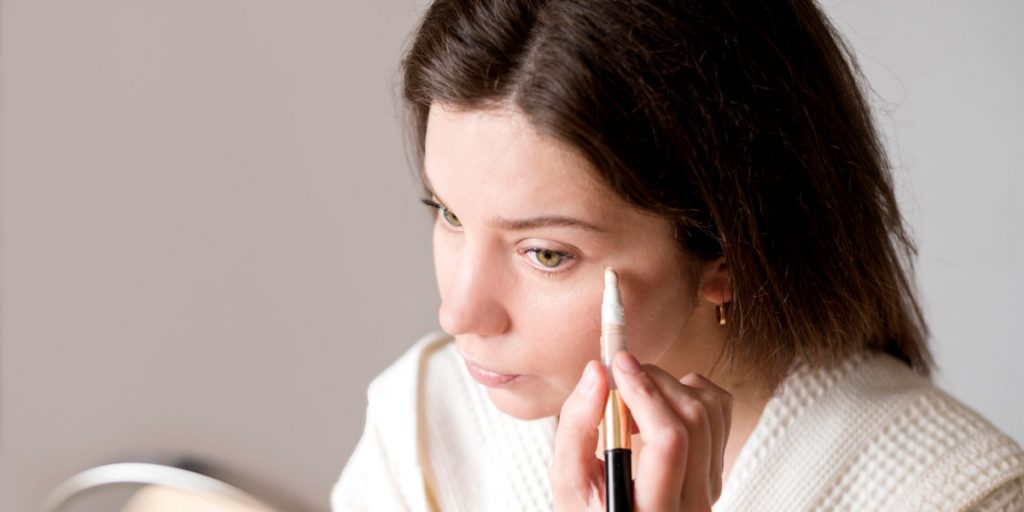 First, you need to hide the most visible flaws on your face. These are dark circles under the eyes. Even if you don't have them, you still need to apply concealer under your eyes.
If there are dark circles, apply a concealer one tone lighter than your skin. Apply it in a triangle shape under your eyes and carefully blend it so that everything is even;
If there are no dark circles, apply a small amount of concealer under the eyes and blend. Your skin should be the same shade as the concealer.
However, remember that the best way to apply concealer is to use it in small quantities. The skin under the eyes is fragile, so a thick layer of concealer can worsen your appearance. And one more tip, do not try to rub this product into the skin. It is better to blend it with a brush or sponge gently. But remember to clean the brush after makeup. It will prevent the appearance of new pimples and dirty skin.
Step 4: Hide The Blemishes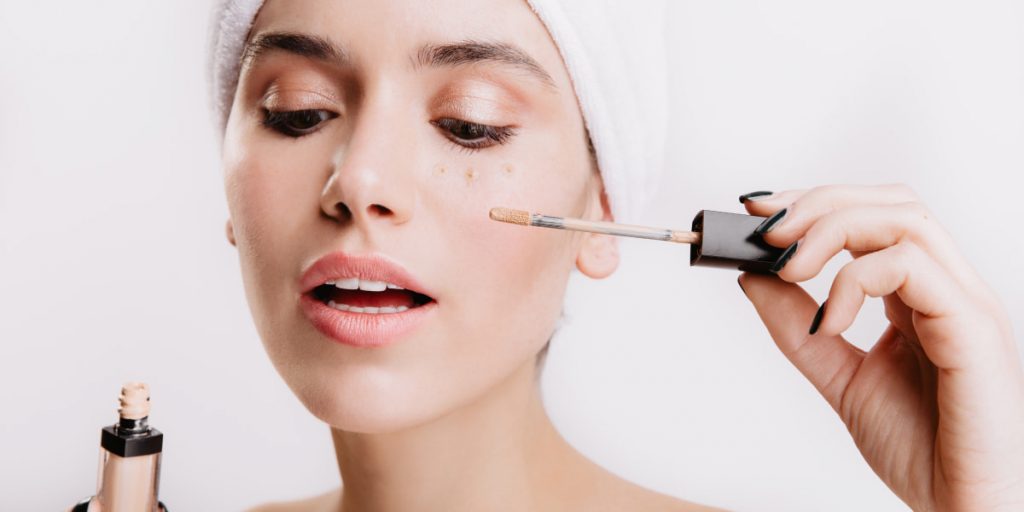 The next step is to apply concealer to the problem areas and use it until you cover everything. Problem areas are pimples, redness, black spots, pigmentation from the sun, and freckles. Remember some important things:
If you need to apply concealer on a large area of ​​the face, for example, on the entire cheek or forehead, then use as thin a layer as possible. The fact is that most girls think that the more concealer, the faster we cover up our flaws. But it doesn't work like that. On the contrary, to have a natural look, you need to apply a very thin layer of concealer and blend it as carefully as possible;
Don't blend the concealer with your fingers. Many girls do this, but this is a big mistake. Fingers can transfer bacteria to the face, triggering even more acne. Therefore, I recommend using sponges and brushes.
What to do if you almost haven't any blemishes? In this case, apply the concealer pointwise only to places with minor pimples or other flaws. Concealer application should be blended with the color of the foundation.
Step 5: Apply Concealer Around The Nose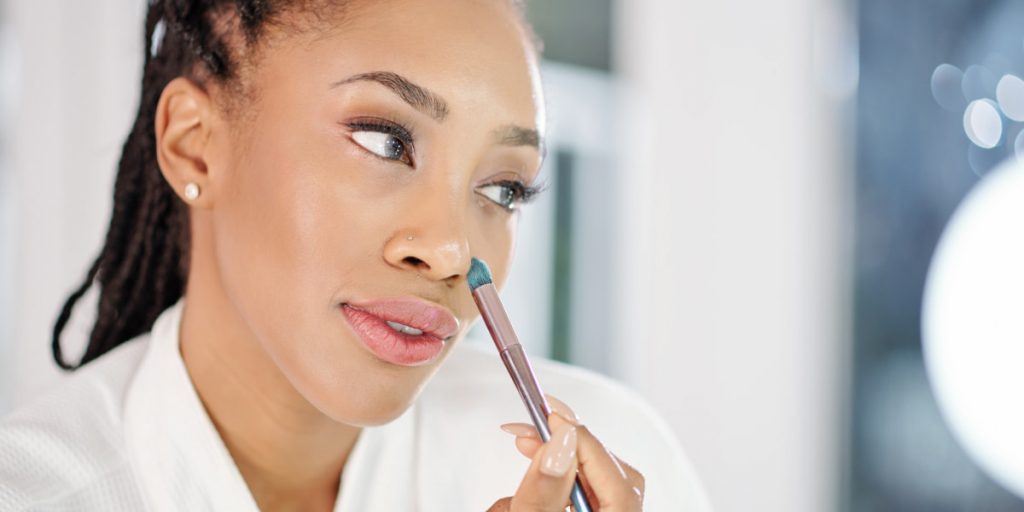 Why do this? Because redness often appears near the nose. And when you have an even complexion but red marks appear near your nose, it doesn't look good. Therefore, you should also consider this nuance before applying concealer. For this, you can even apply it with your fingers. Use it pointwise on the wing of the nose and gently blend it around the nose. If you have redness from the nose to the cheeks, apply it to the cheeks. It is necessary to remove all the flaws and make the face of one tone.
Step 6: Apply Foundation
The best way to apply concealer is to apply concealer under the foundation. So, it is the next step. When we talk about foundation, it can be BB or CC cream. Apply it evenly on your face and even out the tone.
Why is concealer laid under the foundation? Because first, you need to even the tone of your face before applying foundation. It is better to avoid unwanted defects on the face and then level it all with a base. Choose the tonal foundation individually for yourself. You can take liquid tonal, powder, or cream. The main thing is that it matches your concealer in color. So your skin will look much more even and have a natural effect. And remember not to apply the base with a thick layer.
Step 7: Fix Makeup With Powder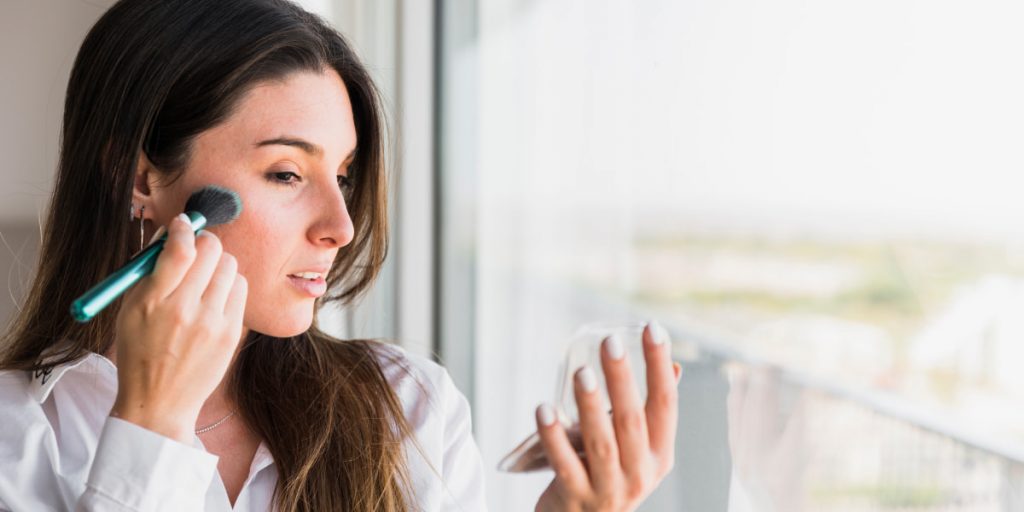 Apply powder if you need to fix your makeup all day, and avoid rubbing off.
The powder should be of good quality and be able to fix your makeup. If you wear makeup throughout the day, creases may form over time at the concealer application site. It is what powder is needed for. It will set your foundation with concealer and give your face a glow.
How to use the powder correctly? Use a large brush to apply powder all over your face. Use a small brush for areas such as the corners of the eye and the lash line.
Just seven steps, and your face will look perfect. The main thing is to follow concealer application steps to get a good look. First, we apply concealer under the foundation and then the base. It is all you need for perfect make-up and an attractive face.
How To Choose The Right Concealer?
Choosing the concealer depends on your skin type and color. So, follow this guide to make it easier for you to select a concealer:
| Type Of Concealer | Overview | Used For |
| --- | --- | --- |
| Concealer pencil | It is very convenient to use, and you can take it anywhere. Only after its application, it should be carefully blended so that the concealer does not collect in the skin folds: | Concealer pencils are used to avoid redness and pigment spots. This type of concealer is denser than liquid concealer. Therefore, applying this concealer can hide visible flaws on the face. However, this concealer can not cope with wrinkles or severe acne. |
| Liquid concealer | It is considered the best way to apply concealer because it is easily absorbed. Its liquid mass is quickly applied to the face and covers any imperfections. | It is most often used for dry and sensitive skin. Such liquid products are ideal for applying to the face because they lie evenly and mask the circles under the eyes well. |
| Powder concealer | This type of concealer should be applied with a very thin layer so as not to emphasize wrinkles or folds. | It is ideal for oily skin because its dry texture can remove fat from the skin. It masks pigment spots and acne well. It is not recommended to choose such a concealer for dry skin. |
| Cream concealer | A versatile option that can correct any place on the face. It should be applied in a thin layer in small quantities. | It can be used for any skin type. It is also a good option for dry skin due to its creamy consistency that is ideal for concealer application. |
It is how you can decide on the choice of concealer according to your skin type. Also, determine the purpose of using the concealer. First, think about what you want to hide on your face, and then choose the texture of the concealer based on this.
Extra Tips For Applying Concealer
Tips you should know before concealer application:
Use concealer not only on the face
If you are concerned about pigmentation or small pimples on your body, you can also apply concealer there. For example, use it on the collarbone, neck, or decollete.
Use it instead of shadows
You can take a concealer and use it to prevent creases on your eyelids. It will look good on your skin and hold the eyeshadow more firmly.
Mix the moisturizer with the concealer
If you have dry skin, you can mix these two products. So your skin will be more moisturized and has a more pleasant appearance.
Use concealer under foundation
First, correct specific areas of your face for a better look with concealer, and then apply the base. So your skin will have a more even tone.
When you use concealer, you can additionally use our life hacks. They will make applying concealer easier for you and create an attractive look for your skin.
FAQ
Do You Apply Concealer Before Or After The Foundation?
Everyone does this according to their own choice. However, I recommend applying concealer under the foundation. So it will be easier to hide redness, dark circles under the eyes, and so on.
Should My Concealer Be Lighter Or Darker?
Always choose a concealer one shade lighter than your base. However, do not overdo it, and do not choose a concealer that is too light.
Can I Use Concealer All Over My Face?
You can do it. However, I recommend applying it only to the areas you want to mask. And for full coverage of the skin, use foundation.
What Apply A Concealer With?
The best way to apply concealer is with a sponge or brush.