Published on September 30th, 2022
Last updated on August 15th, 2023
Applying Bronzer In A Proper Way To Make Skin Shine
Estimated reading time:
8
minutes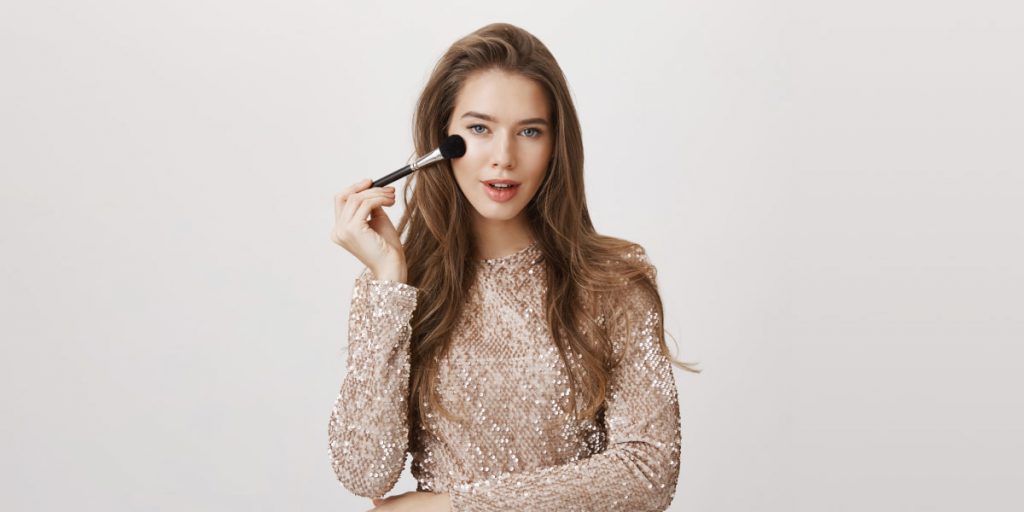 When it comes to makeup, many girls, in addition to even tone and beautiful lips, also want to have a beautiful face contour. You can use a bronzer to create facial contouring and emphasize. For applying a bronzer to your face, use the following steps:
Cleanse your skin with your cleansers and moisturizers;
Apply makeup before using a bronzer;
Apply bronzer to the face.
When you walk into a store to pick up a cosmetic product for contouring, you might be overwhelmed by the sheer amount of bronzers you can choose from. However, there is a bronzer for every skin type and tone. Knowing which bronzer is right for you, you can quickly select the one that suits you best.
Applying bronzer is not too complicated part of the makeup. However, knowledge of the basic rules for using it, as well as getting to know small tricks, will help you make a face contour quickly, creating beautiful images. You should choose the option that suits you and put it on your face several times.
The guide will help you understand what types and shades of bronzer exist and discuss the best way to apply bronzer.
How To Choose A Bronzer Tone For Your Skin?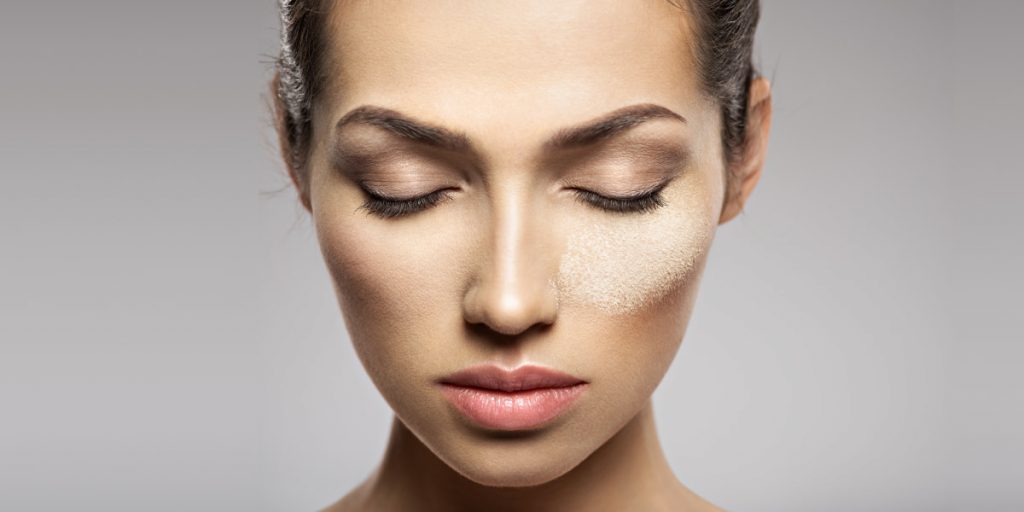 You first need to choose the right bronzer that suits your tone. The store can find bronzer in light, medium, and dark shades. Some graduation is possible between them. Among the brands that develop and sell bronzers, you can find those that prefer to sell them specifically for dark skin.
Here are some tips to help you choose the right bronzer tone for your skin:
If you are the owner of swarthy skin, pay attention to brands that specialize in developing bronzers specifically for swarthy clients;
Don't buy a bronzer darker than two tones from your skin when choosing it;
Remember that for the winter and summer seasons, you will need bronzers of different tones for applying bronzer;
The bronzer comes in a variety of forms. So, it is better to use a powder-based bronzer for oily and normal skin. To apply powder bronzer, use a wide brush with which you apply powder or blush. If you have dry skin, cream or gel products suit you;
Bronzers come in completely different shades. Choose the one that suits your face type, hair, and other features. To determine the right shade of bronzer, you need to apply it to your skin and see if it's too dark or too light for you. Don't forget to apply the test material on your skin to see if the shade suits you.
I have prepared a small table that will help you choose a bronzer based on the natural color of your skin:
| | |
| --- | --- |
| Your skin tone | Bronzer shade |
| You're fair and sunburn easily | Peach or pink |
| Olive skin tones | Copper shades |
| Dark skin | Dark shades |
How To Choose Bronzer Formula?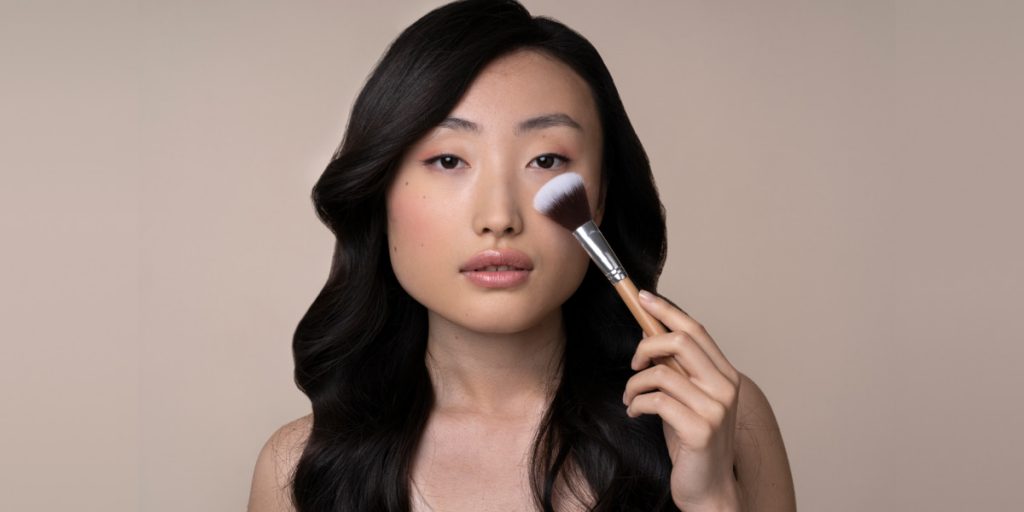 You can find bronzer in different forms when visiting a beauty store. There are four forms of bronzer – in the form of powder, cream, gel, or liquid. Each of them is suitable for its skin type. So, for example, experts advise using a cream or gel dispenser to achieve a natural look when you create makeup with bronzer. For a matte finish, you can look into powdered bronzer.
However, the choice of bronzer is much more than it seems. The main thing that you need to do when choosing a bronzer is to focus on your desires and sensations. To stop your attention on the bronzer suitable for you, I've prepared the descriptions of each of them. Read the information about each bronzer and determine which one will suit you more.
1. Powder Bronzers
This option is the most common. It is suitable for any type of skin. Powder bronzer will look especially good on oily or combination skin. Among bronzers in powder form, you can find shimmery and matte options. Therefore, a matte version of the bronzer is suitable for oily skin. The powdered bronzer has the most pigment and works well for those who don't have much time to go makeup-free.
2. Gel And Cream Bronzers
These forms of bronzer are suitable for those with dry to normal skin. It's because they do not settle on dry skin scales, which would create a ridiculous look. I advise you to use a makeup sponge with a cream bronzer. It will allow you to apply the product evenly and shade it well.
3. Liquid Bronzer
This option is suitable for those who know they have dry skin. The liquid bronzer is easy to apply with fingers or a foundation brush. Put a liquid bronzer over your foundation for a tanned complexion.
Now let's consider ways to apply bronzer to your face. When applying bronzer, you should keep a few essential rules in mind.
The Best Way Of Applying Bronzer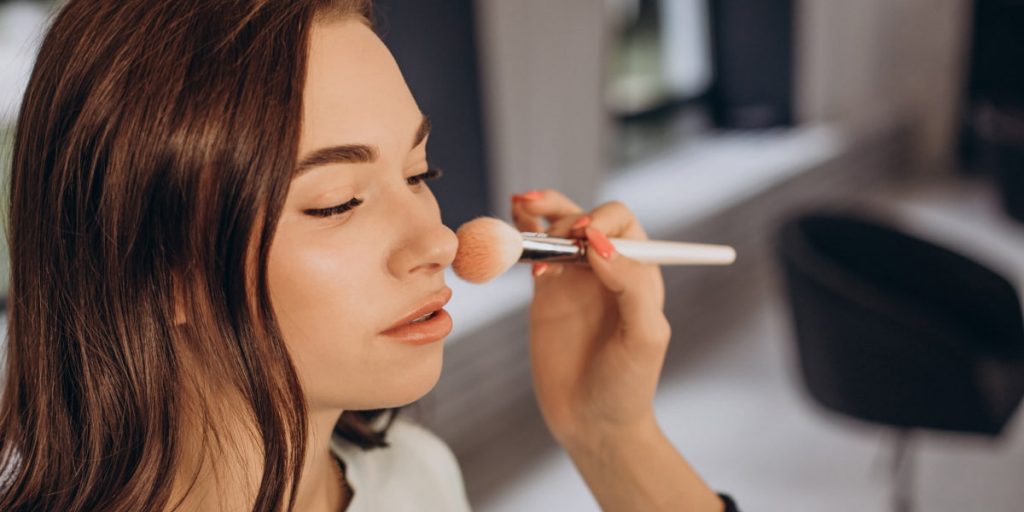 The process of applying bronzer to the face will consist of several stages. First of all, you will need to prepare your face for makeup, as well as apply the main tone. Before applying cosmetics, it is essential to cleanse the skin and apply moisturizers. It is a mandatory stage of preparing the skin for applying cosmetics, including bronzer. Choose your favorite skin care products and start work on their preparation for the application of bronze.
I have prepared several pieces of advice to help you prepare your skin for cosmetics:
1. Cleanse Your Skin With Your Cleansers And Moisturizers
Choose skincare products suitable for your skin type and begin to cleanse your face. To cleanse and moisturize the skin of the face, use the following tips:
Allow each treatment to soak into your skin for several minutes;
Massage into the skin with a few drops of oil or moisturizer;
At the end of the skin cleansing procedure, blot it with a napkin to remove excess fat on its surface.
2. Apply Makeup Before Using Bronzer
Applying basic cosmetics is the middle step between cleansing the skin and applying bronzer. Let's look at the steps to prepare your skin for bronzer application:
Apply foundation to the skin, hiding its imperfections, and blend it thoroughly;
Apply primer to your face. This cosmetic product not only fixes makeup but also creates a good foundation for shading;
Apply foundation and concealer to your face to hide imperfections. Blend your cosmetics thoroughly;
Apply powder to the skin to prevent bronzer from sticking to the foundation.
Thus, you have prepared the skin for applying bronzer to it. Now we should talk about how to apply bronzer correctly.
3. Apply Bronzer To The Face
Finally, we come to one of the essential parts of the article. Our team has prepared a guide with detailed steps on how to apply bronzer to your face. Let's look at them in more detail.
To apply bronzer, take a wide brush and dip it in bronzer;
Shake off any excess cosmetic product from the brush so as not to use an extra portion of the bronzer;
Apply bronzer on the path from your cheeks to the temples in the form of the letter "C";
Thoroughly blend the product so that no clear streaks or spots are visible;
When you apply bronzer to your nose, apply a small amount with a soft touch of the brush and blend thoroughly;
Apply a light layer of bronzer to your front necks and blend well again.
In the next stage, I suggest you discuss several essential rules and steps for applying bronzer to your skin. However, there are several tricks for using this cosmetic product.
Bronzer Applying Tips
I have also prepared some tips for you on applying bronzer. Use these tips for your bronzer to go to your cheekbones as best as possible:
Carefully blend the applied highlighter if you do not want spots to be visible on your face;
If you overdo it, use a clean cotton pad to wipe it off your face;
To give the skin a healthy glow, mix some bronzer in powder form with a small amount of moisturizer;
In winter, you can use a moisturizer or sunscreen in the shade you want.
Summary
Thus, our article examined the main types and shades of bronzers you can find in the shops. You can find many different forms and shades of bronzer on the shelves. Before choosing a bronzer for your face skin, read what tone and shape of the bronzer suit you. Also, I must say that applying a probe of bronzer in the store to test a cosmetic product will be a great idea.
FAQ
Where Do You Apply Bronzer?
Some people mistakenly think that the bronzer should only be applied to cheekbones. However, it is not. You can use a bronzer on your cheeks, nose, chin, neck, and forehead. Thus, the bronzer should be applied to all protruding points of the face. It will help you add more heat and radiance to your image.
How To Apply Powder Bronzer?
If you opt for bronzer in the form of powder, you need to know the correct way to apply it. For a powder browser, choose a large brush that you use for powder or blush. Then you need to shake off an excess amount of product from the brush and apply it to the face, drawing a line from the cheeks to the temples. At the end of the application, grow it well with a brush.
How Do You A Bronzer?
For many people, bronzer is an essential makeup element that will help shape your face. Bronzer is applied to contour the more visible cheekbones and reduce the cheeks and nose. The bronzer is applied to the high points of the face and helps to create volume in those areas of the face where you need it.
When To Apply Bronzer?
Bronzer is applied at the penultimate stage of makeup. After cleansing and moisturizing the skin, you should apply foundation, concealer, and powder. After that, you can use bronzer on the face areas you want to correct.