Published on January 3rd, 2023
Last updated on January 24th, 2023
Proper Way To Put On Lipstick Like A PRO For 3 Different Types Of Lips  
Estimated reading time:
11
minutes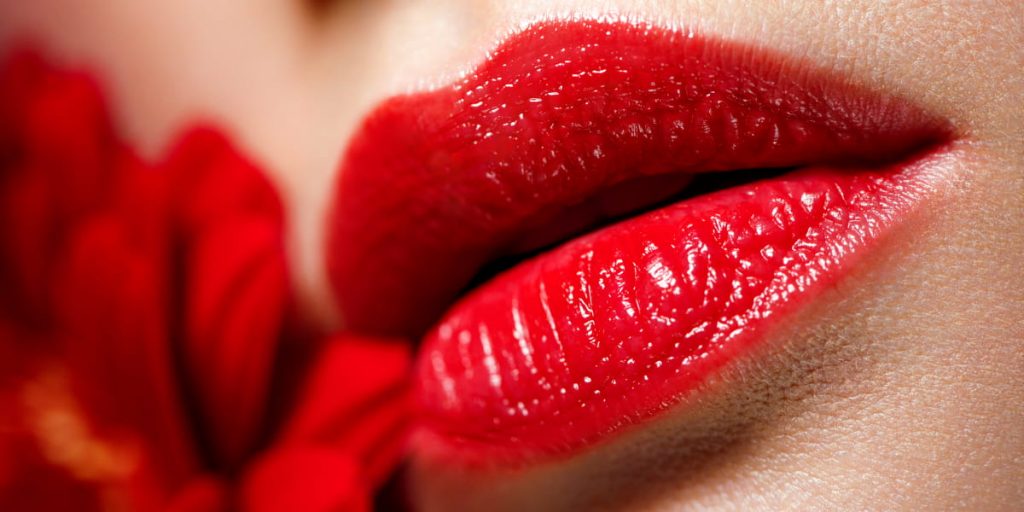 Are you looking for tips and tricks to properly apply lipstick? Is it difficult for you to select the best shade of lipstick or determine how to make your lips look fuller? Worry no more because we've got some useful hacks that will help you become a PRO in applying lipstick.
It is necessary to take into account the physiological features to hide minor flaws of the lips. After all, everyone wants to emphasize the advantages. And also it will help to achieve the greatest effect of perfect lips, specifically for your lip shape.
The easiest way to put lipstick is to use a sponge to apply it around the lip area. Do not forget to moisturize your lips with balm. Use a cotton pad or chopstick to wipe away any remaining balm and foundation. Then use your fingertips to "press" the lipstick onto your lips. In the end, blend it over the surface.
Thus, it is important to pay attention to the size and volume of the lips and the type of makeup. As we know, it can be daytime or evening, or festive. Let's break down the basic rules of how to make up your lips beautifully. Below you will see rules for all different types of lips.
1. Large And Plump Lips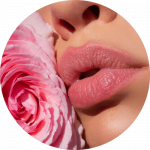 This is the volume of lips that millions of girls worldwide want because it is universal. Here are some tips on how to apply lipstick for full lips:
Control your lipline to apply lipstick correctly. For this, you need to draw a thin line with a cosmetic pencil. In this case, it is essential. The line should be very thin to avoid unnaturally large lips.
You can use a dark pencil. Thus your lips are not in danger of visual shrinkage. But do not forget that the color of the pencil must match the tone of your chosen lipstick.
Colors are also fundamental. Nude and light colors will visually reduce the volume of your lips. And bright colors will emphasize and enlarge your full lips.
In daytime makeup, it's best to use light-colored types of lipstick. Because darker shades will be the first thing that catches your eye. Of course, other objects of attention may go unnoticed:
hair;
even facial expressions.
You can dilute а evening and holiday makeup with dark, rich shades of lipsticks and lip glosses.
2. The Upper Lip Is Larger Than The Lower One, Or The Lower Lip Is Larger Than The Upper One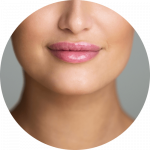 Girls often inherit an imbalance of the upper lip with the lower one or vice versa. But more often, the lower lip is more plump and expressive than the lower one. Even Hollywood stars sometimes forget about this flaw and publicly ignore the shape.
But it is still essential to use a proper way to put on lipstick. Jennifer Aniston and Emma Watson often cover their lips with pale glosses. They do not camouflage them and probably do not consider the difference in the lips as a flaw. But if you do decide to fight the imbalance, it is worth performing a few preparatory procedures:
Cleanse your lips with micellar water or a special toner;
Apply makeup foundation or non-greasy cream. You should give the cream a few minutes to absorb;
Apply a foundation or concealer. We recommend applying products with a special sponge);
Lightly coat your lips with powder, rubbing it into the skin around your lips. Don't be afraid to go over the edge of the natural contour.
After these procedures, you will lose the contour of your lips. It works for all shapes of lips. You can consider that in front of you is a blank sheet of paper. Stylists recommend not exceeding the border of large lips by more than 1 millimeter. It is important to avoid a note of vulgarity in your lips. Here is a lip that is less necessary to finish drawing in direct proportion to the size of a larger lip:
Start tracing the outline with a sharpened pencil to create a thin line. That way it is easier for you to remove or correct it.
Shade the distance between the lip outline you created and the present one.
Use horizontal lines first, then interrupted vertical lines. It is one of the best types of lipstick application. These lines should reach the middle of the lips in their central part. From there, they go into solid lines at the outer corners of the lips.
Try using lighter shades of lipstick, covering them with gloss. Or use unsaturated cherry or strawberry shades. They will give your lips a juicy look and won't look expressive.
This version of lip makeup is a win-win for the office; in general, it will look perfect in daylight.
If you correctly learn how to apply the technique of masking different lip sizes. Then you can move decisively to the heavy artillery. You can use bright red, burgundy and even plum types of lipstick for evening makeup. By the way, do not be afraid to experiment! Recently, fashion dictates the shades of green and blue on the lips. Be brave.
3. Thin, Small Lips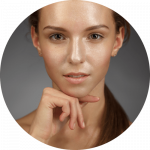 How to put lipstick on your lips if they are small? Thin lips can be quickly enhanced with the technique described below. You have to use:
Foundation;
Powder;
Pencil.
Don't forget to add lighter tones to the inner center parts of both lips. Owners of thin lips are better off giving preference to lighter shades of lipstick with gloss. This will visually enhance your lips even more.
Can I paint my lips in saturated, bright lipstick? It's up to you, but it can remove the effect created by a pencil's puffy, big lips, as dark color always visually reduces. After all, we all know that the darker the dress, the slimmer it is. It is one of the most popular shapes of lips. And we want to remind you that small lips are proudly worn by:
Kristen Danz;
Kate Heirdos;
Blake Lively.
So with thin lips, look for personality in these looks and apply them interchangeably.
Regardless of the shape of the lips, it is always possible to make spectacular or calm daytime makeup on them. It's important to be able to correct imperfections. You can accept them as your specialty and be proud of them, as many stars do.
Girls with normal and with doll (a little chubby) lips can not worry about the color of lipstick, picking up only the shades for their light-type face and hair color.
How To Put Lipstick On Your Lips? 5 Easy Steps
You probably know how to apply regular lipstick. First contour the upper lip, then line the lower lip. Starting from Cupid's arc, move to the edges. Don't be afraid to "overdo it" by going slightly beyond the natural lip contour. You can feel confident improving your natural shape.
Then, apply lipstick. If you prefer matte shades, choose a formula with a high pigment content. Apply to the center and move to the edges. Don't be afraid of beautiful shades and different types of lipstick. The main thing is to choose the right shade.
So, here are a few step-by-step schemes on how to make your lips attractive.
The Basic Scheme
You also need to stock up on a pencil to match the lipstick. Do you want to create the perfect lip makeup with moisturizing types of lipstick application? Follow our instructions:
Use a lip balm and let it soak into your skin properly.
Blot off the excess balm with a clean, dry napkin.
Follow the lips with concealer to enhance lip contours. Brush it over your lips to eliminate any visible borders.
Highlight the "tick" on your upper lip with a highlighter. This will make your lips look plump right away. Next, start outlining your lips with a pencil. Start with the upper lip. If there is a slight asymmetry, you can use a pencil to correct it.
It is not necessary to trace the lower lip as a whole. First, use a pencil to put a little stroke in the center of it. And only after that, draw lines in the direction of the corners. This way, the border will be more even than other different types of lips.
Smile and trace the contours of your lips. When you smile, the skin folds will become smoother. And you can fill in the gaps that you have missed in the previous step with the pencil.
Apply your lipstick. Once you've defined the contours, the next step is easy. Done!
Red Lipstick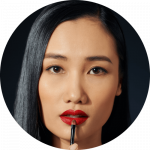 The instructions below will come in handy for those who want to use the proper way to put on red lipstick. As in the previous case, you will need not only lipstick but also a lip pencil:
Draw a red pencil line on your upper lip.
Duplicate the line on the other half of the upper lip.
Underline the center of the lower lip with a pencil.
A few millimeters away from the corners of the lips, place two equal dots on the upper and lower lip. With their help, it will be much easier to draw clear lines.
Connect all the lines and dots.
Use a pencil on the entire surface of your lips. It will make your makeup last longer and ensure an even lipstick application.
Apply red lipstick on top.
Two-tone Lips
How do you quickly create an interesting makeup look if you're not too good at art makeup? It's effortless for all shapes of lips! Apply one shade of lipstick to your upper lip and another shade to your lower lip. The color combinations can be very diverse.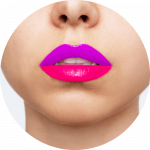 Ombré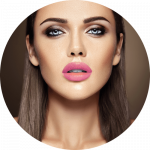 Makeup in the technique of ombré will be easier to create if you do not use too dark shades in the process. Use pink lipstick in the center of the lips and peach on the edges. Next, gently blend the borders with a brush or your fingers.
A Vertical Ombré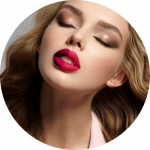 In the beauty world, everyone no longer knows about the usual horizontal gradient. But the vertical ombré is an impressive makeup option. We think it is one of the most gorgeous types of lipstick application. It is worth sticking to a similar scheme:
Divide the lips into two parts;
Fill them in with colored lipsticks;
Then blend the borders.
What Are The Basic Types Of Lipstick Application Mistakes?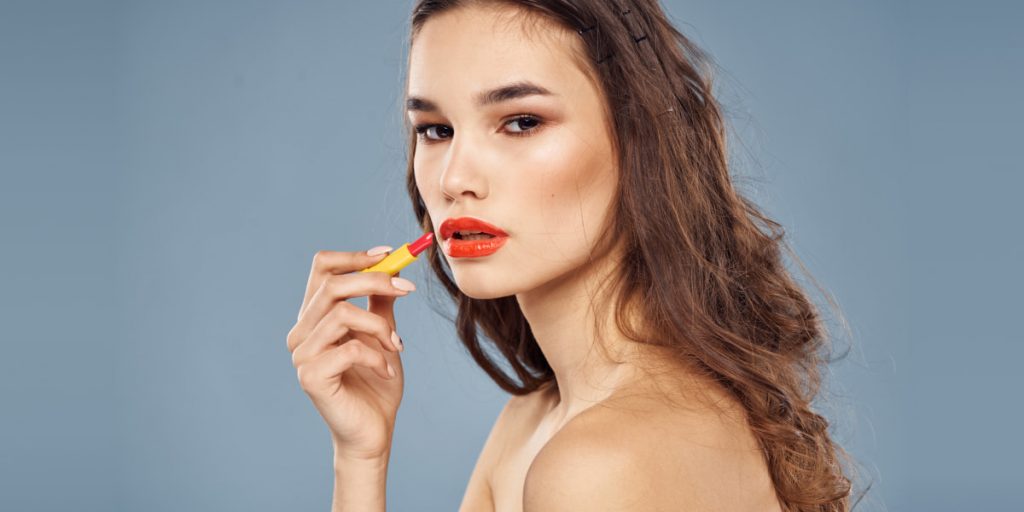 Although applying lipstick looks simple, many women end up making a few typical mistakes:
Different colors of pencil and lipstick;
Incorrect contouring and other concerns.
Let's look at the main mistakes in types of lipstick application in more detail:
Different colors of pencil and lipstick are the wrong tone. And the time of fashion for different colors of these two beautiful products is long gone. So pick up as much as possible tone-in-tone.
Incorrect contouring is the cause of an unnatural lip shape. Try to draw a neat line in the middle of the upper lip and a properly curved lower lip line. And only then draw the rest of the strokes. First, you draw a "perfect" lip, then draw another one based on it.
Lipstick and dry lips are a forbidden technique in makeup for different types of lips. Lipstick further accentuates the unhealthy appearance of the lip skin. Moisturize and care for your lips before applying the product.
You should correct a smudged corner by applying a pencil and lipstick. This way, you will fix the color and texture, and the makeup will not shift.
An unpainted corner visually narrows the lips and creates a doll's lip effect. It doesn't always fit the facial structure. You can paint the corners with a special lipstick brush.
Take care of your lips, find the right shape and shade of lipstick. Do not forget that the lips should always be painted, and enjoy compliments.
Bottom Line
Thus, you know the proper way to put on lipstick. The most important thing to remember with makeup is to be creative. Do not be afraid of new things. Feel free to try different shades and textures, and experiment with application techniques and color combinations.
FAQ
How To Make Big Lips Smaller Permanently?
As a rule, lip reduction is performed using local anaesthesia. First, the lips' mucous membrane is measured, and marks where the surgical incisions will be made. To reduce the lips, the necessary part of the mucous membrane is removed.
How To Apply Lipstick For Full Lips?
Emphasize the tick of your upper lip and the center of your lower lip with a pencil. Choose a pencil 1-2 shades darker than your lipstick. Another option is to create a contour with a nude pencil slightly beyond the borders of your lips.
How Can I Reduce The Shape Of My Lips?
If it is necessary to reduce the lips visually, then before the pencil lips. In that case, it is necessary to apply foundation or concealer on the contour of the lips in the skin tone. Then use a powder to remove excess moisture and ensure good adhesion of the pencil to the skin. Then apply the pencil a little below the contour. Thus, you will conceal the lips' natural contour and give the desired shape with the help of cosmetics.
What Color Lipstick Will Visually Enhance Your Lips?
Dark lipsticks will make them narrower. And light ones, on the contrary, will allow you to achieve a push-up effect. Try a pastel palette: nude, pink, coral, or peach. If you have very thin lips, avoid red lipstick and berry shades and try to emphasize the eyes.