Published on October 1st, 2022
Last updated on January 25th, 2023
How To Fix Heat-Damaged Hair? 4 Proven Methods
Estimated reading time:
11
minutes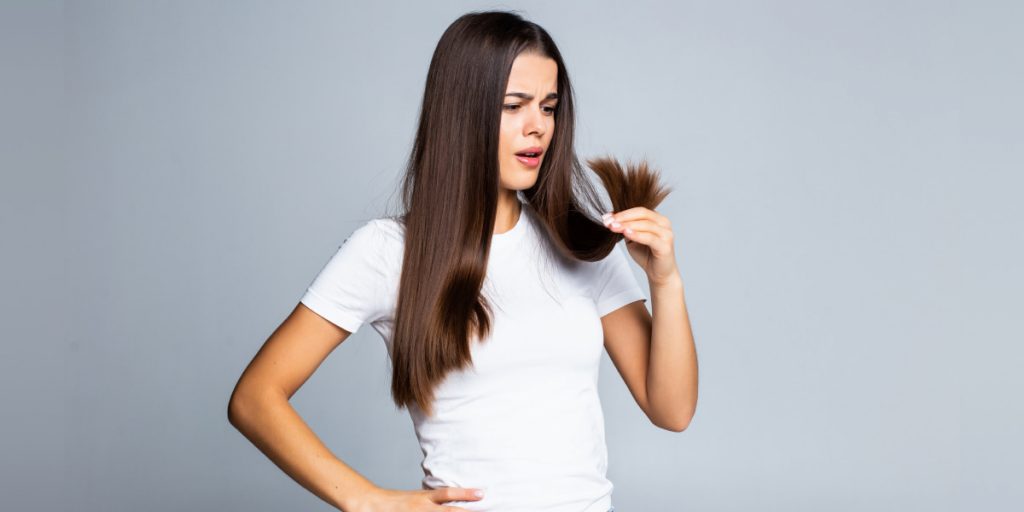 Sometimes, out of a desire to create a beautiful look for an important event, people use hot styling tools. However, the frequent use of hot tools damages the hair and leads to deterioration of their condition. If you've heat-damage hair, here are some tips on how you can fix heat-damaged hair:
Take a bath for hair with oil;
Use natural shampoo;
Use a hair mask;
Rinse your hair with tea.
Indeed, it is essential to look amazing. However, it is better not to resort to frequent use of hot tools but to groom your hair and experiment with hairstyles that do not require styling with pins or curlers. If your hair is always kept in good condition with treatments and occasional trimmed, you won't have to use extra styling tools because your hair will look chic.
This guide will tell you about signs of heat-damaged hair and help you make a heat-damaged hair repair.
Signs Of Heat-Damaged Hair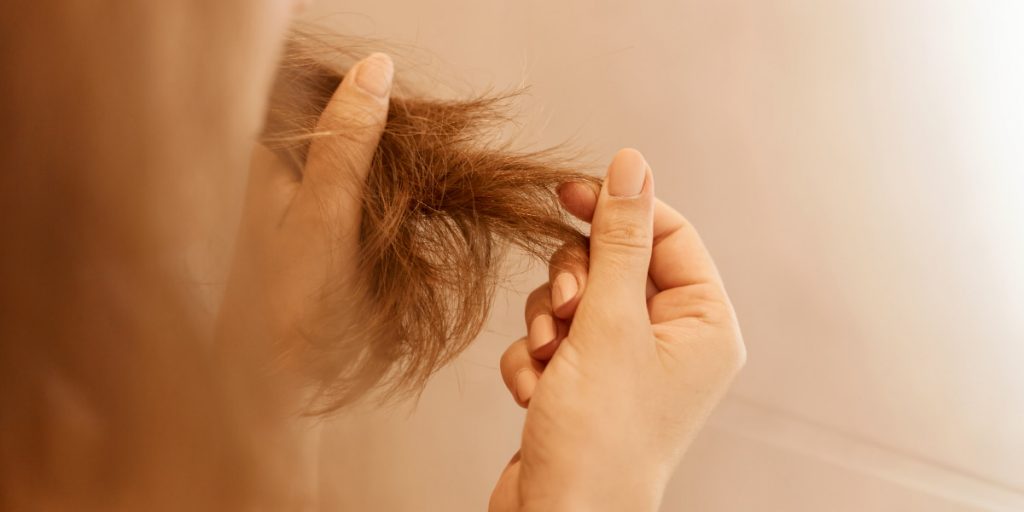 Understanding that the hair has been damaged by heat is not difficult. If you've been overheating your hair with a blow dryer and other hot tools for a long time, you'll notice some changes in the appearance of your hair. So, they will become more difficult to style, and it will be harder to maintain the shape of the styling. Let's take a closer look at the signs of heat-damaged hair.
1. Split Ends
This problem is common with those who expose their hair to constant overheating due to hot tools and a hair dryer. In this case, you may experience broken, and split hair ends.
2. Heavy Styling
It must be said that the hair that has received overheating with tools has a more rigid structure. It affects the hair styling process. Over time, you may notice that your hair has become coarse and extremely difficult to style, as it loses the shape you gave it and also looks dry and unhealthy.
3. Hair Loss
In addition to causing your hair to split and become tangled, you can also experience hair breakage and loss. Hot tools negatively affect the hair shaft, making it weak. It can cause hair thinning and brittleness, leading to hair loss.
4. Excessive Dryness Of Hair
As I said, dryness will be the first symptom of damaged hair from heat. Applying too much heat makes hair dry, leading to brittleness. If you no longer like the condition of your hair and are irritated by its increased dryness, this is an occasion to reconsider your attitude to hot styling methods.
5. Severely Tangled Hair
Due to severe overheating, the hair can lose its elasticity and become very tangled. Split ends can also cause frizzy hair. In this case, it will be difficult for you to comb your hair, even with balms and conditioners. Therefore, if you find it difficult to comb your hair, this is a reason to give up styling with hot tools for some time.
6. Hair Dullness
Damaged hair from heat may look dull. The damaged fibers in your hair cause the light to scatter rather than reflect. Because of this, the hair loses its shiny appearance, becoming dull.
7. Faded Color
If you have recently noticed that your hair is losing its rich color, it could mean you burned it with hot tools. You may be upset that your hair no longer looks so bright and attractive, and its color tends to gray. However, this is not forever, and several methods we will discuss later will help you get a rich and beautiful hair color again after a while.
Heat-Damaged Hair Repair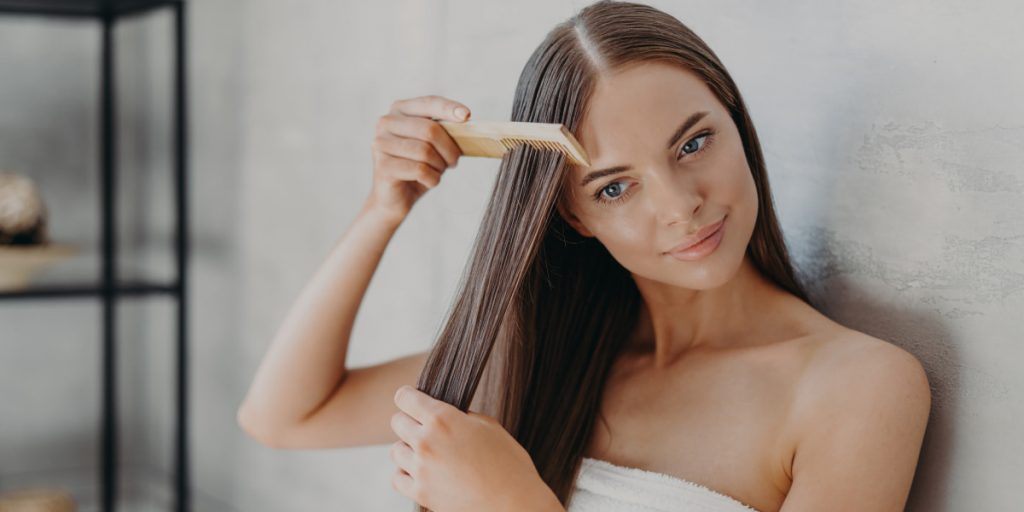 If you've damaged your hair with excessive use of hot tools such as curling irons, blow dryers, and other things, you'll want to know what to do to get your hair back to its former glory.
Of course, cutting down on hot hair tools can help alleviate the condition of your hair and improve its appearance. However, a few more ways to be aware of when dealing with damaged hair from heat. If you go to beauty stores, you will notice some cosmetic products that help restore hair. It can be various shampoos, conditioners, balms, masks, and oils. But I suggest you start with natural remedies that help in hair restoration. I have prepared several recipes for natural hair restoration products that you can prepare yourself at home.
Let's look at these recipes in more detail.
1. Wash Hair With Oil
First, you can start by soaking your hair in a bath using oil. It will help restore the natural volume and shine to your hair. The oils that suit your situation will strengthen your hair and bring back its protective top layer. If you decide to use oils on your hair regularly, choosing oils that suit your hair type will be necessary.
If you have dry and damaged hair from heat, look into coconut, olive, and ucuuba oil. Sunflower and mineral oils will not help you with your problem, so you may not consider them an option.
How To Wash Hair With Oils?
Apply oil to your hair and massage your head for about 15-20 minutes;
Cover your oiled hair with a towel that you previously soaked in hot water. Leave the towel on your head for about an hour;
Rinse your hair with a mild shampoo and conditioner.
The steam created under the towel from the heated oil will help open your hair's cuticles. It allows the oil to penetrate deep into your hair and provides the nourishment it needs to recover.
Regular shampoos, which you can buy in a beauty store, contain some chemicals that can worsen the condition of your hair. The composition of such shampoos includes sodium lauryl sulfate, formaldehyde, parabens, and other aggressive substances. These substances maintain the consistency of the shampoo, form its smell, and make it foamy. However, these substances can ruin your hair, even though they may be labeled as being formulated to fight hair damage.
If you still want to buy a store-bought shampoo, pay attention to those shampoo options that do not contain these substances. Instead, they may contain silica or biotin. As for biotin, it helps to stimulate hair growth and improve its condition.
However, I advise you to try using natural shampoo. Here is a short step-by-step guide to help you create your chemical-free shampoo.
Ingredients
Half a glass of distilled water;
Half liquid castile soap;
Half a glass of aloe vera gel;
10-12 drops of vitamin E oil;
Two teaspoons of vegetable glycerin;
A few drops of essential oils of your choice.
Pour all the necessary ingredients into an empty bottle and shake it well to create shampoo out of these components.
Such a shampoo will not aggravate the condition of your hair. It will help to make them stronger and restore their natural shine. Apply a small amount of this natural shampoo to your hair and leave it on your hair for a few minutes. After that, thoroughly rinse the shampoo from your hair with water.
3. Apply Hair Mask
Many people know the benefits of a hair mask for hair's health and appearance. You can make your hair mask with the ingredients you have at home. A mask made from natural ingredients will help nourish and improve hair. I want to share one of the recipes that you can use to make masks.
Banana And Olive Oil
For this mask, you need to:
Mash one banana and add about eight drops of pure almond oil to it;
Mix the resulting ingredients and apply them to your hair;
Keep the resulting mask on your hair for about 20 minutes;
Wash off the mask by washing your hair with shampoo.
4. Rinse Hair With Tea
If you have damaged hair from heat, a tea rinse can help you deal with this. Scientists say that the caffeine in tea has a positive effect on the condition of the hair follicles. Here is a small guide on how you can rinse your hair with tea:
Brew loose leaf tea and let it brew for about half an hour;
Wash your hair with shampoo;
Rinse your hair with conditioner immediately after you have washed off the shampoo;
Wrap your hair with a towel and leave it on your hair for 20 minutes;
Rinse your hair with cool water.
I invite you to move on and review a list of tips to help you prevent further damage to your hair.
Preventing Heat Harm To Hair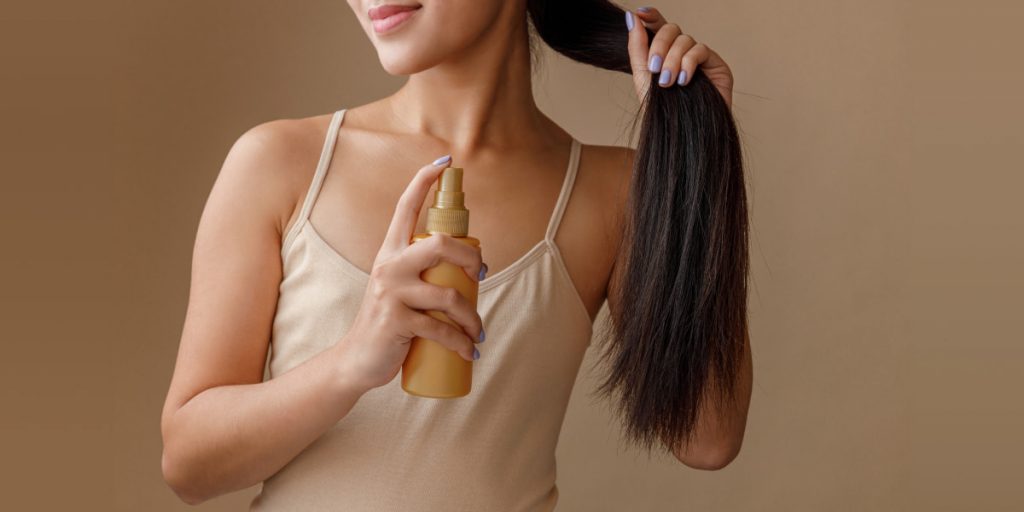 Although I have told you about several ways that help restore your hair, you should not allow yourself to be damaged. You should do everything you can to prevent heat damage to your hair. It's not just about their appearance. Improper hair care and frequent hot tools can lead to scalp disease and hair loss. Therefore, it is essential to protect your hair from any damage. Use the hair care tips our team has prepared for you to make it easier to understand how you can help your hair.
1. Use Thermal Protectants
If you still need to style your hair with hot products, use a heat protectant for them. It's kind of like sunscreen for the skin. Heat protection for hair minimizes hair trauma using a hair dryer or hair curling tools.
2. Alternate Water Temperature
When washing your hair, use both cold and warm water. Warm water opens up the hair scales, allowing the conditioner to get closer to the hair structure and work on it. Cold water retains moisture in the hair and the nutrients from the hair products used.
This method is effective in preventing hair damage. However, you should also not use too cold or too hot water, as this can cause heat damage to your hair.
3. Give Your Hair A Break From The Heat Treatment
First, stop using a hair dryer. Let your hair air dry. After washing your hair, you can use a microfiber towel to absorb unwanted moisture. Don't rub your hair on the towel, as this can damage it. If you cannot do without a hair dryer, use the excellent air function. It will already reduce the negative effect of the hair dryer on your hair.
4. Trim Split Ends
Visit the hairdresser once every few months to trim the split ends of your hair. Do not neglect this point, as split ends can delaminate higher along the length of the hair and cause damage to a large amount of hair.
5. Use Hair Products Correctly
Most people use shampoo and conditioner to cleanse their hair. However, not everyone knows how to use these tools properly. So, you should apply shampoo to the scalp to cleanse it. But the conditioner should be applied precisely to the entire length of the hair to work on improving its condition.
6. Protect Your Hair From Inclement Weather
On sunny and summer days, wear a panama hat, and open an umbrella above you in the rain. Protecting hair from the harmful effects of the environment is a significant point that affects their further health and condition. Wind or intense sunlight can rob your hair of moisture, so use this tip to improve the condition of your hair.
7. Stop Brushing Your Wet Hair
If you have done this before, it's time to give up this habit. Combing wet hair can make it more brittle. You can try to detangle your hair carefully while showering to avoid tangling after it dries.
8. Buy A Quality Leave-In Conditioner
Another important hair care product can be a high-quality leave-in conditioner. A good conditioner will prevent severe dryness and electrification of the hair. Instead of a conditioner, you can use a hair serum. It also hydrates and repairs hair that you may have damaged with frequent use of hot tools.
Bottom Line
Thus, in this guide, we have discussed how to cure heat-damaged hair. Whilst flat ironing or curling can look attractive, don't use hot tools too often. After using hair protection products, it is enough to create chic styling for special occasions. And in everyday life, I advise you to take care of your hair as much as possible, and it will look chic without curling irons.
FAQ
Can You Fix Heat-Damaged Hair?
Damage to the hair with hot temperatures is dangerous because restoring it to its previous state will not be possible. However, if you have damaged your hair with styling tools, repair products like masks and balms will help you noticeably improve their condition.
How To Fix Heat-Damaged Hair?
Most often, hair is damaged precisely from the frequent use of hair styling tools. To restore strength, beauty, and health to damaged hair, stop using hot styling tools for a while, use masks and conditioners from home remedies, and switch your attention to natural shampoos.
How To Fix Heat-Damaged Curly Hair?
You can improve the condition of your curly hair after being damaged by hot tools. However, it would be best if you were prepared because their recovery will take some time. Avoiding blow dryers and other styling tools and applying masks and repair balms will noticeably improve the condition of your damaged hair over time.
How To Repair Damaged Hair From Straightening?
If you've been straightening your hair frequently and have damaged your hair as a result, the first place to start is to give your hair a break from using styling tools. Also, masks and rinses are worth applying. You can make them yourself from natural ingredients.