Published on October 22nd, 2022
Last updated on January 24th, 2023
How To Use Hair Oil? Benefits Of Hair Oiling
Estimated reading time:
9
minutes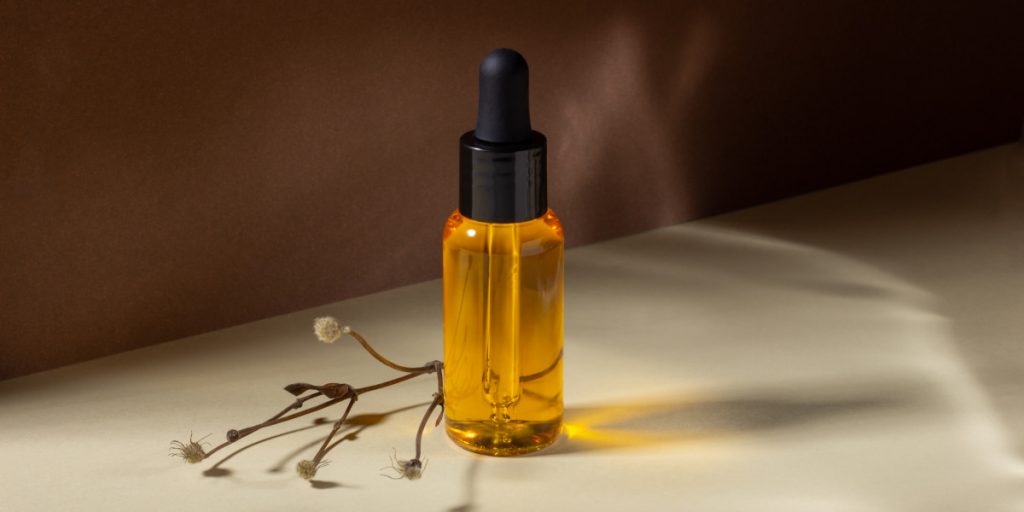 Every girl wants to have only voluminous, shining, and charming hair. Fortunately, today there are many methods to make your hair unforgettable. However, these methods may differ in accessibility for different population segments, quality, and naturalness.
So, on the one hand, you can come to the salon and get a charming haircut for a few hundred dollars and shine for a whole week, but after that, you have to do it all over again. On the other hand, you can use natural oils to improve the health of your hair, and you do not need a beauty salon, but in this case, the effect will be achieved for months.
In short, many hair oils are relatively easy to apply. Most often, the procedure is accompanied by a massage of the hair and head, preliminary heating of the oil, and proper hair preparation.
Today we will discuss hair oil, what types of oils are, whether they help with hair growth and general condition, and how to properly use this natural product.
How To Use Hair Oil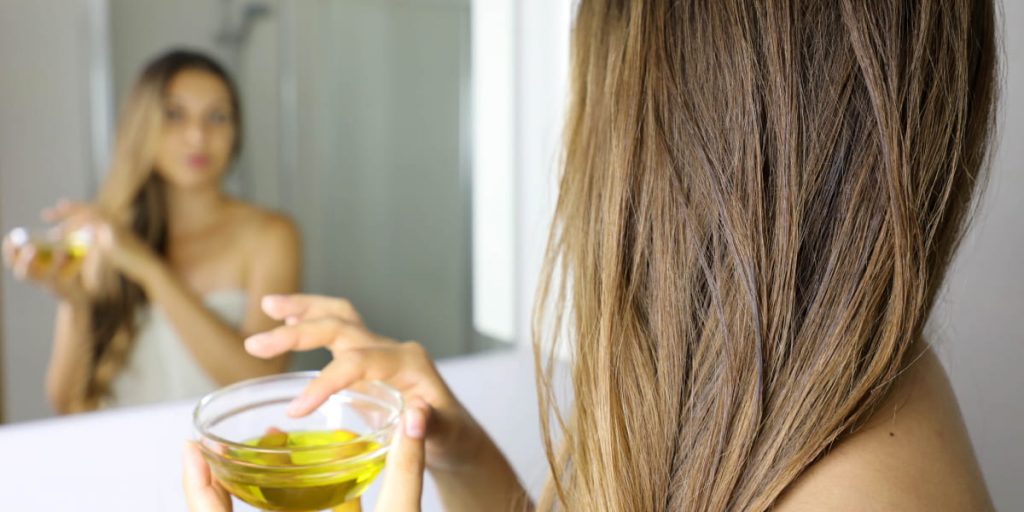 In this block, we will discuss how hair oil can be used. In our step-by-step guide, I will show you all the key points.
Many people think that for hair care with oil, it is enough just to put it on the hair and wait; however, such an application may not give the desired effect. Sometimes people use hair oils too often because they think the more beneficial nutrients, the better for the hair, but there can also be problems. Also, an important aspect is washing the hair's oil properly. Many people also experience problems at this step and may end up staining their clothes or bedding.
Our tutorial will help you avoid the most common mistakes and help you get the best effect from using the oil.
1. Choose The Right Oil
Before the oiling, choose the right product you want to use on your hair. So, consider the properties of the oil, its components, and your hair's needs.
Also, pay attention to the individual tolerance of different components. First, ensure that you are not allergic to the oil and only use it on your hair and scalp.
You can test your body for allergies simply by adding a product drop to your hand and checking that spot the next day. If you find a red spot, you should avoid using oil.
2. Warm The Oil
This step, although not entirely necessary, will improve the absorption of the oil into the hair. Hold the oil bottle in your hand for a few minutes, and only then apply it.
3. Apply The Oil
Now you need to apply it slowly massaging your hair and scalp. The procedure should last about 10-15 minutes. After massaging the scalp, you can finish the procedure with a light massage of the ends of the hair.
4. Put The Hair Into The Towel
This is almost the final step, which is also very important when using hair care products. So, soak a towel in hot water and wring it out. Now place your hair in a towel and leave it like this for 30 minutes. After that, you can wash off the oil.
We will discuss this separately, so keep reading.
When To Apply
In fact, in this case, there are a lot of options with which you can experiment. So, you can first wash your hair, dry it and only then apply oil to your hair. You can also use the oil before washing your hair or use the product on your hair as a fixing effect after drying your hair.
Everything is up to you, so choose the most suitable method for you and use it until you see an improvement in your hair's condition.
On Wet Or Dry Hair?
What you want to achieve will determine how you proceed. Although the hair is less shiny after using hair oil on wet hair, there are other advantages, such as detangling. Before blow-drying, some hair oils might even offer thermal protection.
The hair has a higher sheen factor and is easier to control when applying oil to dry hair. For the best results, pre-oil your hair, then add another layer of styling product, evenly distributing it from the mid-lengths to the ends of dry hair.
How To Wash Off The Oil?
You must also approach hair washing properly if you want to benefit the most from the oil. The oil will be ready for full absorption if you thoroughly cleanse your hair before using natural products.
Are you wondering how to get oil out when prepared to clean? It might be challenging to wash off thicker oil like coconut oil thoroughly. To properly wash the oil out of your hair, choose the right shampoo that helps wash out the specific type of oil.
The traditional shampoo is necessary for complete dissolution and rinsing, but this can strip your hair and scalp of their natural oils, necessitating more frequent applications of oil or other products to replenish the moisture.
Light styling oils, however, are much simpler to remove with water.
Although there are products made specifically to dissolve and wash out hair oil thoroughly, they are gentle enough to avoid removing your hair's protective natural layer. The result is healthy, clean hair prepared for your subsequent oil application.
Key Benefits Of Hair Oil Over Other Solutions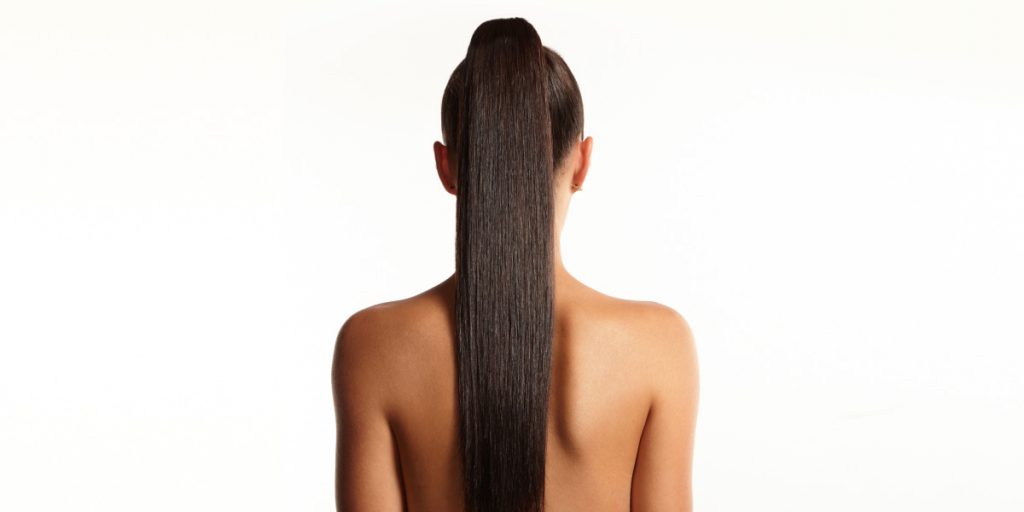 Many women use hair oil to keep their hair healthy and lustrous. But what are the real benefits of oil in hair? It helps to:
Nourish your scalp. A healthy scalp is a foundation for strong and healthy hair. Massaging hair oil into your scalp can promote circulation and nourish your scalp with vital nutrients. This can lead to stronger, healthier hair;
Moisturize your hair. Dry hair is prone to breakage and split ends. Hair oil can help to moisturize your hair, making it softer and more manageable;
Protect your hair from damage. If you regularly use heat styling tools or colour your hair, your strands may be vulnerable to damage. Hair oil can create a protective barrier around your hair, helping to prevent damage from heat, chemicals, and other environmental factors;
Give your hair a healthy shine. Dull, lifeless hair lacks lustre and shine. One of the benefits of oil in is that you can give your strands a healthy shine;
Reduce frizz. You know how difficult it is to style if you have curly hair. It can help to smooth the cuticle, reducing frizz and making it easier to style your hair;
Enhance your natural curl pattern. If you have curly or wavy hair, you know how important it is to maintain your natural curl pattern. It can help to define and enhance your curls for a healthy, polished look.
Types Of Hair Oils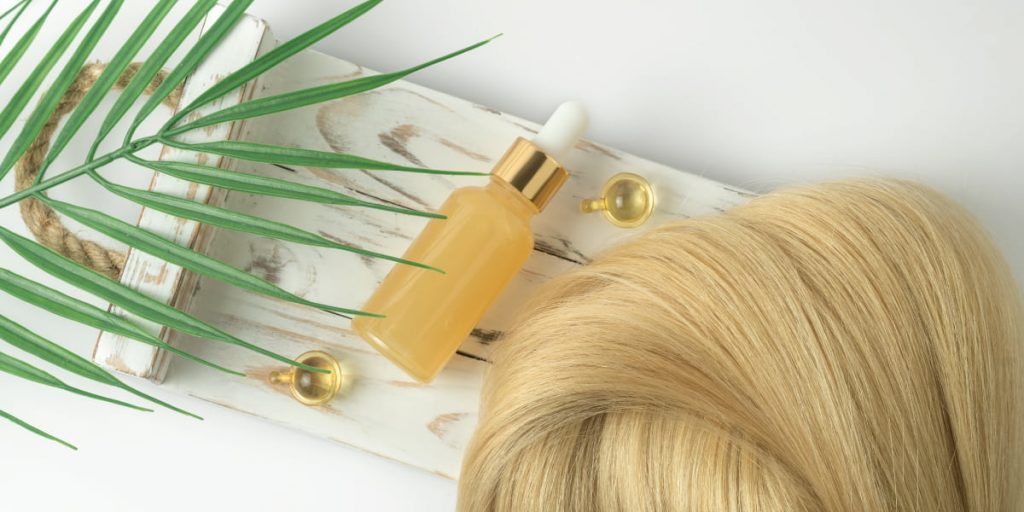 There are many different types of hair oils on the market, each with unique benefits. Some of the most popular options include:
Coconut oil. This oil is popular thanks to its low cost and easy availability. Coconut oil is also light enough that it won't weigh your strands down. It can help to reduce frizz, increase shine, and protect your strands from heat damage;
Argan oil. Argan oil is made from Moroccan argan nuts, one of the most expensive oils on the market. Argan oil can help to hydrate your strands, reduce frizz, and add shine;
Olive oil. Olive oil is another popular choice thanks to its low cost and easy availability. Olive oil is heavier than other options, so it's best suited for those with thicker strands. Olive oil can help to increase shine and tame flyaways;
Jojoba oil. Jojoba oil is made from jojoba plant seeds and closely resembles our scalp's natural sebum. Jojoba oil can help to regulate sebum production, nourish the scalp, and reduce dandruff.
It's also crucial to choose the right type of oil specifically for your hair type to get the best results for oiled hair:
1. Oils For Dry Hair
Choose oils rich in vitamins and fatty acids that moisturize and condition your hair, lessen frizz, and seal cuticles if you have dry hair. The best options are:
Argan oil;
Jojoba oil;
Sunflower oil;
Safflower seed oil;
Abyssinian oil.
Even if you have oily hair, using argan oil in a cleanser can help balance your body's natural oil production. When styling, go for lightweight items that won't clog up your look. For instance, babassu seed oil moisturizes without adding fat. Another excellent option is sunflower oil, which is light and useful for taming frizz.
3. A Little Bit On Essential Oils
There are nuances when it comes to using essential oils for your hair. Products such as lavender, lemongrass, rosemary, or tea tree oils can harm your hair and scalp if used undiluted.
These oils are often added to shampoos or other personal care products. They are completely safe to use in this form and cannot harm your health.
4. Therapeutic Oils Vs. Styling Oils
There is a big difference between therapeutic oils and styling oils.
To care for the health of the hair and saturate it with beneficial substances, therapeutic oils from various plants and fruits are used. They are safe for oiling a few times a week. And they are often used in combination with massage.
Whereas styling oils are only needed to help with styling or to combat unruly hair. Such oils are perfectly safe to use daily and don't need to be washed off after use. However, these products do nothing bad for your hair.
Bottom Line
Oil can be a versatile and beneficial product for your hair, whether you use it to protect your hair from heat damage, add shine, or prevent dandruff. When used correctly, it can help improve the health and appearance of your hair.
Be sure to choose an oil that is right for your hair type and follow the instructions on applying it correctly. You should notice softer, shinier, and healthier hair with regular use.
FAQ
Is Oil Good For Your Hair?
This is a common question that people ask. The oil for hair and scalp can be perfect for it. It can help to keep hair healthy and shiny.
What Does Hair Oil Do?
Hair oil is used to moisturize and protect the hair from damage. It can be used as a leave-in conditioner, or it can be applied before shampooing.
Hair oil can help: moisturize the hair, protect the hair from damage, improve the appearance of the hair, and make the hair easier to style.
Does Hair Oil Help To Protect Hair?
Yes, hair oil can be very effective at moisturizing and protecting the hair. However, choosing an oil that is right for your hair type is essential. For example, you should avoid oil-based products if you have oily hair. Instead, opt for a water-based or alcohol-based product.
How Long To Keep Oil For Hair?
The oil should be kept in the hair for at least 30 minutes before shampooing. It is recommended to oil the hair at night and leave it overnight for the best results.