Published on August 31st, 2022
Last updated on January 25th, 2023
Eyeliner 101: How To Apply Eyeliner For Beginners?
Estimated reading time:
8
minutes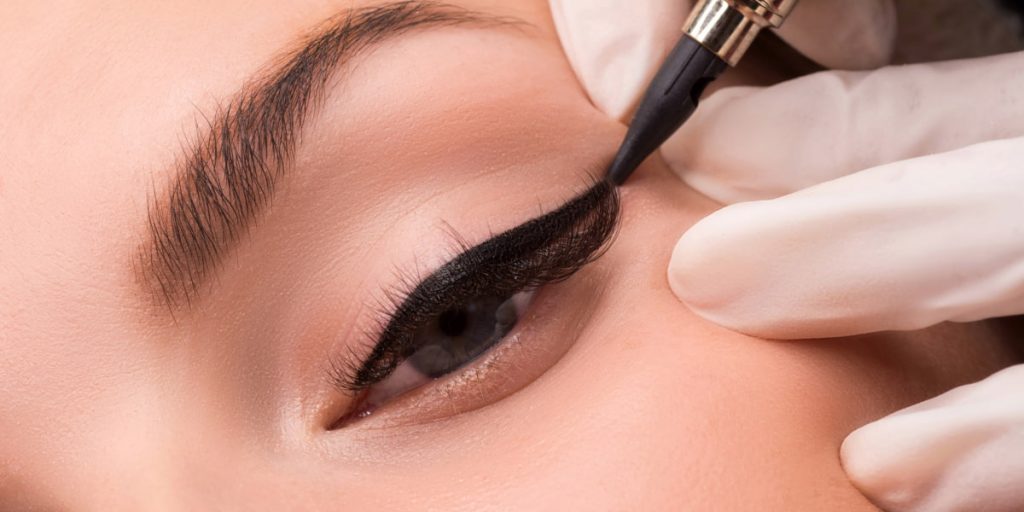 Eyeliner has been a favorite makeup product for girls for many years. Today, eyeliner remains as relevant as years ago. The fact is that a simple eyeliner creates a unique look for a girl, making her eyes expressive and creating a slightly sly, feline look. It adds to girls' playfulness, sexuality, and attractiveness in the eyes of the opposite gender. Do you want to know how to put on eyeliner like a pro, attracting the attention of people around you? If you're a beginner or just looking for some new tips, this article will show you how to do it. We'll cover the types of eyeliners, the basics of applying eyeliner, and advice on making your look last all day. Keep reading to know how to apply eyeliner properly.
How To Apply Eyeliner: 4 Eyeliner Types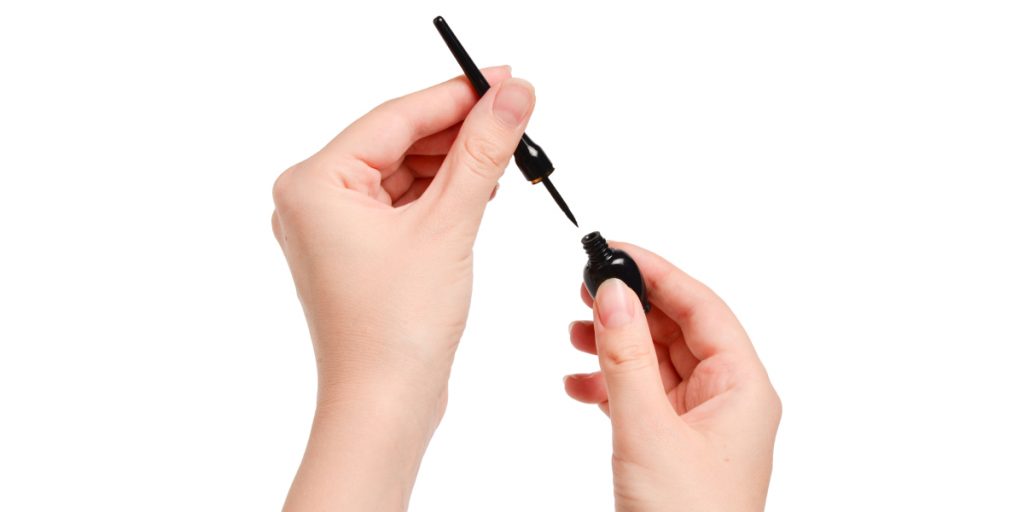 The beauty industry is constantly appearing with new products, improving the old form in which the product was released, and changing the composition and quality of cosmetics. Eyeliner is no exception; there are many kinds of eyeliners.
The composition, texture, and release form of eyeliners are divided into different types. Since there are various eyeliners, there is a dilemma – which eyeliner to buy for beginners looks?
Beautiful and quickly drawn arrows depend not only on the quality of the eyeliner but also on its type. And there are only four:
Liquid eyeliner;
Marker eyeliner;
Gel eyeliner;
Dry eyeliner.
Each has its pros and cons, so I'll tell you the differences before you go shopping for one.
1. Liquid Eyeliner
Liquid eyeliner is the most common type; it looks excellent for beginners. Let's take apart the pros:
It is sold in small bottles with brushes, which can have different shapes, lengths, and thicknesses;
Typically, a classic eyeliner has a reasonably thin brush, with the bristles fitting snugly together;
The eyeliner tip can also be very hard, almost immovable;
With the help of liquid eyeliner, it is convenient to draw on the upper eyelid (to create the effect of thicker lashes) and to draw thin arrows.
2. Marker Eyeliner
Marker eyeliner is a different kind of liquid eyeliner. The main feature is the felt tip, like an ordinary felt-tip pen, which makes the eyeliner as easy to use as simple. The advances are as follows:
Allows you to quickly create unambiguous thick arrows, spectacular cat eyes, or arrows of any fancy shape. This eyeliner is indispensable for art makeup;
It can be used to create thick lines at different angles, but it will take a lot of effort to create a very thin line. For this purpose, it is still more convenient to use classic liquid eyeliner;
The felt tip makes it easy to control the amount you apply so that you won't leave any "blotches" on your skin;
This type of liner is also sometimes called a pencil or highlighter.
3. Gel Eyeliner
It is an eyeliner with a rich, creamy, slightly waxy texture. As a rule, it is sold in small round jars and must be applied with a separate brush (most often, it is not included in the kit, you have to buy it separately).
Gel eyeliner is the "top flight." It is capricious when applied, so only advanced beauty specialists can cope with it;
It allows the creation of any, even the most unusual, eye makeup: it's easy to vary the thickness and the saturation of the lines with a brush;
This eyeliner dries almost instantly, so makeup must be done quickly. But the durability of this eyeliner is phenomenal;
The gel eyeliner, unlike the others, can be used on the mucosa of the eyelid. However, it will not be so easy to wash it off; use micellar water;
Each time you use eyeliner, ensure the cap is closed tightly enough so it doesn't dry out too quickly.
4. Dry Eyeliner
There is also such a type as dry eyeliner. However, this product is quite rare. The texture of this eyeliner is more like an eye shadow and allows you to create "smoky" arrows. The putting on of this type of eyeliner is better left to professionals.
How To Apply Eyeliner: Step-by-Step Process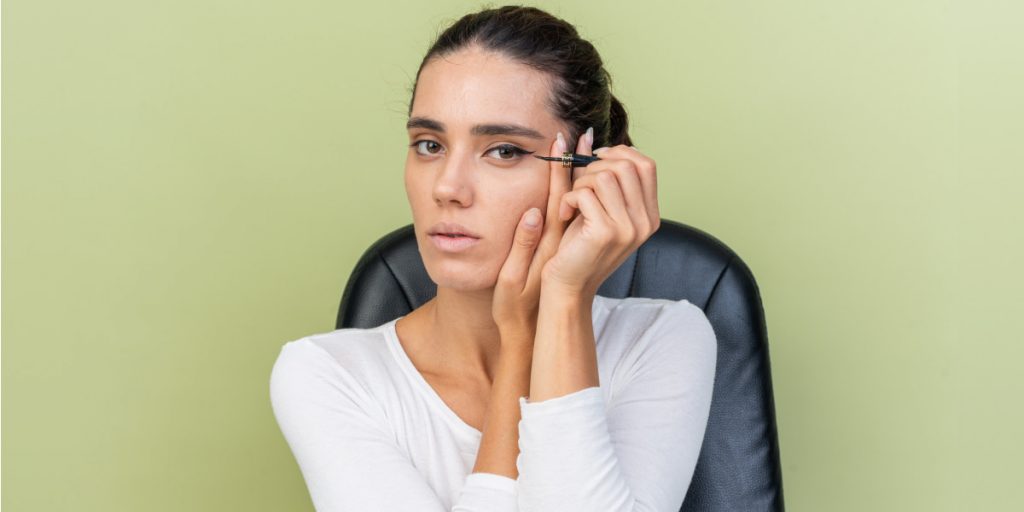 So, now that you've carefully read what types of eyeliners there are, it's time to move on to beginner eyeliner tips.
Step 1: Prepare The Eyes For Applying Eyeliner
Let's start with the first and most crucial step: preparing your eyes and eyelids. First, degrease your eyelids with a lotion or tonic. For eyeliner to hold longer, apply a special primer or use a concealer on the eyelids.
Step 2: Decide On The Shape Of The Arrows
For a beginner, it's best to start with simple, medium-thick arrows. Applying eyeliner doesn't look easy for beginners, so you can use an aid in the form of a business card (to draw an even line).
Step 3: Choose The Right Eyeliner
If you've never used eyeliner before, it's best to choose from simpler eyeliners. The ideal option would be the marker eyeliner. This eyeliner option is the easiest to use.
Step 4: Draw The First Line
To do this, pull back the eyelid slightly with your free hand and draw a line along the lash line from the outer corner of the eye. The line should run as close to the lashes as possible.
Step 5: Apply Eyeliner By Drawing The Ends Of The Lines
If you are drawing simple arrows, it is enough to slightly extend the line from the inner corner of the eye at this step. If you want to create a more spectacular eyeliner, however, you need to draw the ends of the lines into a kind of "ponytail."
Step 6: Apply Eyeliner Thicker Or Thinner
If you want to make your eyeliner thicker, apply another layer of eyeliner. To make the eyeliner thinner, lightly blot the line with a cotton swab.
Step 7: Remove The Excess Eyeliner
Your eyeliner is almost ready, but you should make it more expressive. After putting on your eyeliner, take a cotton swab and moisten it with a little micellar water. Lightly press on the skin near your lashes with the cotton swab, and rinse off the excess eyeliner.
Step by step, repeat the eyeliner application on the second eye, repeating the movements exactly to get the same arrows.
Now you know how to apply eyeliner correctly! Practice and experiment with different kinds and shapes of eyeliner to find the perfect makeup for you.
How To Apply Eyeliner: 6 Valuable Tips And Tricks For Beginners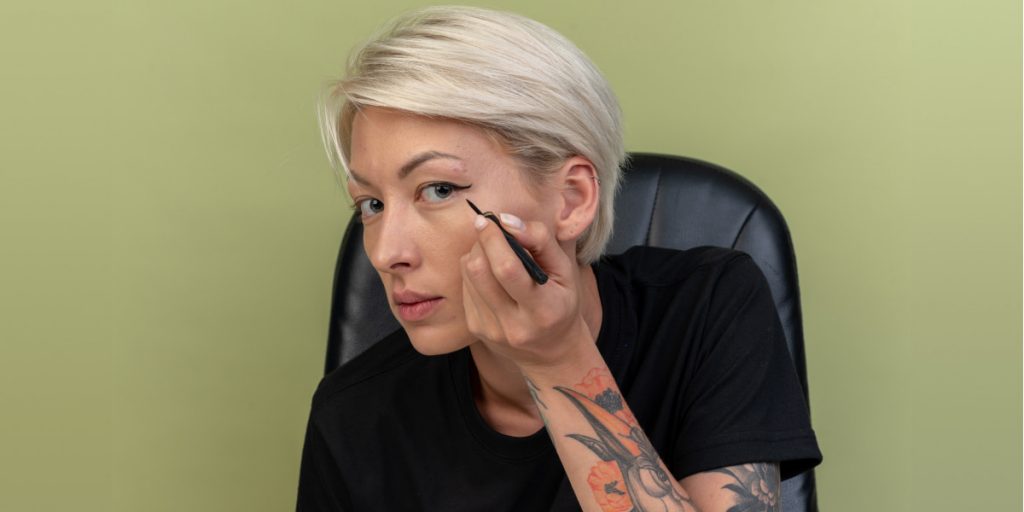 When you decide to add eyeliner to your look, there are a few more tips to help you with your makeup application:
When applying eyeliner, make sure you have a place to lean on your elbow. It will make it easier to use and give your hand confidence, ensuring a clean, neat look. If you have a dressing table or desk, it's best to do your makeup on it;
Use a makeup mirror. It helps a lot! They usually come double-sided, where one side is a regular mirror, and the other is a magnified mirror. The enlarged mirror helps to make your makeup look cleaner because you can see your eyeliner putting it on close;
Always look down when applying eyeliner. If you look up, you can get the shape wrong;
Make sure that there is no gap between the line and your lashes;
If you want to make your eyes even more expressive, you can gently sweep a darker color eyeliner, such as a deep blue or emerald green, over the black line. Another option is to add a glitter eye pencil over the black line. In this case, a simple eyeliner will stand out very luxuriously on your eyes;
All eye makeup, except mascara, is done before eyeliner. Before you start eyeliner, it is worth applying eye shadow or powdering your eyelids with clear powder if you do not use eye shadow.
Bottom Line
Eyeliner is one of the essential tools for makeup. Gone are the days when it was challenging to learn how to apply eyeliner to accentuate your eyes.
With just a few essential tools and my guidance at your fingertips, nothing stops you from maximizing your eyes and making them more expressive. Stay tuned for more tips, and don't forget to experiment with new styles!
FAQ
What Should Be Applied First: Eyeliner Or Mascara?
If you apply it before the eyeliner, you risk stretching the mascara all over your eyelid (besides, it's easier to touch up the roots of your lashes before applying mascara). Leave the mascara for last.
What Is The Best Type Of Eyeliner?
The choice of eyeliner depends on the look you want to achieve. If you look natural, use dry eyeliner in the form of shadows. If you want a richer look, use liquid or felt-tip eyeliner.
How To Make Eyeliner Last Longer?
Use an eyeliner that's water-resistant and smudge-proof. Start by prepping your eyelids with an eyeshadow primer to create a smooth canvas for the eyeliner. After applying eyeliner, let it dry completely before moving on to the following makeup stage.