Published on August 4th, 2022
Last updated on January 25th, 2023
How To Clean Makeup Brushes And Why You Should: Definitive Guide
Estimated reading time:
9
minutes
The secret of perfect makeup is not only the right products and magical application techniques but also hygiene, which always keeps brushes clean and tidy. A large part of the toolkit is brushes and sponges, which are used almost daily. So there is not only wear and tear but also contamination. And how often do they get cleaned? According to dermatologists-cosmetologists and professional makeup artists, every woman should make it mandatory to clean her makeup brushes regularly. It's a good and proper habit!
When you use different makeup brushes, not only makeup residue but also grease and dead skin cells appear on them. In addition, dust and dirt in the air, on the table, and in the makeup bag are settled.
Therefore, it is necessary to constantly clean makeup brushes to prevent the accumulation of bacteria and germs during their nap, which can lead to unwanted problems related to the health of the skin and eyes, and thus significantly worsen the appearance of the face. In addition, the fluff of dirty brushes is not soft and flexible and can mess up your makeup color palette by mixing different colors. So, what is the best way to clean and take care of makeup brushes?
What Should You Use To Clean Your Makeup Brushes?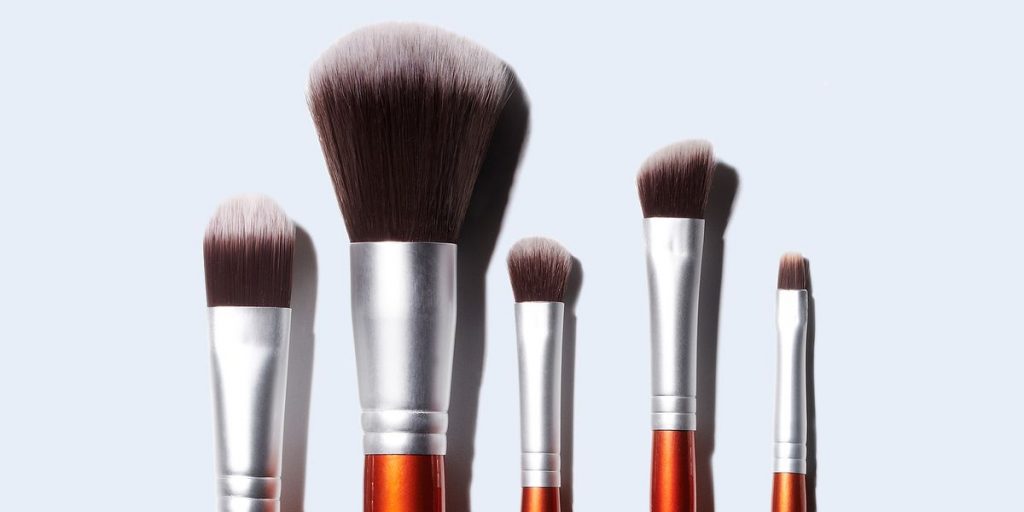 The answer will never be straightforward because everything depends on:
how often you use brushes;
the number of brushes, which makes it possible to apply dark and light pigments with different brushes;
the quality of the nap – natural, synthetic, combined;
the priorities given to the consistency of cosmetics.
If you have problematic skin, you should take care of the hygiene of your tools and take care of them every time you use them.
Most brushes for personal use need to be cleaned 1 time per week;
Brushes and sponges for cream and liquid products (such as concealers, foundation, cream blushes, lipstick, etc.) – daily or once every 2-3 days;
Dry texture brushes (eye shadow, eyebrow shadows, blush, etc.) may be washed once a week;
Eyeliner brushes ought to be washed after each makeup session.
Types Of Brushes By Lint
Brushes are made of different materials. And it is worth taking this into account when choosing. We suggest you get acquainted with useful and relevant information:
Natural hair. Pony hair is often used to make brushes for applying powder, dry shadows or other products. Squirrel, marten, or sable fleece are alternatives. For shading, tools made of goat hair are ideal. Correcting brushes are often made of raccoon or badger fur;
Synthetics. Artificial pile is ideal for applying liquid and/or creamy products;
Combination of materials. Natural and artificial piles. Suitable for those who doubt and can not choose in favor of one or the other option;
Nylon. This material is suitable for applying water-based and greasy products.
What Products Can Be Used To Clean Your Makeup Brushes?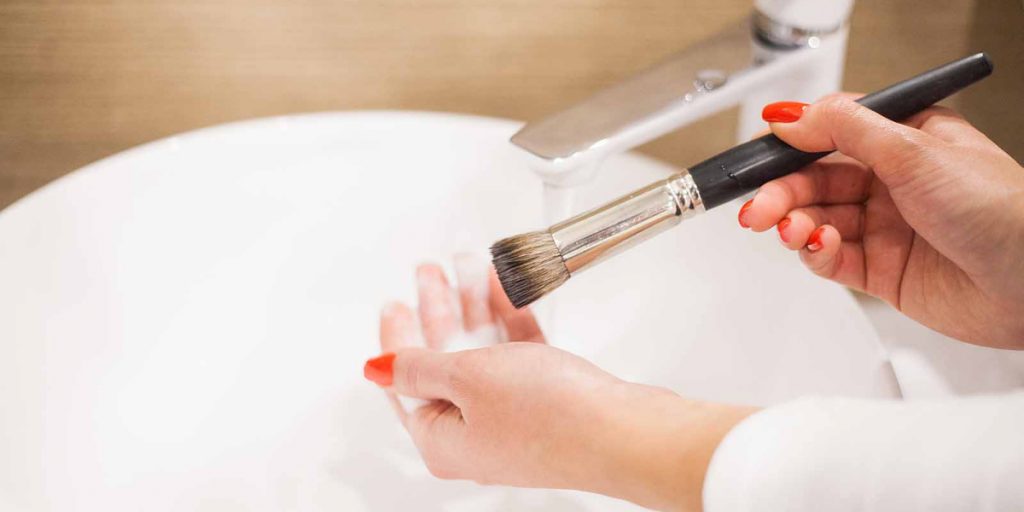 The choice of products for washing makeup tools is varied. Of course, there are special professional products: gel, shampoo, spray, etc., which are usually very effective and help to carry out the cleaning process as quickly as possible. However, some contain alcohol, which, if used frequently, can damage the nap. Synthetic ones are less fussy and can be cleaned with organic soap or eco dishwashing detergent. For natural ones, it is better to use gentle formulas – professional products for brushes or baby shampoo. Here's a tip from makeup artist Mario Dedivanovic: if you want to clean makeup brushes with Johnson's Baby shampoo, add tea tree oil for an extra antibacterial effect.
Brush cleansing can be superficial and deep, so different products are needed. It's no secret that many women prefer their method of cleaning their makeup tools. Of course, not everyone has silicone structured applicators, mitts, and brush cleaning mats that help break down and remove stale makeup residue. But every home will always have one of the following remedies:
soap, which needs to be very soft, with a moisturizing effect, as other kinds can make the natural lint dry;
antibacterial liquid soap to clean your makeup brushes;
antiseptic – needed for superficial instant disinfection;
vegetable oils to remove residues of cream-based decorative cosmetics before washing;
dry or liquid hair shampoo. It is even advisable to choose a children's shampoo;
wet sanitary or antibacterial wipes – for a superficial express-cleaning;
a washable or non-washable hair conditioner to moisturize the natural frizz and make it soft;
cotton pads if you need to remove heavy, stubborn makeup first and then wash your makeup brush;
paper towels or tissues needed for drying.
How To Clean Your Brushes As A Professional?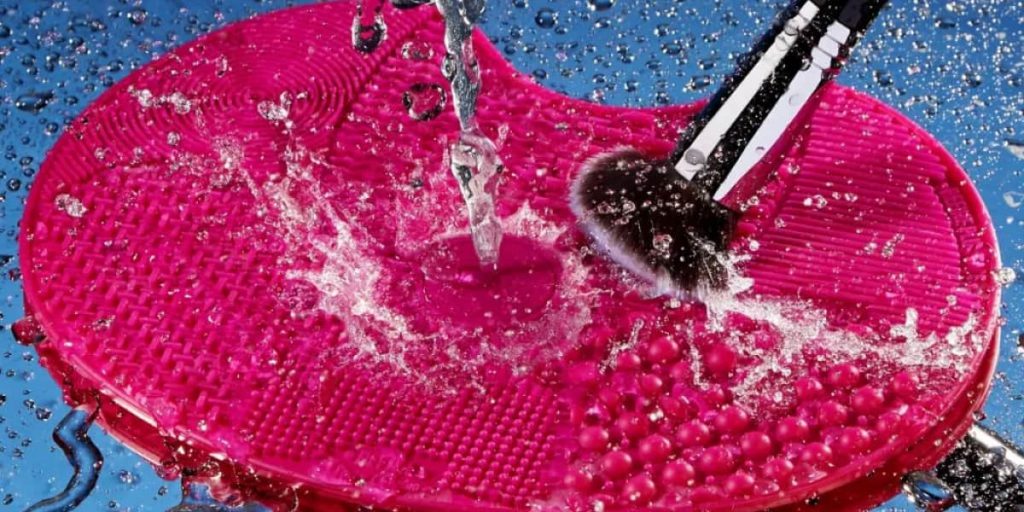 First of all, each brush has to be washed separately. The best option is to clean makeup brushes in the evening, so they are ready to work in the morning. How to clean makeup brushes right to make the process easy and the result pleasing?
For example, follow the best instructions to clean makeup brushes:
The water should be comfortable but not hot, or it will melt the glue holding the hairs and shaft. Wet the brush under the faucet, holding it diagonally to prevent water from getting on the glue, or dip the hair in a shallow water bowl;
Use circular motions to loosen the lint and rinse thoroughly under running water. Use a mini glove for greater effect: its ribbed texture will quickly clean all shapes and sizes of brushes. Pay special attention to the tone brush: there is always some amount of makeup trapped inside it, so wash it particularly carefully;
Squeeze the washed brush and put it on a cloth or towel. Fluffy and large brushes are best dried in a brushing guard that prevents loss of shape. For maximum natural hair care, use conditioner to harden the hairs and make them smooth.
How To Dry Brushes Properly?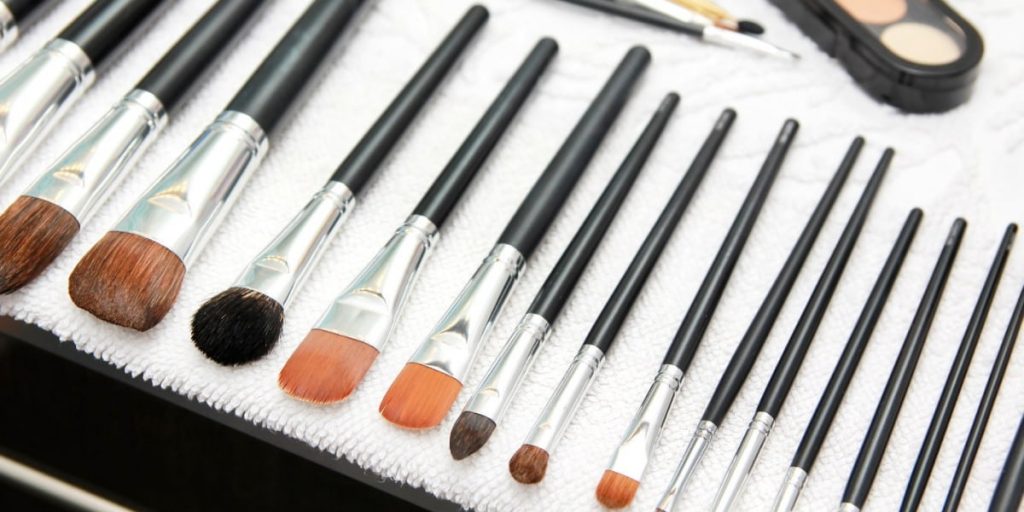 The brush should not only be well washed but also dried. Indeed, one of the essential steps in proper care is drying. And although nothing special is required for this, many still make serious mistakes and spoil brushes. "I always say that my makeup tools are like an extension of my hands", says Charlotte Tilbury, celebrity British makeup artist and founder of her brand. – "Believe me, no makeup artist, even the most talented one, can create a masterpiece on the face without the right brushes".
So it is worth remembering what categorically should not be done if you want to clean makeup brushes with detergents and save your instruments for makeup:
dry brushes on or near the radiator, as well as using a hair dryer and an iron, because this deforms the hair and the shape of the brush;
do not use a terry towel as it takes too long to dry, causing a musty smell;
to put freshly washed brushes, for example, in a glass, in an upright position, as this will cause water to seep into the metal base of the brush that secures it to the handle, causing it to dry out and lose its hair.
Proper Brush Drying Involves The Following Nuances:
in a well-ventilated room, put a thin cotton towel on a flat surface that quickly absorbs water. On it neatly, at a distance from each other, place wet brushes – at a slight incline, with the handle upwards. This is the best drying condition;
many experts insist that the towel should lie on the table's edge so that the brush hair hangs down a bit. This technique helps the brush keep its shape, as it does not touch the surface and the fluff does not flatten;
in the end, all left is to fluff up the nap.
What Happens If You Don't Clean Your Makeup Brushes?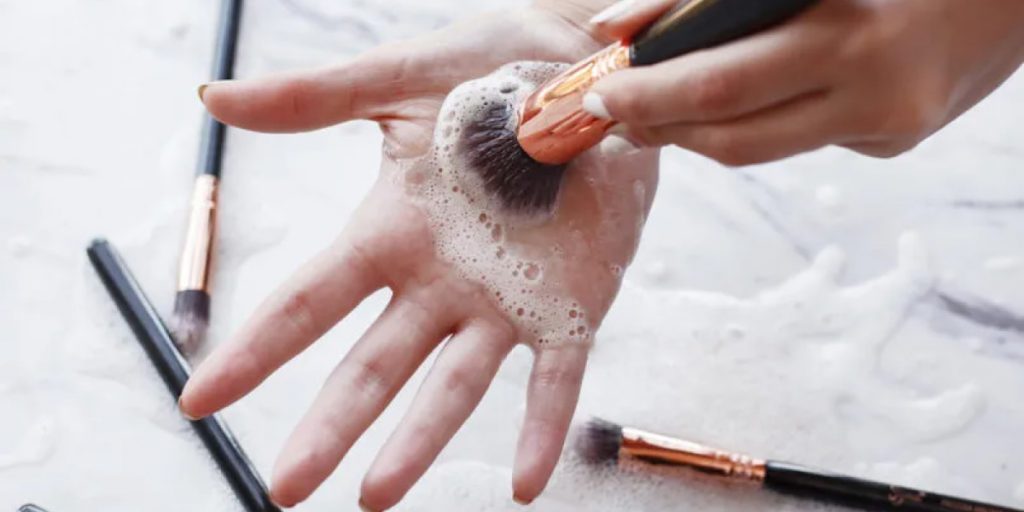 It would seem that nothing is wrong with it because you put the same products on them and only touch your face with them. You may encounter serious consequences. To convey the seriousness of this manipulation of the hands, I have listed a few of the most common aftermath:
You may get pimples. Makeup brushes accumulate a lot of dirt, skin grease, and bacteria on your face when you apply makeup. As a result, you can get inflammation and redness, and your skin can become irritated;
It will be more difficult for you to do the perfect makeup. If you apply a new color of eyeshadow or bronzer with an unwashed tool, you risk getting the wrong shade from the palette. If too much product is on the brush, it will be harder for you to achieve even coverage;
Brushes will deteriorate faster. Many people mistakenly believe that frequent washing can ruin brushes. Experts don't agree with that at all. On the contrary, if you don't clean your beauty tools, they will lose their appearance faster – the bristles will become unpleasant to the touch, and the hairs will start to fall out.
Bottom Line
The information in this article is worth reading and applying. You must never forget about hygiene because it is your beauty and health. Clean brushes are not only a guarantee of fast and beautiful makeup but also no skin problems!
FAQ
Should I Wash Makeup Brushes?
Yes, you should wash not only your favorite working makeup brushes but also newly purchased ones (even if they were packaged) that need cleaning just as much after the production process. Washing will make them fresh, free them from loose bristles, and remove excess paint if the lint has been tinted for design purposes.
May I Use Special Cleansers For Makeup Brushes?
Yes, sometimes, these "helpers" can make the process easier. A great find is the silicone mat, which is perfect for rinsing the lint and disinfecting it. They come in different sizes and designs. You need to apply a solution to the surface. Its approximate cost is $3-4. There are also special washing machines for brushes. You can also find them on the Internet, starting at $40.
How Do I Store Makeup Brushes?
Clean brushes should be stored upright to preserve their original appearance and functionality. It is desirable that each of them has a protective cap. In this case, brushes are always on hand. But if you don't do a lot of makeup and your brushes sit idle and just get dusty, it's better to keep them in a box, pouch, or bag with compartments. A flat pouch can be handy for carrying brushes in your bag.