Published on July 15th, 2022
Last updated on January 25th, 2023
How To Prevent Makeup From Rubbing Off On Clothes: 5 Ways
Estimated reading time:
7
minutes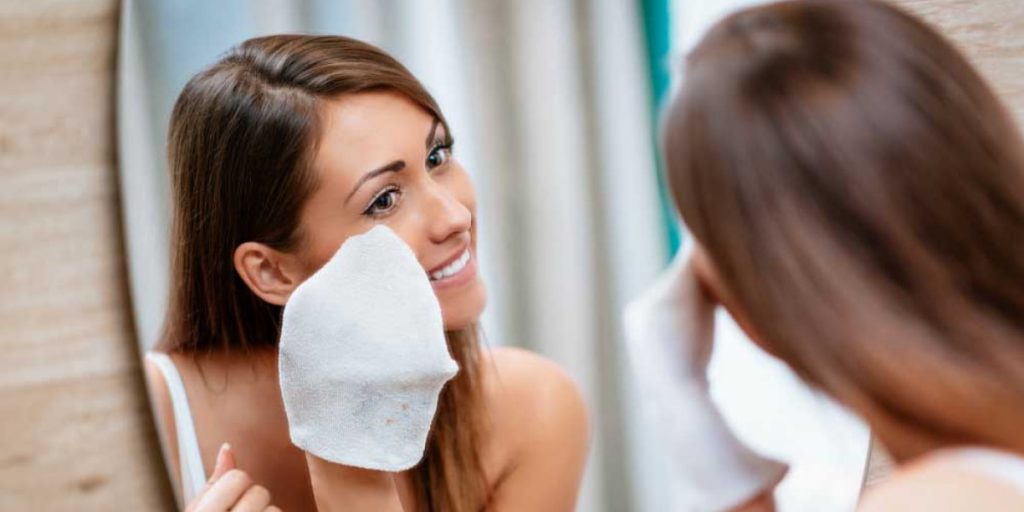 Every woman has experienced such a terrible situation when her makeup stains clothes. To prevent makeup from rubbing off on clothes, use the following rules:
Choose the right outfit;
Don't apply too much tint;
Use fixatives;
Try waterproof makeup;
Use a moisturizer.
The problem is not that now the clothes will need washing an additional time, but it will also be necessary to wipe off the old makeup and apply a new one.
However, don't worry, each problem has its solution. There are certain tricks that will help you apply makeup on your face and not to prevent makeup from rubbing off on clothes.
Before applying make-up, put on clothes that you won't mind getting dirty. If you need to wear a turtleneck to your event or other narrow-necked clothing, put it on before you put on your makeup. So, your clothes will not get dirty while you put them on, and there will be no smeared lines on your makeup.
Let's take a closer look at what you can do to keep your makeup from transferring on your clothes.
How Not Stain Clothes With Cosmetics?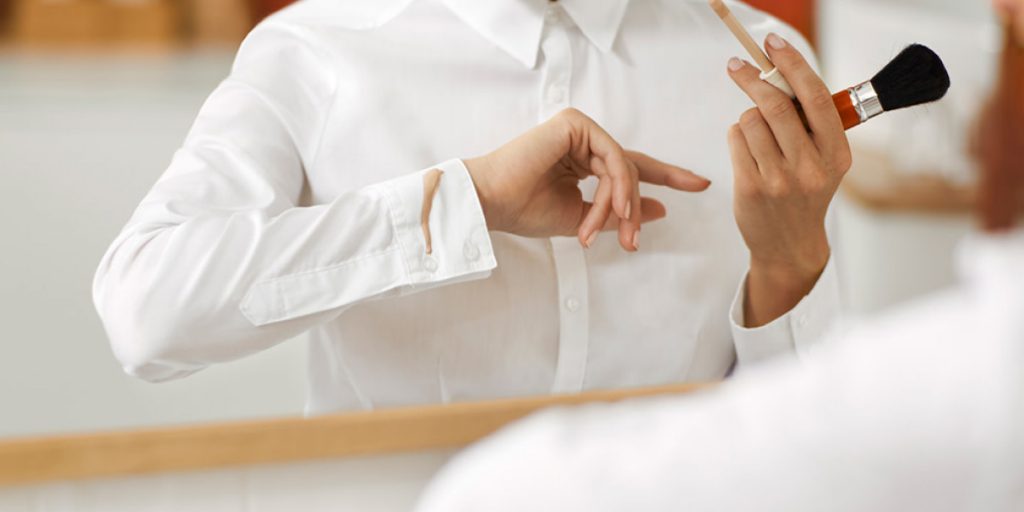 Let's take a closer look at tips on how to prevent the makeup rubs off. Follow the following steps:
1. Choose The Right Outfit
As I have already said, you must wear comfortable attire before the event. Try wearing a dress, shirt, or top with a wide neckline. You should wear what you like and feel comfortable if you prefer a casual style. Choosing an outfit with minimal contact with your face helps you keep makeup from rubbing off and let it stay fresh for as long as possible.
2. Don't Apply Too Much Tint
A good make-up artist will tell you that you should not apply too much foundation and powder on your face. A minimum amount of cosmetics will look more natural and beautiful, and such make-up will last much longer.
3. Use Fixatives
Most people have heard of makeup fixing products, such as setting spray, but not everyone knows how it works. The fixing spray will give your face a more natural and retouched look. Using the spray, apply it to your face at least 20 cm from your face, first on the bridge of your nose, then on the jawline, and under the eyes. When applying a fixative to your face, apply it carefully to avoid ruining your makeup. Ideally, the spray should lie on the face with a light mist.
4. Try Waterproof Makeup
Another option to keep your makeup on and not stain your clothes is to use waterproof makeup.
Waterproof products don't have to worry about your makeup crumbling, and you can keep your makeup looking fresh even in the heat.
5. Use A Moisturizer
Apply an oil-free moisturizer and leave it like this for at least 10 minutes.
This moisturizer will add extra shine and oil to your face and help keep your makeup on all day.
Permanent Makeup Instructions
I have prepared instructions for you to use while applying makeup. Thanks to the following tips, you may be able to prevent makeup from rubbing off on clothes and stay perfectly on your face.
So, let's take a closer look at the steps.
1. Prepare Your Face For Makeup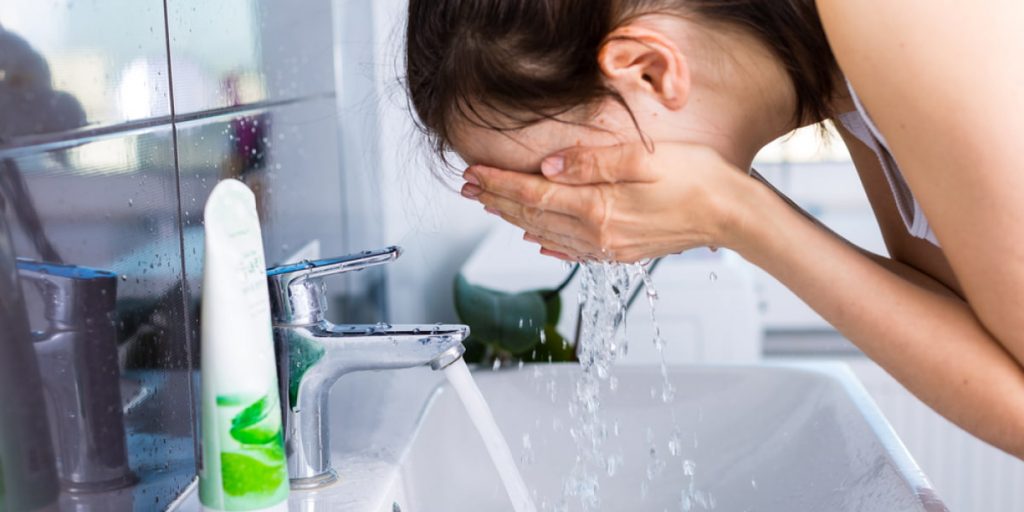 Consider how to prepare your face for applying waterproof cosmetics properly:
Wear comfortable and loose clothing. Put on unwanted clothes before you start applying makeup. It should be loose clothing that you can easily take off without touching your makeup;
Wash off previous makeup. Wash your face, removing old makeup and dirt. Even if you washed your face the night before, during the night, dirt has already accumulated on your skin, and that needs to be washed off;
Apply moisturizer. Apply a non-greasy moisturizer to your face and wait about 10 minutes for it to absorb. If the cream does not have time to dry, then after applying makeup, all the products will mix on your face and look quite oily;
Apply foundation. Apply primer to your face before applying foundation. Primer helps make-up stay in place by creating a barrier between face and foundation. A good primer also hides wrinkles and tightens pores.
2. Applying Waterproof Makeup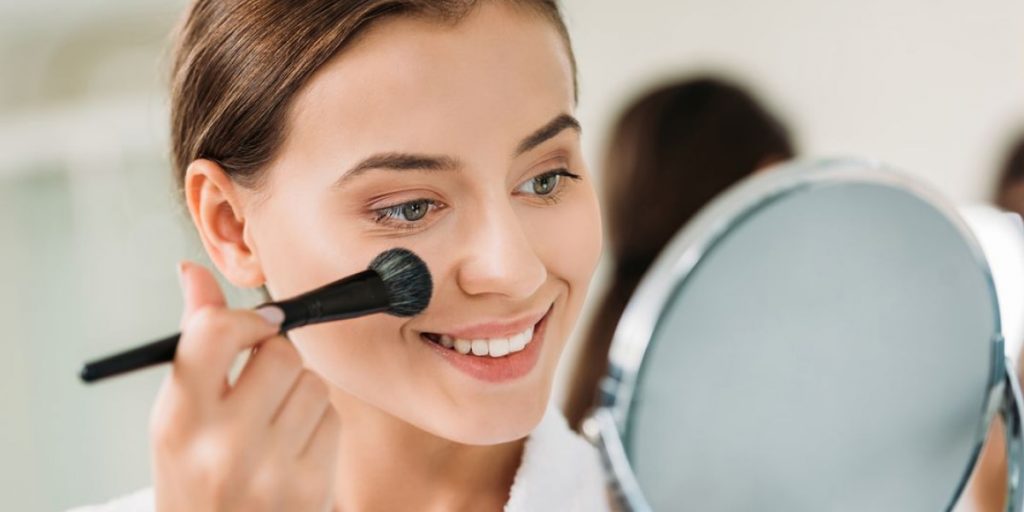 After you have prepared your face for makeup, you can start working with the cosmetics. Consider the steps for applying cosmetics:
Apply tone cream. Apply an oil-free matte tone cream to your face. A quality tone cream will not make your skin oily. When choosing it, consider your color and skin type. Test a small amount of tone cream on a small area of ​​your face to see if it suits you;
As for your skin type, if your skin is prone to breakouts, opt for a non-comedogenic formula. This helps prevent clogged pores. If your skin is prone to dryness, opt for a light liquid foundation and refrain from using powder. Apply foundation with a brush, and then blend it with a sponge;
Apply mascara. Apply waterproof mascara to your lashes. Such mascara will not smudge even in hot weather or during sports. In addition to waterproof mascara, use a waterproof foundation, eyeliner, eye shadow, and lipstick;
Use powder. Apply loose powder to your face. This helps absorb the oil after the makeup is done. Apply the powder to your face using a puff. When choosing a powder, pay attention to translucent powder;
Apply a fixative. Spray a fixative spray on your face. This helps you set your makeup. Loose powder and fixatives will prevent cosmetics from smearing and clothes from getting dirty. After applying the spray, let your face rest for 10 minutes.
3. Final Stages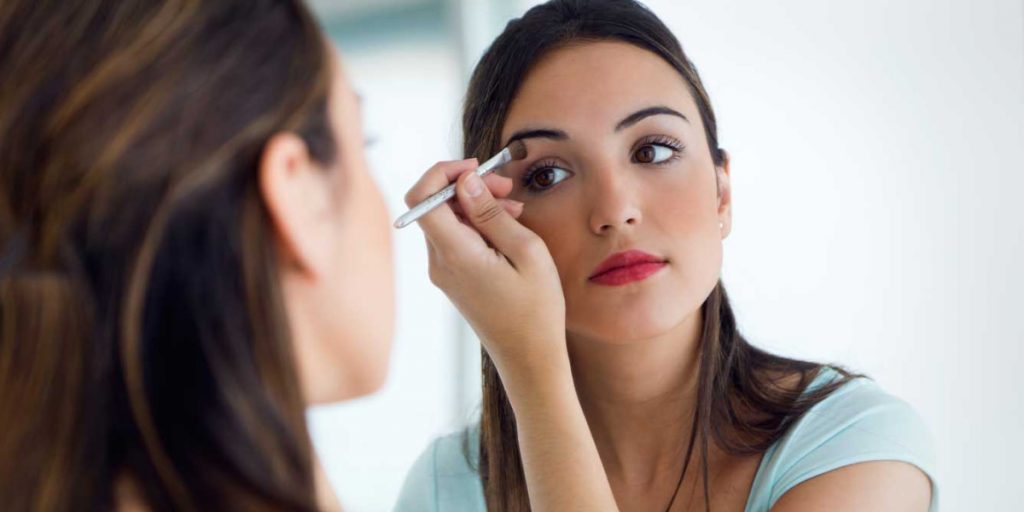 Your makeup is already on your face, but during the day, you will need to control the skin of your face; it may be necessary to touch up makeup with wipes or other means. Read the following final tips I wrote below and take them into your mind:
Remove excess makeup from your face with a soft cloth. Wipe your face with a soft, clean washcloth. This will help to remove excess cosmetics and keep your makeup from smudging;
Use powder to set lipstick. Apply a little translucent powder to your lipstick through a tissue. Place a tissue on your lips and apply powder to the tissue. This will protect your lipstick from smudging throughout the day;
Refresh your makeup throughout the day. During the day, dab your face with wipes to remove sweat and oil, and apply new light layers of makeup if you feel your makeup has faded a little.
FAQ
Why Is My Makeup Smudged?
The main reason your makeup smudges is the presence of oil inside your makeup and moisture underneath the mask. The warmth of your breath, hot weather, and a tendency to sweat more can also cause make-up smearing.
Does Setting Spray Prevent Makeup Transfer?
Celebrity makeup artist Elaine Lim says a makeup setting spray is all you need to prevent carryover. The spray helps make-up stick and hold better on the skin and minimizes the chance of it smearing.
How Do I Prevent Makeup Transfer If I Have Dry Skin?
If you have dry skin, avoid alcohol-based formulas. Look for moisturising products, such as glycerin or hyaluronic acid. This will help you moisturize dry skin on your face.