Published on August 20th, 2022
Last updated on January 25th, 2023
Makeup For Hyperpigmentation: 7 Steps To Cover Face Hyperpigmentation
Estimated reading time:
7
minutes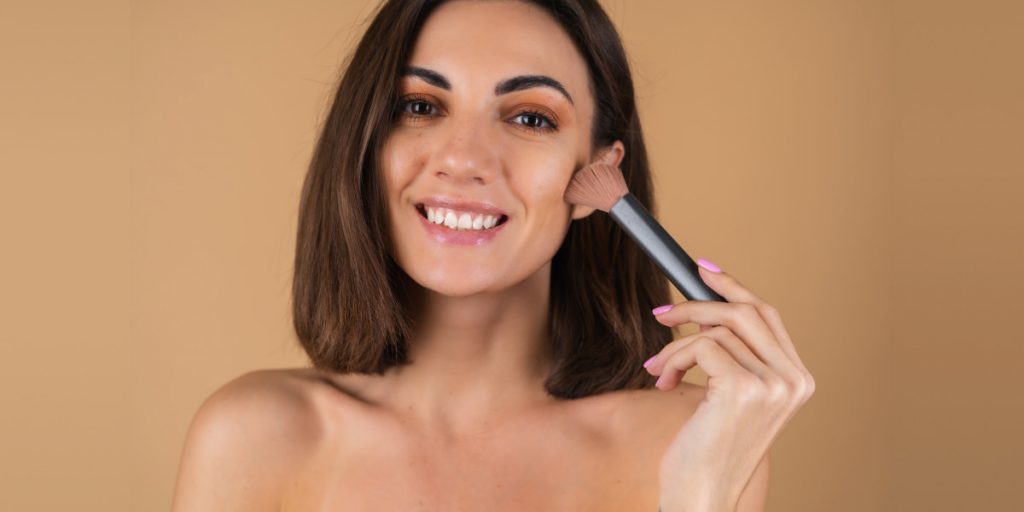 When a person's body produces a lot of melanin, it causes hyperpigmentation. Hyperpigmentation leads to dark spots, which we try to cover with makeup. It does not harm a person's health but brings considerable discomfort regarding appearance. So, it is divided into such categories:
Hormonal. It often happens during pregnancy or may be due to hormonal drugs;
Inflammatory. It happens when you squeeze your pimples which provokes the appearance of spots on your face. You can form wounds that leave traces behind;
Sun influence. It doesn't matter how old you are. The effects of the sun can appear at any age. The sun's rays provoke the formation of hyperpigmentation and wrinkles on our faces.
So, if you face such a problem, you can easily hide it with the help of makeup for hyperpigmentation. You do not need to apply a couple of tones of foundation and powder. It is enough to choose the right makeup for yourself and products for its healing.
Covering Hyperpigmentation With Makeup Step-by-step
Have you lost confidence due to hyperpigmentation? Does your makeup for covering hyperpigmentation take a long time? Keep reading to know more.
People think that the more makeup they put on their faces, the fewer flaws will be visible. But unfortunately, it doesn't work like that. You must know how to apply makeup properly for a good facial appearance. Also, how to choose the appropriate means for this and be able to level the tone. To do this, I have seven tips for you on how to make makeup for hyperpigmentation:
Step 1: Cleanse Your Face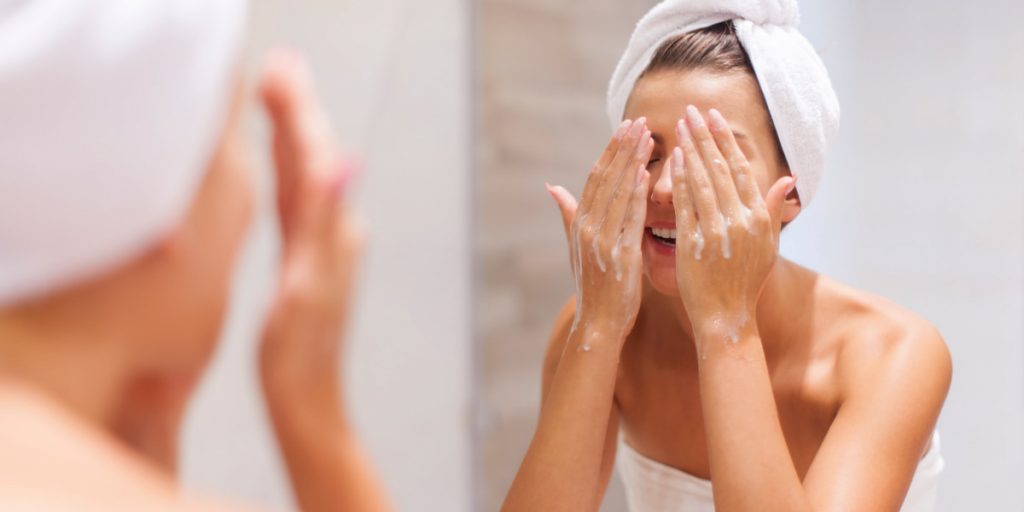 The crucial thing you should do before applying makeup is to clean your face. For this, use foam or gel for washing. You can use foam for washing with a whitening effect for a better result. It helps reduce the visibility of black spots.
Extracts of orange, tangerine, and bergamot gently lighten hyperpigmentation, so I advise you to buy cleansers containing these components.
Cleansing the face before hyperpigmentation makeup is necessary because it cleans the pores. It helps your facial skin to breathe freely and avoids the appearance of comedones. Therefore, always start your makeup at this stage.
Step 2: Apply Sunscreen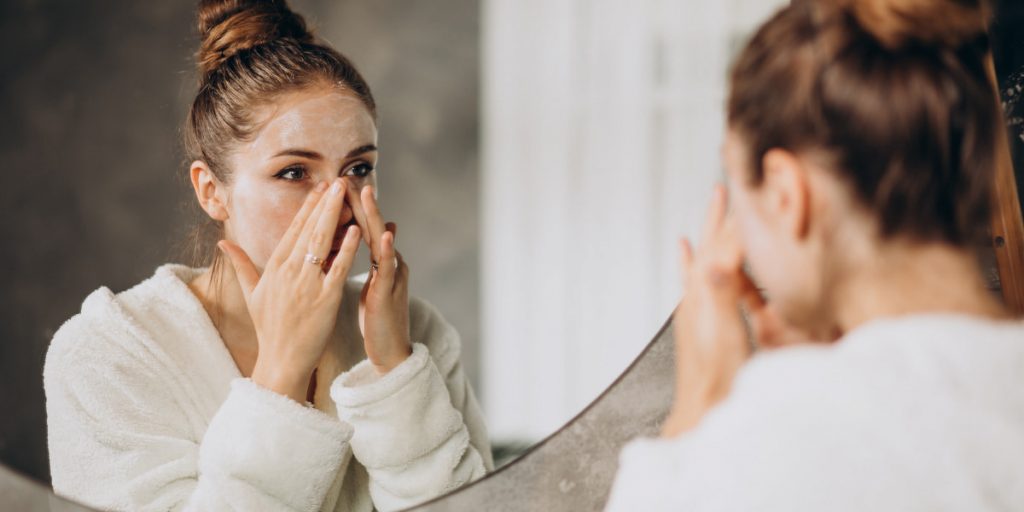 In most cases, hyperpigmentation appears precisely because of the sun. So, you should use sunscreen, which needs to be selected according to your skin type. Sunscreen protects you not only from unwanted spots but also from wrinkles and freckles. Such cream should be applied as follows:
Apply it to your face after washing;
Wait 20 minutes for it to absorb into the skin;
After the absorption, you can proceed to hyperpigmentation makeup.
Step 3: Choose A Color Corrector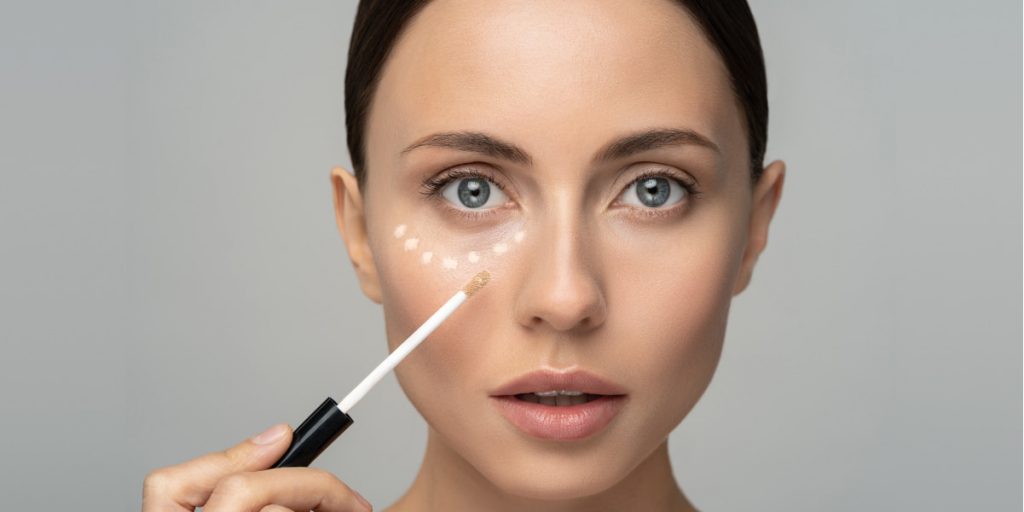 A color corrector is an effective tool for covering up your scars and unwanted spots on your face. Correctors come in different colors, but you shouldn't choose just any. Before using it, you should pick it according to your skin color. For example:
Purple for pale and very fair skin;
Red for very tanned and dark skin. It is often used by those who struggle with acne;
Orange for heavily marked spots;
Green for redness;
If you need to remove dark circles under the eyes, choose a color corrector one shade lighter than your skin.
You can use a couple of color correctors at the same time. After shading them and applying them, they will begin covering hyperpigmentation.
Step 4: Choose The Proper Tonal Foundation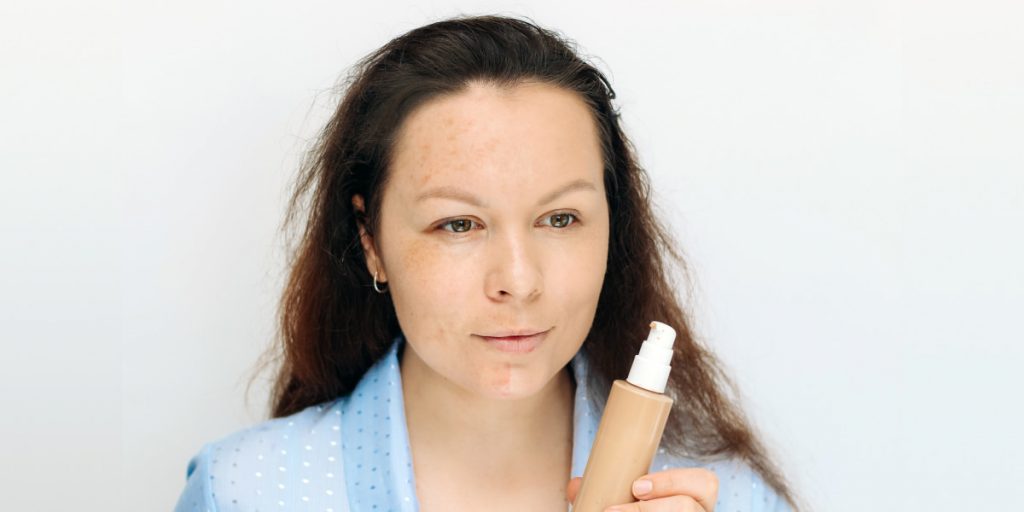 To completely even out the color and tone of your face, you need to apply a tonal foundation. It should be chosen according to the type and color of your skin. Even the wrongly selected base of one tone can spoil your look. Therefore, I recommend choosing a foundation with a specialist in the store if you can not decide independently. After the color corrector, the foundation should be applied according to the following rules:
Apply it in dots on the forehead, cheekbones, nose, and chin;
Shade the skin with a brush covering hyperpigmentation in linear and circular motions;
Make a shading until your face becomes an even tone.
Remember that the tonal for hyperpigmentation makeup should be of the highest quality and applied in one layer.
Step 5: Hide Flaws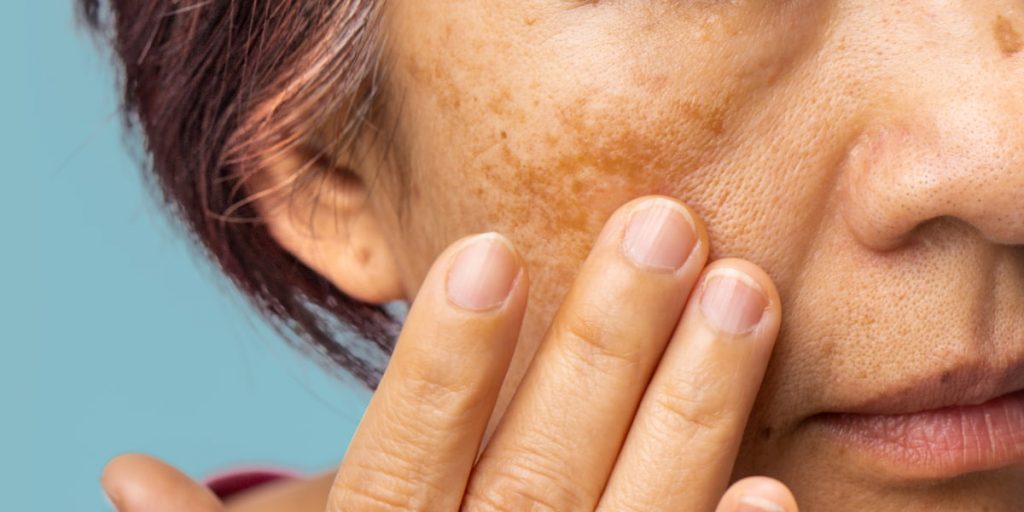 Once you've applied the base to your face, look at your makeup in the mirror. Your face should be of natural color and have an even tone.
If you notice some imperfections and they are visible, complete your makeup with concealer. It helps to cope with redness, spots, and scars that the foundation could not cover.
Apply it in pointy movements, and then blend it lightly. Concealer should be applied only to those areas where excess hyperpigmentation is visible. It should not stand out against the foundation, so do your makeup carefully.
Step 6: Apply Powder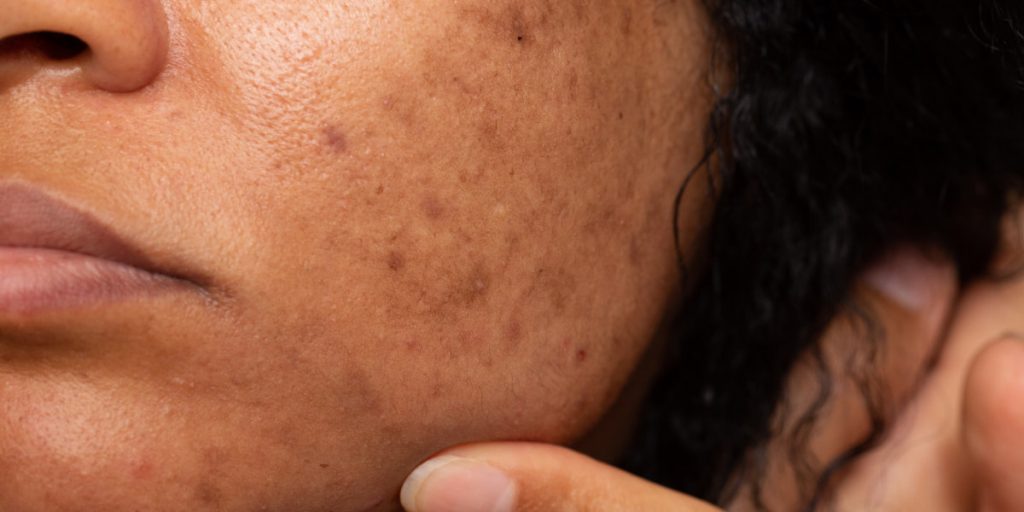 Next, you need to set your hyperpigmentation makeup. It can crumble or melt (if it's summer), so it's better to fix it with powder. It should be high-quality and loose powder and applied with a coarse brush. Apply it to areas such as cheeks, forehead, and chin.
There are cases when the skin is very oily, and the makeup begins to melt over time. In such situations, the powder also helps. It not only strengthens and removes oil but can act as a covering for your hyperpigmentation. It should be applied to those places that are prone to rapid greasiness.
Step 7: Don't Use Too Many Cosmetic Products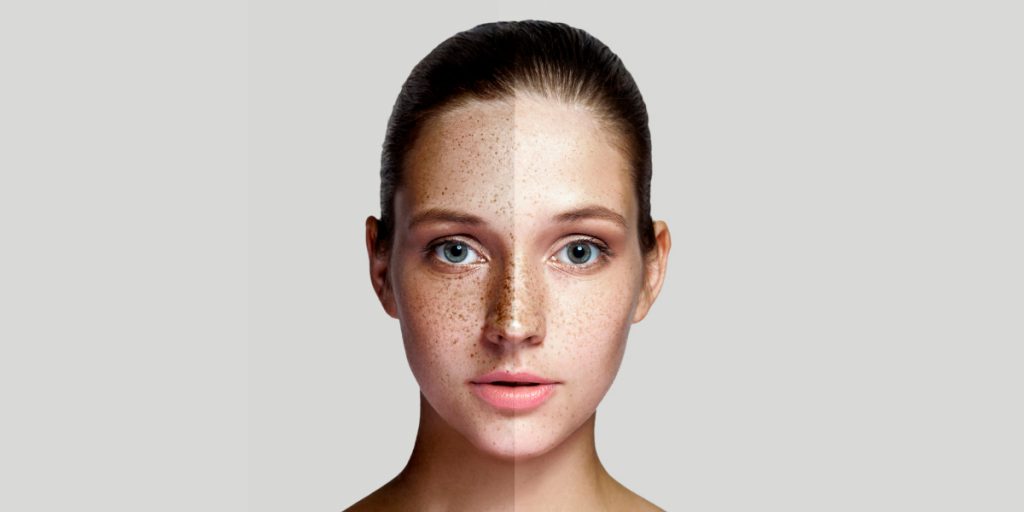 It is the most important rule for hyperpigmentation makeup. Most of you mistake applying a couple of foundation layers, thinking it will improve the effect. But on the contrary, it makes your base more noticeable. So, I recommend doing everything in minimal quantities. If your hyperpigmentation remains noticeable, you can add more concealer.
Using a lot of foundation and color corrector can make your face look sloppy and clog your pores. It will add pimples to your face and worsen the situation with hyperpigmentation. Therefore, it is better to follow tips regarding applying makeup correctly.
After seven steps, your makeup will cover hyperpigmentation and make your face attractive. These basic tips can correct and enhance your natural skin tone. You just need to master the skills of applying makeup correctly without using a lot of cosmetics. For example, do not use a lot of foundation and concealer because it can only distort your grooming. So, remember the rule: the less base application, the better the result of covering hyperpigmentation.
FAQ
How To Conceal Hyperpigmentation?
Hyperpigmentation is usually light brown to dark in color. Use a color corrector suitable for your skin if you want to hide it. They can be green, red, purple, and so on. Next, apply a thin layer of foundation. Try to avoid using a lot of foundation.
Can You Put Makeup On Hyperpigmentation?
Of course. Makeup is one thing that can help you hide your hyperpigmentation. You must choose the correct color foundation and color corrector to do this. After their application, the skin should be smooth and look natural.
What Is The Foundation Used For In Makeup?
Foundation is a perfect product for covering hyperpigmentation and other imperfections. For example, acne, hyperpigmentation, scars, and blue circles under the eyes. The foundation can be creamy, liquid, and powdery. It should be applied to the face and neck to create a uniform color and lay it evenly.
What Do Dermatologists Recommend For Hyperpigmentation?
Dermatologists recommend using serums and creams with a whitening effect. They reduce the visibility of spots and can altogether remove them with the regular use of the right products. Also, the most important advice of dermatologists is to use sunscreen.