Published on December 30th, 2022
Last updated on January 24th, 2023
Natural Cures For Dark Circles Under The Eyes
Estimated reading time:
8
minutes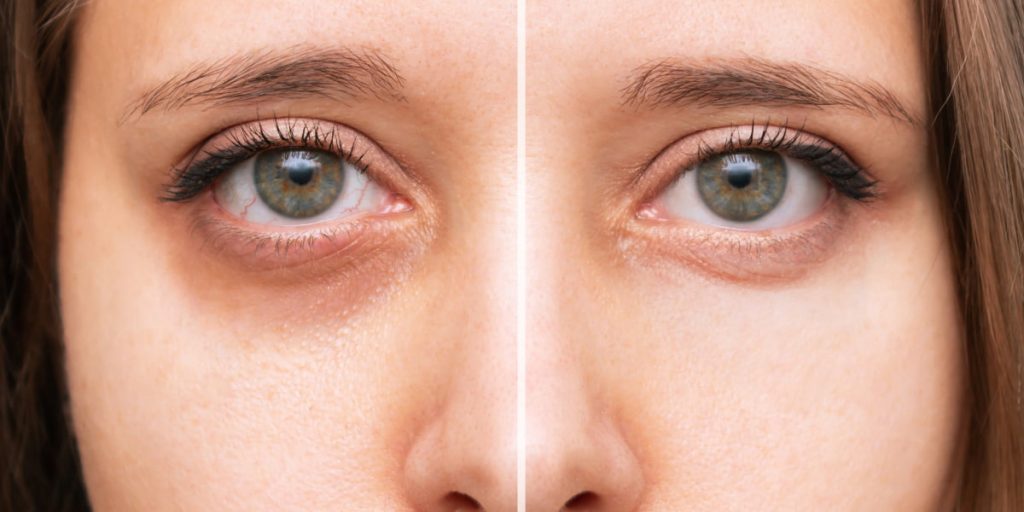 The area under the eyes is essential in every person's life. The skin under the eyes of light color always demonstrates excellent human health. Also, a healthy skin color makes a person beautiful, directly affecting self-esteem. But, we often experience darkening of the area under the eyes. It can be caused by stress, illness, poor sleep, or other reasons. Most often, dark circles under the eyes signal a problem you should pay attention to.
We will tell you how to get rid of dark spots under the eyes. We will also speak about the causes of this problem. Read our article to the end and find a working method for you to get rid of dark spots under the eyes.
Home Remedies For Under Eye Wrinkles And Dark Circles
Before we look at ways to remove dark spots on the skin, we should consider why this problem occurs. Here are the most popular causes of dark areas under the eyes:
Aging is one of the most typical causes of dark circles under the eyes. Our skin loses elasticity and collagen as we get older. This particular protein helps to maintain our skin firm. The skin around the eyes begins to sag as a result of this suppleness loss. In turn, it may produce shadows that resemble black circles.
Sunlight exposure can also hasten the aging process. It makes the development of dark circles under your eyes more likely.
Genetics is another factor dark circles depend on. You are more prone to develop them if your family members do.
Finally, poor lifestyle choices or a lack of sleep can also cause dark circles.
As you can see, the causes of dark spots under the eyes are quite different. And to get rid of the problem, it is necessary to apply a set of measures. More on this in the following paragraphs.
1. Cold Compress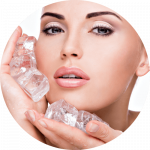 A facial compress is a good home remedy for under eye wrinkles and dark circles. It is best to do the procedure twice a day. In this way, you can achieve a more significant effect.
For the process, it is enough to prepare a compress in advance by keeping it in the refrigerator. During the procedure, keep the compress on your face for no more than 10 minutes. After removing it from your face, you can rinse it with water. Also, use a soap scrub once a week. Thus, you can remove dead skin cells and dirt from your face.
2. Cucumbers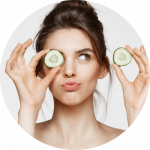 Chances are you've seen a lot of scenes in movies where a woman puts cucumbers over her eyes to take care of herself. And it happens for a reason! Cucumbers have many health benefits, including moisturizing and brightening.
For a compress, it is enough to cut half a cucumber into round slices and put them in the refrigerator for 30 minutes. Afterward, you can take out the cucumbers and put them on your eyes. You should leave the cucumber compress on for 10 minutes. After that, you can rinse your eyes with warm water.
Advice! Do not eat cucumbers after the procedure. Also, prepare the skin around the eyes in advance. You must remove makeup and wash your face before using the cucumber compress.
3. Tomatoes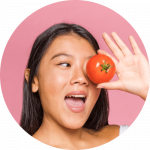 Like cucumbers, tomatoes also have a range of health benefits and can do a lot of good for your skin. Tomato is full of lycopene and is a great dark circles natural remedy. This vegetable helps to make the skin soft and pleasant to look at. Also, a tomato will help make the area under the eyes brighter and more radiant.
For the procedure, you will need a tomato and lemon. After you mix the ingredients, take a cotton pad and apply the product to the area under the eyes. Be very careful during the procedure. It's because contact with the mixture with the eyes will be irritating. Leave the product under your eyes for 10 minutes and then wash it off with water.
If you don't want to spread the area under your eyes with a mixture of tomato and lemon, we have another option for you. You can mix lemon, mint, and tomato and make a smoothie. It will also help improve the health of your skin.
4. Cold Tea Bags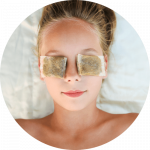 You can use tea bags as your dark circles under eyes natural treatment. Consider green tea, as it often has a soothing effect on the skin.
Take two tea bags and soak them in clean water. Wait about 30 minutes, then place them in the refrigerator for half an hour. After that, you can make yourself a tea bags compress. You can use them twice a day. Each session lasts approximately 10 minutes. After the procedure, you can rinse your eyes with warm water.
This method is very cheap to get beautiful and delicate skin under the eyes. Thus, everyone should try it.
5. Potatoes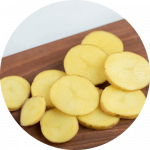 Continuing the point of vegetables, potatoes can also be noted. It is also a great natural cure for dark circles under the eyes. With this vegetable's help, you can boost vitamin C and synthesize more collagen. We will remind you that collagen helps the skin maintain beauty.
Grate some potatoes and soak cotton pads in potato juice. After that, apply the product to the eyes and wait 10 minutes. After that, you can rinse your face off with water and enjoy beautiful skin.
6. Dark Chocolate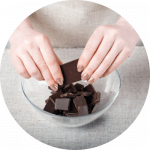 This may sound like an excuse, but you can also include chocolate in your diet. But you need to eat only dark chocolate. It is rich in flavanols and will protect your skin from the effects of the sun. This will help slow the aging process and make your skin more attractive.
However, don't overeat chocolate, which can lead to obesity or stomach problems.
7. Change Your Lifestyle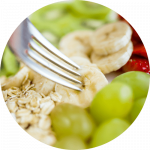 Besides the fact that you can use compresses for your eyes, you can also simply change your lifestyle. Include plenty of vegetables, fruits, and low-glycemic cereals in your diet. Also, get used to exercising and consuming less alcohol. Salt is also worth considering. Avoid salty foods as salt retains water, and your skin will start to swell. Also, pay attention to your sleep. Sleep 8-9 hours a day. With this approach, you will look healthier, and your body will be transformed.
8. Exfoliate Properly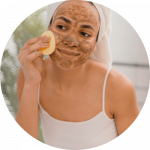 Eating right and applying compresses are not enough for the skin under the eyes to look healthy. You also need to learn how to do your beauty routine correctly for your dark circles natural remedies to work. Make sure you exfoliate your skin the right way.
Use gentle exfoliating products and be gentle. If you rub or press hard, your skin will become rough and dark. After an exfoliation, always moisturize your skin and let it repair itself.
9. Massage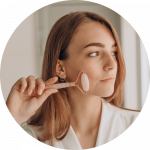 These dark circles under your eyes' natural treatment will be not only useful but also enjoyable. After all, everyone loves a massage. By massaging, you can more effectively stimulate blood flow to the skin and thereby give the skin a healthier appearance.
You can either do the massage yourself or ask your loved ones to help you. You can also buy a facial massager. But this can be an expensive purchase.
For the procedure's effectiveness, massage your eyes with gentle circular motions. Also, do the procedure for up to 10 minutes. This is to ensure that you do not rub your skin. After the massage, you can moisturize the skin around your eyes.
10. Hydration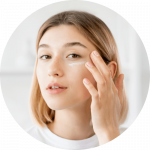 Water plays a key role in the life of every person. By drinking enough water, you can saturate your skin with important trace elements. Thus, it will not be dry, and wrinkles will not appear on the skin.
The recommended dosage of water is 1-1.5 liters per day for an adult. Remember that you need to drink plenty of water, pour the liquid into a bottle and carry it with you. Thus, the water will be in your field of vision all the time, and you will remember it.
Bottom Line
Using natural remedies for dark circles under the eyes can be challenging. It frequently involves dietary changes, lifestyle adjustments, and natural therapies. Natural remedies like cold compresses, cucumbers, tea bags, and honey offer excellent outcomes. And with little effort, you can achieve great results without pricey treatments.
Additionally, you can cut the look of dark circles:
Giving your eyes a gentle massage regularly.
Drinking lots of water.
Getting enough sleep.
But always consult a doctor to identify the best course of action.
FAQ
What Are Dark Circles Under The Eyes?
Dark circles under the eyes are a common skin condition. It occurs when blood vessels near the skin's surface appear dark or bluish. They can occur in both men and women. They occur regardless of age and can be exacerbated by stress, lack of sleep, and allergies.
Are There Any Medical Treatments For Dark Circles?
While natural remedies are often effective, serious cases may need medical treatment. They are laser therapy or dermal fillers to reduce the appearance of discoloration. These treatments should always be done under the supervision of a doctor or dermatologist.
What Is The Best Way To Prevent Dark Circles From Occurring In The First Place?
The best way to prevent dark circles is to keep a healthy lifestyle and have plenty of sleep. Avoid too much exposure to sunlight and other environmental stressors. Eating a balanced diet with plenty of fruits and vegetables can also help keep dark circles at bay. An eye cream containing natural ingredients such as vitamin C or retinol can help reduce the appearance of dark circles.
When Can I See The Result Of Dark Circles Under The Eyes Treatment?
The speed of the result will depend on the set of measures you have taken. If you change your lifestyle and diet and improve your health, the result may appear in a few weeks.