Published on July 8th, 2022
Last updated on January 25th, 2023
How To Prepare For Spray Tan? Tan Applying And Maintenance Guide
Estimated reading time:
7
minutes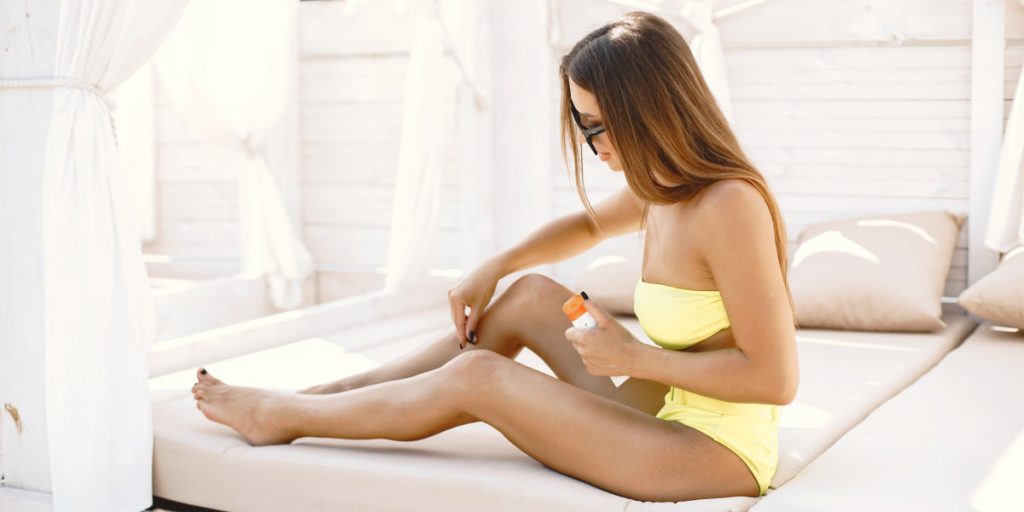 Properly chosen self-tanning will help to give the skin a beautiful, healthy tone quickly. To ensure that the product is laid evenly, without forming spots and streaks, buy a self-tanner of the desired shade and apply it to the prepared skin, following the rules before spray tan. Take your time – the procedure of artificial tanning requires care and my article is here to help you answer the question "how to prepare for a spray tan". Read on and make sure you follow all the steps.
Want your golden tan to last longer? You will have to apply a self-tanner every 3-4 days. If you need to "tan" quickly, you can use self-tanning again after 3 hours.
Unfortunately, the ability to apply self-tanner evenly comes only with experience. There are times when the spray does not lie quite evenly. Do not despair: apply a greasy cream to the skin. It helps to quickly remove the pigment from the upper layers of the skin. And after a couple of days, repeat the self-tanning application – the result will be much better.
Which Self-tanner To Choose?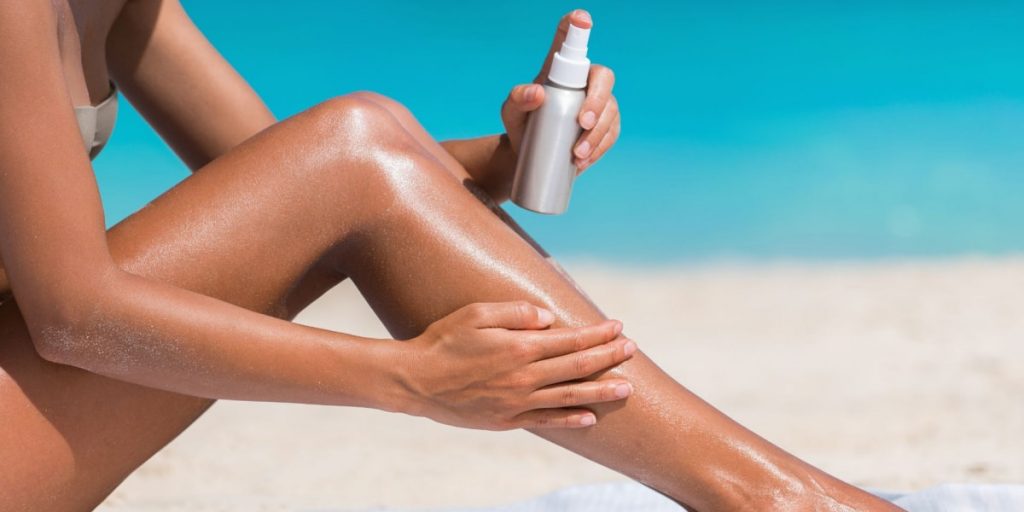 There are different ways to apply self-tanner, so there are different kinds. You can choose:
Spray. It works well with large body parts, rarely leaves streaks, and spreads quickly after a day of spray tan prep. For the face, it is better not to use it, as there is a risk of getting it into your eyes;
Cream. Using the cream, you must follow the instructions and be extremely careful. It has the most complex texture, as it takes longer to dry, is more prone to stripping and staining, and can also delaminate;
Gel. The gel texture is similar to cream but is applied more evenly due to its gliding properties. Such a product is suitable for those who have not used self-tanning products before and are not yet familiar with other formulas;
Milk. The liquid texture requires the use of cotton pads. Since it is convenient to apply in small portions, this option is best left for the face and neck area;
Mousse. Mousse products are the most modern and comfortable. They are easily distributed with a woven glove, and any stains are easily shaded with a couple of circular motions;
Wipes. Wipes are most often used for correction. They can work out traces of a swimsuit and paint over areas where the tan is uneven.
Skin Preparation And Self-tanning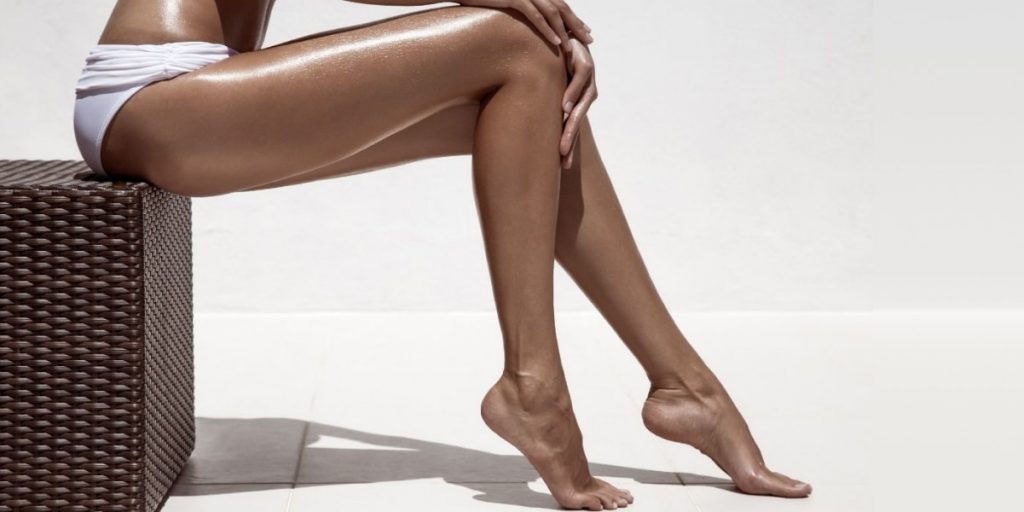 Properly selected self-tanning will help quickly give the skin a beautiful, healthy tone. Buy a self-tanner of the desired shade and apply it to the previously prepared skin to ensure that the product lays down evenly without forming spots and streaks.
Before the procedure, treat the body with a scrub and a hard washcloth to make the skin tone even. After washing, rub a light lotion or emulsion into the skin. Choose liquid moisturizers that absorb quickly.
Step 1: Skin Preparation
If you use products for the face and body containing alpha acids (Alpha Hydroxy Acids, AHA) about a week before the first self-tanning application, discard them. This is necessary so that the artificial tan appears evenly, without spots and streaks. For the same reason, it is better to epilate the legs about a night before spray tanning.
Step 2: Exfoliation
Take a shower before spray tanning all over your body. Try to soak for a short time under running water so that the skin does not have time to gain excess moisture and self-tanning is as even as possible.
Using a scrub before self-tanning is a crucial step that helps you remove dead cells from the skin surface. The skin will become smoother and more even.
You can substitute the scrub with a special loofah mitt, which perfectly polishes the skin.
How To Apply Self-tanner To Stay Longer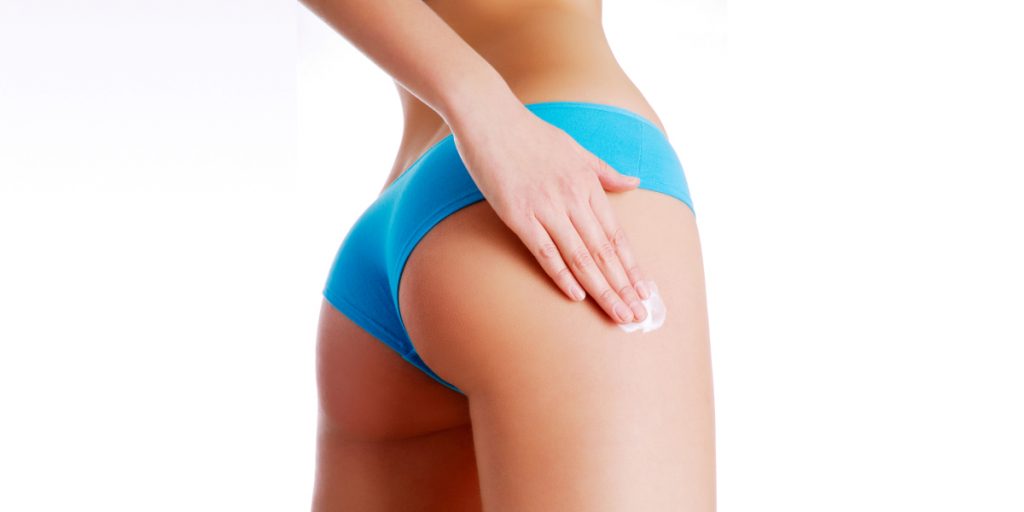 After showering, apply a thin layer of moisturizer (but not greasy) if needed. Let it soak in properly. By the way, if self-tanning is used only on the face, it is better not to use the cream over it.
Auto bronzer is applied, moving from the legs to the neck. At the same time, cover your knees and elbows with a minimum amount of self-tanner – an excess can give these areas an ugly bluish tint. Don't forget to follow the rules before spray tanning to have a great skin color.
Self-tanning is applied to the face according to the same principle. First, the skin is treated with a scrub. Then a greasy cream is applied to the eyebrows and hair roots. Carefully distribute the self-tanner with your fingertips, rubbing it from the center of your face to the periphery. To even out the borders, with dry hands, rub the area near the bottom of the chin, ears, and back of the neck. Make sure that self-tanning does not get on hair, especially light or bleached – cream or spray can leave ugly stains.
Applying a self-tanner after following the rules before a spray tan with or without gloves is a personal matter for everyone, as it is more convenient for you. If you are accustomed to applying the product with "bare hands," do not forget to thoroughly rinse them after the procedure and clean your nails with a brush.
How To Apply Self-tanner Without Streaks
Do not apply self-tanner immediately after peeling. Give your skin a day of spray tan prep to calm down. So the tan will lie more evenly;
Use an oil-free moisturizer before applying self-tanner;
Spread the self-tanner over your skin from the bottom up;
For a lighter shade, mix self-tanner with moisturizer in a 1:1 ratio;
For more even distribution, use not a dry but a wet applicator;
Try to stretch the skin on moving parts of the body as much as possible to avoid the formation of stripes and visual folds;
Do not use it in the evening – a fresh self-tanner may smear while you sleep;
Don't wear tight clothing for the first four hours after applying self-tanner – tight clothing can interfere with the evenness of the fake tan.
And one more tip: do not use self-tanner for the first time on the eve of an important meeting or date. Keep 3-4 days in reserve to get the desired shade.
FAQ
How To Use Self-tanner?
Apply self-tanner from the bottom up to the epilated skin, being especially careful about the ankles and knees – this is where streaks can remain. For an even distribution of self-tanning, carefully apply the product first on bent legs and then on extended ones.
What Scrub To Use Before Self-tanning?
If you use a scrub with too strong an abrasive, then in these places, the skin will absorb much more paint. Sugar and polymer scrubs should also not be applied. But scrubs based on oats are best suited.
How Long Does A Self Tanner Usually Last?
The effect lasts 14 to 20 days and is washed off as the top layer of the skin is renewed. Such funds are expected not only for salon procedures but also for home use. However, without the help of a specialist, it is pretty tricky to evenly apply the product to the skin to avoid subsequent streaks and stains.
Can I Use Self-tanner At Night?
It is best to apply self-tanner in the evening and do it slowly. Gently work the whole body, let it dry, and then put on clean clothes and go to bed.
Can I Take A Shower Before I Spray Tan?
Yes, you can shower the day before applying the tan. But before the procedure, swimming in hot water is not recommended. If necessary, take an ice shower.