Published on October 29th, 2022
Last updated on January 24th, 2023
Grapeseed Oil: Is It Good For Hair? Explained
Estimated reading time:
6
minutes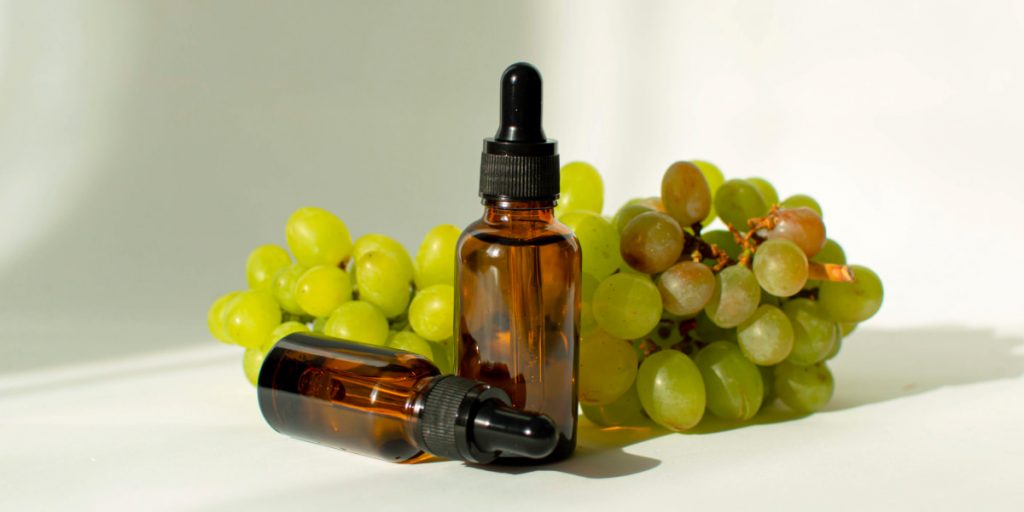 Grapeseed oil is a greenish liquid with a pleasant nutty aroma. After applying grapeseed oil to hair, it is quickly and easily absorbed into the skin without leaving an oily sheen. It can't be compared to any professional hair product. It differs from other cosmetics in a large number of vitamins and trace elements. Therefore, it takes a leading position among all seed oils and is an excellent source of vitamins A, E, and group B.
Also, grapeseed oil can be used for the scalp, which allows you to nourish hair follicles. In general, it has three main favorable properties:
Strengthening hair roots;
Reduction of hair loss;
Removal of hair oiliness.
Regular use of grapeseed oil can have a good impact on your hair. And it is used not only in its pure form. It can be used as medicine inside. For this, you need to drink a teaspoon of grapeseed oil without additives every day for two months and then take a break.
Benefits Of Grapeseed Oil For Hair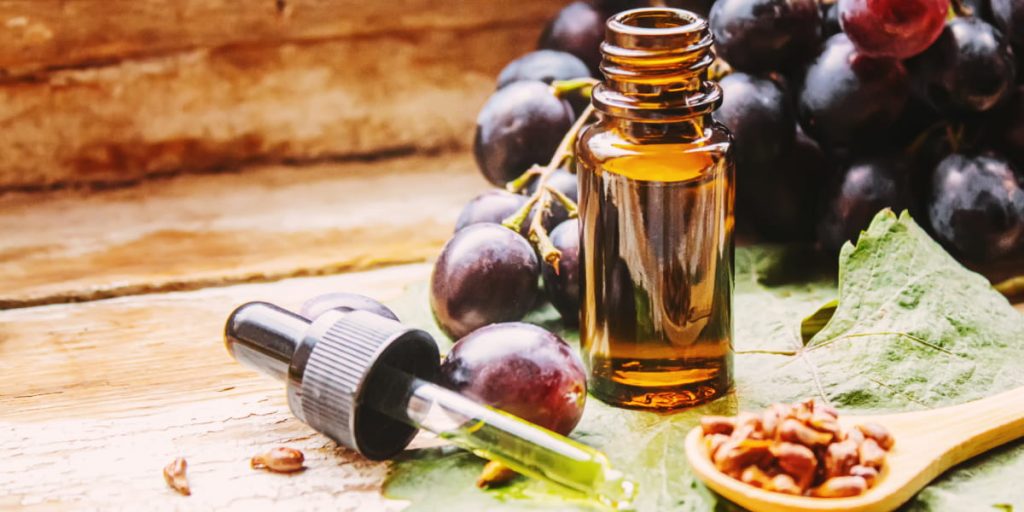 Home use of grapeseed oil has not only preventive purposes. It can be used to treat weakened, diseased, and damaged hair because many substances included in its composition have regenerating and therapeutic properties. Also, this oil is quickly absorbed into the hair, does not weigh down the strands, and improves the health of the bulbs. So what is the benefit of this remedy for hair? Read the list:
1. Eliminates Brittle Hair
Brittle hair is a widespread problem among women. Frequent use of hot hair tools and coloring can make your hair brittle and split. But what if you remove such tools from your routine and use grapeseed oil on your hair? We assure you that it will strengthen your hair and make it healthy. After a few procedures, you will notice how the brittleness will begin to disappear, and the hair will acquire a radiant effect.
2. Reduces Oiliness Of The Head
Due to its unique healing properties, this natural product is widely used for problematic oily hair. Grapeseed oil easily copes with the improper work of sebaceous glands and can make hair less greasy. People with oily and thin hair can use grapeseed oil in its pure form. It moisturizes them very well and helps to get rid of greasy hair.
3. Moisturizes And Nourishes Hair
The unique texture of grapeseed oil contributes to its deep penetration into the hair, giving it many benefits. It nourishes each root with moisture and saturates the epidermis with vitamins. A significant advantage of grapeseed oil is its light texture, which moisturizes the hair for a long time. When the hair is watered, it is more invulnerable to breakage, no longer so fragile, and more resistant to the appearance of split ends.
4. Prevents Hair Loss
Hair loss is a widespread problem, and it is not easy to eliminate it. You can buy the most expensive shampoos, and the problem will remain a problem. The fact is that hair needs a considerable amount of vitamins and minerals to recover. Therefore, a good solution would be to use grapeseed oil for the scalp. It can help make your hair thicker, avoid hair loss, and restore its volume.
5. Makes Hair Shine
Grapeseed oil can be used to make a mask that you need to use on your hair. It helps to make your hair shiny, bouncy, and completely non-greasy. The hair mask from this oil is easy to apply because the grapeseed prevents tangling with the hair. It gives each strand a thin protective layer that covers them from dryness or breakage. In this way, the roots absorb additional nutrients and make them shine.
6. Reduces Dandruff
Facing dandruff is very unpleasant. But even in such cases, grapeseed oil is a good remedy to fight this problem. It penetrates the epidermis, nourishes the hair follicles, and improves blood circulation. Therefore, grapeseed oil should be used for the scalp. Just rub it into the hair roots and scalp with massaging movements, and the result will not take long.
7. Accelerates Hair Growth
Do you want to get long hair in a short amount of time? Use grapeseed extract, which acts against hair loss and, on the contrary, gives it growth. Grapeseed oil is rich in vitamin E, which is an antioxidant. This vitamin is responsible for hair growth and fights oxidative stress that your hair may have. It also neutralizes free radicals, so with grapeseed oil, your hair starts to restore and acquire a rapid rate of hair growth
8. Strengthens Hair
Grapeseed oil is useful for hair due to its tonic effect. The components of the substance penetrate cells and restore damaged vessels, making their walls more elastic. Thus, grape oil for hair provides the necessary care from the roots to the tip of each strand. All the essential nutrients that enter the skin and the hair bulb contribute to strengthening and improving its structure so much that you can grow long hair without problems.
How To Use Grapeseed Oil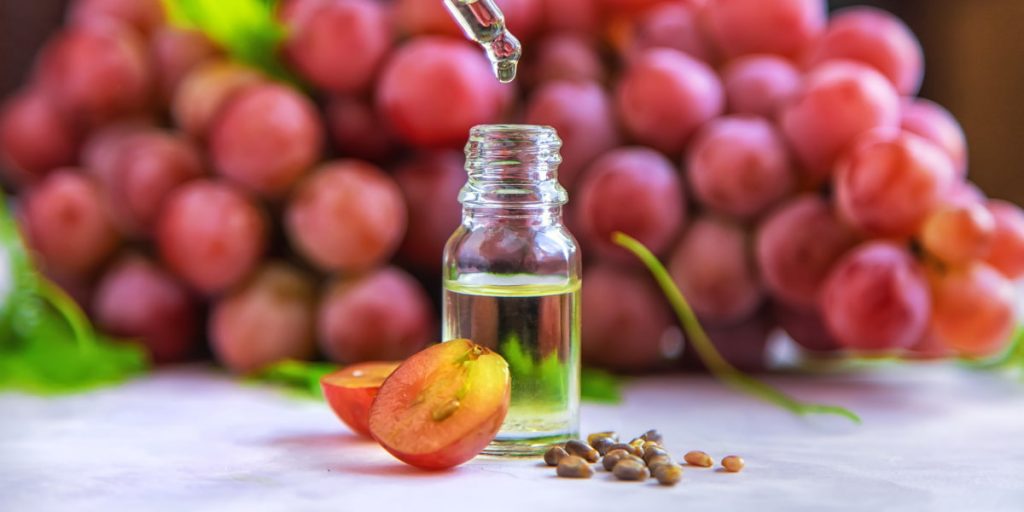 Before using it on your hair, you should know how to do it right, so:
Never apply oil to dry hair. It should strictly be used on wet hair after washing it;
Then, you need to apply oil to the roots of the hair and massage for a couple of minutes. After that, apply grapeseed oil along the entire length of the hair.
You need to keep this mixture on your hair for at least 30 minutes, after which you need to wash it off with shampoo. You can leave the oil on your hair overnight if you want a better result.
As you can see, the technique is easy, but the one-time use of grapeseed oil for hair will not give benefits. A good result can be achieved only with the regular implementation of such procedures. Therefore, do it once a week for 12 weeks, and then there will be an effect.
Summary
So, if you want healthy hair, you don't have to buy the most expensive care with serums and masks. It is enough to use this oil, and the result will not make you wait. Such a remedy is suitable for everyone, so don't delay and start using it. Therefore, if you want to impress everyone with your fantastic shiny hair, use grapeseed oil.
FAQ
How Long Does It Take For Grapeseed Oil To Grow Hair?
With regular use of grapeseed oil, the first results of hair growth can be seen after 5-6 weeks. And after four months, the hair will have a sufficiently long length and strengthen its roots.
Can I Leave Grapeseed Oil In My Hair Overnight?
Of course. If you use grapeseed oil overnight, it can improve the effect faster on your hair. It will act like a conditioner and can thoroughly moisturize your hair overnight. It also helps fill the scalp with vitamins and minerals that promote healthy hair.
How Long Does Grapeseed Oil Last?
If you keep your grapeseed oil open, you can do it for about 12 months and no more. But you should know that oil can become solid and cloudy while saving it in a refrigerator. And such consistency is normal, but if you want to return it to the liquid mixture, you need to bring the oil back to room temperature.
Does Grapeseed Oil Stimulate Hair Growth?
Yes, grapeseed oil is considered one of the best hair growth products. Vitamin E and linoleic acid contribute to hair's rapid restoration and help it grow faster. It also has a good effect on hair strengthening.