Published on August 16th, 2022
Last updated on January 25th, 2023
Hard Water And Hair: 9 Tips For Washing Hair In Hard Water
Estimated reading time:
8
minutes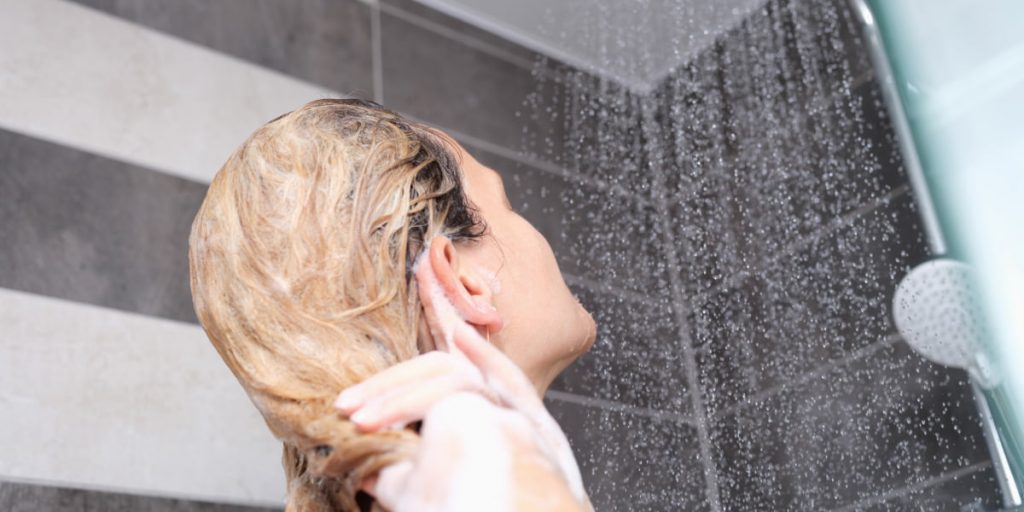 Everyone wants to have smooth, healthy, and beautiful-looking hair, but not everyone has the opportunity to make it so. And I am not talking about conditioners or cosmetic treatments for hair. Let's consider tips for washing hair in hard water.
The fact is that the appearance of our hair depends on the water which we wash it with. That is why your place is significant because different regions have different water. Very often, there are situations when the water at home is not of good quality, and it is impossible to wash your hair normally. Such water provokes brittle and dry hair. There are cases when hair begins to fall out because of hard water, which requires immediate treatment for hair.
So, you need to use the best quality water to wash your hair well. The best solution for this is washing hair with filtered water. For this, you can use other methods. There are even some that you can do at home.
Why Is Hard Water Dangerous?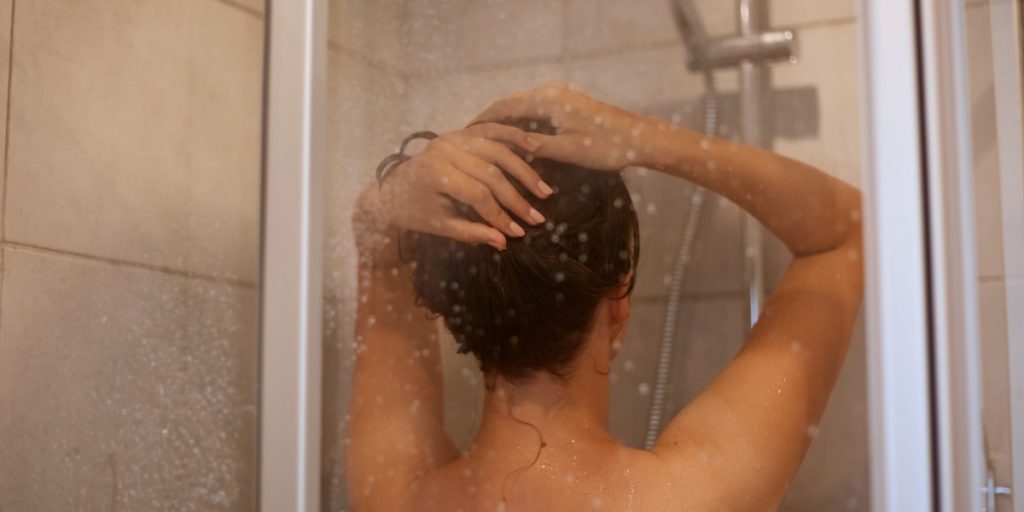 Hard water may be acceptable for drinking but harms skin and hair. It is because such water contains many minerals that crystallize in the hair.
When we apply shampoos, conditioners, and so on to our hair, it mixes with the hard water and creates the appearance of salt on the hair. For us, this salt is invisible, but it has bad consequences. Among them may be:
Dry hair – when your hair starts to become dehydrated, you may experience an itchy scalp and possible dandruff. It happens because of the high calcium content in the hard water;
Loss of natural hair color – dry hair has insufficient water and does not look healthy, so its color begins to fade;
The appearance of brittleness – you can notice how your hair breaks easily after washing. Usually, after combing, a lot of hair remains on the comb;
The harshness of hair – if you use hard water for a long time, you will notice how your hair has changed its texture. It usually becomes hard and unpleasant to the touch;
Hair loss – is one of the worst consequences. With regular washing of hair in hard water, it will start to fall out, and the ends begin to split.
Also, unfiltered water can block your scalp. It means that your hair may stop growing. Then the hair becomes less thick, and dandruff appears. Unfortunately, many people face these consequences. Especially those who live in big cities because there is the most common problematic water. Therefore, to avoid such situations, you should know how to cope with them.
Tips For Washing Hair In Hard Water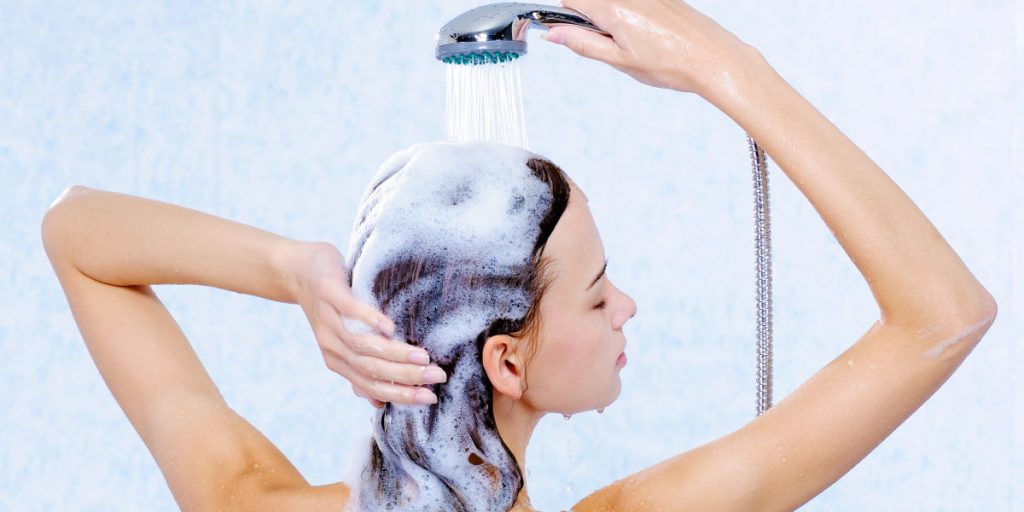 Washing hair in hard water causes problems for you. It is harder to get rid of them than to get them. Therefore, I have prepared ways how you can wash your hair in hard water:
Tip 1: Make A Citrus Rinse
Citrus rinse has specific properties that remove all excess build-up from your hair. Citrus fruits are rich in vitamin C, which fights hard water and the appearance of dandruff in your hair. Also, citric acid will add shine, elasticity, softness, and a healthy look. In addition, such a lemon rinse you can use instead of a conditioner, and over time you will notice how your hair becomes healthier.
For this, you need:
Use one tablespoon of lemon juice per three glasses of water. After washing your hair with shampoo, apply this solution to your hair. Next, massage the roots. Leave this rinse for 5-10 minutes. And then wash it off with warm water.
Tip 2: Use Vinegar
Vinegar has an antibacterial effect and can remove all the dirt and build-up from your hair. It prevents the appearance of fungus on the scalp and cleanses it. That is why vinegar is one of the best ways to fight hard water and make hair very soft. If you do not know what vinegar to choose, I recommend apple vinegar because it is more effective.
For this, you need:
Make a mixture of vinegar with a ratio of 1:2 to water. When you wash off the shampoo, apply the mixture to your hair and rub it into the entire length and roots. Leave it on for about 5 minutes and wash it off with warm or cool water.
It is not recommended to do this procedure often because vinegar can dry out the hair. Once a week will be enough.
Tip 3: Use A Moisturizing Conditioner
Since hard water has a dry result and is brittle, you should use a conditioner while washing hair in hard water. You can use both a rinse-off conditioner and a leave-in conditioner. The main thing is that it has a deeply moisturizing effect. It provides wetness and smoothness to your hair, making it more attractive.
For this, you need:
Buy conditioners that contain many active substances and positively affect hair. It may contain argan or coconut oil and be enriched with kokum oil and rose extract. Exactly these components provide moisture and softness to the hair. You need to use a conditioner once or twice a week.
Tip 4: Make An Infusion Of Nettle
Since ancient times, people have been using this folk method for beautiful hair. Nettle contains many nutritious vitamins and has an immediate effect on the scalp. Also, it actively fights against hard water and acts as a treatment for hair. This plant gives a result after the first use. To get it, you should know how to make an infusion correctly.
For this, you need:
Take about 50 grams of nettles and pour hot water over them. Then put it on the fire and let it boil for 30 minutes. When it boils, let the tincture cool for about one hour. After that, strain the infusion and wash your hair with it after each wash.
These are far from all tips for washing hair in hard water because there are many others. But I recommend you to use the above methods. They are the most effective and can be performed regularly. After using them, you will quickly see the result, and hard water will not influence your hair as much as before.
How To Protect Hair From Hard Water?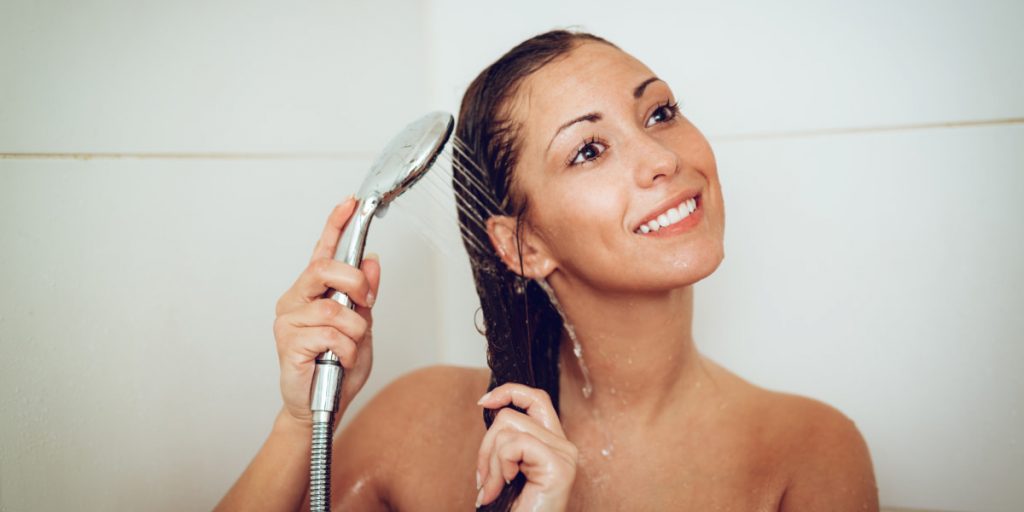 Tired of harsh water? Keep five tips on protecting your hair from its consequences:
Tip 1: Use Filtered Water
Start washing hair with filtered water if you dream of soft water that will not harm you. It is the best option to turn your water from hard to soft. You can also use bottled distilled water. But If this method seems inconvenient to you because you always need to have filtered water on hand, you can fix it. Just buy special filters for the shower. They minimize minerals in hard water and make it clean.
Tip 2: Boil The Water
To soften the water, you need to boil it. Boiling helps remove all bacteria and minerals from the water. However, it is not always convenient to use this option because boiling requires additional time.
Tip 3: Add Flax Seeds To The Water
Flax is beneficial, so hard water is not a problem for it, and flax can be used as a treatment for hair. With this method, you can prevent the consequences of hard water. For it, you should make an infusion of flax seeds. Add a tablespoon of seeds to a liter of water and boil. When it is infused, you can wash your hair with it.
Tip 4: Use Hair Masks
Soften your hair with moisturizing masks. It is an effective way to prevent hard water from affecting your hair. A cosmetic specialist can help you choose suitable hair masks, or you can pick them yourself.
Tip 5: Shower Softener
A shower attachment prevents metals and harmful substances from getting into your water. This thing is like a filter. Only this one has an additional softener built in it. When the water passes through the built softener, it is automatically cleaned. In such a way, you can wash your hair with filtered water without any problems.
Bottom Line
Hair is susceptible to the slightest changes and irritations. And hard water is the main reason for this. But by following my tips for washing hair in hard water, you can eliminate this problem or its consequences. So, follow them for a good appearance of your hair.
FAQ
How Can I Test My Home For Hard Water?
You need to fill a third of the bottle with water. Add a couple of drops of liquid soap and start shaking it around. If, after that, your water has acquired turbidity, it means that your water is hard.
Is It Safe To Wash Hair With Hard Water?
Unfortunately, no. Hard water dries out not only your hair but also your entire skin. If you constantly wash with such water, you may develop itching. Therefore, it is better to solve this problem as soon as possible.
How Do I Get Rid Of Mineral Buil-up In My Hair?
Ordinary vinegar will help you cope with this. The citrus infusion can also be an effective method. It contains an acid that removes all build-up minerals from your head and cleanses your hair.
What Shampoo Is Best To Use With Hard Water?
The best shampoo is the one that has a deep cleansing effect. Usually, shampoos are selected individually according to the type of hair. However, a purifying shampoo is suitable if you struggle with hard water.