Published on March 22nd, 2023
Last updated on March 22nd, 2023
How To Use Makeup Setting Spray? Step-by-step Guide
Estimated reading time:
6
minutes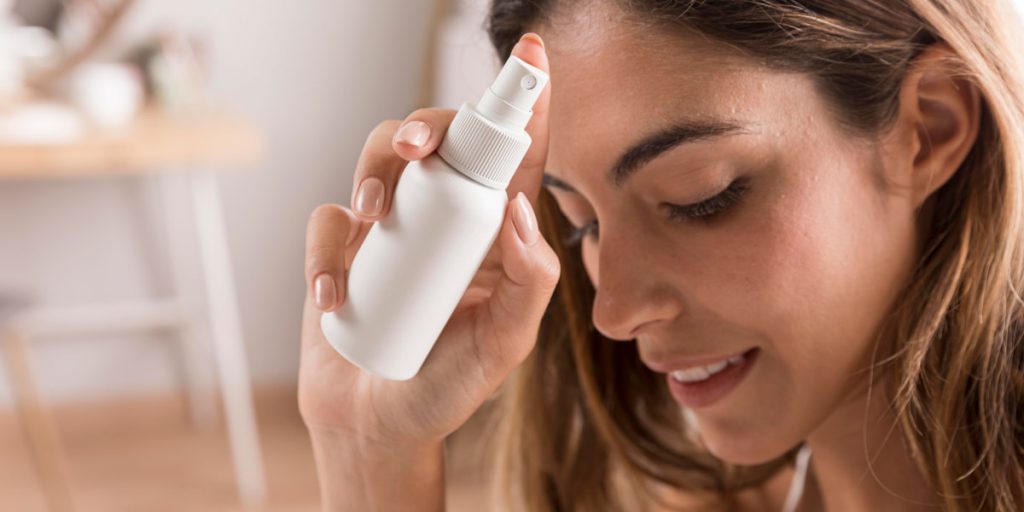 Makeup fixators are really useful things. Spray clean skin, let it dry, and then apply your foundation. In this case, the fixer replaces the primer. You can also spray it on your face right after makeup. This is the most common method.
Thanks to its special composition, the product forms an invisible protective layer. Makeup setting spray allows you to keep your makeup fresh. For a long time, only professional hair sprays were used. Because they were very helpful for fashion shows and film shoots. Over time, cosmetic brands brought this product to a massmarket. And now this product is available to everyone. Sprays for makeup can be different compositions. For example, you can buy matte, dewy or luminous. So you can choose the one that best suits your skin type and individual style. A makeup remover spray can also enhance hydration. This is especially helpful for those with dry skin.
So, get ready to learn the secrets of how to use a makeup setting spray to obtain the best results.
What Is Makeup Setting Spray?
Makeup setting spray is a cosmetic product used to set makeup in place and prolong its wear time. It is a lightweight mist you can use after completing the makeup application. It is typically a clear liquid sprayed onto the face. And it acts as a protective layer to help keep makeup in place for several hours.
You may use a setting spray with a variety of makeup fixers, including:
Setting spray after makeup helps to prevent makeup from fading, smudging, or transferring. So it helps to keep your makeup looking fresh and flawless throughout the day.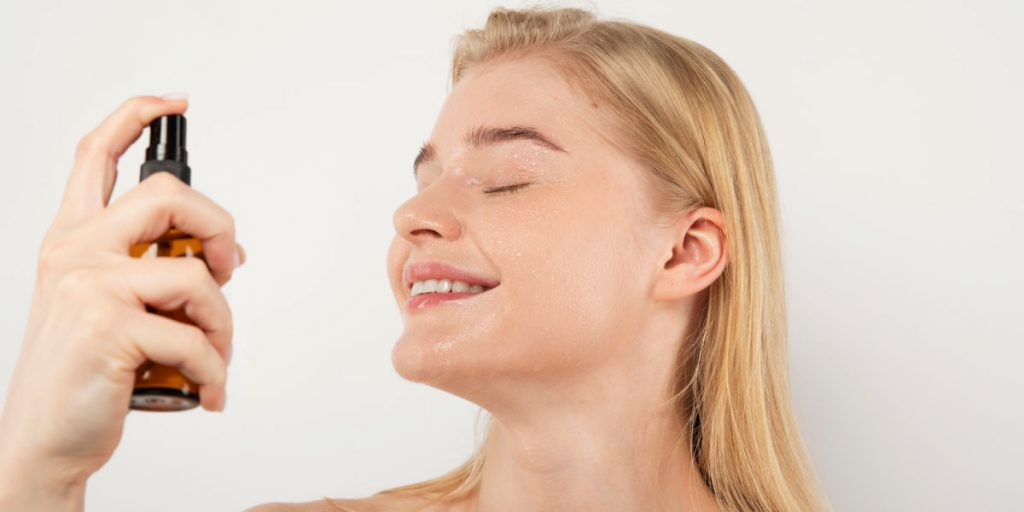 Setting sprays usually contain antioxidants. They help protect the skin from environmental stressors like pollution and UV rays.
The main ingredients in setting sprays are:
water;
alcohol;
polymers.
Alcohol helps the setting spray to dry quickly and evaporate from the skin. The polymers form a film on the skin, which helps to lock in the makeup. Here are some tips on how to use setting spray based on your skin type:
If you have oily skin, look for a setting spray that may help control shine and absorb excess oil.
If you have dry skin, look for a hydrating spray for makeup. Active ingredients wil make your skin better.
If you have combination skin, you may need to use different setting sprays for different areas of your face.
If you have sensitive skin, look for a makeup setting spray that is fragrance-free and hypoallergenic.
If you have normal skin, you can use any type, depending on your preference. You can even mix them.
How To Use Makeup Setting Spray
When applying a makeup setting spray, it's important to keep the bottle at arm's length, approximately 8 to 10 inches away from your face, to ensure an even distribution of the spray. It's best to apply the spray in a T and X motion to ensure that all areas of your face are covered. And then you need to let it dry. But it's also important to choose the right spray. The makeup fixer is a multifunctional product. Not only can it perform different functions, but it can be used at any time of the year. In summer, when the heat is trying to erase makeup from our faces, the spray fixer becomes indispensable in prolonging its durability. In winter, when our skin becomes very dry because of heating appliances, the spray saves our skin perfectly because the betaine contained in the spray has active moisturizing properties and relieves irritation.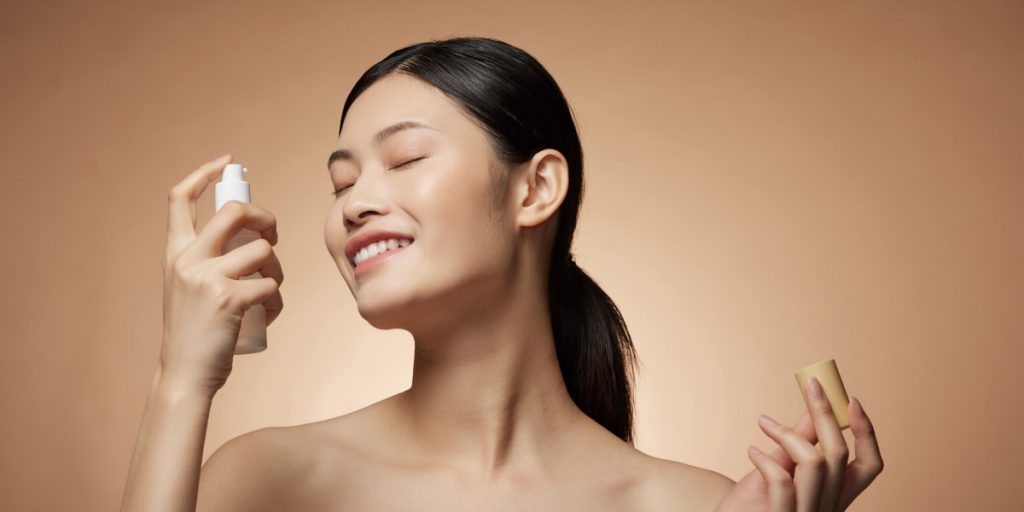 Once you have chosen the product, look through the following guide on how to use makeup setting spray.
Step #1. Cleanse And Moisturize Your Skin
It's important to prepare a good base for further actions. Cleansing your skin will remove any dirt or impurities while moisturizing hydrates and prepares your skin for makeup application.
Step #2. Apply Your Makeup
Once you have cleaned and hydrated your skin, you can apply your usual products. Do your makeup as always. But don't forget to apply it carefully. As the spray fixes everything in its original position for a long time.
Step #3. Wait For Your Makeup To Set
Give your makeup a few minutes to set and dry completely before moving on to the next step. It is necessary so as not to smudge the results of your work accidentally. So wait about 5-10 minutes. Remember that you still have time to fix some details.
Step #4. Shake The Setting Spray Bottle
Before you start applying the setting spray after makeup, give the bottle a good shake to ensure that the product is well mixed. This will help to distribute the product evenly over your skin.
Step #5. Hold The Spray At Arm's Length
Hold the setting spray bottle at arm's length, approximately 8 to 10 inches away from your face. This ensures that the spray mist covers your entire face evenly. If you hold the bottle too close, you risk getting a heavy, uneven application.
Step #6. Spray In A T And X Motion
To ensure full coverage, spray your makeup setting spray in a T and X motion. Start by spraying across your forehead and down your nose, then spray horizontally across your cheeks and vertically down the center of your face. This technique ensures that every inch of your face is covered.
Bottom Line
By following the steps and tips outlined above, you can ensure a flawless and long-lasting makeup look that lasts all day. Sprays for makeup are an essential step in any makeup routine and are a great way to enhance the finish of your makeup and provide additional skin benefits, such as hydration, sun protection, or oil control. Remember to check more interesting articles on our site to be proficient beauty expert.
FAQ
Do You Have To Wait For The Setting Spray To Dry?
Yes, we recommend waiting a couple of minutes after applying a setting spray on a face. It will help to obtain a better result. Generally, makeup lasts an average of 5 hours longer with this use.
What Is The Difference Between A Setting Spray And A Makeup Primer?
A special spray fixes the makeup. It is presented in the form of a spray-on medium. The best primer makes pores invisible and contours clear. It also moisturizes the skin and gives it a slight glow. The primer most often has a creamy texture.
Can I Use A Setting Spray Without Makeup?
Yes, you can also use a fading spray without a dip. Do this if you want to give your skin an extra boost of gloss and shine. But don't overdo it. Otherwise, you will get a greasy shine.
What Can Be Used Instead Of Setting Spray?
You can use a better face primer and fixing powder. Also, some makeup artists recommend using sparkling mineral water. It will help to moisturize and fill your skin, as well as purchase sprays.