Published on August 31st, 2022
Last updated on January 25th, 2023
How To Get Plump Lips? 6 Ways To Make Plump Lips At Home
Estimated reading time:
10
minutes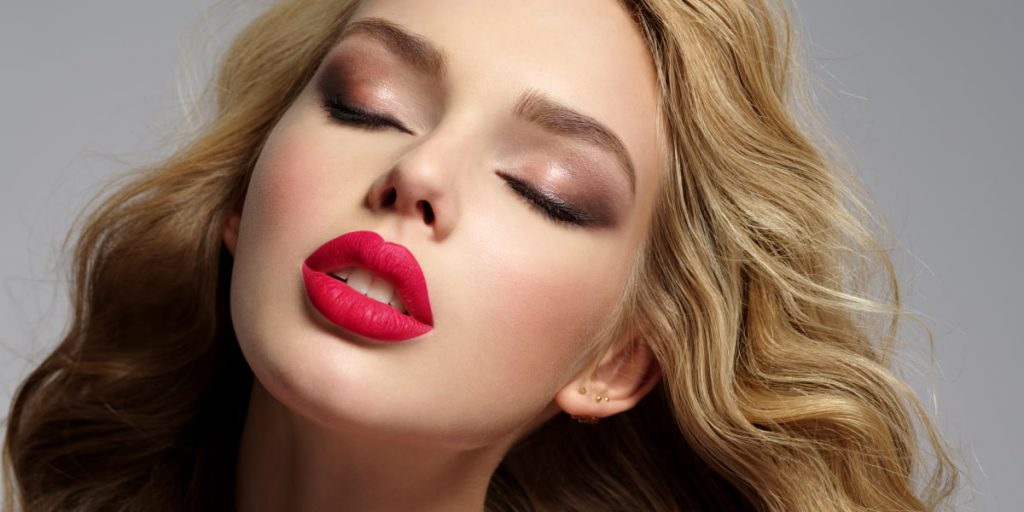 People have changed their preferences in the last decade, preferring slightly plump lips instead of thin ones. There are essentially two ways to get them:
Either you have a naturally occurring plump lip;
Or you do procedures that will give your lips plumpness.
In 2022, bee-stung lips are considered the standard of beauty, and every beautiful woman dreams of making her lips a little bigger.
But why are chubby lips now at the peak of popularity? Because it is beautiful, sexy, and suits all face types. Do you want lips like that but don't know how to achieve them? Luckily, there are several ways to get those luscious lips without going under the knife.
This article will tell you how to make plump lips at home using natural ingredients. Read on to find out how to achieve gorgeous, fuller lips.
1. How To Get Plump Lips: Enlarging Lips With Massage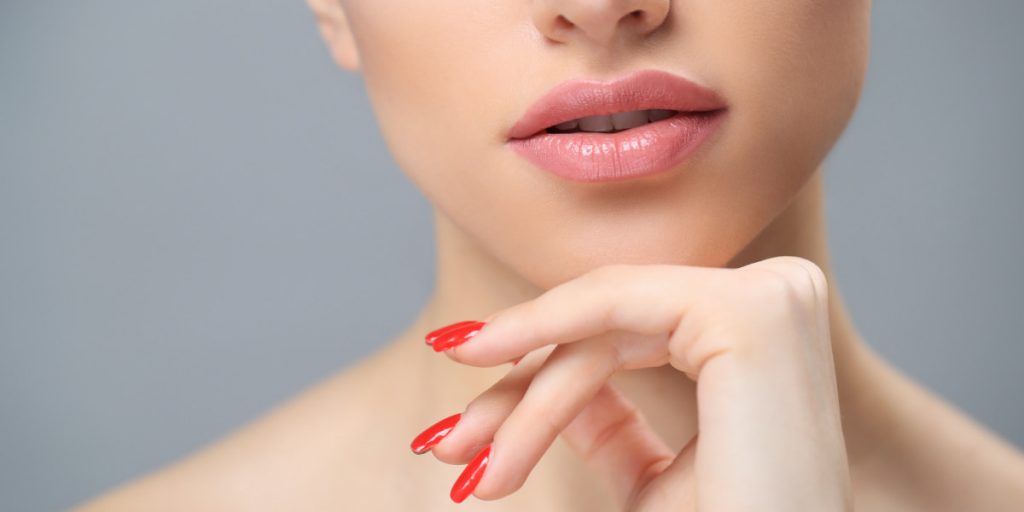 When beauties worldwide want to add plumpness to the lips without additional costs, you can turn to self-massage. With its help, you will learn how to plump lips naturally without injections. If you perform a specific procedure daily, your lips will always be in great shape.
How to do:
First, wash your hands thoroughly with antibacterial soap or wear sterile disposable gloves;
Next, move on to your lips and gently and delicately pinch your lips with your thumbs and index fingers;
Then do the same pinching massage of the area around the lips. The whole procedure should take at least a minute.
Thanks to such simple actions, blood rushes to the skin, the cell regeneration process is accelerated, and dryness goes away. The lipstick becomes brighter, and the lips become plumper. Let the effect is not long enough (from 30 minutes to a couple of hours), but it is a natural way to plump the lips without any harm and in an affordable manner.
You can also massage your lips with a child's toothbrush. It has soft bristles and is small in size.
How to do:
Take a soft brush and clean it thoroughly;
Then in a circular motion, start massaging from the center of the lips to the corners. This way, the dead epithelium particles are exfoliated, and the blood rush is stimulated;
Massage for 1-2 minutes;
After completing the massage, be sure to apply lip balm.
2. How To Get Plump Lips: Enlarging Lips With Exercises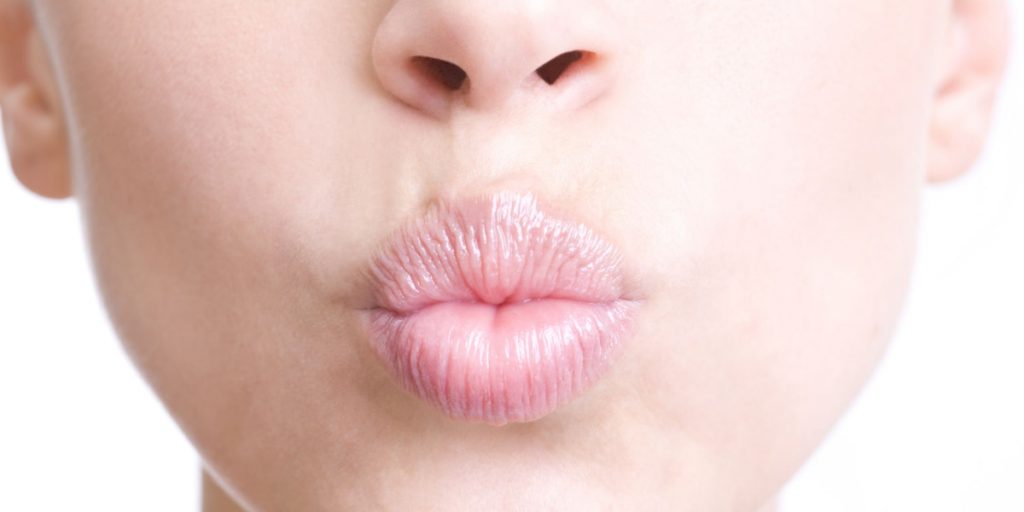 In addition to massage, another technology allows you to temporarily plump the lips at home without resorting to cosmetologists. One has only to try special gymnastics. This "exercise" for the lips can make them more supple and voluminous and lift your spirits for the day.
Surely you know that there are muscles in the lips, although deep. They are the muscles that set your lips in motion. They are the circular muscle of the mouth, the muscle that lifts the upper lip, and the one that lowers the lower lip. Once you start repeating the exercises, you can get plump lips at home.
Exercise system:
Show your tongue by extending it as far as possible and holding it for 5 seconds (10 repetitions);
Inflate your cheeks firmly, and make a sharp exhalation through the pouted lips (repeat 5 times);
Smile first, then pull your lips into a tube as if you were taking a "duck" for selfies (repeat 15 times);
Squeeze your lips tightly together, and then "rotate" them in a circle, clockwise, then counterclockwise (repeat 5 times each way);
Lightly nibble your lips for 2 minutes. It will provide a blood flow that will make your lips look brighter and plumper;
Place the tips of your index fingers and thumbs on the area around your lips. Pull your lips forward, overcoming resistance. Repeat 20 times. Then pull your lips into a curly shape and hold for about 20 seconds. Relax;
Hold the corners of your lips with fingers, wrap your lips inside, and in this position, open and close your mouth 10-20 times;
Leave your fingers in the same position. Fold your lips as if you were pronouncing the letter "O," then "E." Intentionally exaggerate your facial expressions. Perform the change of position from O to E 20 times.
3. How To Get Plump Lips: Enlarging Lips With A Vacuum Pump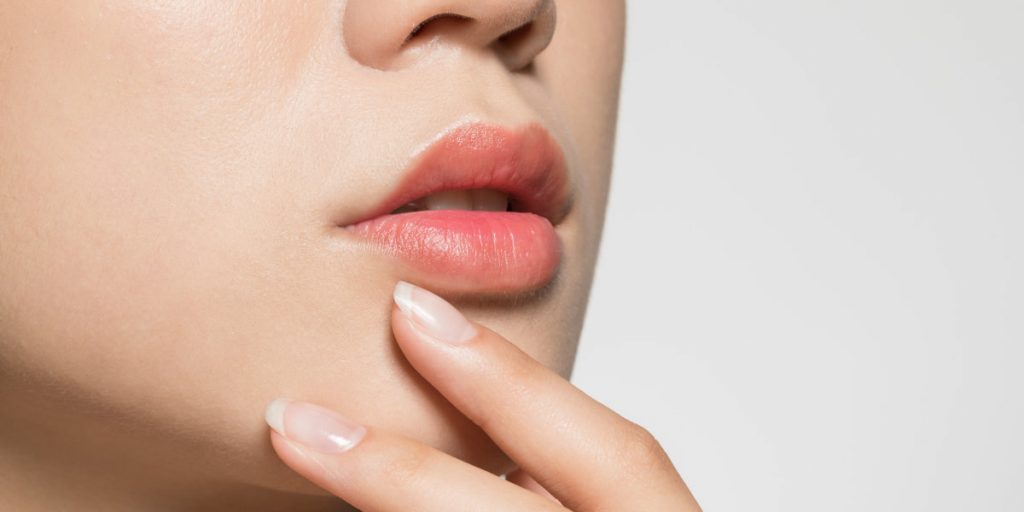 Manufacturers of pumps (special vacuum devices for the lips) claim regular use will help cope with the problem. Reviews of ladies on the Internet say it is a natural means to plump the lips for at least an hour.
How it works:
Before using the pump, wash off your makeup and apply the cream from the kit (if available) or any other nourishing cream to your lips;
Put the pump on your face, placing your lips in the particular hole;
Pull your lips forward, sucking in air and thus creating a vacuum;
Use the pump for 10-15 seconds and assess the first result;
If necessary, it is worth repeating the procedure.
The method is relatively safe compared to aesthetic surgery but still has contraindications. For example, it can not be used in people with high fragility of blood vessels and the presence of lesions in the lip area.
At home, this method of natural plumping lips will work, but as soon as you go overboard with the force of the vacuum, you risk getting a hematoma. The view will be, put it mildly, unattractive. Therefore, it is worth performing the procedure little by little, a few times, if the effect did not suit you the first time.
4. How To Get Plump Lips: Enlarging Lips With Makeup
If you've tried a bunch of products but none work, I know how to visually and naturally plump your lips so that everyone around you will be convinced that you just came out of the beautician. Of course, makeup is a method that works until the first wash. But you'll have gorgeous, plump lips for a night out, a party, a formal occasion, and so on. And it won't cost a large sum of money. Read on and remember!
The first rule for those who want to make their lips look plump is no dark lipstick! The ideal choice is natural or juicy berry shades. In this case, the pencil should pick up close to the lipstick tone.
Enlarging Lips At Home With Cosmetics Step-by-step
Make a light exfoliation of the lips with a scrub, a soft toothbrush, a hot towel, or candied honey;
Then apply a dense layer of nourishing balm; you can use it with the effect of increasing the volume. Wait a couple of minutes until the balm absorbs, and then blot the excess with a paper towel;
If you want to correct the volume and shape of the lips, use a pencil. Outline your lips along the contour, just slightly beyond the natural boundaries. It would be best if you also painted the gap between the line drawn and the shape of natural lips with a pencil. Take a lipstick of the desired shade, but carefully paint your lips, not going beyond the pencil contour;
Take a lighter shade of lipstick from the same color palette and apply it to the center part of your lips. This way, you will visually get the effect of greater volume;
The final layer is lip gloss. It is the shining gloss that will give your lips the maximum volume.
So, the lips are painted. It remains to emphasize the area above the upper lip with a highlighter or light shadows with a glow. Thus, you have obtained plump lips at home.
5. How To Get Plump Lips: Enlarging Lips With Augmentation Products
On the beauty market, many cosmetic products help to natural ways to plump lips, making them bee-stung like Angelina Jolie. Imagine how seductive and plump they can be after one application! Often as part of glosses, lipsticks, and balms that increase lip size contain extracts of peppermint or spices. These funds accelerate blood flow to the lips at the expense achieved by the external effect of volume.
As a rule, safely increasing the size of the lips at home is obtained if you use only high-quality and tested means. The main advantage of good cosmetics – is, of course, the immediate effect and painlessness. However, irritating components in the composition can cause allergic reactions and lead to inflammation. If you have sensitive skin, it is better to give up these means.
6. How To Get Plump Lips: Enlarging Lips With Filler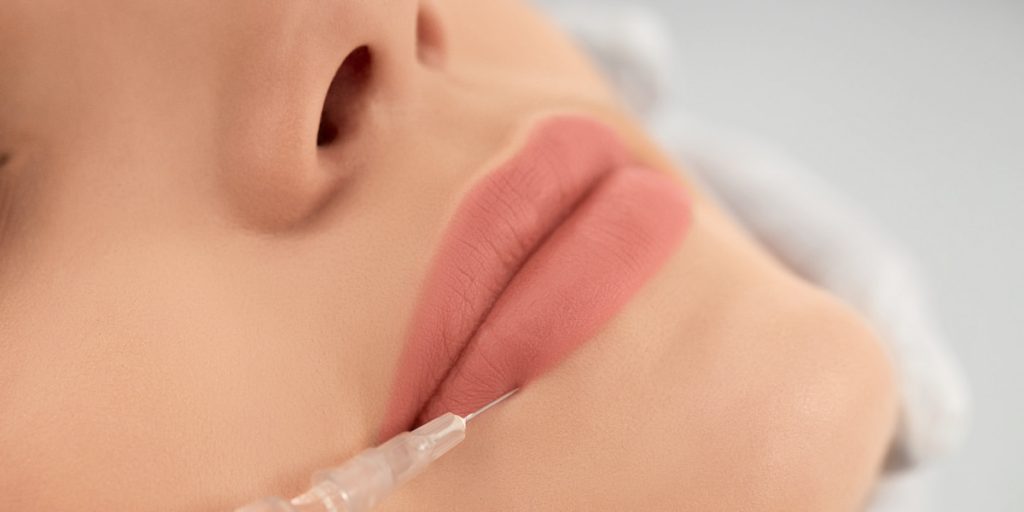 And I offer you to consider the last method. Cosmetologists know how to enlarge the lips, if not at home and not forever, but with proven techniques. Special fillers are injected under the skin when imparting volume to the lips with fillers. Previously, to correct the volume and shape of the lips, cosmetologists used silicone-based fillers. But to date, they are considered outdated and unsafe due to many side effects, such as allergies, deformation of the treated area of the face, and the risk of "migration" filler. In addition, if the result of the procedure was not to your liking, the filler could only be removed surgically.
Sounds kind of scary. Perhaps that's why many women are looking for workarounds and thinking about how to make their lips more voluminous without silicone fillers. Today, there is an alternative.
A modern replacement for the outdated silicone inserts was hyaluronic acid injections, a biodegradable substance related to the human body. The most significant advantage of such injections is that the compositions resorb independently over time. In that case, the process can be accelerated by introducing a particular product to correct the unsuccessful result of the procedure or even get rid of the consequences of lip augmentation;
Lip augmentation with hyaluronic acid is perhaps the most effective, popular, and safe method currently available. The substance not only fills tissues from within, increasing their volume, but also stimulates the production of collagen and elastin, which makes your lips moisturized and supple.
How Much Is Lip Augmentation With Hyaluronic Acid?
The cost of lip augmentation with hyaluronic acid starts from 540 dollars for the procedure. The price depends on several factors – the chosen product, its quantity, the skill of the master, and the prestige of the salon.
Bottom Line
I have looked at several natural ways to plump lips at home. I hope that some of the options will work best for you or that you will decide to get a lip augmentation with a filler. On my website, you will find even more helpful recommendations and tips for your beauty.
FAQ
How To Make My Lips Bigger?
There are a few ways to make your lips appear more prominent. First, you can use makeup tricks, like lining your lips with a lip pencil that's slightly darker than your natural lip color. You can also try using a gloss or lipstick with a light-reflecting shimmer, making your lips look fuller. And finally, you can try using a plumping lip product, which temporarily swells the lips and makes them look fuller.
How To Naturally Plump Your Lips?
There are many ways to naturally plump your lips, including lip balms, glosses, and sticks containing peppermint extracts or spices. You can also try using fillers made of hyaluronic acid, which is a biodegradable substance related to the human body.