Published on December 27th, 2022
Last updated on January 24th, 2023
Facial Fillers For Acne Scars: Does It Work?
Estimated reading time:
6
minutes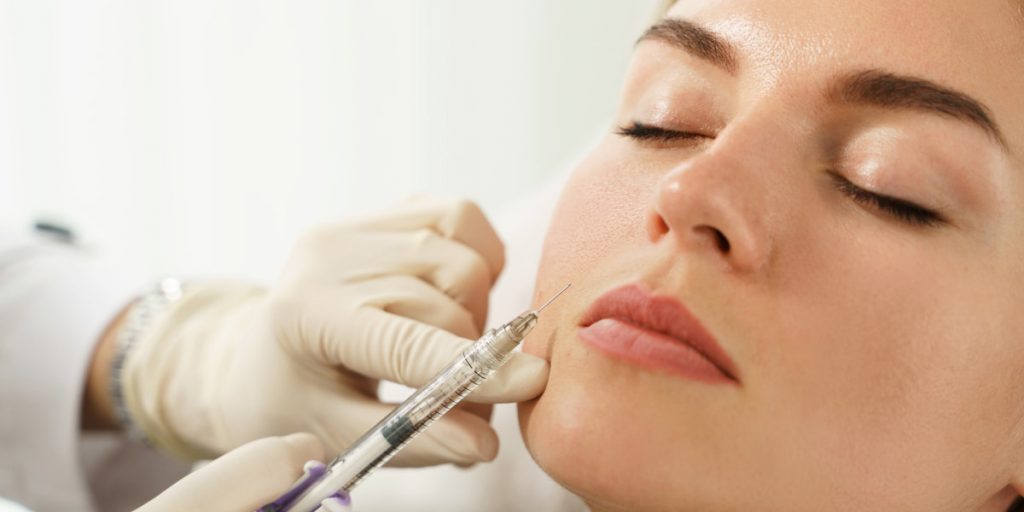 A dermal filler is good for filling small, flat acne scars with mild skin depression. Even if the days when the skin was in bad shape are gone, their remnants, unfortunately, can remain. Some people don't notice small scars, but some can't come to terms with post-acne. Research confirms that scars cause many people:
embarrassment;
anxiety;
depression.
Thereby it affects self-esteem and sociability. You can find this published study on the U.S. National Library of Medicine website. If you've ever dealt with acne scars, you've probably already tried:
fractional lasers;
retinol;
acupuncture.
But there is another, not as well known and discussed, but no less effective way to get rid of post-acne fillers. Hyaluronic acid injections stimulate the production of collagen. This substance, in turn, gradually fills in the scars. Everyone wonders: "Does water clear acne scars?" and "Is acne scars permanent?". So, this article will tell you more about this procedure and its pros and cons.
What Are The Types Of Acne Scars For Fillers Treatment?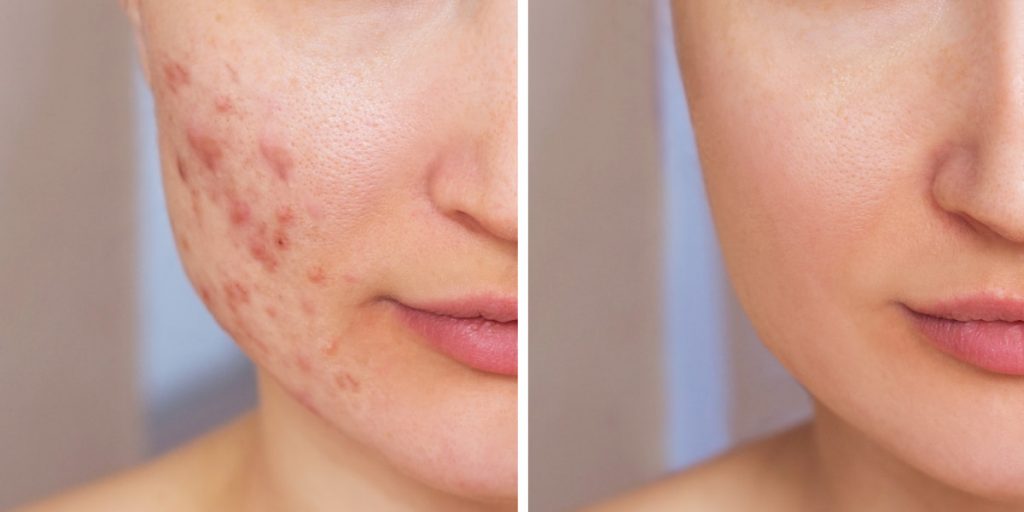 You can always face the problem of post-acne. Atrophic and hypertrophic scars are the most common types. Even after getting rid of unpleasant rashes and taking all possible precautions. Post-acne is persistent skin marks in spots (dark or red) and scars in places with pimples or acne. Such traces often remain after squeezing pimples, making it very difficult to get rid of them. But you can treat scars with filler for the face. Post-acne can be of several types:
Spots. Here you can see the appearance of pigmentation. It results in increased synthesis of the skin pigment melanin;
Neurotrophic scars. They are pale in color and located at the same level as the skin;
Atrophic scars are unpigmented pits and depressions of round, oval or irregular shape;
Hypertrophic scars are convex formations ranging from pink to bluish. They are above the surface of the skin. They form due to the excessive growth of collagen fibres;
Keloid. These are rough neoplasms of scar tissue. They rarely appear on the face but more often on the back and chest. They cause severe pain and itching.
What Can Be The Causes Of Post-acne?
Post-acne can appear due to:
Hormonal imbalances;
Gastrointestinal problems;
Improper skin care.
Any skin (oily, combination, and even dry) can be prone to acne, which can be different. These rashes are a localized inflammatory process in the skin. So you need to treat them with different facial fillers for acne scars.
The situation worsens if the inflammation worsens and spreads. It occurs in the deeper layers of the skin. Then ugly traces may remain at the site of the rash. But you can always use filler for scars. These are spots or scars. The following reasons may contribute to their appearance:
Long-term skin problems;
Improper selection of cosmetic products;
The presence of deep inflammatory elements;
Ignoring rashes and lack of treatment;
Treatment by an unqualified specialist;
Self-pressure;
Injury to small vessels;
Infection.
What Injections Can I Use For Acne Scars?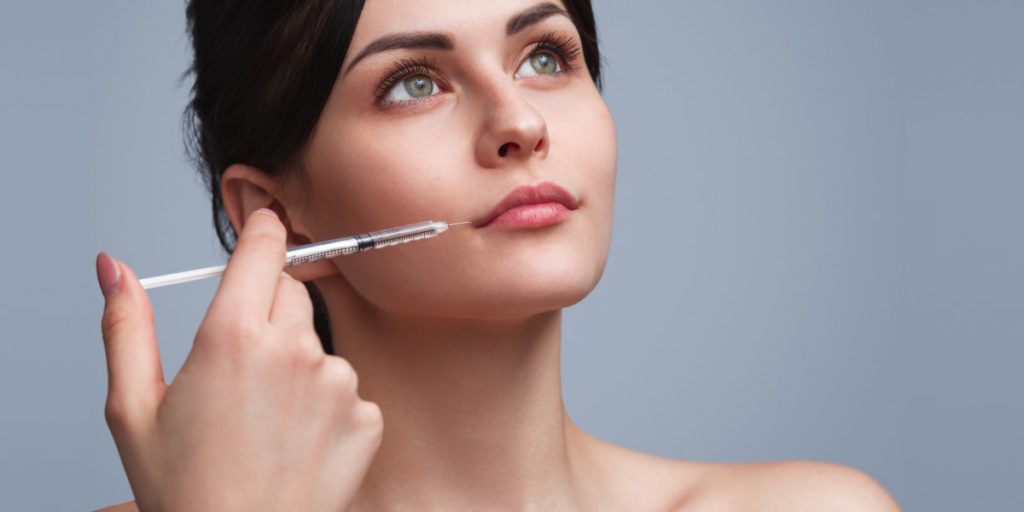 Hyaluronic acid or collagen-based fillers can help reduce the severity of post-acne. When injected under the skin, it:
retains in the tissues for a long time;
triggers the mechanism of cell renewal;
provides a visible rejuvenating effect.
Injectable preparations based on hyaluronic acid stimulate tissue regeneration. Also, they can eliminate acne marks and hyperpigmentation. Also, you can noticeably reduce the risk of acne exacerbation.
Facial Fillers For Acne Scars Work Well Against Atrophic Types
Collagen is a protein that serves as the base (framework) of the skin and gives it strength and shape.
Hyaluronic acid, which plays the role of a filler and also has a moisturizing effect. This substance can attract water in a volume far more significant than its own.
Due to the molecules' optimal size and physical properties, collagen and hyaluronic acid have proven more effective than other fillers:
calcium hydroxyapatite;
poly-L-lactic acid (PLLA).
Fillers are suitable for large atrophic scars, making the defects less noticeable. With regular use, the scar tissue becomes more elastic. And traces of post-acne gradually disappear. Some manufacturers recently presented their new ideas for fillers:
Studies conducted by Merz Aesthetic have confirmed the method's effectiveness. It is one of the leading manufacturers of pharmaceutical and cosmetic products. Analysis of the treatment of patients in Greenboro (North Carolina) showed the effectiveness of fillers, which not only restore the volume of tissue lost due to scar changes but also stimulate the processes of renewal.
The company Rehovot has developed a needle-free method of injecting hyaluronic acid. A high-pressure jet delivers the substance to the tissues. It helps disperse the acid over the planes of the skin. This method now gives more than 50% effect in the future. These acne scar treatment fillers can be used everywhere after increasing their effectiveness.
An alternative to temporary resorbable fillers requiring multiple injections is long-acting fillers consisting of polymethylmethacrylate microspheres in an aqueous gel with 3.5% bovine collagen ("Artefill"). It already shows good results in treating post-acne and will probably be widely used later.
How Does A Doctor Perform Contouring With Scar Filler For The Face?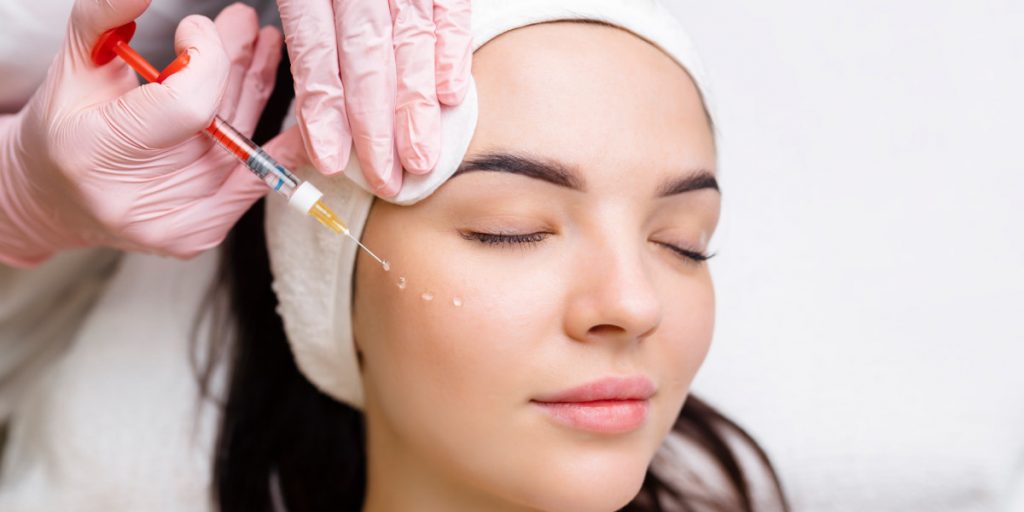 The procedure introduces preparations based on hyaluronic acid. As it goes into the middle layers of the skin. The fillers have a dense gel consistency that helps:
smooth the skin;
сorrect wrinkles and minor irregularities, which include atrophic scars.
Besides injections for acne scars based on hyaluronic acid, fillers using on the patient's fat can also be used (lipofilling procedure). The process itself looks as follows, the cosmetic surgeon:
First, cleanses the skin;
Next, treats it with anesthetic cream or gel;
Then marks the points of the drug injection;
After that, using a fine insulin needle injects a pre-measured amount of filler;
Then treats the injection area with an antiseptic solution.
The procedure takes 20 to 40 minutes. You can assess the result immediately. You can notice how the skin:
The skin becomes smoother and more moisturized;
Appears more even;
Over time, becomes firmer.
After applying facial fillers for acne scars, you should avoid saunas, tanning salons, and exposure to the active sun for 14 days. As heat exposure promotes accelerated decomposition of hyaluronic acid in tissues.
Bottom Line
Thus, modern cosmetology has a whole arsenal of methods for treating all forms of post-acne. Therefore, you can improve the skin's condition by contacting a cosmetologist. And often wholly eliminate problems by using dermal filler for acne scars.
So, in our blog, you can find answers to your questions about beauty and cosmetic procedures. The article is for informational purposes only. The patient should make any decision regarding the nature of medical care only after a face-to-face consultation with a specialized doctor.
FAQ
Is Fillers For Acne Scars A Permanent Solution?
No, some maintenance is required with repeat injections, usually every 6-12 months. Although hyaluronic acid fillers also help to stimulate the formation of new collagen. Females can often go years between retouching after correcting their scars.
Does Water Clear Acne Scars?
Yes, you need to control the water balance. When drinking plenty of water, rashes and acne stop appearing on the skin. The skin becomes moisturized, smooth, and soft. But in the case of severe acne, drinking water alone will not help. In such cases, you need natural treatment with particular medications.
Are Acne Scars Permanent?
No, you can remove acne scars. But it all depends on the degree of deepening the spot into the skin. Even salon procedures cannot remove this issue in some very severe cases.
What Scars Can I Correct With Fillers?
Injections are suitable for the correction of atrophic skin changes. These scars appear when the skin or muscles peel off, but acne or post-acne is the most common reason for their formation.