Published on January 21st, 2023
Last updated on August 15th, 2023
How To Use A Dry Shampoo Properly: Essential Tips And Tricks
Estimated reading time:
8
minutes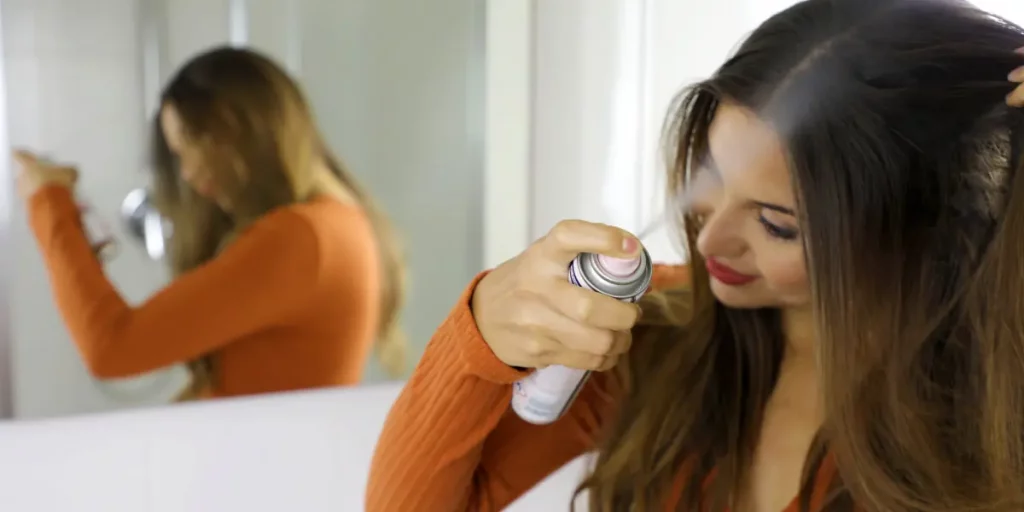 Do you want to learn the appropriate way to use dry shampoo? To use it properly, you should start by:
Shaking it and holding it approximately 8-10 inches away from your hair.
Spraying your hair roots in short bursts, focusing on the oily parts, and avoiding the scalp.
Massaging the shampoo into your roots for 30-60 seconds. Then brush your hair to evenly distribute the product.
You may have heard about how some people have been using dry shampoo for years or even decades. The first prototypes of dry shampoos appeared many centuries ago.
For cleansing, our ancestors applied talc, flour, powder from ground cereals, and violet root to the hair roots. Dry shampoo, which was more like a modern one, was invented in England at the end of the 19th century by Casey Herbert.
So, why not try it out for yourself and see how you like it? Give this shampoo a try, and enjoy how easy it can be to keep your hair looking great. Here are some tips on why and how to use dry shampoo so that you can enjoy all the benefits!
Choose the right type of shampoo for your hair type
Some types may be too heavy or too light for your hair texture. You should also read the instructions on:
How much product to use;
And how far away from the scalp you should be spraying it.
Too much product can leave your hair feeling dry and stiff. While too little may not provide the necessary cleansing power.
Shake the bottle well
When you're ready to use dry shampoo, you need to:
Shake the bottle well to mix all ingredients;
Then section off the area of your hair that you want to cleanse;
And hold the bottle for about 8-10 inches away from your scalp.
The goal is to lightly mist your roots, not soak them. Focus on oilier areas of your scalp – This will help absorb the most oil where you need it most. Spray in short bursts until you have evenly covered your whole hair.
Let it sit for 2-3 minutes before brushing
Once you have applied this shampoo, you should:
Let it sit for 2-3 minutes before brushing or combing through your hair with a wide tooth comb. This will help distribute the dry shampoo evenly. And this will ensure that all your hair gets the benefits.
Also, before brushing your hair, you may activate the components that absorb the oil. Massage it into your scalp with your hands.
By following these tips on how to use a dry shampoo properly, you'll be able to keep your hair looking amazing in no time.
Why And When To Use Dry Shampoo?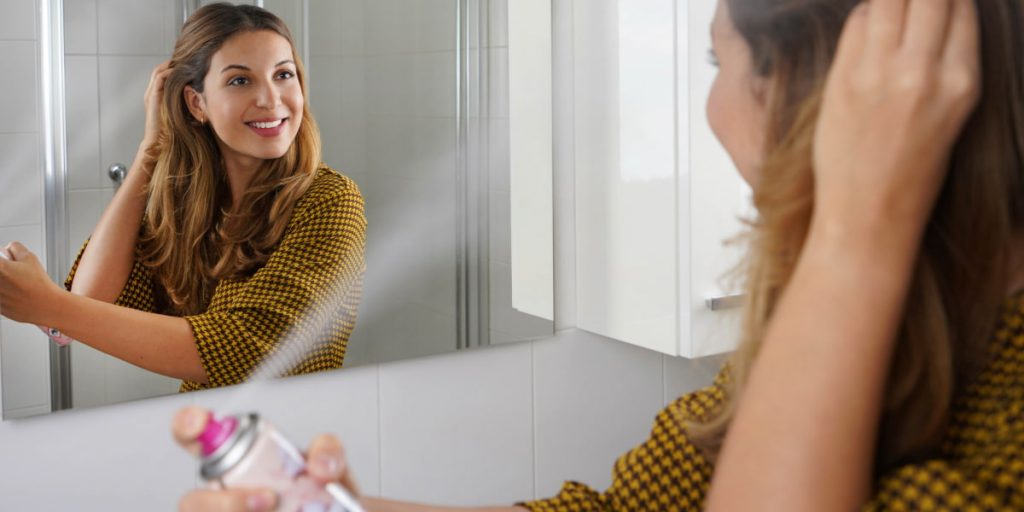 Dry shampoo is a great way to keep your hair looking fresh and clean. The benefits of this shampoo are many: it soaks up excess oil, adds volume, and helps maintain style without having to use heat tools or styling products.
If you're wondering why you should use dry shampoo, here are some key benefits:
It revitalizes your hair in between washes. No need to worry about greasiness when you can quickly refresh your style with a few sprays of dry shampoo.
It can help keep your style in place. It not only soaks up excess oil but also helps lock in the style you have worked so hard to create.
It adds volume. Spraying a bit of this shampoo at the roots will lift your hair and add volume.
It's perfect for on-the-go use. Whether you head out on a weekend getaway or run around town, it is an easy way to freshen up your look.
If you're wondering when it's best to use dry shampoo, the answer is anytime! It can be used at any time and on any type of hair – curly, straight, or dyed – for a variety of benefits.
You can use it:
In the morning before styling your hair so that it looks freshly washed;
Or after exercising to help absorb sweat and oiliness;
As an alternative to styling products. You can spray it onto your roots before using a curling iron or straightener.
Tips On How To Choose The Right Dry Shampoo
When it comes to how to choose the right dry shampoo, there are a few things to keep in mind:
First, consider the type of your hair. Different types of hair require different types of dry shampoos. So make sure whatever you choose is tailored to your specific needs.
Also, think about how often you need to use dry shampoo. It is occasionally, or you need something that can be used every day.
Finally, check out reviews and ratings from other users. This will give you an idea of how well-received a particular product is and how well it works.
Once you've narrowed down your search to one or two options, how do you know how to use them properly? Finding the best way to apply depends on your hair type and what type of dry shampoo you use.
What Are The Types Of Dry Shampoos?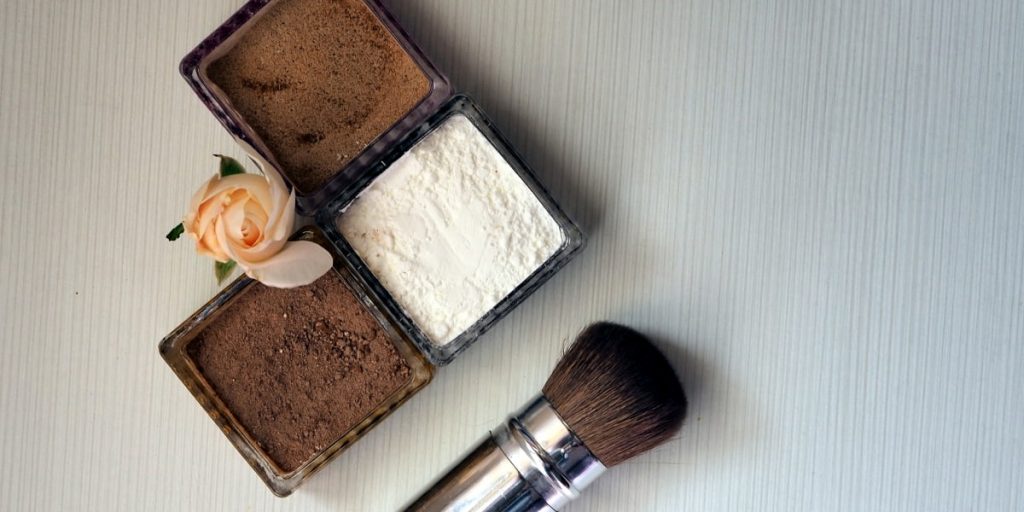 There are three main types of dry shampoos:
Each dry shampoo type has its tricks:
Spray-dry shampoos work best on those with normal to dry hair types. As they can help add moisture back in without making your hair look greasy. They are also great for those who don't have a lot of time. And they can be applied quickly and effectively. They leave your hair looking refreshed with minimal effort.
Foam dry shampoos are best for people with thicker or curly hair. They provide more coverage than spray varieties and help to add volume to the hair.
Powder dry shampoos are ideal for oily scalps. The powder absorbs excess oils more than other types of shampoo.
Now that you know how to choose and use dry shampoo, start experimenting with different products until you find the one that works best for you!
How Often To Use Dry Shampoo?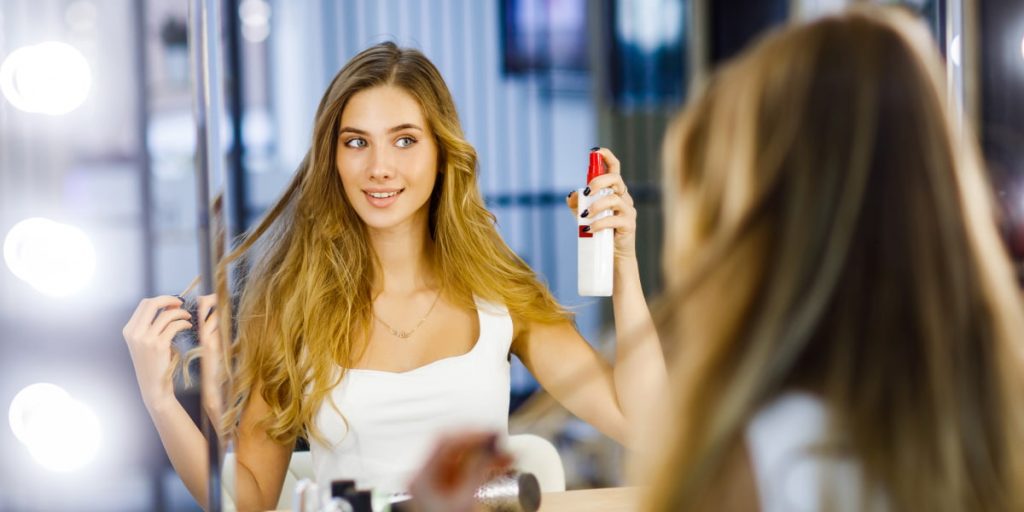 Ideally, you should use dry shampoo one to two times a week. If you use it more often than that, you could damage your hair or cause buildup. Also, too much this shampoo could irritate your scalp or cause dandruff.
Ultimately, it's up to you to find the right balance that works for your individual needs. The frequency with which you use it depends on your hair type and lifestyle:
Generally speaking, people with oily or fine hair can benefit from using dry shampoo every other day or even daily.
Conversely, if your scalp is naturally dry and you don't have much oil production, you can get away with only using this kind of shampoo once a week.
Keep in mind that while it will help absorb excess oil between washes, it won't completely replace washing your hair with water. It's important to make sure you still wash your hair regularly.
So that it doesn't become dry, brittle, or damaged. And if you find yourself using this shampoo more often than not, try cutting it back a bit and see if it helps.
It is important to find the right balance of dry shampoo use with water-based washes. It will keep your hair healthy and beautiful!
Tips For The Correct Using Dry Shampoo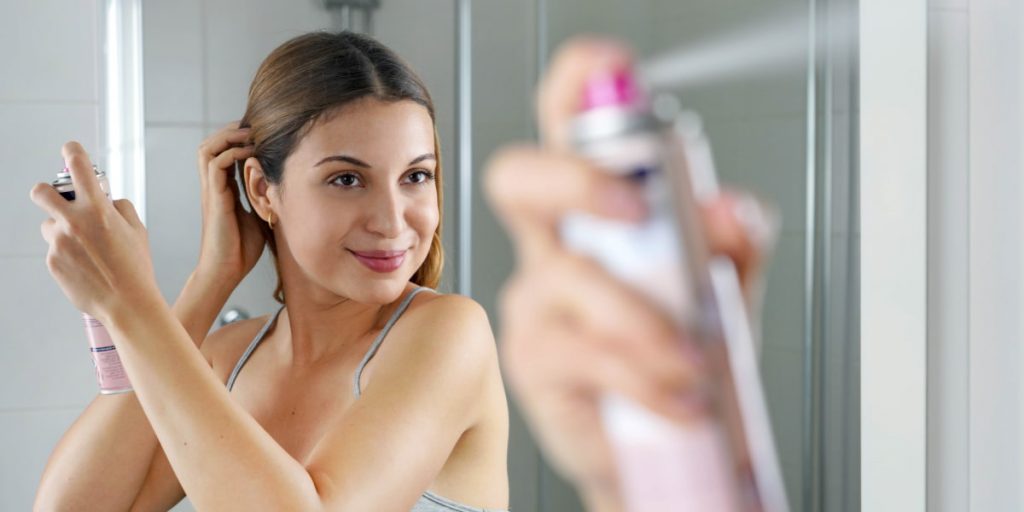 One of the most common dry shampoo mistakes is using too much. You might think that you get better coverage, but this can leave your hair looking oily and weighed down. To avoid this, use a light hand when applying and try not to spray on more than you need.
Another mistake is not allowing enough time for the product to absorb oil. Most it formulas take several minutes to absorb oils. So make sure you give it adequate time before styling or brushing your hair. If you don't use this shampoo in a proper way, your hair may end up looking greasy and dull.
Finally, some people make the mistake of leaving their dry shampoo for too long. Try to keep it in no longer than a few hours or you risk creating dull and dry-looking locks.
Give yourself enough application time and use the right amount of product. Avoid using it for too long and your hair will benefit.
Bottom Line
Now that you know how to get the most out of this product. Start incorporating it into your regular hair care routine. Enjoy all the benefits that come with it. Goodbye oily roots – hello, clean, voluminous locks!
FAQ
Does Dry Shampoo Really Work?
Yes, dry shampoo really does work! It's a great alternative to traditional shampoo and conditioner. It absorbs the oil in your hair, leaving it looking clean and refreshed.
Is It OK To Use Dry Shampoo Every Day?
No, it is not recommended to use dry shampoo every day. Dry shampoos are great for adding volume and texture as well as soaking up excess oils in your hair. But, if used too often it can cause buildup, which can lead to scalp irritation and dandruff.
What Should I Do If My Dry Shampoo Leaves A White Residue?
If you notice a white residue, you have used too much dry shampoo. To fix this issue, brush your hair to evenly distribute the product. Then use a blow dryer to help absorb the excess.
What Ingredients Does Dry Shampoo Contain?
Dry shampoo typically contains a mix of absorbing ingredients like starches, silica, and clays, as well as fragrances to make the shampoo smell nice. Depending on the brand, it may also include waxes, oils, and other conditioning agents.