Published on January 17th, 2023
Last updated on January 24th, 2023
How To Get Purple Hair? Easy Guide Without Bleaching
Estimated reading time:
10
minutes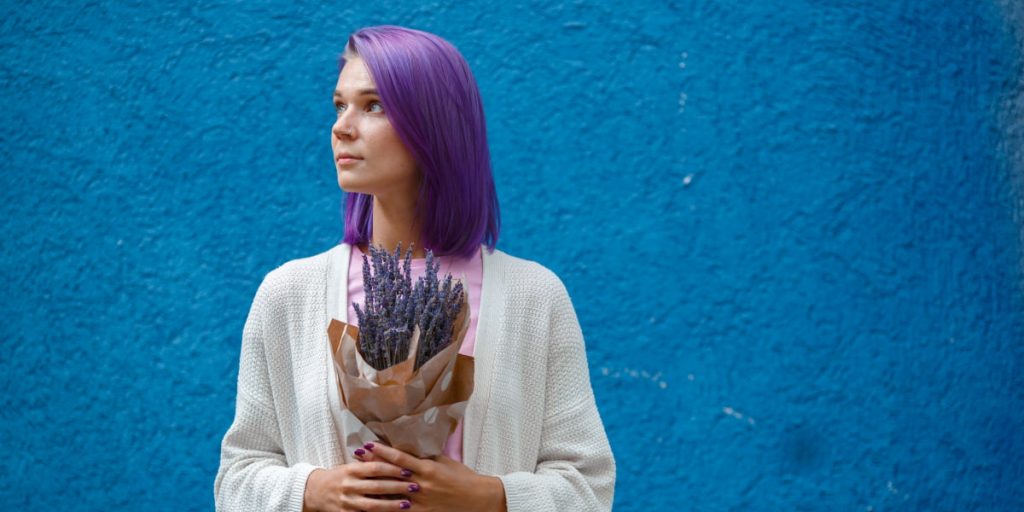 Hair coloring is a great way to brighten your locks and bring something new to your look. But although this procedure is an excellent method to turn curls into a work of art, you must follow some principles and rules when dye your hair purple.
First of all, you need to know the type of locks. This will ensure a more successful coloring procedure. It is also essential to consider your natural color. And you should also remember the choice of product for painting your curls. By taking into account important factors, you will get successful lock coloring.
In our article, we will discuss this and other details of dyeing hair purple. Stay with us and read the article to the end. You can make the coloring procedure as effective and exciting as possible with our instructions. And your hair will be safe and radiant.
How To Dye Your Hair Purple And What You Need
To get purple locks without bleaching your hair, you will need the following:
Purple dye. Choose a direct product or a color specifically formulated for dark curls.
Developer. This is a liquid that activates the hair coloring product and helps it to penetrate the locks.
Mix bowl and applicator brush. These will be used to mix the hair dye and apply it to your curls.
Gloves. Wear gloves to protect your hands from getting dyed.
Old towels or cape. Cover your clothing and surfaces to protect them from accidental spills or splatters.
Hair clips. Use them to section off your locks and make it easier to apply the product.
Shampoo and conditioner. Use a sulfate-free shampoo and conditioner to help the color last longer.
Deep conditioning treatment. This can help to nourish and moisturize your locks after the coloring process.
Remember to follow the instructions on the product packaging. And do a strand test before applying purple hair color on dark hair. You should not use this product if you notice an allergic reaction after the test. In this case, you can contact a trichologist for help. A specialist will help you choose the right dye for your locks and give you some useful tips.
Step 1. Determine Your Color
Before the coloring procedure, you must choose your hair color.
People often choose a shade according to the skin of their hands or faces. There are many tables on the Internet to determine the appropriate color. You need to follow them before dyeing your hair dark purple. Besides, paint manufacturers also often offer special helpers. With their help, you can easily match the color to your style.
Remember that this step is critical during the procedure for coloring your hair. Having chosen a color and applied it to your curls, you will no longer be able to cancel the result. And if the color does not fit you, you will have to be with it for at least a month.
Thus, take this step with responsibility. You can also use the services of a hairdresser or stylist. A professional will be able to choose the best color solution for your hair.
Only after choosing the color of purple hair dye for applying at home can you proceed to the procedure for preparing locks and dye.
Step 2. Prepare Your Locks
Preparing the curls before the procedure is important for coloring. But be sure to use hand protection before doing so. Medical gloves are a great option.
After that, you should divide your locks into small sections. You can then use bobby pins to secure your hair.
Now you need to apply a small amount of coconut oil to the hairline and along the forehead. This will help prevent blemishes from appearing in these areas.
Step 3. Prepare Your Dye
Now it's time to mix your color product. Different manufacturers offer different products and packaging. Thus, you may need an extra bowl to mix the main ingredients. Perhaps your coloring product will have a convenient mixing package.
Always follow the instructions on your product. After you have mixed your product, you can apply the dye to your curls.
Step 4. Dyeing Hair Dark Purple
Now you need to apply the dye to your curls. You should do this carefully so as not to stain your skin or clothes. Thus, you need to prepare old clothes in advance and lay old rags or newspapers on the floor.
After protecting the skin and surrounding objects, you can apply the dye. Apply color to part of your locks. Then you need to divide them into even smaller strands. After that, you can check and apply more dye on small strands if necessary.
This way, you can apply purple hair color on dark hair better. And this, in the end, will lead to an excellent result.
Step 5. Set The Time
When coloring, time is of the essence. Depending on the time, your paint may give a different result. If you want a more permanent and vibrant color, you can leave the coloring product on for longer. But the recommended standard is from 30 minutes to 1 hour.
For the procedure, put a cap or a small plastic bag on your head. Set a timer and wait. After the time is up, you can wash off your curls.
Step 6. Wash Off The Product
Now you need to remove all the remnants of dye after dyeing hair dark purple. To do this, you can wash your locks with water. Do not use shampoo the first time you wash them after coloring. Shampoo can cause paint to fade. It is best to wash your curls with warm water. This way, you can keep your color as long as possible.
Step 7. Dry Your Locks
After you have rinsed off the product and washed your strands, you must dry them. It is best not to use a dryer to dry your curls after coloring. A great option would be to let your locks dry on their own. After that, you can apply a small amount of thermal protection product. And only after that can you do your hair styling.
Other Hair Dyeing Products
In this paragraph, we will tell you about no-bleach purple hair dye alternatives. With these products, you can dye your locks purple. But the vibrant color effect will only last about a week. And it will be possible to wash off the paint from the curls in just a few sessions of washing the head. This method is great for trying out a dye and seeing if the solution is right for you.
Let's look at a few alternatives to regular colouring product:
Purple hair wax. To use such a product, you only need to apply it to your hair. This can be done without the help of professional tools. After the hair wax dries, you can enjoy your new color.
Conditioner for coloring. You only need to apply the product to your locks and wait 15 minutes. After that, you can rinse the product from your curls if you don't like it. The uniqueness of this conditioner is that you can use it as much as you want. And it washes off very easily. So, you can use it at home as a purple hair dye.
Spray paint for hair. This product gives the fastest results. Besides, spray hair dye can be quickly rinsed out of the hair. But be aware that this solution can be very drying to your hair. Thus, always use moisturizing products before coloring your hair.
How To Care For Dyed Hair
Here are a few tips for caring for hair after no bleach purple hair dye:
Avoid washing your hair too frequently. Washing your strands daily can strip the color from them and make them fade more quickly. Instead, try washing them every two to three days or as needed.
Use a sulfate-free shampoo and conditioner. Sulfates can be harsh and strip the color from your curls. Look for products that are specifically formulated for colored locks. These can help to preserve the color and keep your hair looking vibrant.
Protect your curls from heat. Heat styling tools can damage your locks and cause the color to fade. If you must use heat tools, use a heat protectant spray and try to keep the heat at a lower setting.
Avoid chlorine and salt water. Chlorine and salt water can strip the color from your hair and cause it to fade. If you plan to swim, wear a swim cap or use a leave-in conditioner to help protect your strands.
Deep condition regularly. Deep conditioning treatments can help to nourish and moisturize your hair. It can help the color to last longer.
Touch up your roots as needed. As your hair grows, you may notice that your roots start to show. To keep your color looking fresh, consider getting touch-ups every 4-6 weeks or as needed.
Following these tips and using the right products can keep your hair looking healthy.
Pros And Cons Of Hair Coloring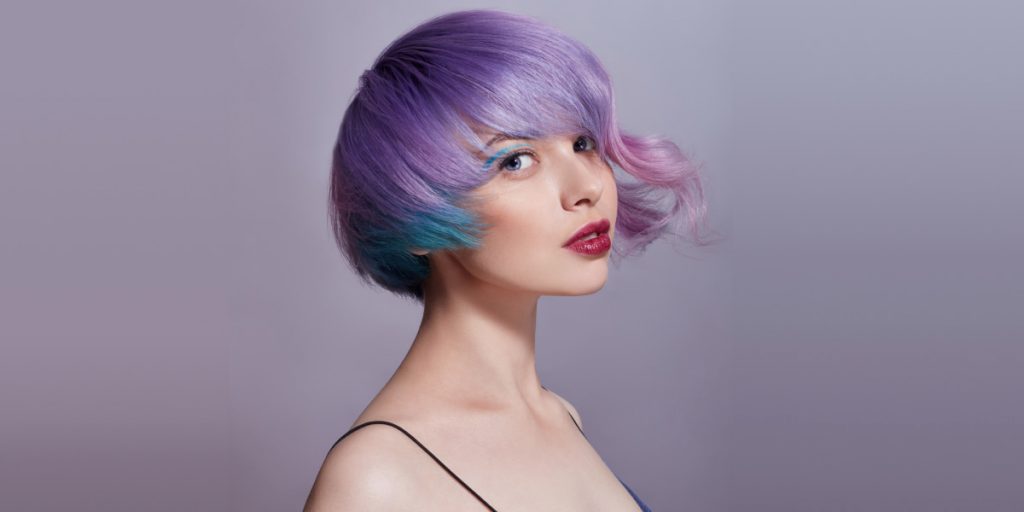 Pros of dyeing hair dark purple:
Allow you to change your appearance. Hair coloring can be a fun and easy way to change your appearance and try a new look.
It can cover up gray hairs. If you have gray hairs that you want to cover up, hair coloring can be an effective solution.
It can boost self-confidence. Many people feel more confident and self-assured after changing their hair color.
It can hide damaged hair. Coloring your hair can help to hide damaged or split ends. It makes your hair look healthier and more polished.
Cons of dyeing hair dark purple:
It can damage hair. Some hair coloring techniques, such as bleaching, can be harsh and damaging to the hair.
It can be expensive. Depending on the method used, hair coloring can be costly and require frequent touch-ups.
Requires maintenance. To keep your hair looking its best, you may need to touch up the color every 4-6 weeks or as needed.
It may not turn out as expected. It can be difficult to predict exactly how a hair color will turn out. And you may end up with a shade different from what you expected.
Hair coloring can be a fun and rewarding experience. But it's important to consider the potential risks and downsides.
Summary
Now you know how to dye your hair purple. With our short and informative instructions, you can turn your hair into a work of art. At the same time, you will not make mistakes and will do everything correctly and efficiently.
FAQ
Will Purple Hair Dye Show Up On Dark Hair?
Purple hair dye may not appear as vibrantly on dark hair as on lighter hair. But it can still be visible, especially if you use a direct dye or one specifically formulated for dark hair.
What Color Can You Dye Over Black Hair?
Some popular colors for dark hair include burgundy, red, and deep blue. It's always a good idea to do a strand test first to see how the color will turn out on your hair. You can also use temporary solutions like wax or conditioner. There are products with a staining effect. You can test the color and wash off in one day if you don't like it.
How Long Will Purple Hair Dye Last On My Hair?
On average, semi-permanent purple hair dye lasts about 4-6 weeks. At the same time, permanent hair dye can last for several months or longer. To help the color last longer, avoid washing your hair too frequently. And use a sulfate-free shampoo and conditioner.
Can I Fade Purple Hair Dye Faster If I Don't Like It?
One option is to use a hair dye remover, which can help to lift the color from your hair. You can also use a clarifying shampoo, which can help to remove buildup and fade the color more quickly.
What Should I Do To Prepare My Hair For Purple Dye?
Before applying purple hair dye, it's important to ensure that your hair is in good condition. This means washing and drying your hair and even using a deep conditioning treatment. It's vital if your hair is damaged or dry. You should also avoid using styling products or heat tools for a few days before dyeing your hair. It's because this can affect how the color takes to your hair.