Published on January 9th, 2023
Last updated on January 24th, 2023
How To Fix A Broken Nail? 6 Hacks That Will Definitely Help
Estimated reading time:
8
minutes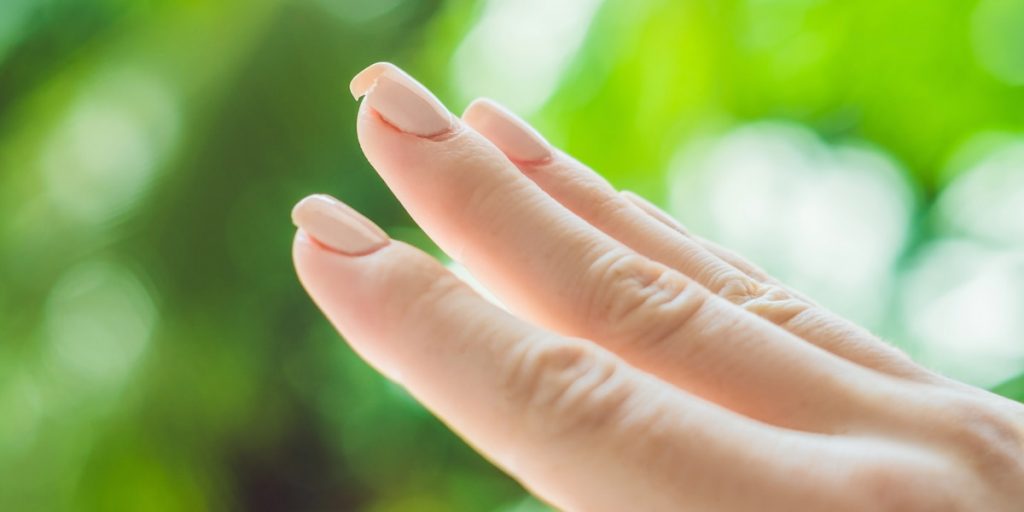 A broken nail is one of the most common beauty problems. And to face it is incredibly unpleasant when you have finally grown the desired length of your nails, and one of them has decided that now is the time to give up.
Do you have an annoying broken nail that can't get fixed in any way? Are you afraid it will ruin your perfect look, and all your hard work will go to waste? Don't worry – broken nails happen to all of us! Brittle nails are especially true for women over the age of 50. And there's no need to panic because repairing cracked nails has become more accessible.
In this article, we will look at many ways. They will help to strengthen and repair a broken nail. So, get ready to learn some helpful tips from professionals. You will learn how to fix a broken nail quickly and easily.
Let's start and dive into the big world of manicures right now!
The Tea Bag Method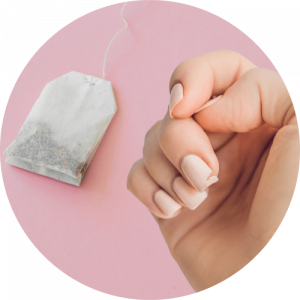 How to fix broken nail with the tea bag method? It doesn't have to be complicated. The tea bag method is an effective and easy-to-use tool. It allows you to fix even the most stubborn breakages effortlessly. This method is the most popular biotic on the internet. It will enable you to repair a broken fingernail in less than 15 minutes and is incredibly easy.
Step 1. Cut the broken nail as short as possible.
Step 2. Using a nail file (preferably a glass nail file), gently trim the edge of the nail. Then sand the surface of the chipped nail.
Step 3. Cut out a "patch" from a tea bag. The size should be more significant than the crack itself. You can also use a paper coffee filter of the correct size.
Step 4. Degrease the nail surface. You can use nail polish remover or an alcohol solution for this. Apply a generous coat of clear nail polish or base to the broken nail.
Step 5. While the clear polish is tacky, gently place the "patch" on the broken part of the nail. Press it onto the nail. You can use tweezers here.
Step 6. Allow the base to dry. Sand the edges of the patch with a buff. Then apply one or two coats of clear nail polish.
Step 7. When the clear coat is dry, coat your nails with clear nail polish.
Step 8. Voila! Now you know how to fix broken nails with a small effort.
Use these steps wisely, and you'll be able to fix even the most severe breakages without fail!
Repair With Special Glue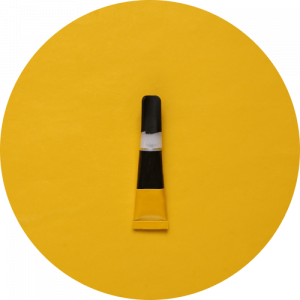 Experts are not too fond of this method. The glue most often contains acrylates (esters or salts of acrylic acid). These are chemicals that cause irritation and allergic dermatitis. Acrylates are frequent culprits of skin reactions. So be careful when using glue, and make sure you are not allergic to it.
Glue can fix anything broken (except broken hearts – you'll have to find another way). A universal remedy will also come in handy in our case of fingernail repair. You can buy it in a manicure shop.
Step 1. Clean the nail with a nail file to remove all loose parts and dust.
Step 2. Apply the repair glue to both broken edges of the nail and wait. Please do not touch it! The glue has to dry completely.
Step 3. Gently rub the nails with a particular nail buffer. It will make them smooth and even.
Step 4. Finally, apply a thin coat of clear nail polish or repair gel. It will protect and strengthen the chipped nail.
It is one of the easiest methods to quickly and easily repair cracked nails. So give it a try!
Tips: Remember that repair glue should only be used if necessary. It will weaken your nails, mainly if you use it too often. It's always better to fix a broken nail with a manicure or repair gel.
How To Fix A Broken Nail With Duct Tape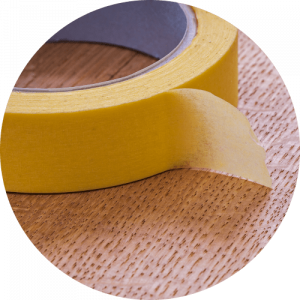 We use duct tape everywhere:
Gift wrapping
Sealing envelopes
Restoring an old thousand-dollar note.
And lots of other things, ordinary and not so ordinary.
Duct tape also comes in handy as a nail patch for broken nails. It may not last long, but it will make your nails look perfect. A one-sided tape with a low to the medium adhesive surface is suitable. But, consider this method as a short-term repair.
Step 1. Cut a piece of tape about 3 cm long.
Step 2. Place it strictly under the broken nail, joining the edges together.
Step 3. Apply light pressure to ensure the repair is securely fastened. Take care not to cut or stain the skin.
Step 4: To repair it more naturally and finish, apply a thin coat of colored varnish to the repair area.
This repair method can last up to a few days, depending on your activity level. It's an excellent temporary solution. But it's worth noting that it's not the most aesthetically pleasing way to repair a broken fingernail.
Use Of Repair Gel Or Repair Powder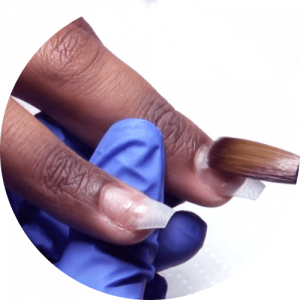 It is the most common and easiest way to repair cracked nails. You can easily find repair gels or powders at any nail salon. Or look for them in a cosmetic shop or online shop. All you have to do is apply them to the damaged area of your nail and wait for them to dry. Here are brief instructions:
Step 1. Before repairing, you need to clean and prepare your nails thoroughly. Use an orange stick or nail file to remove any rough edges. It will ensure better adhesion of the gel or repair powder.
Step 2. Now you can apply the fingernail repair product of your choice. Choose between gel or powder. Gently apply it to the broken area and wait until it dries completely. It usually takes a couple of minutes.
Step 3. Once the repaired product has dried, use a nail buffer. You will use this to smooth the surface of the fixed nail. If desired, apply a top coat for extra protection and shine. And voila! Your broken nail is repaired!
Dental Floss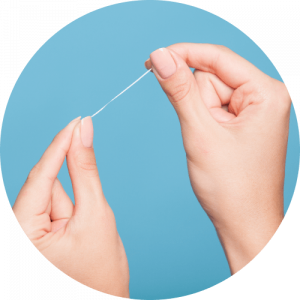 People are often surprised to learn that you can floss to repair cracked nails. It is because dental floss is made of solid nylon fibers. Dental floss also thin enough to go underneath the broken edge of the nail and reinforce it. It makes the repair virtually invisible.
Of course, such a repair should only be temporary, and you should get a professional manicure as soon as possible. A quick nail patch for broken nails may save you from embarrassment. But most likely, it will not serve as a long-term remedy for a cracked or broken nail.
Step 1. Start by cutting off a 2-3 inch piece of dental floss.
Step 2. Slip the floss under the broken nail and wrap it around the top.
Step 3. If desired, secure with a drop of clear or colored nail polish. You can also use glue to fix it in place.
Use An Egg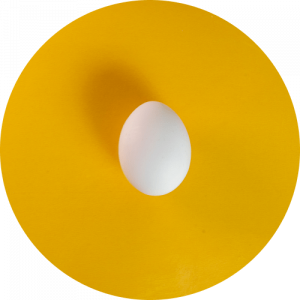 If the nail's free edge is not entirely torn off but only fractured, a raw chicken or quail egg can help. Surprising, isn't it? But trust us, it's a great repair option for a broken fingernail.
Step 1. Prepare for the procedure in the standard way. You need to remove the varnish, wash your hands and disinfect.
Step 2. Take the buffer and polish the nail surface. Gently, please don't overdo it.
Step 3. After this, proceed as follows. Carefully crack an egg, and separate the white from the yolk. There's a thin film on the inside of the eggshell. Pick it up and separate it carefully.
Step 4. Using tongs, place the foil on the chipped nail's surface to cover it completely. Be sure to include the area where the nail is cracked.
Step 5. Wait until the film has dried completely. Then cut it, so it does not protrude beyond the contours of the nail shape.
Step 6. Coat the restored element with clear and then a colored varnish.
Bottom Line
We hope that these tips and tricks will help you fix a broken nail. The key to a successful repair is preparation, so be sure to use the correct repair product and follow the instructions carefully. With these hacks, you can keep your nails looking beautiful and well-maintained even in an emergency! Good luck!
FAQ
How To Repair Split Nails?
The best way to repair split nails is to use repair gel or repair powder. Apply it to the damaged area of your nail. Please wait to dry completely before buffing the surface with a nail buffer. You can also use unusual as a temporary repair solution.
Will A Broken Nail Grow Back Together?
No, a broken nail will not grow back together. A broken nail can either be sawn off or repaired. If repair is not an option, you should have it professionally sawn off, and a new nail will grow in its place.
Why Do Nails Split Down The Middle?
Nails can split down the middle due to a variety of things. These may include:
– overexposure to water;
– inadequate nutrition;
– mineral deficiencies;
– or even certain medical conditions.
If you are experiencing this issue regularly, it is best to consult your doctor.

Can A Broken Fingernail Cause Infection?
Yes, broken nails can cause infections. Especially if you don't clean or disinfect them properly. Be sure to clean your broken nails with mild soap and water. Then disinfect them with alcohol or hydrogen peroxide. If the nail is badly damaged and repair is impossible, it is best to remove it professionally. It will avoid possible infection.