Published on September 15th, 2022
Last updated on January 25th, 2023
Dip Powder Nails Vs. Gel Nails: Which Is Best And What To Choose?
Estimated reading time:
9
minutes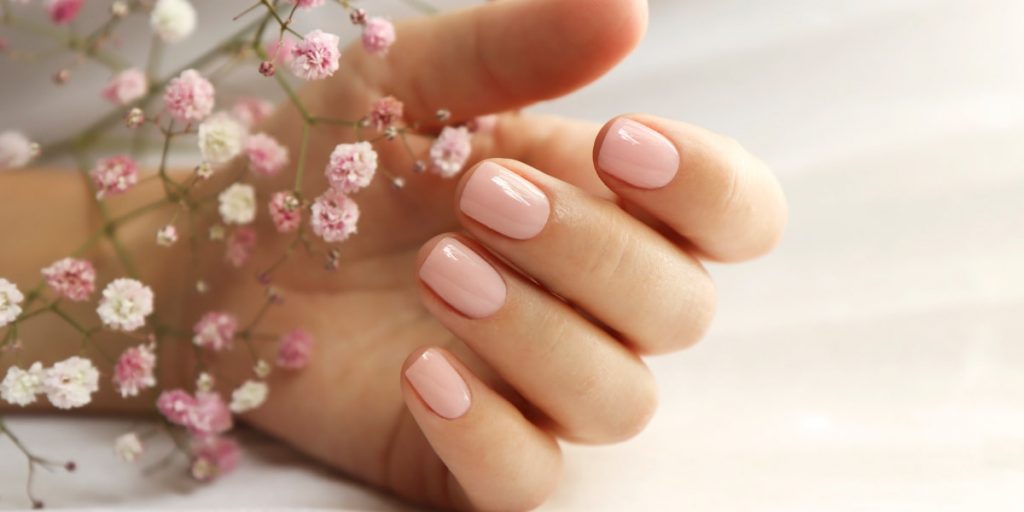 One relatively new procedure is a manicure with dip powder or gel. Each method has advantages and disadvantages, such as gel so it requires additional devices, and the powder can be too difficult to work with. These techniques will help any girl with fragile nails to become the owner of strong and healthy nails. A woman should always be well-groomed, and everyone strives for it. That goes for everything – her face, figure, and nails. All owners of thin and fragile nails dream of a beautiful manicure. But unfortunately, even gel nail polish doesn't last long on a weak nail plate. In the article I will make a direct comparison: dip nails vs gel nails.
How do you ensure your nails look beautiful without worrying about it daily? The modern nail industry doesn't stand still and is dynamically developing. I have prepared an in-depth comparison of these nail methods.
What Is A Dipping Powder?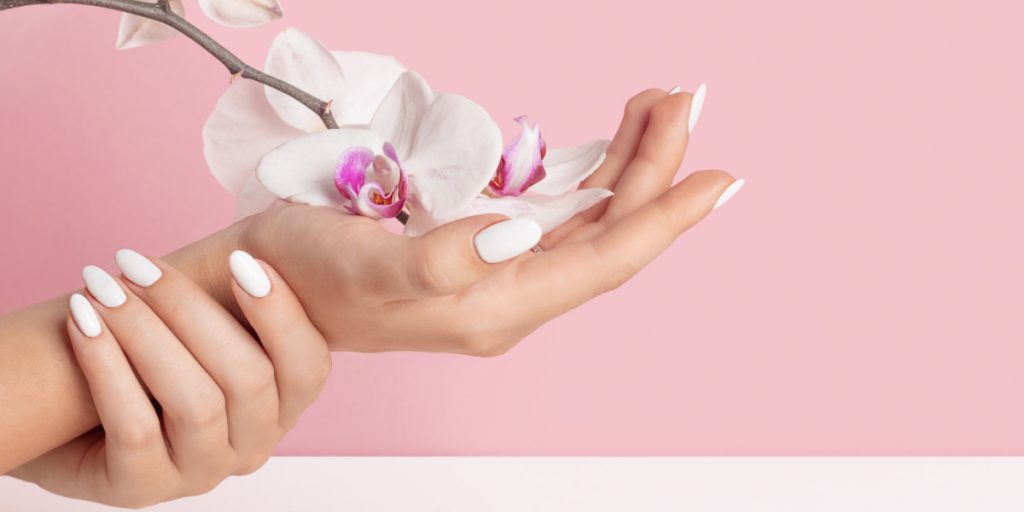 In terms of its properties, the nail powder manicure is between regular polishes and gel lacquers and is presented as a light, airy powder. During the creation of a manicure, nails must be dipped into the powder. Some nail technicians call dip powder "lightweight acrylics." The trend for manicure powder came to us from the United States. This method of creating a design is simple and easy, so it was immediately loved not only by manicurists but also by ordinary girls. The dip system is not an acrylic powder. It does not fit a conventional base for gel nail polish. It is an entirely different material:
dip base;
dip top;
dip activator;
dip powder;
dip brush cleaner.
Your nails are dipped in powder or a special powder, then it's fixed with a special liquid product. It is worth considering that the dipping option is only appropriate at home; in professional nail art studios, qualified professionals sprinkle the powder on top so as not to violate sanitary regulations.
So, these are strict health rules in dip nails vs. gel nails. This manicure is something in between artificial nails and a conventional coating. Dip powder has been used in manicures since the eighties. Since then, it has seen an evolution in the formulation and has been re-released many times. But it's only now becoming popular.
Powder Gel Manicure: Pros
Compared to a regular manicure and gel polish, a manicure with powder has several undeniable advantages:
Dip powder is odorless and contains vitamins and calcium that strengthen the nails and make them healthier. With dip powder, you can maintain the nail plate and easily create a spectacular design;
A powder manicure is notable for durability. In addition, powder material does not need to be dried in a UV or LED lamp, significantly reducing the time it takes to complete a manicure.
Powder Gel Manicure: Cons
It is also worth mentioning the disadvantages of dip coating against gel:
First, dip Powder dries quickly, so you must work with the powder quickly. Secondly, to create a dip manicure, you will have to buy the entire line of special products: dehydrator, base, top, and desired shades of powder. Third, a manicure with the help of a powder still looks a little less natural than the coating of gel-lacquer;
Many salons refuse to perform manicure powder due to sanitation issues. For example, you can't dip several clients' fingers into the same powder container, even pouring the product onto their nails and allowing it to return to the container. It is an easy way to transmit the infection. It is permissible to sprinkle nail powder on top so as not to violate sanitary regulations.
What Are Gel Polishes?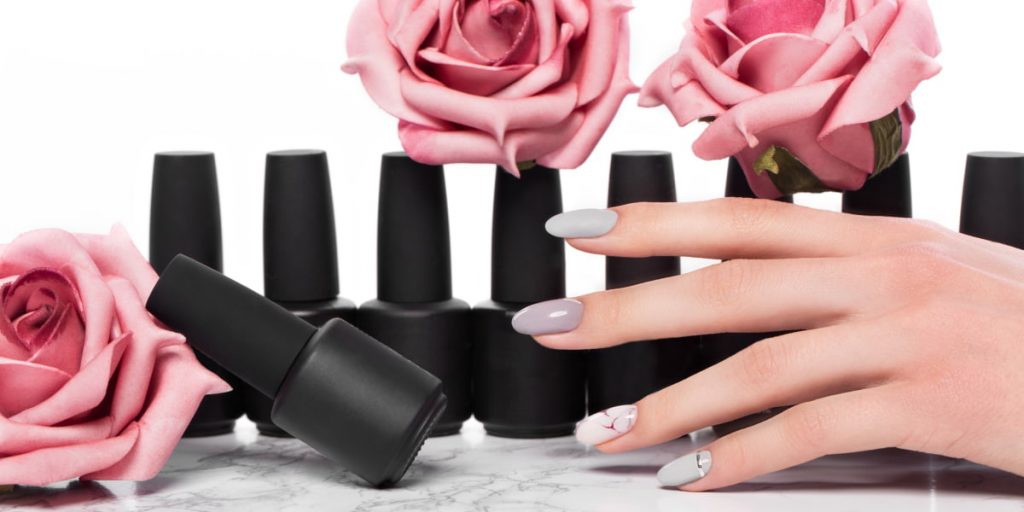 Gel nail polish is a nail polish hybrid, and extension gel dries in a special UV/LED lamp.
It was first launched on the market ten years ago by CND, who introduced Shellac. The novelty became an innovation in manicures and quickly became popular among customers and competitors alike, and over time, the concept of "shellac" became a household name. For this reason, gel polish is often confused with shellac, but there is no difference between the two in terms of staying power or working principles.
Today, there are so many brands and series to choose from that everyone can find the right one:
It's just as easy to apply to the nail gel as a regular polish and can easily be used at home. From some points of view, it is better than a powder manicure;
Since gel nail polish has absorbed the properties of the gel, it not only has durability, allowing you to wear it for 3-5 weeks but also gives extra hardness to your nails;
Women are also very well aware of the problem of smudged nail polish and the long agonizing wait until it dries, but with gel polish, you can forget about it. Gel-paint dry fast. It is worth noting that the gel polish lamp will last you from 3 to 5 years.
Gel Polish: Benefits
All girls know about gel lacquers, which is why gel lacquer is so popular. And the main advantages of gel polish include the following points:
It saves time. The nail will already dry in just a quarter of a minute with the help of an ultraviolet lamp. Of course, buying a lamp is associated with additional costs, but it is a purchase, and you'll have a flawless manicure for years to come. But powder, at the same time, does not need any extra devices;
It has caring components in its composition. Your nails will grow faster and stronger while they're covered;
The price is acceptable and does not bite very much. And if we take into account all the advantages, then it is available to everyone.
Gel Polish: Drawbacks
Avoid contact with warm/hot water after the gel polish treatment to make the coating last longer. It should last for about two days;
To apply such a gel coating, you need to use different techniques. They are a sterilizer, extractor, primer, degreaser, base, and ultraviolet lamp. Understanding how all the equipment works is essential to do the procedure correctly;
The possibility of allergies. Gel-polish contains several components, and there is a risk of an allergic reaction to them in the case of contact. But here, it all depends on the body.
What Is The Difference Between Gel And Dip Powder Nails?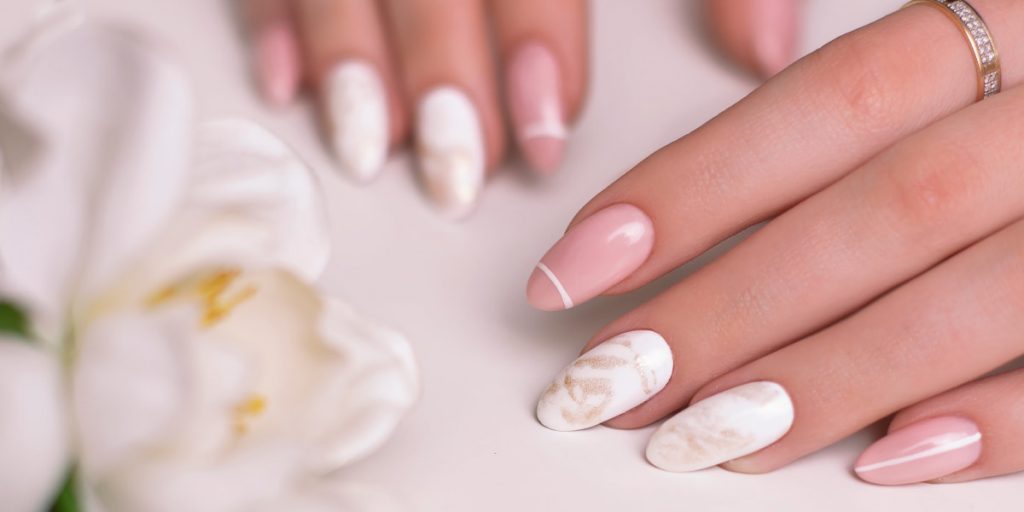 Significant differences exist between the two types of manicures: application, price, composition, etc. Having understood and mapped out every kind of cover for yourself, you now need to choose the one that best suits your needs. The two materials have many differences, including advantages and disadvantages. So, "dip nails vs. gel nails"? We will be comparing all possible characteristics, such as:
price;
durability;
complexity;
accessibility;
removal;
Its effect on the body etc.
Let's consider it in brief and detailed variants:
| | | |
| --- | --- | --- |
| | Dip Powder | Gel Polishes |
| Unpleasant Pungent Smell | not available | present |
| Applying | the powder base dries instantly, so for beginners, it's best to take turns designing their nails | there is enough time to form a shape and glare, and it only comes out in the lamp |
| Drying | no need to dry in a UV or LED lamp | needs to be dried in the lamp |
| Content of Toxic Substances | not available | present |
| Price | from $30 to $70 | from $35 to $90 |
| Wearable Period | 3-4 weeks | 3-5 weeks |
| Curative Properties | contains calcium and various nail vitamins | not available |
| Difficulty of Removal | can be eliminated from the nails with a standard nail polish remover (soak method) | can be removed with a particular machine, nail files, or professional fluids |
Gel Vs. Dip Powder Comparison Table
So, Manicure With Dip Powder Or Gel?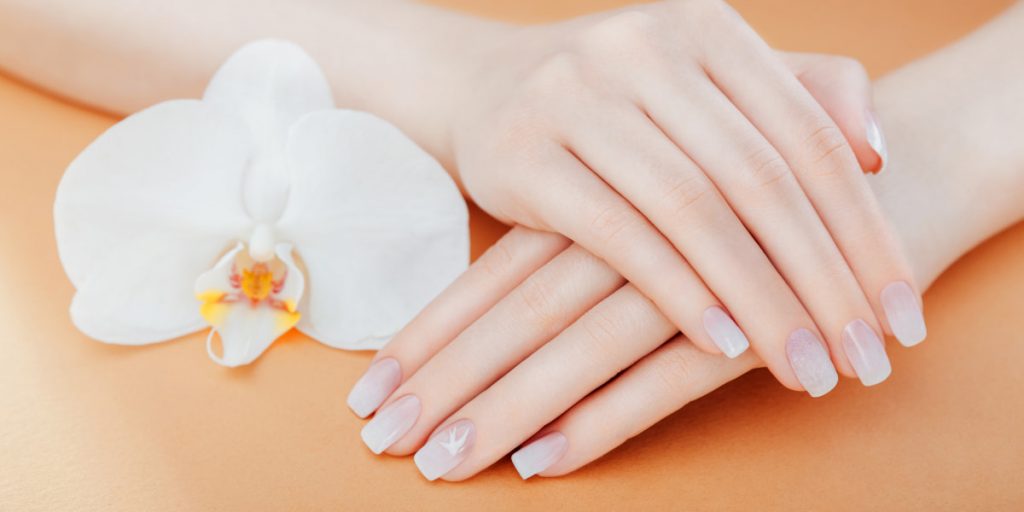 Powder manicure is performed using special materials, more detailed instructions are described below. The manicure is easy, but you have to do it quickly as the components dry very fast. So be prepared that it may not come out ideally the first time. The manicure is performed with the necessary kit. You can look through the full instructions below:
Prepare the nail plate by shaping it, removing the natural shine with a polisher, and dusting it off;
Apply a dehydrator and wait a few seconds for it to dry;
From cuticle to free edge, apply a base coat;
No need to wait for the nail base to dry. Immediately sprinkle the nail plate with a dip powder in the desired color;
Brush away excess powder with a brush;
Apply a second coat to complete the color. Reapply the base coat and sprinkle the powder over the nails;
Apply the activator, then wait a few seconds until completely dry;
Apply the final base coat;
Finish with a top coat;
Apply oil to the cuticles.
Dip powder can be removed using a common understanding of what is better vs removing gel nails. It is important to remove this essential coating carefully. If removed incorrectly, there is a risk that the nail plate will become brittle and fragile. Do not attempt to remove the powder themselves, as the health and beauty of their nails depend on its proper removal.
Bottom Line
The general difference between gel and dip has been shown. A dip powder manicure is ideal for today's stylish women who want a beautiful, long-lasting manicure without damaging their nails. But the classic, tried-and-true methods, such as covering with gel varnish, can also be beneficial. Someone will be more comfortable applying it. It is essential to find the right master or learn how to do it yourself. And any girl can do it herself at home. I hope you have answered the"Gel nails vs dip nails" question!
FAQ
Dip Nails vs. Gel Nails: What Is Better?
The answer to this question depends on your preferences. Some people prefer classic gel nail polish. Also, you should notice that dip powder is better because it's safer.
What Is The Cost Of A Dip Powder Manicure At Home?
You can spend between $50 and $130 if you buy all the necessary consumables. The price will vary depending on the product's brand, quality, and quantity. You should also realize that this is enough for 10-15 coats.
What Diseases Can Be Caused By Gel Nails Polish?
Manicures with gel polish, which have become hugely popular recently, are a risk factor for skin cancer. Besides the fact that shellac can cause melanoma of the nail plate, it also masks it, delaying early diagnosis.
Is It Worth Doing A Manicure With Dip Powder At Home?
Masters of manicure do not advise performing this procedure at home, as it involves the use of chemicals that can cause damage to the skin or nail plate if not applied correctly. But if you read the detailed information or receive training, there's nothing dangerous about it. Professional-grade products and products for home use most often involve knowing how to apply the material so that you can take a course for that.