Published on December 15th, 2022
Last updated on January 24th, 2023
DIY French Manicure Like A Real PRO!
Estimated reading time:
8
minutes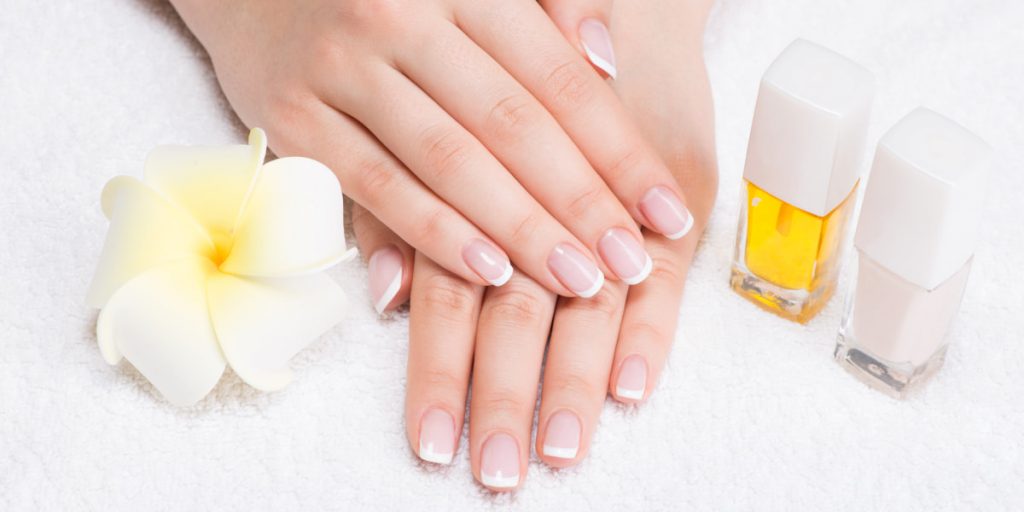 French manicures look very beautiful in any version. And the classics, and bright nails, and shiny look very cool. But, doing such a manicure at home is only possible for some. After all, agree, draw evenly; only some ladies know how to do it. It is possible to make an easy (and even!) French manicure yourself at home. The main thing is to find the right way.
Are you looking for a way to give yourself a French home manicure? Do you want it to look like a professional did it for you? If so, you're in luck! In this post, we'll show you some tricks to achieve a flawless French manicure. In doing so, you'll only need a few simple do-it-yourself tricks. Whether you're a beginner or an experienced handyman, these tips will help you get the perfect French manicure in no time!
How To Do A French Manicure: Best Option
When you dream of starting a French manicure as soon as possible, you must avoid making mistakes. For success, it is enough to choose the optimal technique. We will do this based on the available materials and experience.
There are quite a large number of different techniques. We will consider a few of them, so you have enough choices for a DIY French manicure.
In any case, doing the manicure yourself saves time and money. We suggest you learn about what variations of techniques exist. You can decide on the most appropriate way to manicure and cope with the task without help.
French Manicure With Strips
Very often, fashionistas resort to the use of unique strips. It is an easy way to make French manicure tips. Girls who have at least once tried this option know that the strips will help to make a perfect French. In addition, they will help to cope with the task very quickly.
Especially the option of using strips will be the most optimal for beginners. You will be able to visually divide the nail plate into two parts with their help. It will help trace the line and make a neat French home manicure.
All you have to do is choose strips of the correct width (usually sold in sets). You should look for strips that match the size of your nail bed. And now more details about creating a decor with strips:
First, you need to apply a colorless base or primer. It will seal and protect the nail plate.
You need to apply the strip to the nail. This way, you can try on the size of the strip before further work.
It's time to remove the protective film and attach the strip. You need to glue the strip by separating the free edge of the nail plate.
You need to paint the free edge of the nail with white or milk varnish.
You must remove the strip once the nail polish dries completely. And immediately cover the nail with a glossy top.
That's it! You have managed to perform an easy French manicure at home.
French Manicure Without Strips
Of course, before you know how to do a French manicure, you should stock up on strips. But it is possible to make a French manicure without stripes. In this case, the technique will only differ because you need to make stencil strips. Otherwise, the whole process looks the same as usual.
So, what to replace unique stencils, and what tricks to consider? Here are some tricks for a successful procedure:
Use painter or scotch tape as an alternative to unique strips. For this, you need to cut small pieces of tape. Then shape the cut into a plate and glue it to the free edge.
You can apply the peel-off liquid (used to protect the cuticle when creating an ombré effect). This way, you will prevent the white paint from flowing.
Instead of strips, you can use ordinary cling film.
It is convenient to use medical adhesive tape to replace the stencil.
French Manicure With Stencil
An easy way to do French tips? There is one great option: stencils. Unique stencils will help you make a French manicure at home. You'll love this option even if you have yet to experience this endeavor. What kind of stencils are there:
If you talk about paper stencils, these are unique adhesive strips. We wrote about them in the first paragraph. They need to be glued to the nail plate.
Metal stencils are remarkable stainless steel plates. They allow you to create a perfect French manicure at home. They are durable and comfortable. We suggest learning how to make a French with a stencil:
Wait for the applied layers of base and base color to dry completely.
Apply some white paint to the metal plate with the pattern.
Apply the stamp with a corner, and then make an impression on the free edge of the plate.
After the nail polish dries, finish your manicure with a matte or glossy top.
Now you know how to do a French manicure with a stencil.
French Manicure With A Brush
Can we do an easy French manicure at home without a stencil? Yes, it is quite possible. Let's talk about how to make a French manicure with a brush. This activity will seem very difficult for beginners. It is best to delve into the subject to understand the technique of creating perfectly even white lines. In the meantime, we'll give some essential tips to help make DIY French manicure neat:
You will find it easiest to work with a long pile brush. You're better off choosing a brush with a firm and not too tightly packed pile.
While modeling, you should not move the brush but your finger. So you can achieve the most accurate line.
To make the manicure look natural, you need to make the smile line the same as the shape of the cuticle.
First, you must create a thin smile line and then sketch.
Preferably, if you will use tools with the synthetic pile.
Now you know the tricks of French manicures with a brush.
Easy Way To Do French Manicure Smoothly – Master Tips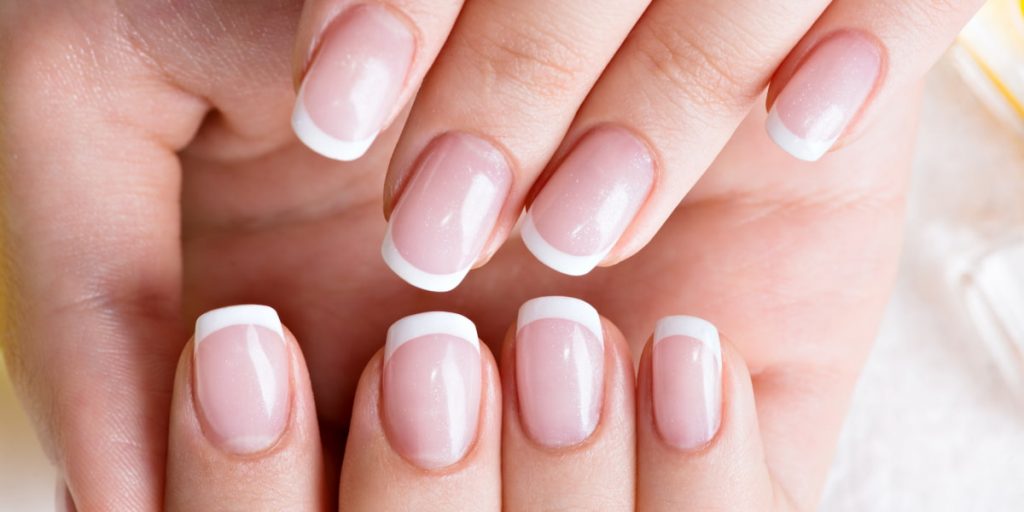 Do you want to know how to make your home French manicure as straight as possible? Surely you have already realized that making an even manicure yourself is realistic. Of course, it's much easier to make straight lines with sticker stencils. However, using these items is not necessary. And to make the venture a hundred percent successful, learn how to make a French yourself, not forgetting the following recommendations:
Before you remove the old nail polish, apply an oily cream to your skin beforehand. It will help with dry skin by thickening the lipid barrier.
Before doing a DIY French manicure, you must do one treatment. You can bleach your nails with ordinary toothpaste. In this case, you will silence the yellow pigment of your nails, and the delicate nude shade will look much nicer.
You shouldn't forget to apply a degreaser before applying the top and finish. It will improve the durability of your manicure.
Before you do an easy french manicure at home, remember an important thing. We're talking about drying your nails comfortably. Before applying each next nail polish coat, you need to dry the previous coat thoroughly.
So that you can draw a perfectly even smile, you can replace the stencil with ordinary scotch or painter's tape.
Apply glitter or glitter to hide uneven areas of the manicure.
It is worth dipping your nails in ice water if you want to dry your nail polish as soon as possible.
These are our latest tips on how to do a French manicure yourself at home. All you have to do is to have patience and remember all the above recommendations.
But more is needed to know how to properly do a DIY French manicure. You still need to take care of suitable materials. Invest in quality materials because it guarantees your comfortable home procedure!
Bottom Line
In conclusion, you can do a home French manicure quickly and confidently. All that is needed for this process is patience and learning the technique's basics. With all these tips, you can create a home French manicure like a real professional!
FAQ
Can You Do A French Manicure With Gel Polish?
Yes, you can do a French manicure with gel nail polish. But all nail polishes have to be unique nail polishes. You need to use the same technique as for the regular polish. Unique gel polishes you can dry in a lamp. Then your manicure will last 3-4 weeks.
Can You Paint Over White Tip Acrylic Nails?
Yes, you can paint over white-tip acrylic nails. You need to use a thin layer of nail polish and ensure it does not cover the white tip. After applying the colour, you can finish with a top coat.
Why Are The Ends Of Fingernails White?
The tips of the nails are typically painted white in a French manicure to create a "smile line". It helps to draw a sharp contrast between the nail's natural colour and other ornamental colours used on it. In addition, the white tip helps to make the overall look appear more elegant and chic.
What Is The Best Type Of Nail Polish For A French Manicure?
An opaque, white-based formula is the best type of nail polish for a French manicure. But, you can use a sheer colour like pink or nude. It would not give the same crisp contrast as an opaque white polish. Additionally, if you're looking for a longer-lasting manicure, opt for a long-wear gel or shellac-based polish.