Published on October 7th, 2022
Last updated on January 25th, 2023
How To Exfoliate Your Scalp? Tips, Cautions, Benefits
Estimated reading time:
7
minutes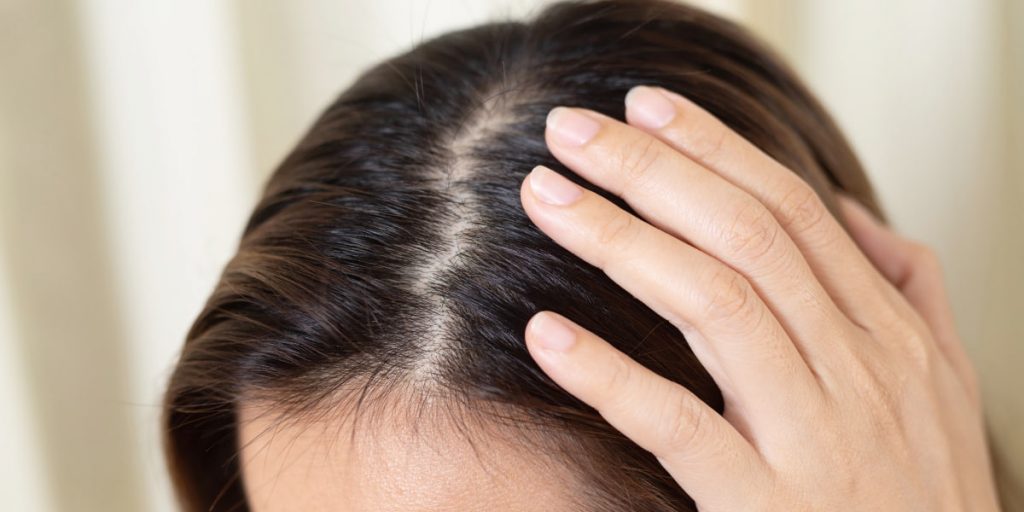 Like the peeling of a face, the scalp also needs an exfoliation treatment. It has a lot of advantages. The main advantage of it is the removal of old layers of keratinized skin, as well as the removal of care products that could remain in the roots of the head. Thus, peeling the scalp makes it cleaner and fresher. You can exfoliate your scalp with the following:
Exfoliating shampoo;
Exfoliating brush;
Leave-in scalp exfoliator;
DIY peels.
However, the scalp exfoliating treatment can have side effects, so you must keep it in mind. In addition, I need to say that scalp peeling should not be done too often. It will not only not improve the skin but also harm it, leading to skin diseases and hair loss.
This guide will tell you how to make a peeling procedure, its benefits, and the side effects you may experience with scalp scrubbing.
What Are The Scalp Exfoliation Benefits?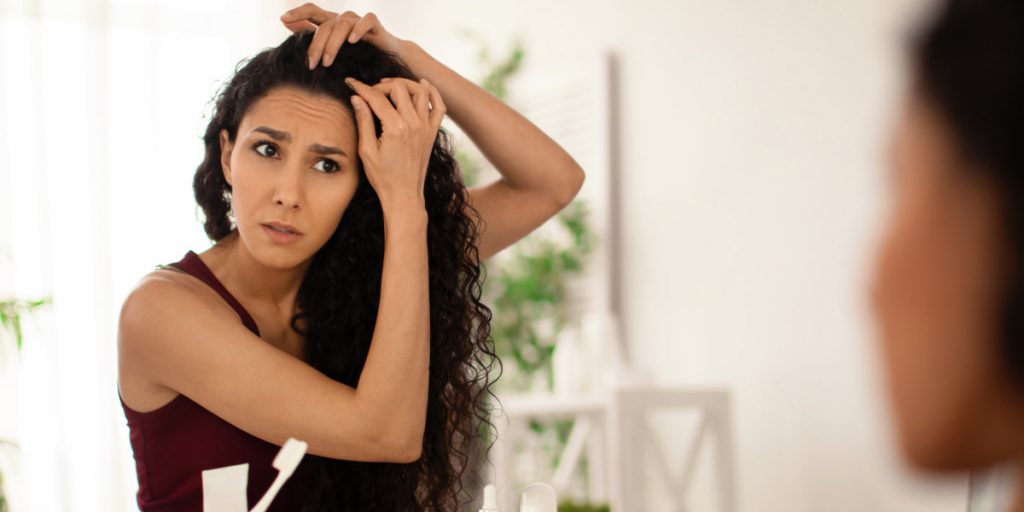 You apply a lot of hair care products to your scalp daily. Between anti-frizz sprays, oil-absorbing dry shampoos, and curly-haired gels, the scalp can feel effects like itching and irritation. So, scalp peeling has such pros:
1. Clears The Scalp From Accumulated Funds
It is the first and most obvious point of scalp exfoliation benefits. Using good head peeling, you can help to get rid of the remnants of care products you usually apply. It will leave the head clean and fresh and prevent any itching. From this point of view, scrubbing a scalp from time to time will prevent clogged follicles and prolong the health of your hair.
2. Fights Dandruff
If you start noticing dandruff on your hair, don't worry. The scrubbing products can keep your hair free of such problems. So, scrubs remove dead skin cells and prevent itching. If you have picked the proper scrub, you can be sure it will effectively fight dandruff and dryness of the scalp.
3. Controls Scalp Fat
Every person feels uncomfortable when his hair looks greasy. Sometimes the scalp produces excess oil due to a blockage. Some methods of scalp exfoliation treatment helps to control the amount of oil secreted on its surface. After exfoliating your skin, your sebum levels will be maintained, and your skin won't be too hydrated.
4. Makes Hair Shiny
Various hair care products accumulate on your hair become dull and unkempt. Proper peeling can cleanse it from accumulated substances and restore shine to your hair.
5. Increases The Effect Of Other Cosmetics
If you haven't had a scalp exfoliation treatment, care products will not be able to penetrate the scalp, as there is a layer of dead skin and remnants of old shampoo on it. Because of this, the products you apply daily cannot work with your scalp. They simply cannot penetrate the scalp and begin their work. Therefore, this is another reason to do a peeling of the scalp. So, if your hair mask isn't working, try exfoliating your scalp and apply your mask again. You will most likely notice a big difference in applying your mask or balm that didn't work before.
6. Stimulates Hair Growth
Scrubbing the scalp stimulates it, and this affects hair growth. Such a procedure with abrasive particles causes blood to flow to the scalp and makes hair grow faster.
How To Exfoliate The Scalp? 4 Popular And Proven Ways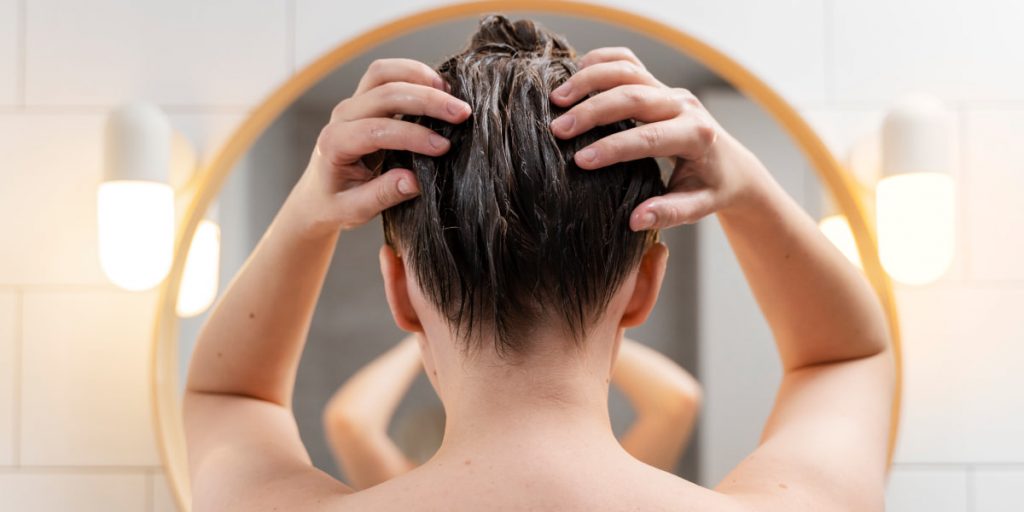 As I have already said, a scalp exfoliation treatment is vital. It is essential, if only because the accumulated dead cells and unwashed shampoo particles can irritate the scalp and contribute to the appearance of skin diseases. Therefore, it is necessary to carry out peeling using any method from time to time. There are several methods of scalp exfoliation treatment that you can use, but I have identified a few of the best ways I will tell you about.
1. Using Exfoliating Shampoo
Use an exfoliating shampoo after your regular shampoo. Your regular shampoo will deal with the scalp, while the exfoliating shampoo will cleanse it. Do not use a peeling shampoo instead of your regular shampoo because the ingredients will be too harsh on your scalp. Apply a small amount of exfoliating shampoo to the roots after your main shampoo just to remove old dead skin cells from the scalp.
2. Using An Exfoliating Brush
If you have a sensitive scalp, you can be afraid to use any product for peeling your scalp. However, an exfoliating brush will not harm it. You can use such a brush before washing your hair. To peel a scalp with such a brush, wet your scalp with water and massage it with the brush for a few minutes. Afterward, you can wash your hair with shampoo like you usually do. Don't brush too hard. When the brush gets wet, its movements can become rougher, so control the pressure. In beauty stores, you can find stimulating therapeutic massagers that will help you improve blood circulation in your head.
3. Using A Leave-in Scalp Exfoliator
You can also find a range of leave-in products for a scalp exfoliation treatment. You can apply these products to the skin and leave them without rinsing. High-quality versions of such products are good options for sensitive skin. Also, you may consider these peeling products because they take time to work on your scalp. Therefore, without washing off the peeling agent, you give it a good effect on your scalp, performing all the necessary functions.
4. Preparing Your Own Peels
I can share a few recipes if you have some time and want to make your scalp scrubs:
Oatmeal And Sugar Scalp Peel
One good recipe is to mix equal amounts of finely ground oatmeal and sugar and add them to your shampoo or hair conditioner. These natural ingredients are mild, so you can use them regardless of hair type.
Fine Salt And Oil Scalp Peel
The second way of a scalp exfoliating treatment is mixing fine salt or sugar and your carrier oil (such as sweet almond or jojoba oil). This scrub has an oil base. However, this scrub is not recommended for those who suffer from dandruff, as it can cause additional problems.
Fruit Scalp Scrub
Fruit can be another ingredient for homemade peeling. So, for example, using fruits that contain protein-breaking enzymes can be a good scrub. You can use papaya, pineapple, or pumpkin for your peel. Crush them into a mask and apply them to the scalp, rubbing gently into the skin.
Side Effects Of Scalp Exfoliation
If you decide to exfoliate your scalp, you should consider that the skin on the head is very delicate and must be handled with care. If you exfoliate roughly, it can make your hair brittle and even pull out some hair. Also, using some exfoliating shampoos can dry out your scalp. Therefore, during a scrubbing procedure, be extremely careful and do not aggressively when you massage your skin with abrasive materials. If you have scalp conditions such as psoriasis, dermatitis, or similar, check with your doctor before using any exfoliating skin products.
Bottom Line
Thus, in our article, we discussed scalp exfoliation benefits and gave some tips on how you can do it. Head peeling is a valuable procedure, as shampoo residues can accumulate on your head for a long time and provoke some skin diseases. Therefore, pick the scrubbing way that suits you and make a procedure of peeling from time to time.
FAQ
How To Exfoliate Your Scalp?
To exfoliate your scalp, you can use a variety of exfoliating shampoos and leave-in conditioners, scalp scrubbing brushes, and natural masks that you can make yourself. Whichever peeling method you choose, be careful not to damage your scalp.
How Often Should You Exfoliate Your Scalp?
Peel your scalp once a week. Such a procedure removes excess fat from the head and old dead cells, after which the scalp can fully breathe again.
Does Exfoliating The Scalp Help Hair Growth?
Scalp exfoliation can stimulate hair growth and blood circulation in the follicles. Therefore, after the start of scalp peeling, you may notice that your hair begins to grow much faster.
Do You Use A Calp Scrub Before Or After Shampooing?
Scrubs for the scalp should be applied before you apply your shampoo. Wet your hair and scalp and exfoliate, then rinse off the scrub and wash your hair with your shampoo.