Published on August 15th, 2023
Last updated on August 17th, 2023
Avocado Homemade Face Masks: 10 Recipes
Estimated reading time:
11
minutes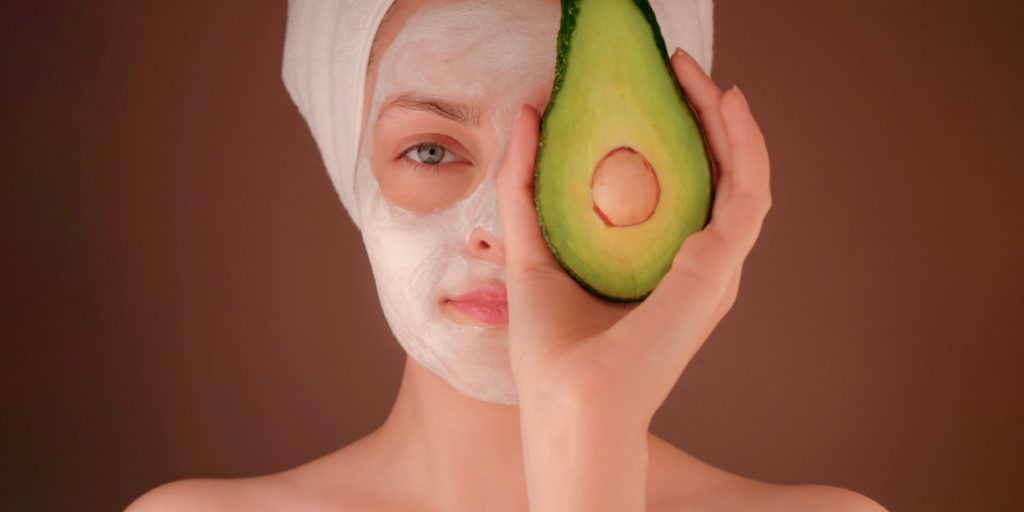 Avocado is a source of healthy fats essential for the skin. Thus, many specialists recommend cooking facial masks based on the meshed avocado essence.
Avocado contains vitamins like K, E, and C, which create protective barriers for the body. Also, this product enriches skin cells with nutrients. To define the avocado benefits for your face, find its primary deterioration triggers. Your face, neck, and hair suffer from different factors:
Weather conditions;
Post-stress consequences;
Age-related changes;
Hormone background modifications caused by pregnancy or pubertal period.
Likely, this healthy fruit can solve all these problems. Just apply the particular makes on your face. Also, you can prevent many skin disorders. Boosting the damaged areas' regeneration processes could be reliable.
This article discovers top-secret avocado facial mask recipes. They are easy to prepare at home for everyday use. Choose the preferable one and enjoy the achieved results, whatever skin type you have.
How Avocados Can Help You Take Care of Yourself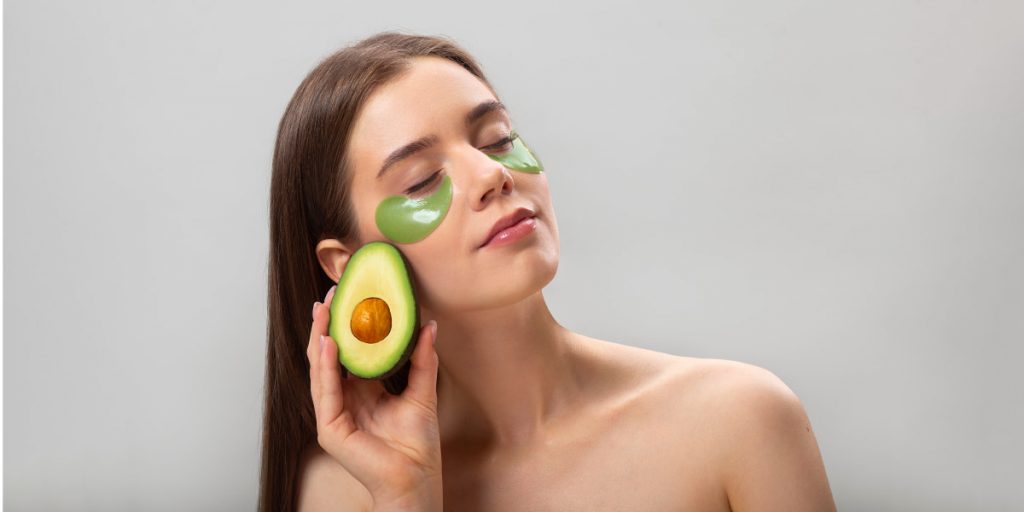 Once you hear avocado, you associate this fruit with delicious dishes. But this fruit is more than an anti-cholesterol substance and a vital ingredient in the keto diet. Avocado contains two helpful biological components:
Natural nutritional fats. These macronutrients provide beneficial effects inside and outside. They fight dry skin or abnormal nutrition exchange. So, good fats guarantee healthy skin shining without harmful chemicals or expensive cosmetics;
An array of skin treatment vitamins. K, C, B6, F, and many others are well-known organic compounds in avocados. These ingredients prolong your skin's elasticity. The special role of the avocado homemade face masks refers to the wild quinine complex. This agent is a natural antiseptic that facilitates quick wound or damage treatment. Quinine-based masks are helpful for anti-dandruff effects and your hair structure recovery.
Here you will find more details about avocado moisturizing and nutritional effects. These natural ingredient advantages are more understandable if you meet reliable facts.
Moisturizing Face Mask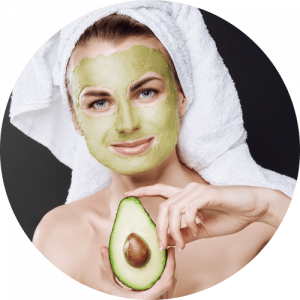 A dry or greasy epidermis is not a big deal for avocado-based DIY cosmetics. Meshed avocado added to facial masks adjusts the water balance of your skin. For good hydrating processes, avocado is effective for any skin type in pairs with honey.
So, the healing effects of this moisturizer are achievable by the formula:
one ripe avocado;
one tablespoon honey;
one tablespoon distilled water.
The avocado puree should be mixed with raw honey and liquid. Do not add much water because you need to receive a high-concentrated mask. Such proportion is the best for external use.
After mixing all components, put the avocado-enhanced skin care paste by massaging movements. The procedure brings more results if you wait at least 15 minutes.
The remaining mask should be removed with warm water and a soft towel. Any additional cream is not necessary. The positive changes are reliable after several sessions.
Cleansing And Anti-fungal Hair Mask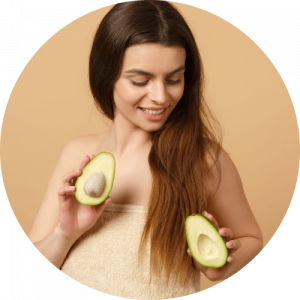 Healthy head skin is a perfect background for natural hair growth and quick recovery. Thin dandruff-affected hair results from many harmful factors like fungus, infections, and bacteria. So, fat-enriched masks would be beneficial to treat affected sculpt and poor-quality hair.
To this end, the best recipe includes the following ingredients:
one cup of avocado puree;
¼ cup of organic farm-harvested olive oil;
one tablespoon of fresh lemon juice.
The prepared solution seems too fatty. But this concentrated mixture is a booster of positive nutrients. Healthy fats in olives and avocado are top stimulants for head skin care. They also generate Hollywood-like shining effects. For better results, avoid any substitute or inorganic alternatives.
You should discover some aspects of this mask application, like face skin treatment. First and foremost, put the paste on the dirty hair. Then, shower this extract with natural shampoo.
Optionally, use a conditioner to strengthen the results. During such treatment proceedings, dry your hair using plopping and air ventilation methods.
Scalp Soothing Hair Mask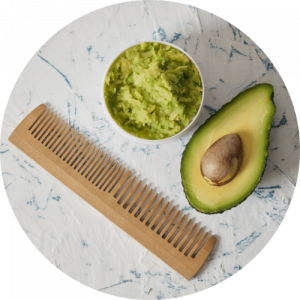 Hair health directly depends on your systematic treatment efforts using ripe avocado puree. The ready-made paste consists of only three ingredients:
one meshed avocado;
two tablespoons of aloe vera gel;
one tablespoon of soft coconut butter.
The double fat components and healing qualities of aloe vera are what your hair needs. This avocado-enriched homemade paste could also refer to effective facial masks.
As with the previous option, apply this paste before washing your hair with shampoo. According to the individual cases, be careful of some mask ingredients. For instance, the allergy symptoms should stop you from the following usage of this paste.
Avocado For Face: Face Mask Recipes
In addition to the top three popular facial masks with avocado, you will find more recipes. These formulas are almost universal. In particular, they consider different skin types and cosmetological disorders.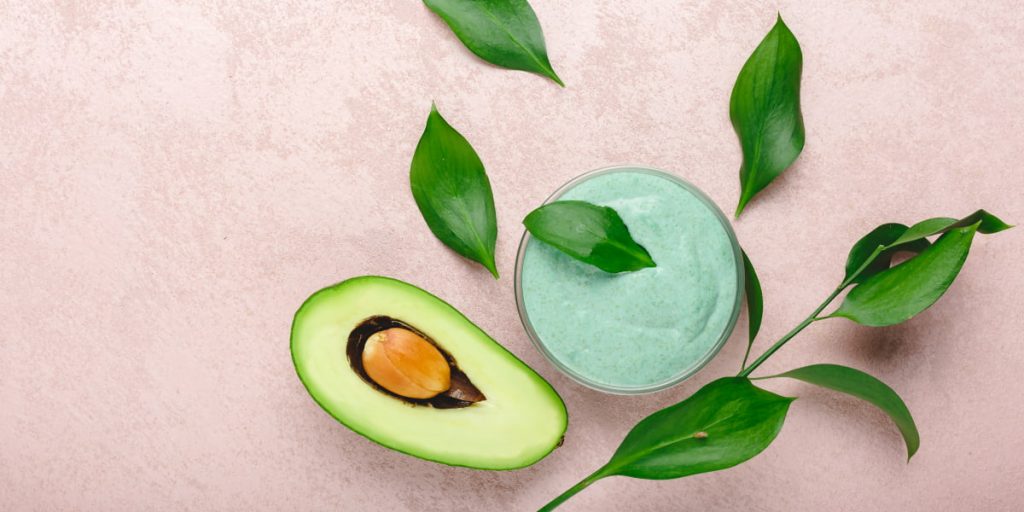 You may need to remember about acne or redness if you prepare the required cream. The other interesting point is about avocado's effectiveness for the face in removing signs of stress or tiredness.
To this end, make these mask application sessions on the schedule. This effect could be reliable only thanks to avocado generating minerals and nutrients.
Avocado + Honey + Yogurt
Dry skin will never bother you anymore. The avocado healing effects, manuka honey, and pure organic yogurt are essential for skin care. Cosmetological experts also highlight the incredible antibacterial impact on skin tissues.
If you have slight injuries caused by acne or post-peeling therapy, this formula is like a doctor's prescription.
The "magical" paste includes the following proportions:
Avocado puree;
one tablespoon of manuka honey;
one tablespoon of Greek high-fat yogurt.
Put the prepared paste on the face and leave for 15 minutes. After the fixed time, remove the mask components with warm water. Relax and enjoy…
Avocado + Apricot
The extraordinary combination of avocado and apricot produces effective homemade face masks. Sweet apricot with a slightly soft texture contains many vitamins and minerals.
Its action resembles scrub effects. As such, apricot helps to remove dead cells or recover dull skin consequences. Avocado, in turn, replaces the cleaned areas with nutrition boosters.
To prepare the valuable skin treatment paste, follow the easy-to-do instructions:
Use equal portions of avocado and apricots. Try to choose less juicy samples to avoid excessive liquid consistency;
Peel the fruits, removing skin and pits;
Bland the fruit pulp;
Apply the prepared paste on skin areas, especially near the eyes;
Wait for 15 to 20 minutes and wash off.
Avocado + Banana + Egg Yolk
The other avocado-accompanied facial mask recipe deems the anti-acne solution number 1. This status is proved by its chemical content.
The enriched vitamin B6 and C complex protects any skin from further deterioration. This mask performs everyday cream functions. Thus, you can store the remaining paste for a few days.
The formula includes the following ingredients:
one ripe avocado;
one ripe banana but avoid rotting fruits;
one egg yolk.
Due to the high vitamin concentration, this mask successfully regulates skin oiliness. So, people with hormonal or aging changes could use this facial mask instead of expensive analogs.
Avocado + Carrot + Egg Yolk + Honey
This avocado-based mask generates maximum skin care effects for multitasking managers and working mothers. After several sessions, you can relieve symptoms of chronic tiredness. Also, you will recover the deteriorated cells.
This solution includes four ingredients available in any kitchen:
one average carrot. As an important secret, you need to choose juicy fresh vegetables;
one average ripe avocado;
one egg yolk;
one teaspoon of raw honey.
If the received paste does not have enough liquid, you can add one tablespoon of olive oil. The last option intensifies the healing actions because it releases vitamin A.
Avocado + Oats + Milk
Some beauties could deem this formula slightly complicated to realize. People with sensitive skin will appreciate this avocado facial mask recipe. The algorithm resembles the process of cooking the morning breakfast. Indeed, your skin would be grateful for such "aperitif."
Follow the step-by-step instructions to ensure everything is perfect:
Boil organic milk. Substitute the liquid with an oat or almond alternative;
Add cleaned oat without supplementations. As a final result, you should receive something like classic English porridge;
Mesh one big ripe avocado;
Mix ingredients once the oat has gotten cold;
Put the paste on the face and wait for the moment when the mask turns solid;
Remove the remains with warm water.
Avocado + Lemon Juice + Egg
Most acid components in the avocado homemade face masks generate wow effects. Such actions are beneficial for greasy skin. These substances carefully dissolve excessive fat and strengthen natural elasticity.
This mask consists of a simple formula:
one meshed avocado;
one tablespoon of lemon juice. You can adjust acid proportion due to individual sensibility;
one egg of indoor temperature.
Experts recommend moisturizing cream to minimize the probable adverse effects of lemon acid. The mixed ingredients create a helpful mask on the face for 7 to 10 minutes. Also, use this mask not more than twice a month to avoid skin disorders and intense dry effects.
Avocado + Aloe Vera + Turmeric
Those who suffer from acne, allergy-caused rash, or food-provoked dermatitis should use this formula to start avocado therapy for their face. During the usage period, you can reach in-deep absorption of nutrients and antibacterial substances.
Each component has significant antiseptic effects on the problematic areas. The best proportion contains the following ingredients:
one avocado puree;
two tablespoons of meshed aloe vera gel;
one teaspoon of turmeric powder.
Apply the mask to the cleaned skin and remove it with warm water for 20 minutes.
Avocado + Cucumber + Egg Yolk + Dry Milk
The avocado-cucumber combination is a tool against problematic skin that needs extra care. Cucumber juice is a source of freshness and clearance for skin pores. Avocado, in turn, provides the necessary vitamins and minerals. The other ingredients keep the skin treatment process prolonged.
To prepare the effective paste, remember the easy recipe:
Take one ripe avocado and prepare the smooth puree;
Add one average cucumber juice and one egg yolk;
Add two teaspoons of milk powder to the paste.
The last ingredient has functions similar to talc. But you should not be worried about adverse reactions to your skin. The mask effects become visible after a 30-minute application.
Avocado + Green Clay + Yogurt + Lemon Juice
The other method to get rid of rash and acne is this avocado-contained formula used for face care. Green clay is optional, and you can experiment with blue or white variants. The DIY paste includes the following ingredients:
A few tablespoons of clay. The exact portion depends on the consistency. The final result should resemble heavy sour cream;
two tablespoons of yogurt;
two tablespoons of meshed avocado;
one teaspoon of lemon juice.
This mask is useful for everyday application and does not provoke any harmful impact.
Avocado + Starch + Sour Cream + Coconut Oil
If you want to improve your skin texture, this avocado facial mask recipe is number one. The secret refers to boosting effects of fat-enriched products – avocado and coconut.
Positive bacteria from organic sour cream strengthen their nutritional actions. Starch has the same functions as turmeric or milk powder.
The skincare routine with this mask should contain the following ingredients:
three tablespoons of meshed avocado;
three tablespoons of solid coconut oil;
two teaspoons of starch;
two teaspoons of sour cream.
The received mixture performs healing effects within at least 25 minutes. You can repeat the procedures every day without unforeseen consequences.
Bottom Line
Avocado is a natural elixir of beauty and charm. The avocado for face care mask can solve many problems. You can forget acne, dermatitis, and accidental deterioration.
For better results, you should choose an effective recipe and follow the instructions. Luckily, our portal is ready to help you to recover your skin with DIY creams.
FAQ
How to make avocado face cream?
Always choose ripe fruits without defects. The soft texture does not need much effort to make puree for the cream basis. Then, add the extra components to deal with the particular problems. Dull skin, infections, or casual treatment… avocado can overcome any problem.
Are avocados good for face masks?
Avocado fats are necessary for the skin. So, avocado-based masks are famous for treating the face. Also, these recipes are beneficial for sensitive areas like the eye zone.
How do you make an avocado face mask for acne?
To get rid of acne consequences, prepare a helpful mask. It contains avocado, aloe vera, and turmeric. You can also add a bit of manuka honey. As such, you can reach antibacterial and nutritional effects for deteriorated skin.
What are the benefits of avocado?
Avocado can recover the alimentary system and return natural skin elasticity. Even if you eat avocado daily, skin texture becomes more flexible and shiny. The mask therapy can strengthen the achieved results.