Published on November 4th, 2022
Last updated on January 24th, 2023
Aloe & Skin Care: Benefits, Uses, Side Effects
Estimated reading time:
5
minutes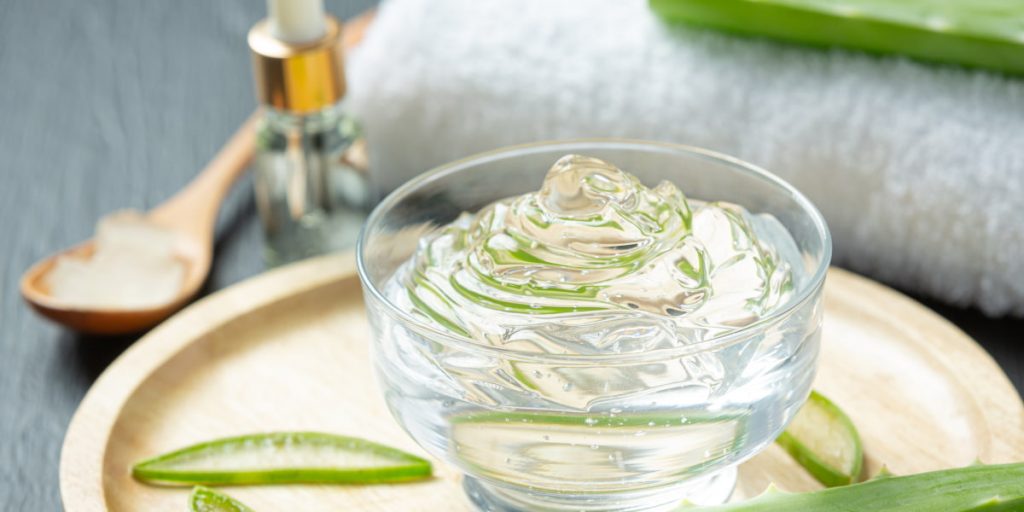 There are hundreds of different facial skin care products. However, a huge number of these products consist of the same ingredients. Amongst those ingredients for skin care is aloe vera. The juice of this plant is very popular in the beauty community and has been proven to impact skin conditions significantly.
The green plant is famous for its soothing effect, moisturizing the skin and healing acne. However, in addition to beneficial qualities, aloe vera can also harm your skin under certain conditions.
So, should you throw away all your face and body care products and stick with aloe vera? This is what we will try to understand in the article.
How Can Aloe Vera Benefit Your Skin?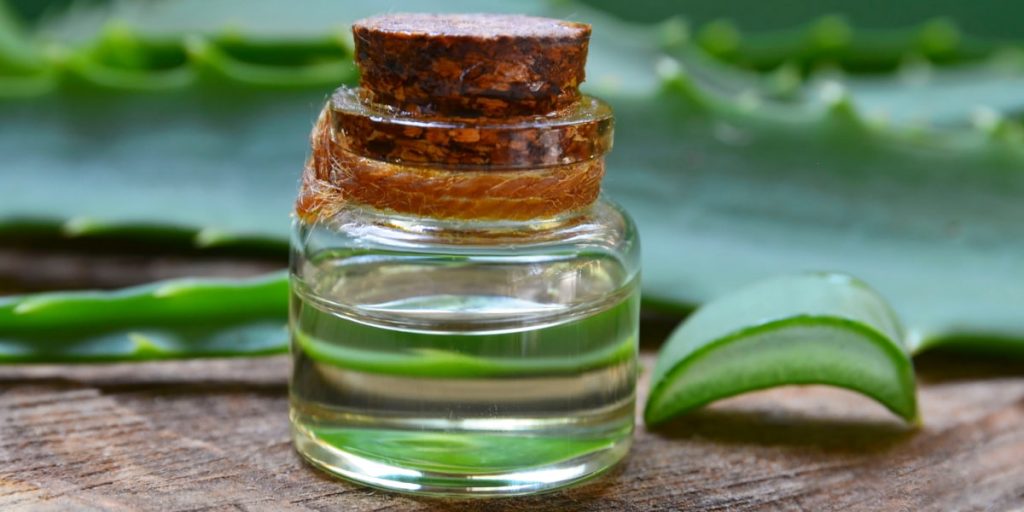 Aloe vera can help your skin in many ways. So, the product helps with the following:
Burns. If you have burned yourself, you can apply a natural component to the affected area and repeat this procedure several times a day. Aloe vera can help heal minor burns quickly. However, a natural product does not provide the best sun protection. Thus, always use sunscreen on your skin;
Small abrasions. If you accidentally cut or bump, and the wound isn't too big, you can apply aloe vera gel to your skin to soothe irritation and relieve inflammation and pain;
Dry skin. It doesn't matter what type of skin you have. This product is excellent for any skin type and can be quickly absorbed by the skin without leaving any traces;
Frostbite. In case of severe frostbite, of course, you should seek the help of a doctor. However, if you know your situation is not severe and your skin will be fine, you can apply aloe vera to your frozen skin to warm it up;
Herpes. Surprisingly, however, this remedy can perfectly cope with the problem of herpes and even treat it. However, you should always consult your doctor before using aloe as the main medicine;
Acne. Another benefit of aloe vera gel for the face is treating pustules and nodules. You should apply the gel several times daily; the effect will not last long.
How To Use Aloe Vera Juice For Skin?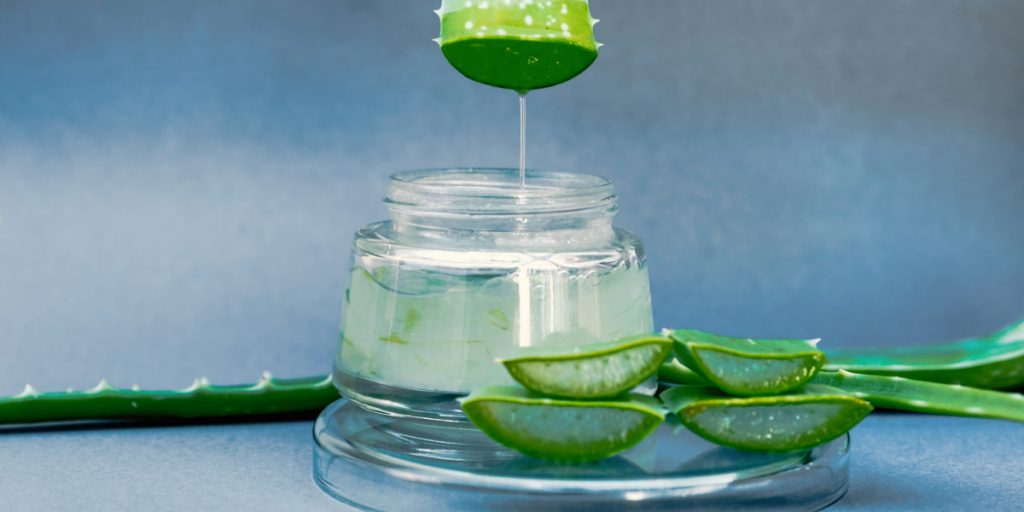 Today, there are many ways to use aloe vera as a facial skin care product. Here are a few of those that will help make your skin unforgettable:
Facial cleanser. It is enough to apply a small amount of aloe vera gel on the face. Do a circular facial massage. After 15 minutes, wash off the gel with cold water and wipe your face with a dry cloth. After that, you can apply a facial toner;
Skin tonic. To do this, you can mix water and aloe in a ratio of 2/1 and pour the liquid into a bottle. You can store the product in your refrigerator. Just shake the bottle and then apply a little liquid on the face for skin application;
Insect bite remedy. To use aloe vera oil for skin, wash the affected area with soap. Then dry the bitten area. After that, you can apply some aloe vera gel and leave it on the skin for 20 minutes. The effect of aloe helps to remove inflammation and itching;
Cut remedy. In case of a small cut, you need to rinse the skin with water and dry it. Then you need to apply a little fluid to the wound and let it dry. Afterwards, you can use a bandage on the wound and wait for it to heal. With the help of aloe vera juice for the skin, you can heal your cuts much faster and not get an infection. However, you need to see a doctor in case of severe injuries;
Anti-burn agent. You can effectively relieve skin inflammation and discomfort with aloe gel if you have a small burn. To do this, apply the gel three times a day to the affected area;
Moisturizer. To do this, you must apply a small amount of gel on the face or hands and wait 15 minutes. After that, you can either wash off the gel or wait until it dries completely.
So, with aloe vera gel, you can achieve excellent healing effects and improve the health of your skin.
Potential Risks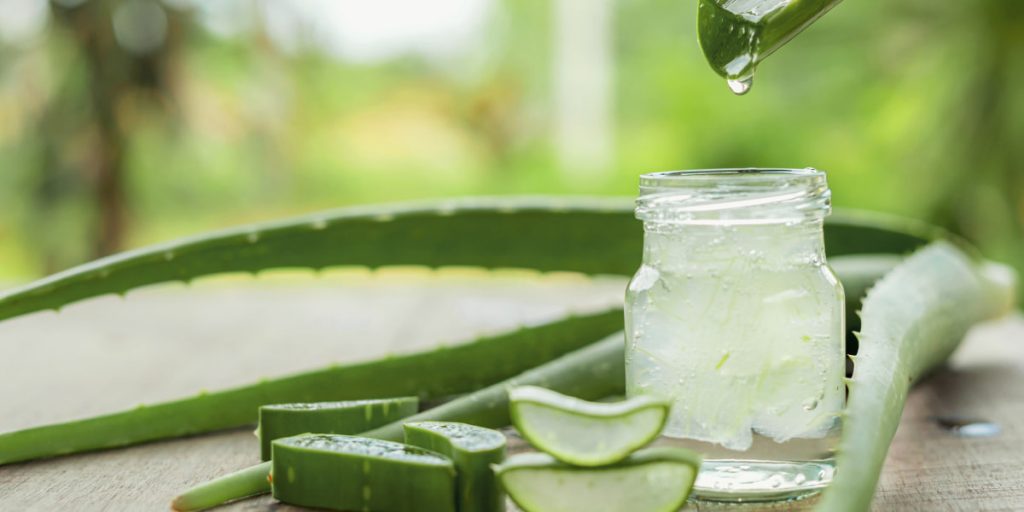 Like any other natural skin product, aloe can cause some side effects for skin care. So, the most common problems in the applied area are:
In this case, you will need to stop using the product and consult a doctor immediately.
To prevent this, you should test your body's reaction to aloe vera before applying it to large areas of the skin. For the test, apply a small amount of gel to a small skin area and check the next day for a reaction. If you don't have any redness, itching or burning, you can use this product without worrying about your health.
Conclusion
A versatile plant with numerous benefits for skin care is aloe vera. It can help heal wounds, calm burns, and lessen the pain when applied topically. Aloe vera is thought to possess anti-inflammatory and antiseptic qualities as well, which may make it effective in treating acne.
Aloe vera can have some side effects when applied to the skin, despite the fact that it is generally regarded as safe. These include burning, redness, and skin irritability. Stop using aloe vera and see a doctor if you experience these side effects.
Aloe gel can be a helpful addition to your skincare routine when used correctly. Talk to your doctor or dermatologist about whether aloe vera suits you.
FAQ
How Much Do Aloe Vera-based Products Cost?
Aloe vera-based products can vary in price depending on the brand and type of product. For example, a small bottle of aloe vera gel may cost around $5, while a luxury skincare cream containing aloe vera could cost over $100.
Can I Use Aloe Vera As A Home Care Product?
A typical houseplant with healing properties can help moisturize the skin when applied to the face. Applying aloe vera to the face regularly can help with several skin issues, including acne, eczema, and sunburn.
What Is The Origin Of Aloe Vera?
Aloe vera is native to Africa but has been cultivated worldwide for centuries. The aloe vera plant has thick, fleshy leaves that contain a clear gel-like substance. This gel is often used in skincare products and home remedies for its soothing and anti-inflammatory properties.