Published on August 23rd, 2022
Last updated on January 25th, 2023
How To Wear Makeup Without Damaging Eyelash Extensions?
Estimated reading time:
8
minutes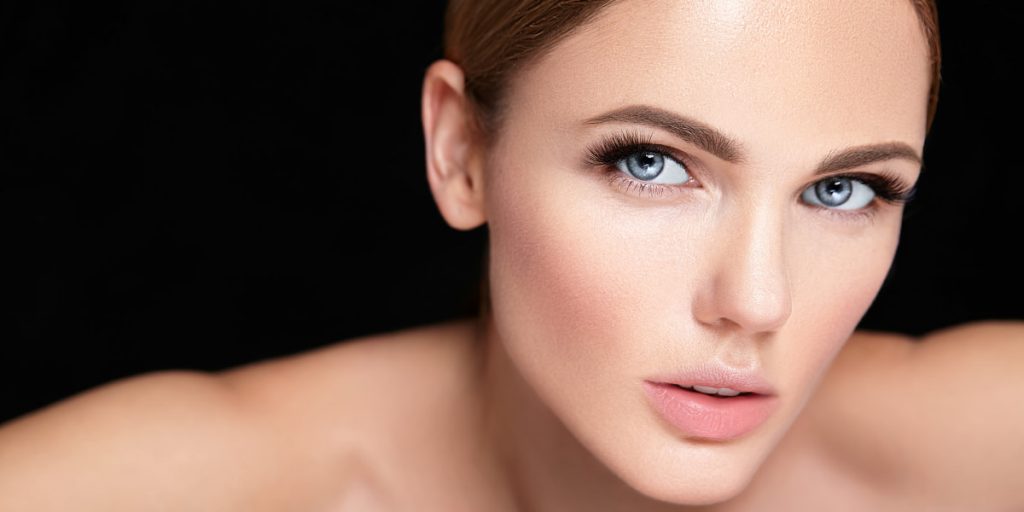 Experts say that wearing makeup with false lashes is possible, but there are some nuances to consider. Let's take a step-by-step look at things to consider how to wear eye makeup with lashes without damaging them.
First, you should decide on the color scheme you want to do your eye makeup with lashes. Next, cleanse your face with micellar water without touching the false lashes. When using any products, make sure that they do not touch the eyelashes:
Mascara. It's better not to use mascara at all, but if you want, it can be applied in a small quantity at the tips without affecting the base of the lashes;
Arrows. It is better to use a pencil than liquid eyeliner. Arrows with lash extensions can be drawn the same way, as usual, while wearing makeup;
Shadows. It's a good idea to choose a dry variety. Apply from the inner corner of the eye to the outer corner of the eye, blending in the planned directions. When using any products, ensure they do not touch the eyelashes.
Basic Rules For Wearing Eye Makeup With Lashes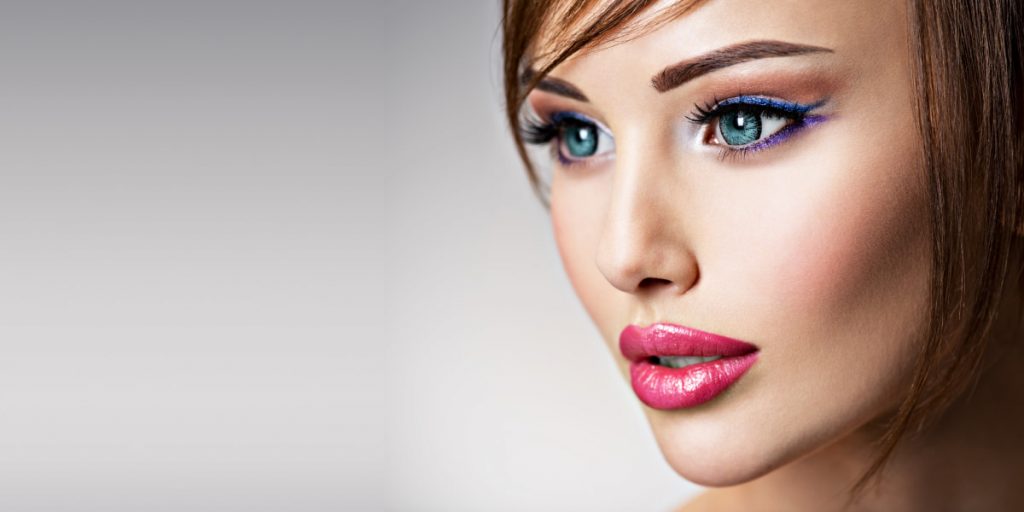 Since extensions come in all shapes and sizes – natural and more dramatic – it's essential to consider whether eye makeup is needed. It may be more appropriate to "balance out" the lush lashes with bright lip makeup. If you are sure you want to emphasize your eyes, there are a few general rules to keep in mind:
It is better to use special products for the care of false eyelashes. They work more gently, without dissolving the glue;
Avoid waterproof products. Think of the effort required to rinse out waterproof mascara and eyeliner. You risk rubbing your eyes; you don't want to do that with false eyelashes;
Carefully read the contents of products and use only products that do not contain oils. Oily creams around the eye area, and even more so on artificial hairs, are not recommended as they can dissolve the glue;
Do not put on mascara as it, firstly, weighs down the eyelashes and, secondly, shortens their life;
It is also not necessary to use curling products, lashes are already curved, and any manipulation with them only reduces the life of lashes;
Before coloring your eyes, it is best to rinse your eyelashes gently with water and let them dry, then comb them out.
Choosing A Shadow Palette For Eye Makeup With Lashes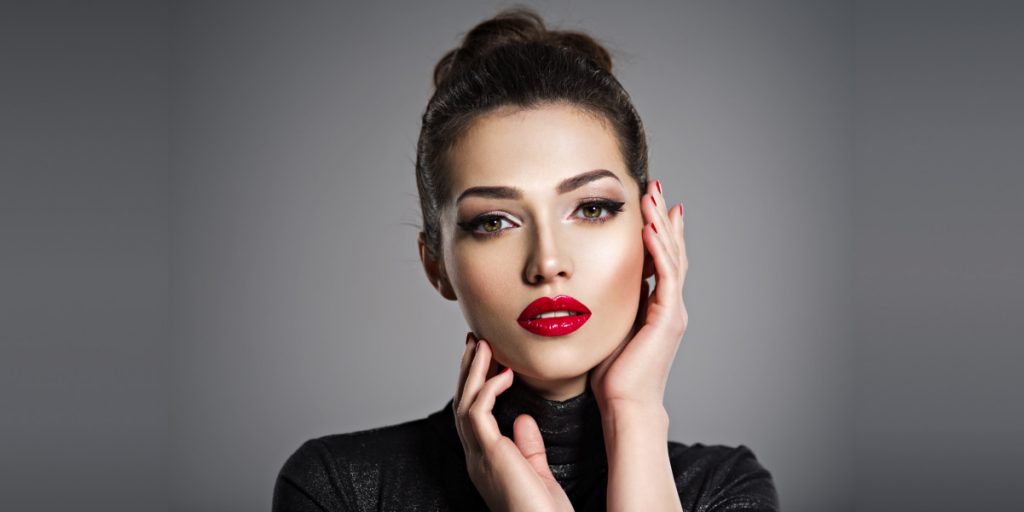 All makeup should be applied with the color of the woman's eyes. The same rules apply when using false eyelashes:
Owners of brown eyes can use different shades of brown, from pale cream to chocolate. Green and gray colors and contrasting blue or purple are also useful;
Grey-eyed girls can afford any color scheme because their eyes easily combine with all shades. Focus on the tone of the skin and clothing. It is better to use a natural color: gray, brown, or green;
Beige and brown shades are perfect for blue eyes. They emphasize blue. Swampy, golden colors and gray would also do well;
Green-eyed beauties should choose gray shades, various shades of pink and peach, as well as copper and brown;
Girls with black eyes can select copper, bronze, emerald, or plum colors. These shadows (pick shades of metallic with shimmer) are applied along the eyelash contour with shading to get an expressive smokey effect makeup with eyelash extensions.
Types Of Fake Eyelashes
Depending on the thickness and shape, there are the following types of artificial eyelashes:
Incomplete volume. With the help of extensions, only the outer corners of the eyes are decorated;
Natural effect. The procedure is made with a small amount of artificial hair, so the lashes look as natural as possible;
Full volume. Double the amount of eyelashes;
3D. This procedure increases the volume by gluing 2 or 3 synthetic lashes onto one eyelash;
"Hollywood." Maximum possible volume increase, "doll" effect.
From all of the above, it can be concluded that eyes decorated with fake eyelashes do not need additional makeup.
However, there are situations when you need to be most beautiful and have a more festive appearance. In this case, you can perform makeup for eyelash extensions with the help of decorative cosmetics.
Options Of Eye Makeup With Lashes
Many girls want to emphasize beauty with cosmetics. Makeup with false eyelashes has its characteristics because it changes the shape of the eyes, the density, and the length of the eyelashes. Cosmetics and makeup help girls transform their faces and make them more attractive. However, you need to know the "secrets" for each type of extension. Here are a few options for making up with artificial eyelashes, depending on the eye color and type of extension:
1. Makeup With Incomplete Volume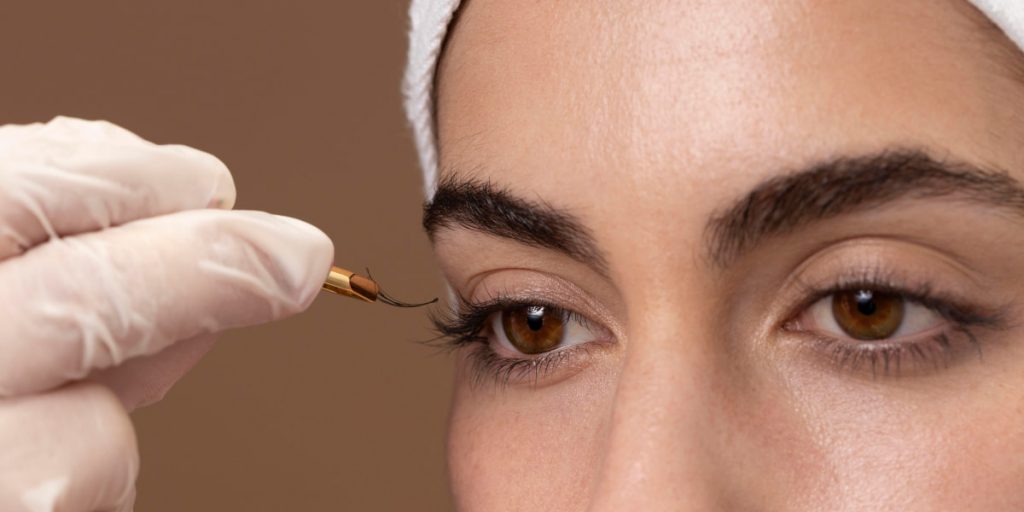 In this type, additional hairs are attached only to the lashes in the outer corner of the eye. This has the effect of gradually increasing in length and density so that the almond shape of the eye is accentuated. The corner of the eye can be emphasized here with a darker shadow that is applied to the upper eyelid towards the temple and a small arrow. If eyeliner is drawn in black, it becomes like an extension of the lashes and elongates the eye even more.
2. Makeup With Natural Effect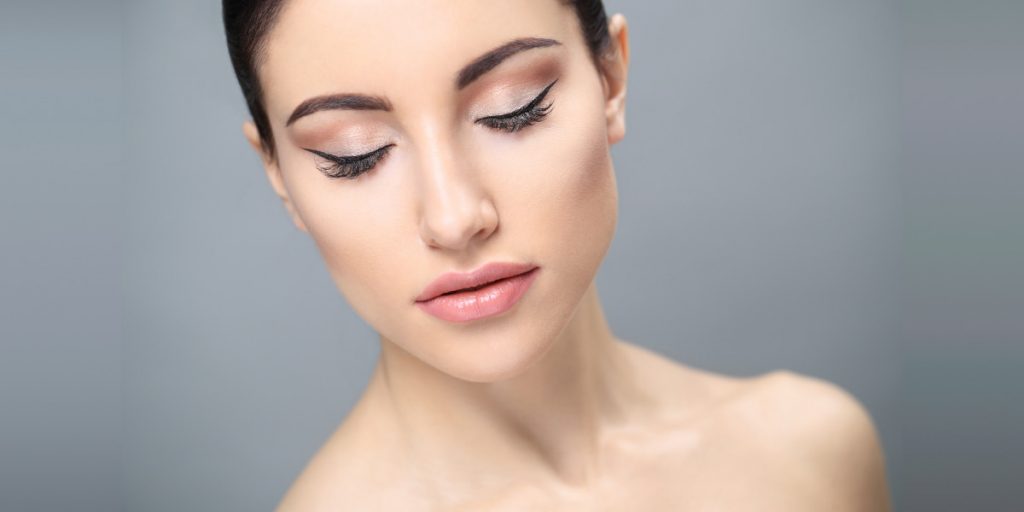 With this type of lash extension, any type of makeup can be used. It is best to follow the traditions of daytime makeup. Natural shades of beige and brown are suitable. They are universal and can be combined with any eye color. A V-shape base shadow is applied along the edge of the upper eyelid and then shaded towards the outer corner. The lighter shades blend on the inner side with the triangle's darker shadows.
Under the brow, to enhance the effect of open eyes, a very light or even white shadow may be applied. Lashes don't need any makeup. Grey-eye wearers are in luck with the color options. Adding a few bright shades, you can get evening makeup. Even a tiny amount of shadow will enhance the color of the eyes or give them a different shade.
3. 3D Makeup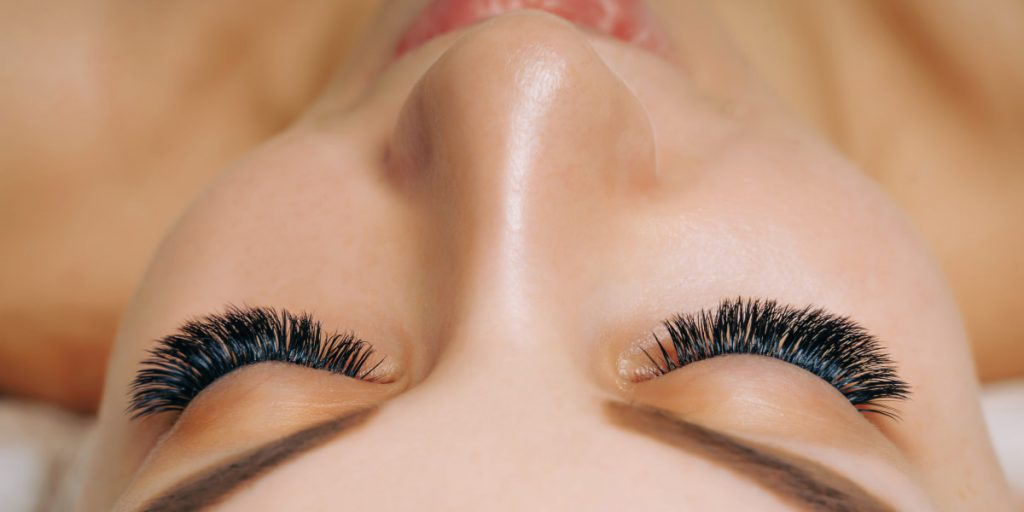 3D-style eyelashes also need to be designed accordingly. In everyday situations, they can not add eye makeup or slightly lift the outer corners. They will suit perfectly for the evening out.
With this type of lash extension, even modest makeup looks like evening. So you can use a simple trick to raise the arrows in contrasting colors: blue, red, and green. Or use an eyeliner with a light shine. It will be enough. For brown-eyed and green-eyed girls will look great with makeup in cool blue tones. Violet shades look beautiful, but you should be very careful with them because this color looks old and does not go well with every skin tone.
4. "Hollywood" Makeup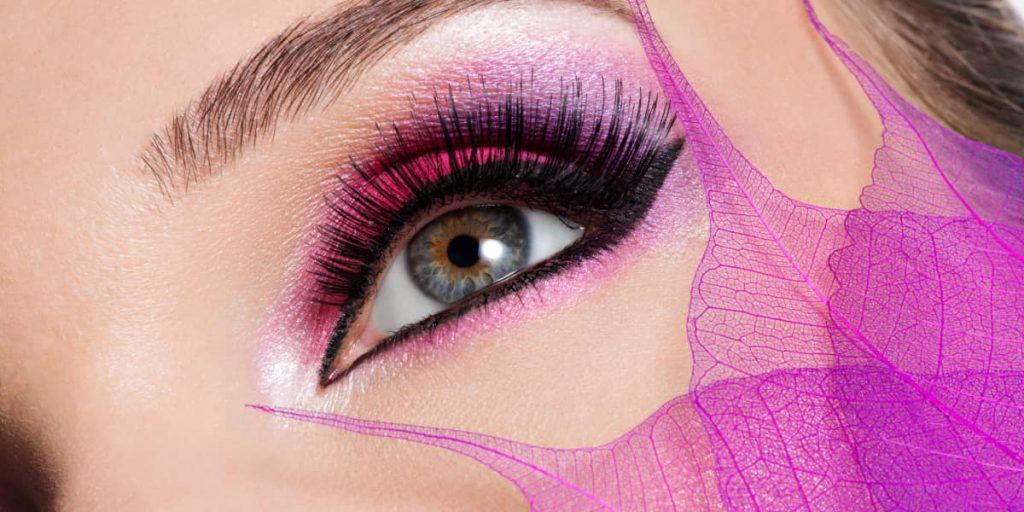 But this type of extension can be justified in some cases. On its own, it does not require that the girl also put on eye makeup, but by the image, you can also use shadows. Those who want to support the doll effect use bright colors and the distribution of shadows over the entire eyelid. It is not uncommon to add Arabian-style makeup for this type of eyelash extension, which looks spectacular and incredible on stage.
Summary
Makeup artists say that makeup with fake eyelashes should be done the same way as regular eyelashes. But it should be remembered that the lashes themselves do not need any additional decoration, and any products used can be dangerous for them. Therefore, avoiding any substances on the eyelash hair is better. You should also not forget about the possibility of mechanical damage. It can occur not only when rubbing your eyes or trying to curl them but also when applying arrows. Excessive use of makeup "shows" unnatural lashes and often looks vulgar. So the measure is the cardinal rule when applying make-up.
FAQ
Can I Wear Eye Makeup With Fake Eyelashes And Mascara?
Yes, you don't have to give up using makeup. You can safely apply mascara, shadow, liner, and other decorative cosmetics or grooming products. There are only restrictions on the oils in these products, but an oil-free alternative is not too difficult to find.
How To Wash Off Makeup With Lash Extensions Without Micellar Water?
For such cases, makeup can also be washed off with water, but on the condition that the lashes are not tinted with mascara. Take a cotton pad and gently sweep it over your skin. Then you must wait until the lashes are dry and brush them out.
When Can I Wear Makeup After Eyelash Extensions?
Masters recommend applying make-up within 24 hours after eyelash extensions. This applies to eyeshadows and all facial products that may come into contact with the eyes.
How Do I Wash My Makeup With False Lashes?
When washing, gels and various foams should not be used, they are also harmful to artificial hair. Under no circumstances should the eyes be rubbed. Any mechanical action hurts the lashes. It also applies to perms.