Published on August 19th, 2022
Last updated on January 25th, 2023
11 Quick And Easy Crochet Braid Styles In 2022
Estimated reading time:
10
minutes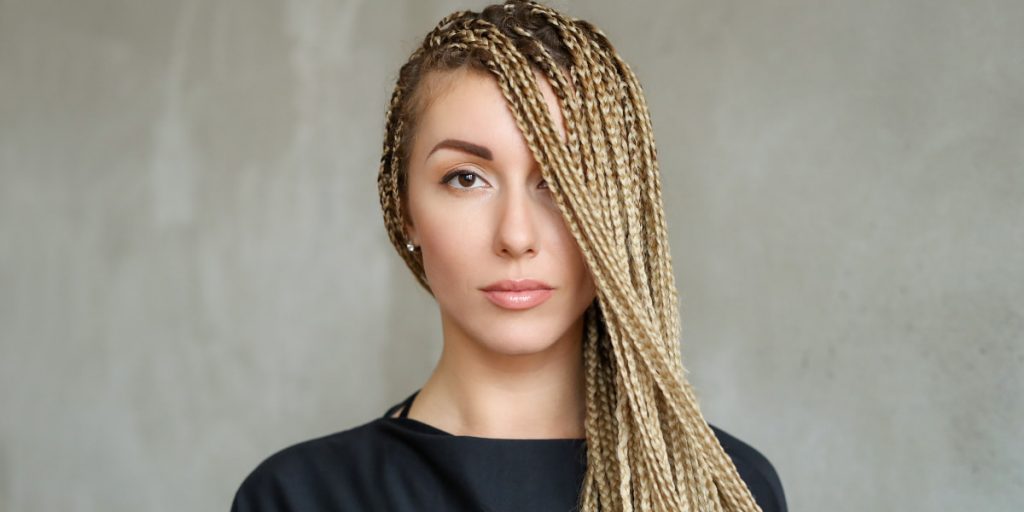 Hair crocheting, also known as plaits, spirals, or ropes, is a type of braiding traditionally made up of three strands. Sometimes the already done crochet-style braids are twisted into plaits and shaped into other hairstyles. It's a trendy African braiding style that can dramatically change your look and add a unique twist to your look. This hairstyle became fashionable in the 70s thanks to the "Black is beautiful movement", whose members cultivated the traditional hairstyles of their people. Crochet braid styles are quick and easy to make thus; they are suitable for every day if your job doesn't require a strict office dress code, of course. A crochet hairstyle can be the perfect look for graduation or birthday parties. This style best contrasts with a formal outfit such as a trouser suit. But ethnic motifs should be avoided unless you're part of a particular subculture.
Pros And Cons Of New Crochet Hairstyles
Crochet-style braids can visually make hair look longer and thicker, bringing comfort to life. It's a handy way to experiment with your look, but it has its pros and cons:
Crochet Hairstyle Advantages
You can wash your hair less frequently (once every five to six days);
Doesn't have to be styled every day;
Braids can be made in any length;
Handy for an active lifestyle, traveling, and sporting activities;
Hair lengths can be altered;
No hair dryer, no styling appliances required, i.e., less damage and over-drying of hair;
It's easy and quick to do crochet braid styles.
Crochet Hairstyle Disadvantages
Not suitable for weaker hair;
If there is dandruff, the hair looks untidy;
If unique materials were used for braiding, it is forbidden to go to a sauna or a bath, as they can melt and damage the hair;
The crochet hairstyle is not always suitable for those who have a round face – braids might look fat;
Braiding braids tightly can lead to a headache;
Before and after weaving crochet-style braids, it is necessary to take special care of the hair;
It is necessary to refresh the crochet hairstyle as the roots grow out.
There's a common myth that you'll lose a lot of hair if you take off your braids. It is only half true: hair falls out for natural reasons. We brush it out in ordinary life and don't notice so much on the comb. The exact amount of hair would be left on the brush as if you were using it. But it doesn't hurt to try a twice-yearly treatment with aminexil. This substance prevents collagen from hardening around the follicles, resulting in a secure hold on the hair's scalp.
What Can Help Create Easy Crochet Braids?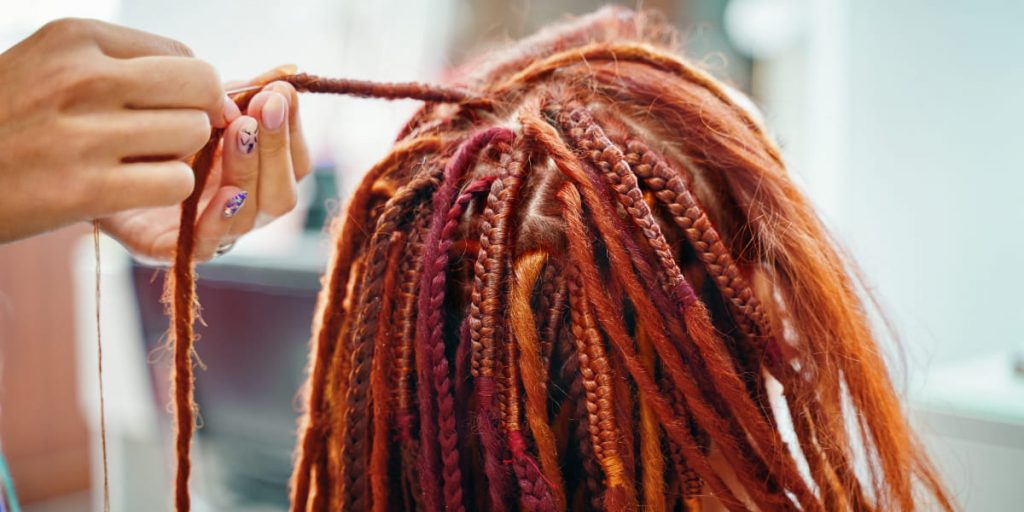 Whether it's Thai, classic African, or French braids, it's all about patience and plenty of time. Let's understand the mysteries of braiding. You will need the right tools, styling, and hair care products to create the crochet hairstyle. As well as a bit of patience and skill. All the things you need for braiding are described in more detail below:
Styling Tools
Keep your supplies close at hand so you don't have to hunt around the house. So, you will need the following things:
a comb;
a coarse-toothed comb;
elastic bands;
hairpins to separate strands;
strands of thread or other materials.
By the way, there is a particular machine for creating crochet-style braids. But its use requires special skills, as it is easy to tangle and damage the hair.
Styling Cosmetic Products
They are needed only in the case of short-term styling. They are forbidden when creating braids for long-term wear because the weave can lose shape and deteriorate.
Dry Shampoo. Delicate dry shampoo will help prepare fine hair for the hair crocheting procedure (and, at the same time, absorb sebum on the scalp). The shampoo goes on the hair evenly and does not weigh it down, and when creating braids, there is no unnecessary sliding;
Spray Care. It can help smooth and manage hair so weaves don't get in the way. Our experts say go for this treatment if your strands are prone to frizz and static;
Volume Mousse. If you decide to braid your hair for one evening, use a volume and curl-shaping mousse. When you unravel the braids, you'll be pleased with the stunning waves in your hair;
Hairspray. Use a spray to help fix the hairstyle and smooth, loose hairs.
11 Quick And Easy Crochet Braid Styles In 2022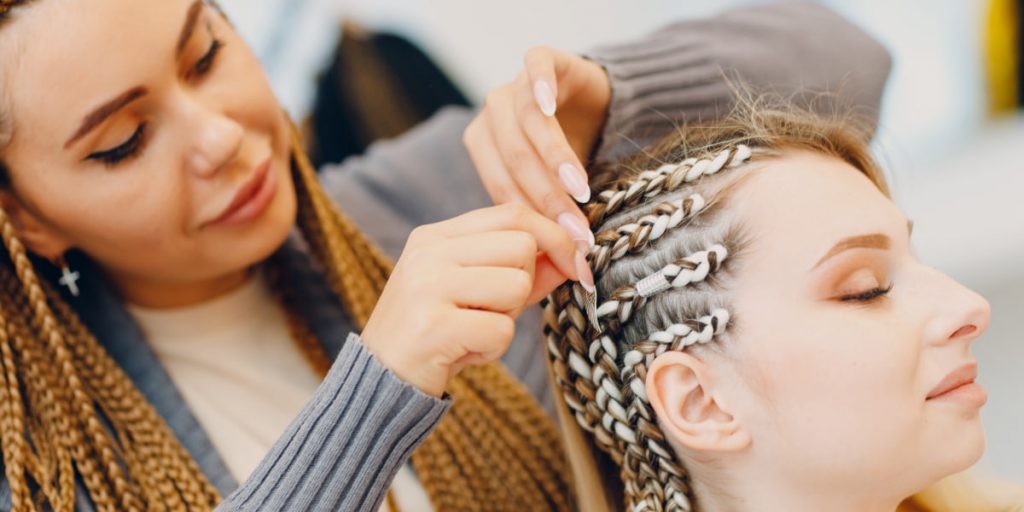 Crochet braids differ in thickness, type, and weaving technique. For braiding, different auxiliary materials such as Kanekalon or threads are used. They give a more colorful and vibrant look to the hair creating more volume, thickness, and length of the hair. Knowing how to choose the right hairstyle strictly for your face type. It will be discussed below.
1. Classic Crochet Hairstyle
The classic crochet hairstyle is made up of three strands. A synthetic material called Kanekalon is used and woven into the hair to add length. It's a style that suits anyone with any face or face type. Keeping the locks in place while covering your cheeks is best if your face is round. Afro braids gathered at the back of the head are not your variant.
2. Easy Crochet Braids With Threads
Thread braiding makes it possible to increase the length of your hair. Often strands of a different color are used, dramatically changing the hair's color and creating beautiful effects. Such a hairstyle is suitable for a holiday. By the way, thread braids perfectly combine with a trapeze dress and boho style.
3. Colorful Braids With Kanekalon
A colored crochet hairstyle created with Kanekalon will not suit everyone. Firstly, it is necessary to have clear skin with no visible imperfections, as the color will only accentuate them. Secondly, this option will suit only the owners of expressive features (e.g., brown eyes). This style can also be modified as half crochet or half braids. It's easy to get lost in the color and volume of the locks, especially if you've decided to put a rainbow of colors through your hair.
4. Ombré Crochet Hairstyle
Crochet-style braids with an ombré effect look great, especially in contrasting and vibrant colors. This hairstyle is perfect for those who love to be the center of attention. They can be created with threads and Kanekalon in contrasting colors.
5. Thick Braids Or Havanna Mambo Twists
Thick braids have a maximum diameter, and usually, these braids are much smaller on the head than regular braids. Large crochet braids are not as easy as other braids, so this hairstyle is suitable for special occasions, such as graduation or wedding. However, this fashionable version of African-American braids is only ideal for women with thicker and longer hair. If your volume is insufficient, the braid designer can weave in synthetic strands or a Kanekalon.
6. Senegalese Twist
The name is the epitome of ethnic luxury. Senegal braids, also known as pigtails or spiral braids, are made of synthetic material, but they differ from classic Afro crochet hairstyles in how they are braided: with a rope of two strands.
7. French Crochet Hairstyle
French braids are perfect for anyone with a short forehead. The French braids can be arranged in any pattern on the head. This hairstyle opens up the face, so the owners of the round face may not be worth experimenting with.
8. Thai Braids
Thai braiding is done without using extra strands. The braid is braided through your hair, so it's best suited for those with thick, healthy hair. Beads are often added to the ends.
9. Zizi
Zizi is crochet-style braids that weave into your hair. Ideal for seaside getaways, they're quick-drying, lightweight, and easy on the eyes.
Ideal for hair lengths between 3 and 20cm. The zizi can be made up to the shoulder blades or even the heels – a versatile women's afro pigtails. They're also braided point-by-point or through braids, and the weave pattern is similar to a checkerboard.
10. Ponytail
Braiding with a unique "pony" material helps to achieve a beautiful curl at the ends of braids (10-15 cm), simulating a ponytail.
11. Curly Locks
Curly locks are an alternative braiding method for special occasions like weddings and parties. The master makes a weave at the roots and adds free-hanging curls. Suitable for girls with any face shape, it adds volume and length.
Fashionable Shades For Brightly Colored Crochet Style Braids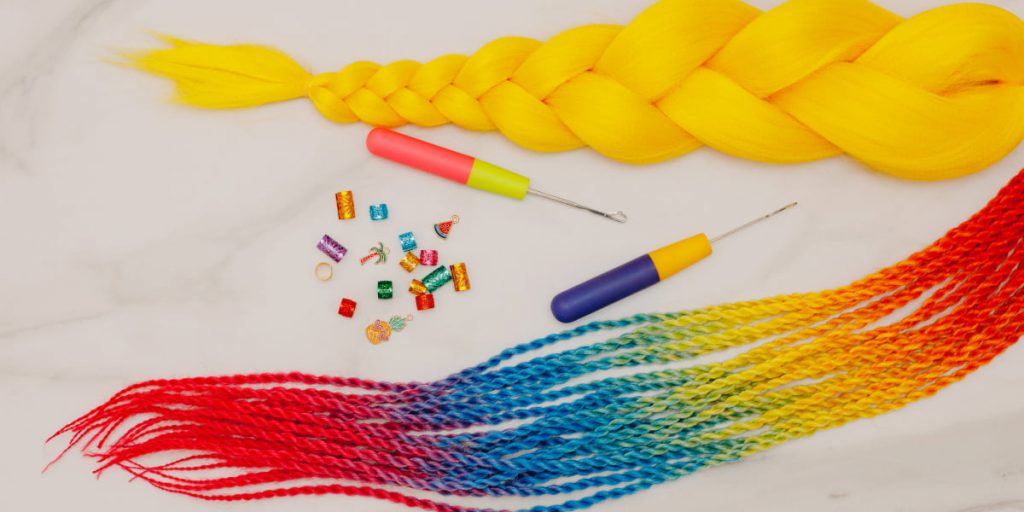 A crochet hairstyle can be any color, and a combination of several brightly colored shades will only benefit them. For those who want to stand out from the crowd, I've put together a handy guide to the trendiest Afro shades:
Classic Colors
White. White braids will look stylish paired with dark hair and a darker skin tone. Blondes, on the other hand, can look pale and sickly;
Black. The black crochet style braids are an absolute classic and one of the most fashionable;
Ashy. Colored hair crocheting is significant, but sometimes they just don't resonate with you. Ash is perhaps the dimmest option in our vibrant selection. But an eye-catcher;
Bright Colors To Stand Out
Pink. It is a color that blends beautifully with both blonde and dark hair. Except for redheads, pink is probably contraindicated. Exceptions are strawberry or rose gold;
Purple. A rich tone will complement any cool russet shade well and go well with a blonde. With black hair, it can look a little gloomy, almost gothic;
Red. Red braids are a must: this color would make anyone look painfully pale, so don't go out without make-up. But this hairstyle is a great incentive to look your best every day;
Blue. Blue hair will complement very light blonde and dark hair shades well. On the other hand, they can make 'medium-blonde' hair look unassuming and sadder. Be careful. Those with green or brown eyes best choose green;
Green. The best candidates for this shade would be… redheads! The same ones are contraindicated for pink. But green will do perfectly;
Yellow. If you have warm hair color, a yellow crochet hairstyle can complement it perfectly, making it more attractive and brighter;
Blue. An optional rule applies here: light blue braids for dark hair and dark blue for light hair. And everything will be perfect! Sounds illogical? Check out the magic of contrast;
Orange. A radical version of 'fire': be careful to combine orange with warm hair tones;
Multicolored. Couldn't decide on one color? You can select from stylish combinations!
Summary
Braids haven't surprised anyone in everyday hairstyles for a long time. This practical and stylish option can transform the appearance and create a unique image. Taking care of braids is very easy. The main thing is not to stretch curls and not to use a hair dryer when drying. It is also essential to use unique care products to treat this crochet hairstyle carefully, and then you will enjoy it as long as possible!
FAQ
How Many Kanekalon Do I Need For Afro Braids?
Everything will depend on the length and thickness of the plaits. But on average, you can be guided by 3-4 packs of 200 grams.
What Kind Of Kanekalon Is Better To Choose For Braiding Afro Braids?
Experts recommend giving preference to artificial strands with seaweed in their composition. But it is better to refuse heavy synthetic braids. Yes, their price will be lower. But in this case, the chance of damaging the hair follicles due to the heaviness of the braids significantly increases.
Is It Comfortable To Sleep With Braids?
If you are afraid of mussing your braids, you can sleep in a hairnet, headscarf, or bandana. The first few days may be uncomfortable because of the tension, but it will pass. You can take the softest pillow or put your hand under your head for comfort.
How To Unbraid Braids?
Ideally, it is better to braid in a salon at the master's. If you decide to do it with your own hands, have patience. Cut the ends of the plaits, then unwind the braids. Take out the artificial strands and unravel plaits at the base. Carefully comb your hair.