Published on July 7th, 2022
Last updated on January 25th, 2023
Pros And Cons Of Hair Extensions: Hair Extensions Types Overview
Estimated reading time:
9
minutes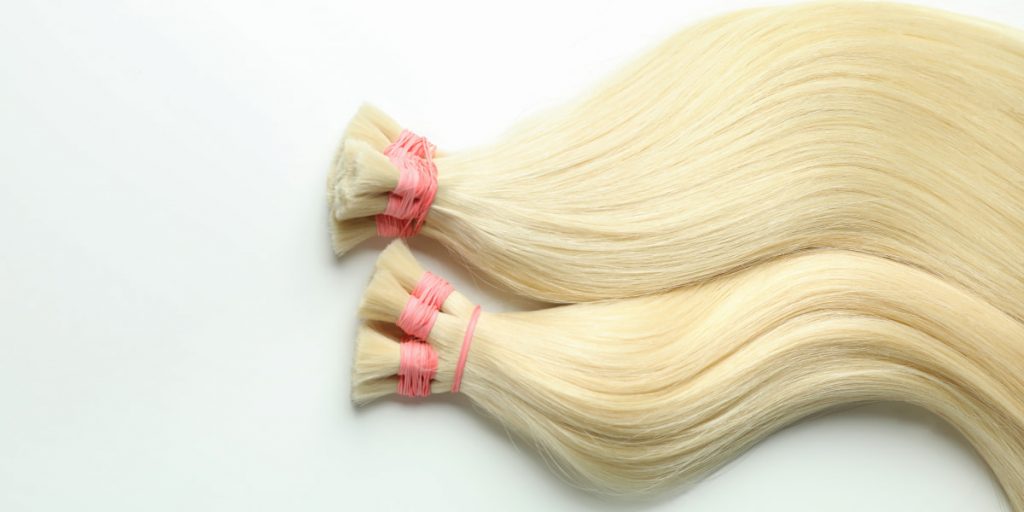 The main advantages of hair extensions are the ability to lengthen your hair, make it more attractive, protect your natural hair from damage and brittleness, and try a new look. The main disadvantages of hair extensions are the duration of their attachment, several requirements for hair care after extension, in some cases, the inability to carry out regular hair hygiene, as well as the high price of the hair extension procedure. Read on to know more pros and cons of hair extensions and their types.
Sometimes you can do something as rash as cutting your hair short and then regret it. However, there is a way out of any situation.
There are many ways to make your hair look longer in a short amount of time. Each of them has its positive and negative points.
I will tell you about plenty of ways to lengthen your hair, each of which has several properties. Deciding which way to use it is up to you. However, whichever option you choose, don't forget to give your hair a rest in order not to lose its beauty and attractiveness.
Let's take a closer look at the options of hair extensions and the pros and cons of each technique.
Hair Extensions With Clips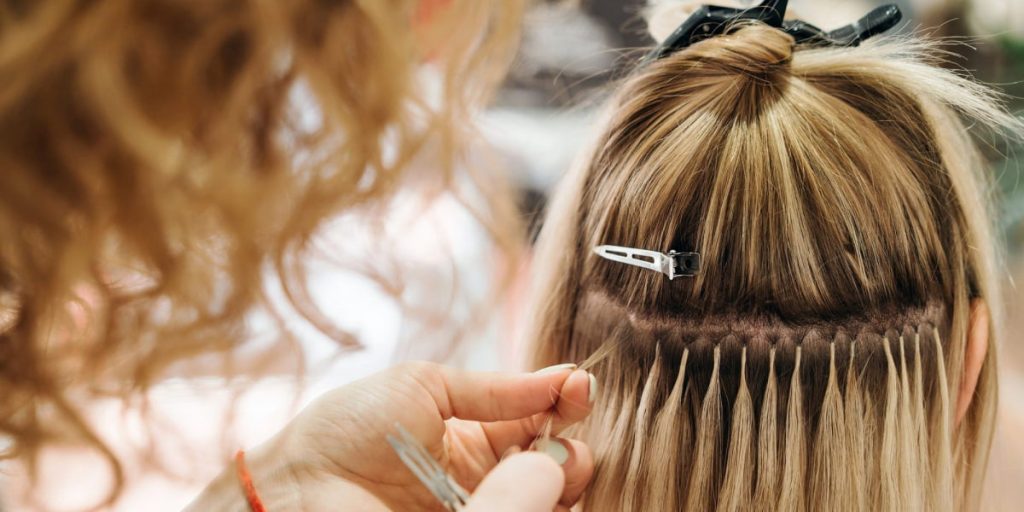 This is the first method I want to tell you about. With this variant, the hair is attached to your natural hair with clips sewn to your natural hair. The number of strands can range from using one false hairpin to four.
Pros Of Hair Extensions With Clips
Versatility and practicality. Hair extensions can be removed and put back on with clips daily or as needed;
The will of fantasy. The color and length of false hair can be changed anytime you need;
Convenience. Putting on and taking off false hair does not require effort or special knowledge. You can do it yourself without visiting the salon;
Financial acceptability. Hair extensions using clips are not the most expensive option for hair extensions;
No harm to hair. This method of hair extensions does not harm your hair, which is very good news.
Cons Of Hair Extensions With Clips
Of course, this method is not ideal and has some drawbacks, such as:
Low quality. To date, the clips used for hair extensions are made from synthetic hair of not very good quality. Because of this, you will not be able to wear them for too long without taking them off;
Not suitable for everyone. Since the clips for hair extensions produced are large, they are not suitable for use on thin hair. Thus, owners of thin hair will have to look for other ways to build strands;
The possible inconvenience of use. Clips with hair extensions can fall out or move, so you have to fix them and arrange your hairstyle constantly;
Fragility. Hair extensions of this type require constant and thorough care. Without good care, such false hair can last only a few months.
I have considered the advantages and disadvantages of the first type of hair extension. Now let's proceed with synthetic hair extension.
Synthetic Hair Extensions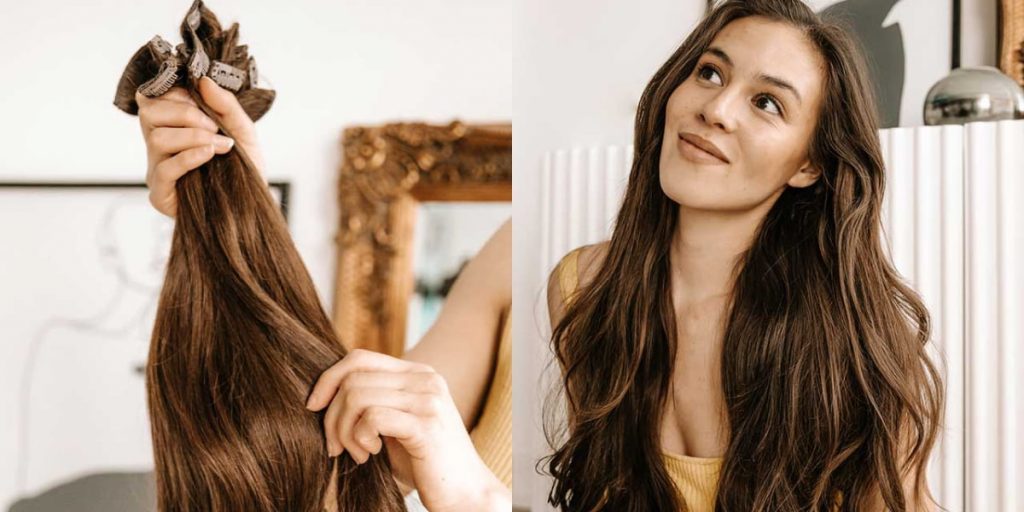 The second option is more complicated, but maybe this is the one for someone. The salon often uses the synthesis variant for hair extensions. Synthesis can be cold or hot.
For the hot method of hair extensions, U-shaped connections made of keratin are used. Small areas are covered with silicone and glued close enough to the root of their hair using heat.
To grow hair using cold fusion, small strands of hair, fastened together with copper cylinders, are pulled through the lock. Further, this lock is clamped with tools. A silicone lining is used as protection for your hair.
Advantages Of Hot Fusion Hair Extensions
Durability. With good care for hair extensions using the hot synthesis method, they can last about six months;
Universal method for all types of hair. This variant of extension is suitable for any type of hair, even for types such as coarse and thick hair;
Good quality. Usually, good-quality human hair is used for this type of extension.
Cons Of Hot Fusion Hair Extensions
This path also has many negative points, such as:
Takes a long time. Hair extension by the hot fusion method takes about 6-8 hours. This may not be too convenient for those who are not ready to spend so much time on hair extensions while sitting in the salon;
Failures are possible. To build hair this way, the stylist must have a lot of experience. Otherwise, mistakes, breakage, and damage are possible;
Hair damage. Because the hot fusion way uses heat, it can damage the hair;
It may be too expensive. As a rule, clients do not do hair extensions with this method more than once because it is too costly;
Possible side effects. Depending on sensitivity to the hair extensions and thermal treatments, the client may experience itching or a feeling of tightness for a few days after the hair extensions.
Advantages Of Cold Fusion Hair Extensions
Quite a long-term method of use. No glue or heat method is used to use this hair extension method. Thanks to a high-quality extension method, hair can last from six months to a year;
Reusability. If one hair extension falls out, the same hair can be glued on again. This is good news for those who wish to use this hair extension method;
High quality. Good quality human hair is also used for this extension method.
Cons Of Cold Fusion Hair Extensions
Long build time. As with the hot hair extension method, the cold extension method is also time-consuming. This may take around 4-6 hours;
External defects. If the extension was not done very well, extended strands might be visible. It is also worth noting that this type of hair extension is not suitable for thin hair;
The unreliability of the method. Connections may not be secure, and slippage is possible;
Possibility of hair damage. Given that locks and micro locks are not secure, there is a chance that they can get hot when using a hair dryer. This can damage your hair;
Discomfort. As with hot fusion hair extensions, the client may experience discomfort for the first few days after the hair extension.
Extension Braiding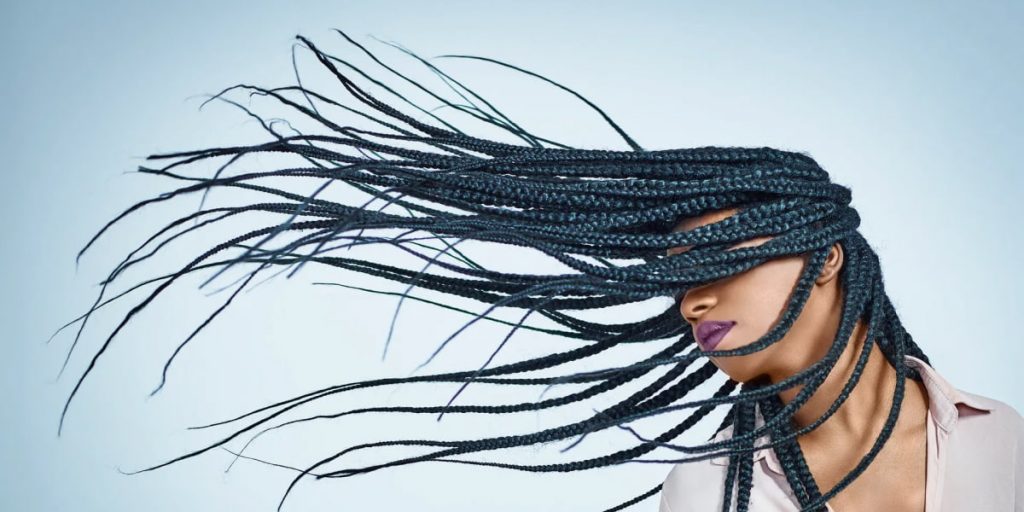 As a base for hair extensions, stylists braid small strands of natural hair and then sew strands of artificial hair into them using needles and thread.
Benefits Of Braided Hair Extensions
Reliability. The extensions used in this hair extension are reliable devices that will not slip off;
Minimal hair damage. To build hair loosely, glue or thermal procedures aren't used. It causes minimal damage to the hair;
Suitable for complex hair types. This method of hair extension is suitable for coarse, thick, and heavy hair, and the result looks quite natural;
Not too expensive. This hair extension method can be classified as a budget technique, so it is available to many people.
Cons Of Braided Hair Extensions
It may not be suitable for fine hair. Clients with fine hair should be careful when using braided hair extensions. If the braid is too heavy, it can harm the natural hair;
Inconvenience. If the braid is too tight, the client's head and scalp may start to hurt, and over time, this can lead to hair loss;
The appearance of bacteria. If the hair is not kept clean, bacteria can begin to accumulate in it, which can lead to infection;
Uniform styling. Since this hair extension method involves weaving artificial strands into natural hair, the client will not be able to change the hairstyle options. Monotony can get boring.
Tape Hair Extension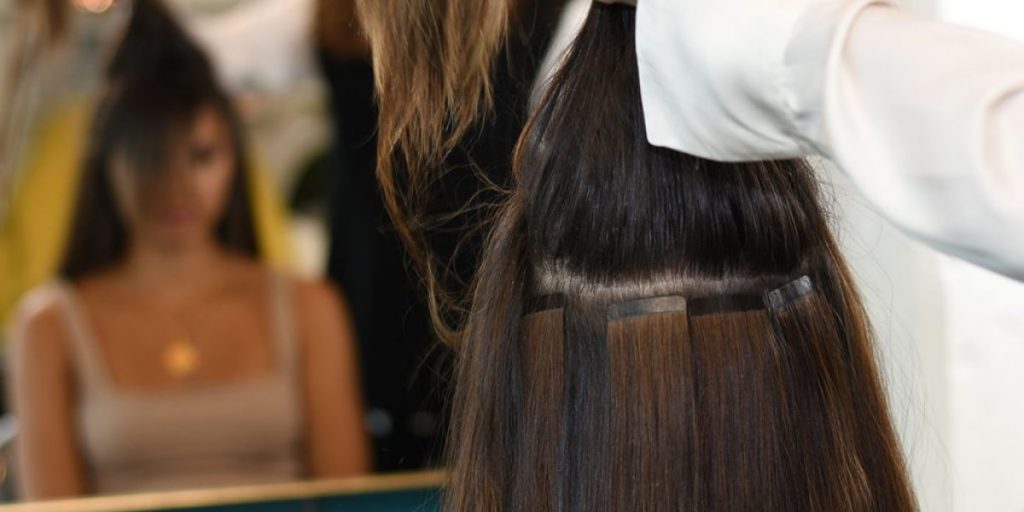 This is the last method I will tell you about. This type of extension is considered a relatively new method. Similarly, polyurethane tape is used for hair extensions, which can be one-sided or two-sided. The choice of tape depends on the thickness of the natural hair.
Benefits Of Tape Hair Extensions
Saving time. In this way, hair can be done relatively quickly, from half an hour to an hour;
Method safety. This type of extension does not require the use of heat or glue, so you can be sure that this option will not cause any harm to the hair;
Natural look. False hair fits snugly enough to the head, so they are not noticeable even on thin hair;
Reliability. The weight of the tape is distributed over a large area, which means that natural hair will not be pulled along with artificial hair and will not be damaged;
Longevity. With proper hair care, hair extensions in this way will last you about 60 days.
Disadvantages Of Tape Hair Extensions
Temporary inconvenience. Remember the fact that for the tape to stick well, you should not wet your hair for several days;
Special requirements for hair care. After you have glued the tape, you can not use care products that contain oil. This may cause the tape to peel off.
Bottom Line
In summary, I should say that you don't need to use a permanent way to do hair extensions, just do experiments and define the pros and cons of each variant. The main thing you should remember is that whatever option you use, it is highly essential not to experience discomfort.
FAQ
What Are Hair Extensions For?
Hair extensions can be an excellent way to lengthen your hair. If you choose good quality extensions and your stylist carefully extends them, it will help you look fabulous and keep your natural hair from damage, mainly if you are used to using heat tools a lot and your hair is prone to breakage and split ends.
Do Hair Extensions Slow Down The Growth Of The Natural Hair?
No, hair extensions do not affect the growth of your natural hair. You need to choose a quality material for false hair and properly care for your hair after extensions. This will help keep their appearance natural and attractive enough.
How Much Does Hair Extension Cost?
The average cost of hair extensions is about $200-600. As for hair extensions with clips and tapes, the price will be around $100-200. Professional gluing will cost clients about 600-3000 dollars.
How Often Should Hair Extensions Be Brushed?
You should comb your hair extensions at least two times a day. Separate your natural hair from the extensions and brush gently, starting from the ends and working your way to the roots.