Published on July 14th, 2022
Last updated on January 25th, 2023
How To Make Sprinkle Lips? Perfect Candy Lips In 7 Steps
Estimated reading time:
5
minutes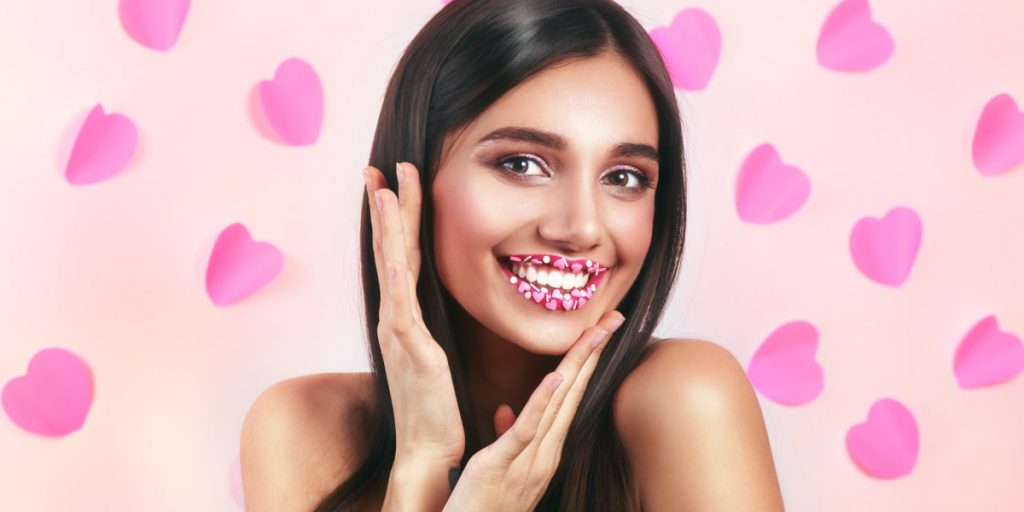 Lips covered in sprinkles are back in trend and will not leave this position for at least a few years. Now is the time to reconsider your attitude toward this make-up, and at the same time, learn how to do trendy pink candy make-up. It is worth saying that there is nothing complicated in this. Even a beginner can handle it. The main thing is to choose your ideal palette.
Are you ready to discover the world with sprinkle lips? I have selected for you the most delicious candy lips. They are not suitable for an ordinary walk, but you will surprise your followers on Instagram or Facebook with bright lips.
Sprinkle Lips In 7 Steps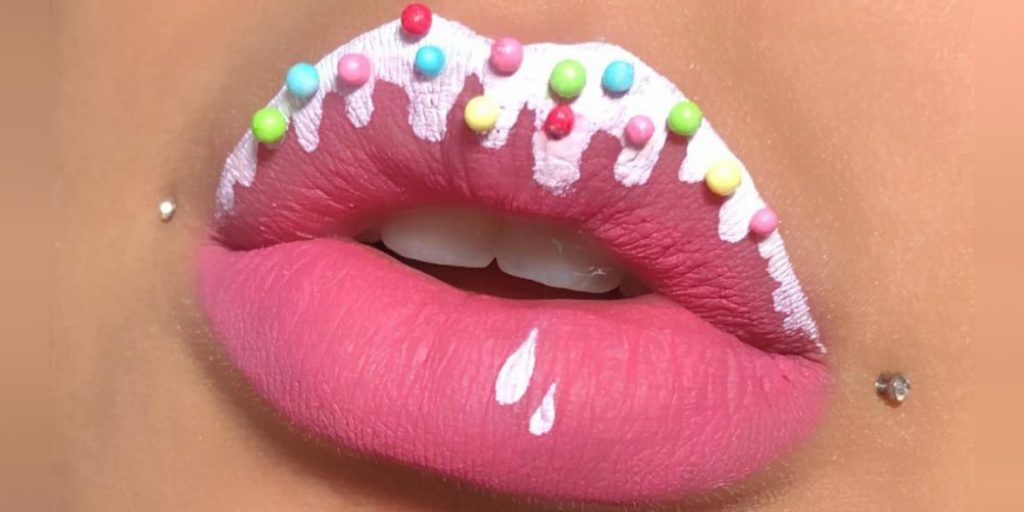 It used to be that lips with sprinkles make a woman look childish. This preconception is a thing of the past because such make-up has a lot of nuances. You just need to choose your undertone.
Another unquestionable advantage is that this make-up suits any appearance. Sweet pigments in the style of sweet lips emphasize and shade the brown, blue, green, and gray iris, perfectly refreshing the image and adding lightness to it.
How to make sprinkle lips? Where to start and where to end?
Step 1: Lip Care
Before putting on any make-up on the lips with sprinkles, you must ensure your lips are in good condition. The first thing to do is scrub your lips. Use a soft scrub or brush to get rid of dry skin. After – use a mask to moisturize your lips. You can also use a lip balm if you don't have much time for a lip mask.
Step 2: Clear Outline
Choose a pencil to outline your lips. It should match the color of the sprinkle. In candy lips, it is crucial to draw a precise contour of the lips since the sprinkle does not have clear boundaries. Without a contour, your lips will not have a precise shape and will look sloppy.
Step 3: Liquid Or Matte Lipstick?
Give preference to dry lipstick. The topping will be easier to set and will stay there longer on a dry basis. Sprinkles will crumble and roll if you use liquid lipstick.
Step 4: Correct Undertone
Choose a neutral lipstick color to fill in any gaps. The best choice for a multi-colored topping would be delicate pink lipstick. It will be an ideal backdrop for spectacular make-up.
Step 5: Sprinkle Color Is Important
Once you have chosen the color and texture of the lipstick, it is essential not to forget the most crucial thing – the color of the lip sprinkles. It should be practical and match the background. Or you can choose the most contrasting option – pink lipstick and blue sprinkles. Use your imagination!
Step 6: How To Fix The Sprinkle?
So we're back to dry lips. Use lash glue on matte lipstick to set the sprinkles on your lips for longer. The topping can quickly crumble or roll if you choose a liquid lipstick. The lash glue will set the puff in place.
Step 7: Don't Go Outside The Loop
It is crucial to stay within the contour of your lips when setting the sprinkle. If the sprinkle goes beyond the line, your lips will look out of place.
Additional Tips For Perfect Sprinkle Lips
Speed ​​plays a role. Since sprinkles on lips are very difficult to stay on for long, you need to work as fast as possible. When applying full make-up, save the lips for later. And in the end, the faster you do them, the better the effect will be;
Use fake sprinkles. They will stay on your lips much longer and look more impressive;
Draw an outline behind the lip line if you want your lips to look bigger. Sprinkles will make the lips appear fuller, but when you go beyond the lip line with a pencil, it will make them even juicier.
What Are The Features Of Candy Lips?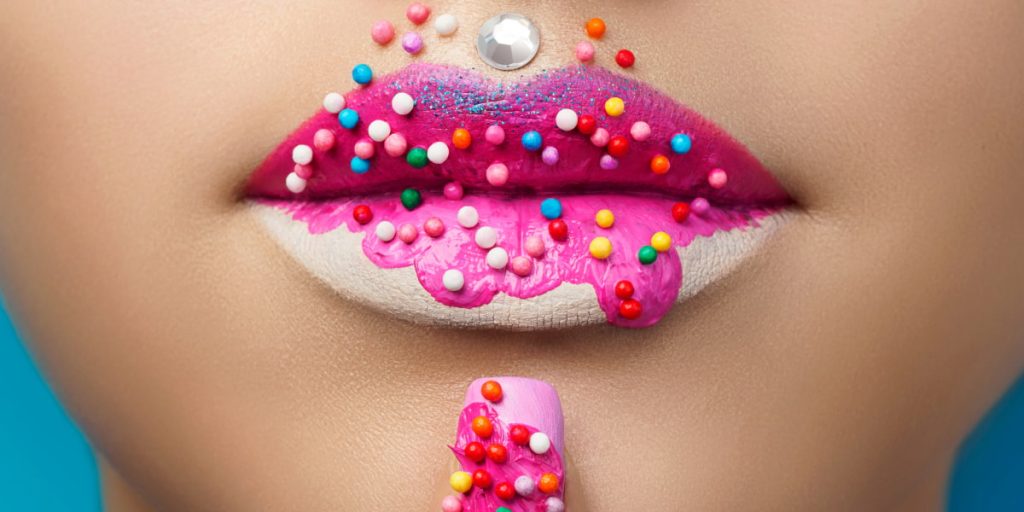 Sprinkle lips quickly burst onto the catwalks and immediately captured the attention of women around the world. All shades of colors are trending – from monochromatic and candy undertones of "Barbie" to a multi-colored rainbow explosion on the lips. Moreover, stylists and make-up artists assure you that you do not need to limit yourself. Feel free to use such shades on your lips, cheeks, and eyes, and at the same time in clothes.
What are the features of trendy sprinkle lips makeup:
perfectly refreshes the image;
suits any appearance;
has no age restrictions;
easy to complete.
Bottom Line
If earlier a multi-colored accent was associated with teenage girls, now all restrictions have been removed. Trendsetters recommend candy lips to women of any age. In addition, this palette perfectly refreshes the face and makes it young and fresh. How much do you like the lip splatter look?
Making candy lips is very easy. It does not require complex transitions or precise lines. Moreover, the trend for lip sprinkles in make-up suggests using primary products for the rest of the face, which significantly simplifies applying cosmetics.
FAQ
How To Get Sprinkles To Stick To Your Lips?
Use lip gloss if you want a short-term effect. If you want the sprinkles to last longer on your lips, use matte lipstick and lash gel on top of it. This will help to fix them for several hours.
How Can I Decorate My Lips?
You can use many handy tools. Sprinkles, sweets, and other sweets are now considered the brightest and trendiest.
How To Make A Lip Contour With A Pencil?
Apply with a brush or applicator. They outline the contour of the lips. A good contour pencil should glide smoothly over the skin without scratching it (don't overdo it when sharpening the lead). If possible, choose a shade of pencil that completely repeats the color of lipstick.