Published on October 9th, 2022
Last updated on January 25th, 2023
How To Wax Your Eyebrows At Home? Ultimate Guide
Estimated reading time:
7
minutes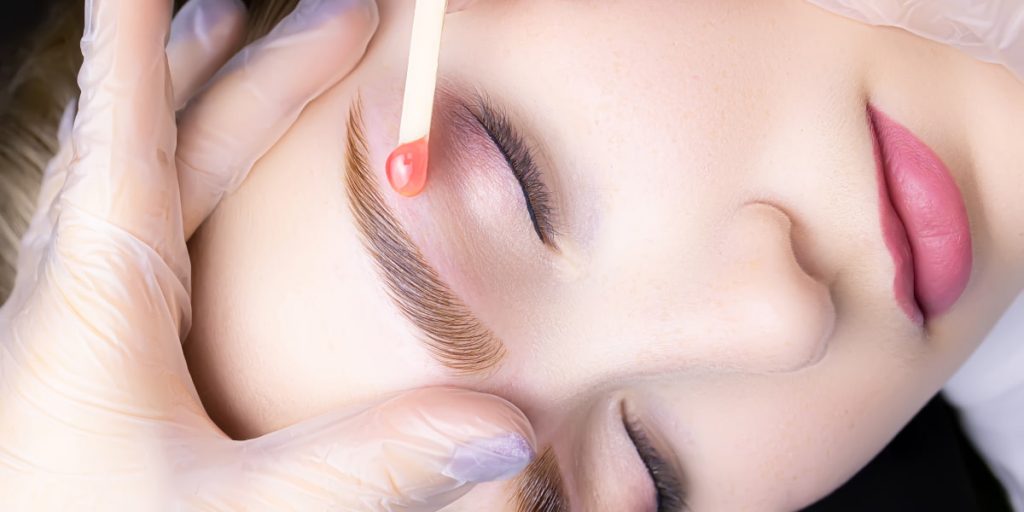 The modern beauty industry cannot do without eyebrow care. Although eyebrow trends constantly change, the methods for achieving fantastic shapes stay the same. Today, there are many techniques to take care of your eyebrows. Each uses different tools and approaches and has its key advantages and disadvantages. This article will focus on the eyebrows waxing procedure and the steps to wax your eyebrows at home.
Fortunately, learning how to do this procedure at home is quite simple. You can find ready kits for depilating your eyebrows in any hypermarket to help you achieve the best results. And for this, you do not need to take any cosmetology courses. It would be enough to read the instructions on the package and follow them.
I will tell you about the crucial aspects of eyebrows waxing at home, how to do it correctly and who can use this method. Stay tuned, keep reading and get ready to have beautiful eyebrows soon!
Precautions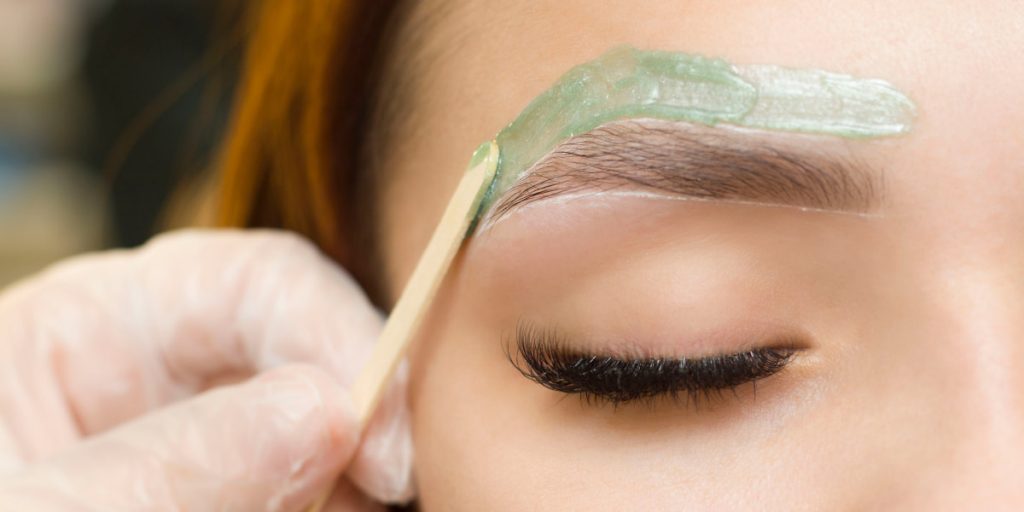 Like all other procedures concerning your body, some precautions and prohibitions exist. So, waxing is prohibited in the following cases:
1. You Are Taking Birth Control Pills, Hormone Replacement Therapy, Or You Are Pregnant
Your skin might be more sensitive to waxing, so test a small area first, like your hands, to see how your skin responds to the procedure within 24 hours. If it hurts too much or your hands develop red spots or another allergic reaction, you should use a different depilation method or wait until you can use the wax.
2. You Either Have Rosacea Or You Smoke
The most common causes of dilated, weak, or broken capillaries are smoking, rosacea, and waxing can exacerbate these conditions. Avoid waxing your eyebrows if you can see red capillaries through the skin.
3. You Scrub Your Skin Vigorously
Since dead skin cells can be removed more effectively with salicylic acid, alpha hydroxy acid, white willow bark, and enzymes, waxing your eyebrows combined with these aggressive exfoliants can result in redness, bleeding, and scabs. Therefore, for at least three days before and three days following waxing, you must stop using the products mentioned above in the areas you intend to epilate. Depending on your skin type and the product's concentration, it might take longer. For instance, it will take several months to start waxing your skin if you use more than 8% alpha hydroxy acid.
4. You Drank Alcohol Or Coffee On The Previous Day
You drank a lot of alcohol or caffeine on the previous day. Your skin may become overly sensitive to waxing because of these stimulants. More than usual, your skin will be itchy and inflamed. Avoid drinking coffee or alcohol at least two hours before epilation. If you have a planned party, it's better just to reschedule your depilation to another day. Otherwise, you will get a day of irritation and anger instead of a pleasant day of self-care.
So, How Exactly To Wax Your Eyebrows?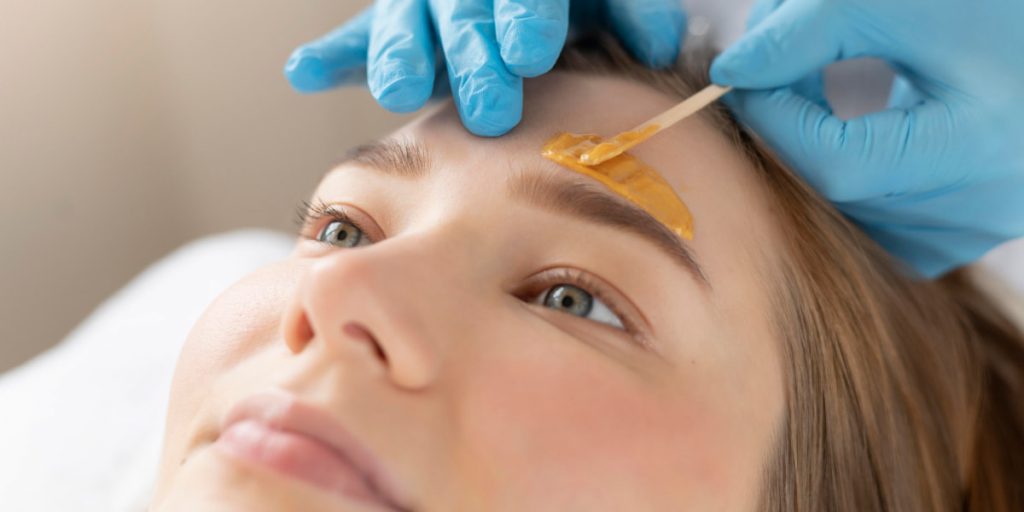 Well, it's time to proceed directly with the procedure. Our step-by-step guide will push you through all the necessary steps and show you all the key points. Following our guide, you will achieve excellent results even if you have never done such a procedure.
However, for the procedure to be truly successful, you must carefully read the following blocks, collect all the necessary tools for working with wax, take some time to choose the right type of wax in the store to take care of you, and only then proceed with the waxing session.
It would be best if you also remembered to take precautions. Before the procedure, ensure you do not drink a lot of alcohol the day before, do not take specific medications indicated in the block above, and eliminate all possible factors that prohibit you from this procedure.
Once everything is in order and your tools are at hand, you can heat your eyebrows wax for an "at-home procedure" and finally get rid of hair.
1. Gather Your Supplies
If you've decided to wax your eyebrows at home instead of visiting a professional, there are a few supplies you'll need to gather before getting started. Below is a list of the necessary instruments and a few tips to ensure a successful waxing experience.
Supplies you'll need:
Wax strips (you can find these at most drugstores);
A small spatula to apply the wax;
Talcum powder (this helps the wax adhere better);
A clean cotton ball or pad;
Small scissors;
Tweezers;
Ice (to soothe any redness or irritation after waxing);
Soft washcloth.
Once you have collected all the tools for working with brows, you can get to work. Try to gather everything you need in advance to do everything as efficiently as possible during the procedure.
TIP! Make a short list of necessary items in your notes, and cross each tool off the list as soon as you have it ready.
2. Choosing The Right Type Of Wax
Two types of wax can be used for eyebrow waxing:
Hot wax is applied to the skin and then removed after it has cooled and hardened.
Cold wax is applied at room temperature and removed without any heating.
Most aestheticians recommend hot wax for beginners, as it is less likely to cause skin irritation. However, cold wax might be better if you have sensitive skin. Whichever type of wax you choose, make sure it is specifically designed for facial hair removal; never use body wax on your face!
3. Preparing Your Skin for Self-Eyebrow Waxing
Waxing can be harsh on your skin, so it's essential to take some steps to prepare before getting started. First, make sure that your eyebrows are clean by washing them with a mild cleanser. Next, exfoliate your skin with a gentle scrub or washcloth to remove dead skin cells. This will help the wax adhere to the hair and make a smoother finish.
4. Applying The Wax and Removal Process
Now that you've chosen your wax and prepared your skin, it's time to start! Follow the directions on the package for how much wax to apply and how long to wait before removing it. Pull quickly in the opposite direction of hair growth when removing the wax strip. And voila – you've successfully removed unwanted hair!
If you notice any missed spots or stubborn hairs, don't worry – reapply the wax strip and try again.
And if you see a few remaining hairs that you would like to remove, you can use tweezers to do it as accurately as possible and leave a beautiful brow shape.
Aftercare
Because your skin will be more sensitive after waxing, it's essential to take some precautions to avoid irritating it further. Avoid using harsh scrubs or exfoliants for at least 24 hours after treatment; opt for a gentle cleanser if needed. If your skin feels irritated, you may also want to apply a cool compress or soothing lotion, such as aloe vera gel.
Now that you know everything you need to know about waxing your eyebrows, you're ready to get started! Just remember to choose the suitable wax for your skin type, prep your skin before starting, and apply some soothing lotion afterward. Before long, you'll have perfectly shaped brows!
Bottom Line
We have discussed how you can wax your eyebrows at home to quickly and easily remove unwanted hair. With this short informative guide and clear instructions on the package, you can quickly learn how to remove excess hair from your eyebrows and experiment with their shape.
However, always remember precautions, individual intolerance, and allergies to the components. Never do the procedure if your health condition does not allow you, and also be aware of the types of wax and where it can be applied.
FAQ
Can You Wax Your Eyebrows?
Yes, you can wax your eyebrows at home. Follow the steps above, and use a high-quality wax specifically designed for facial hair removal. If you have sensitive skin, opt for a cold wax rather than a hot wax. And always test the wax on a small area of skin before applying it to your eyebrows.
Is It Painful To Wax Eyebrows?
There can be some discomfort when waxing your eyebrows, but it is generally not considered painful. If you have sensitive skin, cold wax may be a better option than hot wax.
What Are The Benefits Of Waxing Eyebrows?
Waxing your eyebrows has several benefits:
1. It can help to shape and define your eyebrows;
2. Waxing removes hair at the root so that the results can last several weeks;
3. Waxing is a relatively quick and easy way to remove unwanted hair.