Published on September 29th, 2022
Last updated on January 25th, 2023
How To Take Care Of Eyelash Extensions? Follow Essential Rules
Estimated reading time:
7
minutes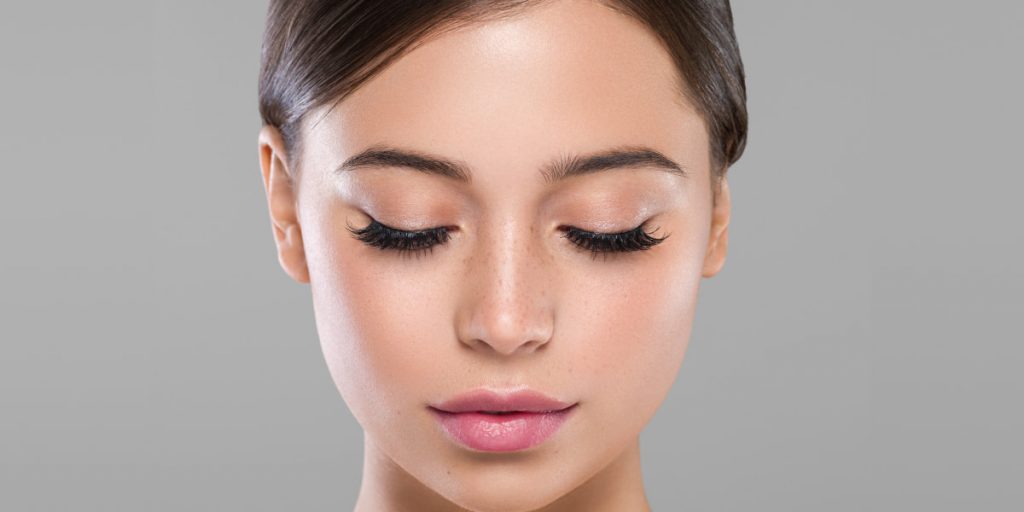 Beautiful, expressive eyes are an easy dream to achieve in modern cosmetology. Daily сurling and coloring take a lot of time and do not always allow for a perfect result. Eyelash extension saves time and provides great possibilities for correcting the natural shape, but it also requires the organisation of the correct aftercare. If you're planning the procedure for the first time – read the eyelash care guide for after-lash extensions. It will help keep your lashes longer and not damage them.
Proper and timely caring for eyelash extensions helps keep your eyelashes healthy:
Maintain your health. If you neglect the advice of your eyelash masters, you risk seriously endangering your well-being. Your eyelashes can fall out, and irritation of the eyelids or serious inflammatory processes can occur;
Extend the "wearing" period of the artificial eyelashes. Only with proper maintenance of the result is it possible to increase the length of time that a beautiful and expressive look of eyelash extension is retained;
Save time and money. How carefully you treat your eyelashes and properly care for them affects the frequency of visits to the masters of a lash maker.
What Is The Right Way To Brush My Eyelash Extensions?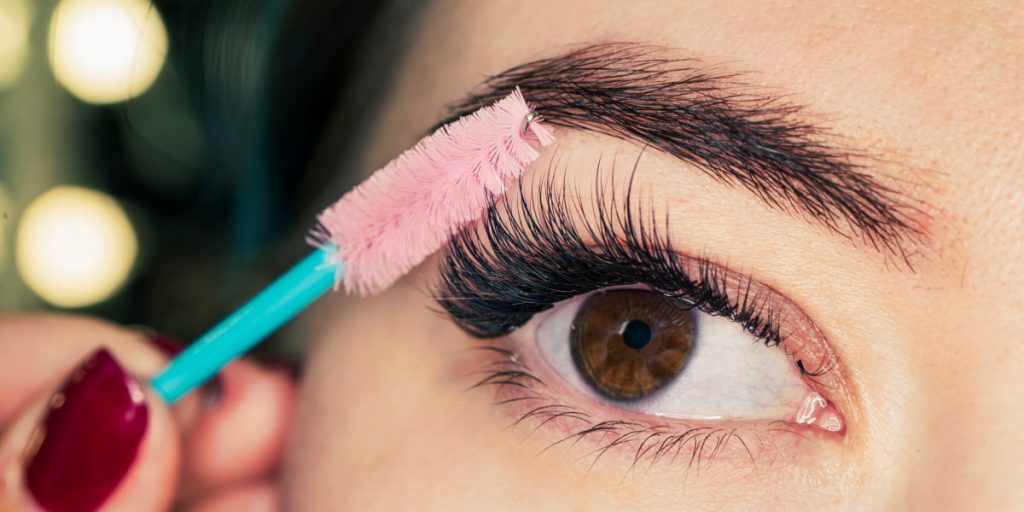 Extended eyelashes often tangle, especially after showering or sleeping. It is necessary to brush them to make them long, curved, and voluminous again with a special device. One of the main tasks in aftercare for eyelash extensions is brushing them regularly. Do not touch the growth line when moving from the base upwards, as this may prevent the lashes from attaching properly. When choosing a brush, consider:
the volume;
the length;
the density of your false eyelashes.
The frequency of brushing depends on the appearance of the lashes. On average, lashes will should be brushed several times a day. It is important to remember that on the first day after the extension, it is better not to touch them to allow the glue to dry properly. If you can't find a brush on your own, ask a shop assistant, who will help you find one, taking into account the peculiarities of your lashes. Don't use a mascara brush, as the hard bristles of the brush can damage the extensions.
Another essential rule is that you have to brush only dry lashes. After showering, it is better to dab your lashes gently with a towel and wait for them to dry naturally.
How To Take Bath With Eyelash Extensions?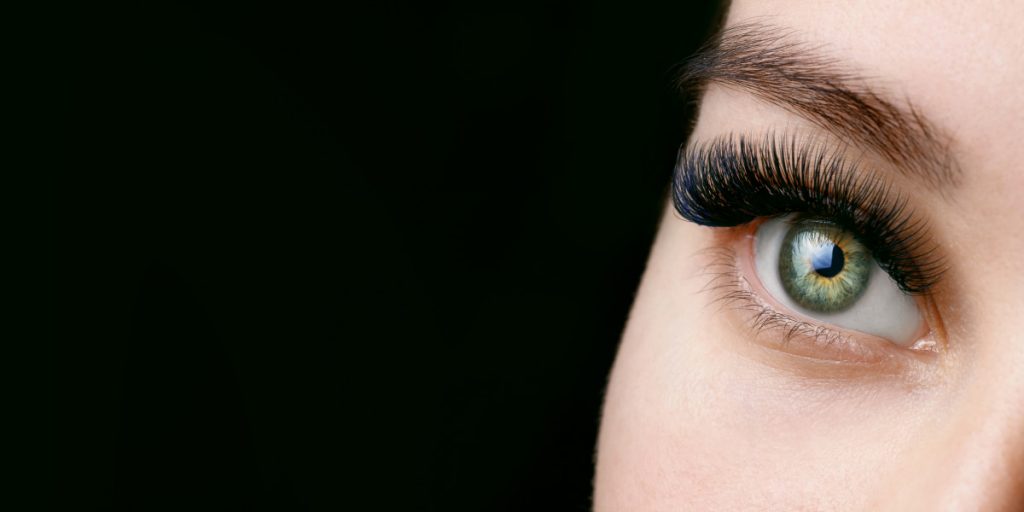 Cosmetologists say that water and water procedures are not harmful to false eyelashes. Even a long stay in the water (e.g., in the pool) will not damage wet eyelashes if you follow the basic care rules. The main thing is not to rub your eyes with your hands and avoid contact with hot water.
The most important thing is to avoid getting the shampoo on the lashes while washing hair with extensions, as this could damage the glue base. The composition of the shampoo is not harmful, so you should not change anything in the usual shampooing procedure.
Avoid directing the water jet onto your face;
Avoid using harsh hair care products, so they won't irritate if they accidentally come into contact with your eyes;
Avoid staying in the sauna or steam room for a long time;
Wear protective goggles when swimming in the sea or pool.
The same principle applies to cleaning your face. Keep away from excessive contact with eyelashes and do not rub the eyes. Also, we should discuss products for gentle skin cleansing. Makeup removers, like decorative cosmetics, should be oil-free. Also, don't use alcohol-containing toners and lotions.
Use foams and gels while washing your face:
Lather the gel with water and gently smooth the lash line from top to bottom using your fingers;
Rinse thoroughly with water without rubbing the lashes.
Do not use a towel after washing, as lint can catch on lashes. It is better to blot them gently with a paper towel or let them dry on their own. By caring for your eyelash extensions, you're protecting your eyes and, most importantly, allowing yourself to enjoy the beauty of your gaze for as long as possible.
Makeup remover for false eyelashes is even more challenging to apply, as many of makeup removers contain oils. I recommend using micellar water, but make sure you know the composition before buying. Dampen a cotton pad with micellar water and gently sweep it over your eyelids, working around the eye area. Mascara should be removed with eyes closed in the direction of lash growth.
Can I Wear Makeup With False Eyelashes?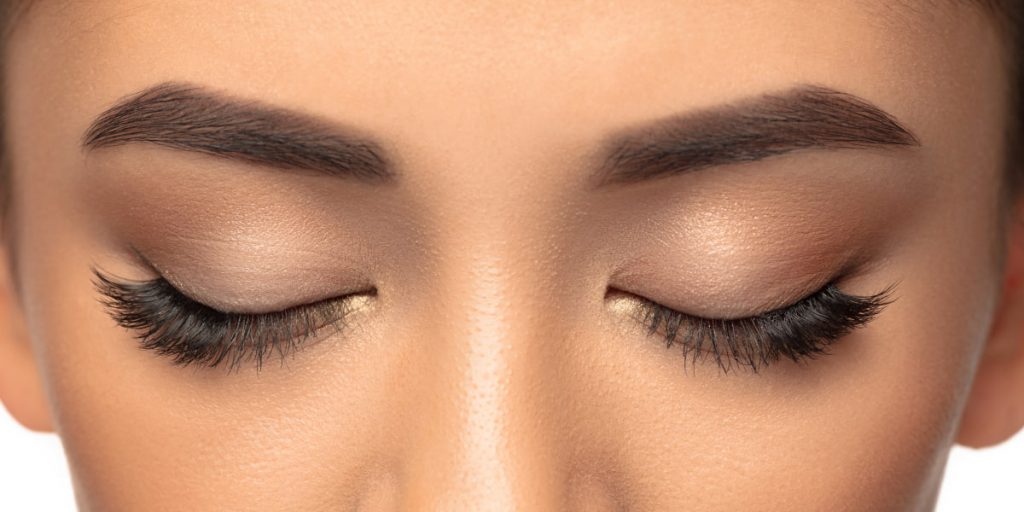 Many girls wonder if they should wear mascara after getting their eyelash extensions. The answer is that you can, but you don't have to. Using mascara is worth it when you want to create a special make-up with a bright accent on the eyes and achieve a wow effect.
Eyelash extensions make your lashes longer and thicker, and the mascara effect will seem less significant. You don't have to wear make-up daily with extensions. The look is still impressive, even without a gram of mascara or eye shadow. But if you still want to continue using make-up, remember that make-up with eyelash extension imposes certain restrictions for aftercare.
Another common question is: what mascara can I use on my extensions? It is important to know that your cosmetic bag's first mascara will not work. The constituents of mascara can "dissolve" the glue, and your eyelashes won't stay, so you should choose a mascara without oils in its composition.
How To Wear Eye Shadows With False Eyelashes?
In this case, as well as when selecting a mascara, it is also significant to look at the composition. Professionals do not recommend using liquid shadows, as they can also contain ingredients that dissolve the glue. So choose dry shadows – there are no restrictions concerning the maintenance of eyelash extensions.
How To Draw Arrows?
If you want to draw arrows, it is necessary not to touch the eyelash line, to use eyeliners with a suitable composition for false eyelashes and properly clean them. More detailed information you can read below:
You need to be more careful and avoid touching the pencil or eyeliner where the lashes join while drawing arrows. Otherwise, the process is the same as drawing arrows on eyes with natural lashes;
Note that false eyelashes already draw enough attention to the eyes, so be careful with the extra make-up;
Remember that you will look unnatural with too much make-up or too bright and wide arrows. Also, do not forget to provide the right eyelash extension aftercare.
Bottom Line
Despite some peculiarities of the maintenance of eyelash extensions, the procedure reduces the time required for daily makeup and makes the morning hassle much easier. By following the aftercare tips above, you can significantly prolong the life of your eyelash extensions and prevent breakage. If you trust a competent pro master, you'll be confident to have well-worn eyelashes, know what you can and can't do, and understand all the ins and outs of maintaining aesthetics and eye beauty.
The expert will tell you whether you can apply oil to the eyelashes, advise on the peculiarities of daily care procedures, and advise on how to wear eyelashes longer.
FAQ
Is It Possible To Cry With False Eyelashes?
You can, but it is not advisable. Even if you do it out of happiness, you still have to control your feelings because tears cannot be a good caring for eyelash extensions.
Can I Go To A Tanning Salon With False Eyelashes?
Yes, you can. Modern technologies allowed the creation of such glue compounds and artificial hairs that UV rays do not have a negative, destructive effect on them.
Can I Wear A Mask With False Eyelashes?
It's best not to use masks with false eyelashes, as your lashes will be in constant contact with the material and could get damaged.
Which Eyelash Extensions Are The Easiest For Caring?
Choose extensions according to your lifestyle. If you're a sports and outdoor enthusiast, it's unlikely you'll be into double volume and a D curve. If, on the other hand, you're a frequent visitor to parties and social events, spectacular lashes will complement your look.