Published on August 25th, 2022
Last updated on January 25th, 2023
How To Remove Glued-on Nails? 4 Ways Of Taking Off Glued-on Nails
Estimated reading time:
8
minutes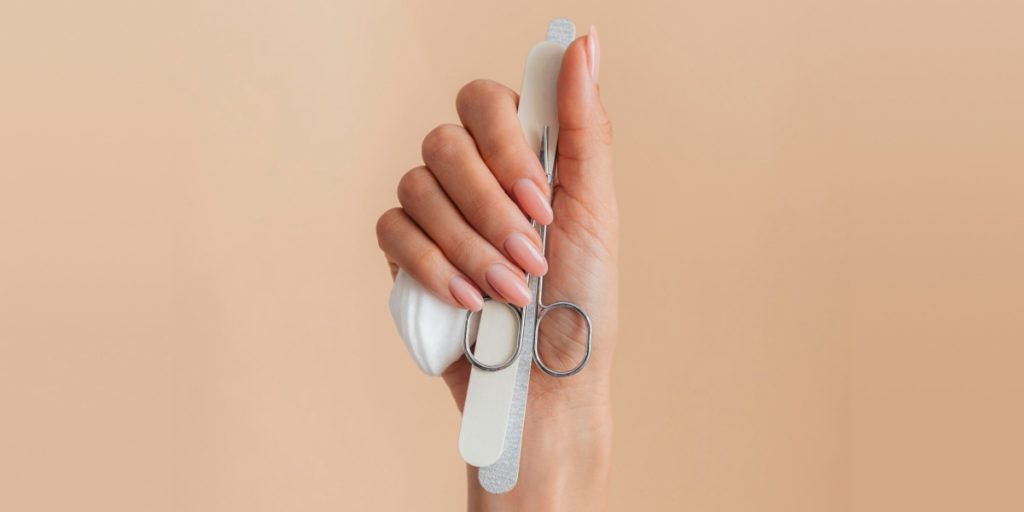 There are many ways to remove press-on nails using a nail file, specialized products, or plain hot water. Glued-on nails offer convenience and simplicity, as well as the opportunity to transform in a short period. Buying a package of fake nails of the right shape and size with an original design is no problem; attaching them yourself is just as easy, mainly as a package of fingernails often includes a special adhesive.
Tips are trendy because of their attractive appearance, affordable price, and simple application procedure. For many women, using false nails on top of their natural nails is an acute issue. Some don't like the shape of their nails, some simply can't grow their nails to the right length, and some women only use tips because they last longer and offer more design possibilities. But in any case, there is always the need to remove glue so that the native nail can rest. However, not every girl knows how to remove them correctly and safely. And for many women, this is a big issue, especially if you don't know how to remove your false nails without damaging your own.
Removing Glued-on Nails: Overview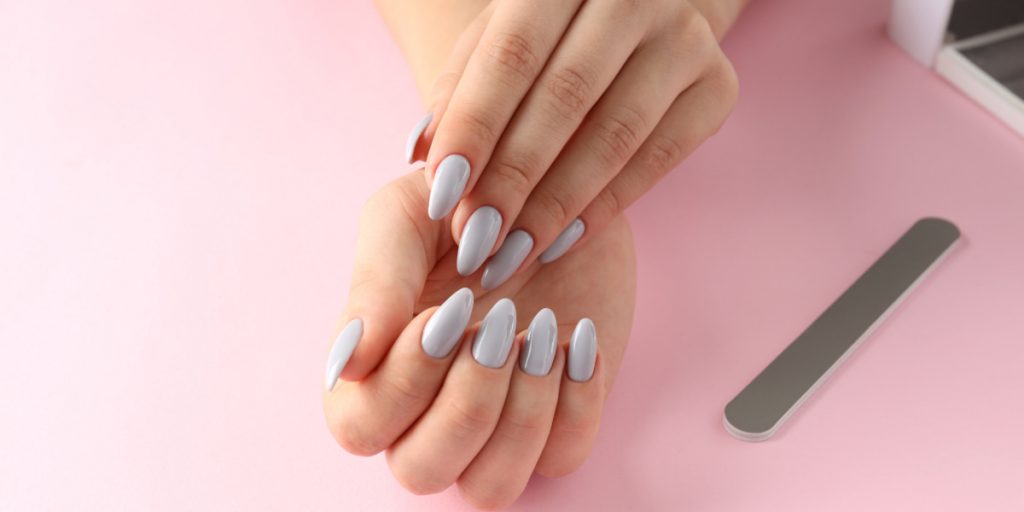 Tips (the name given to false nails by professionals) are widely accepted in the everyday lives of many women. With their help, you can create a beautiful manicure for a long time, and it is easy to do it yourself. But sooner or later, it is necessary to remove the glue-on nails or tips, and here the procedure itself has a few serious nuances:
The method of removing the nails should be chosen based on their material;
Be sure to read the adhesive manufacturer's recommendations on how to remove it from the plate;
It is worth preparing all the necessary materials in advance, and it is better to choose several ways to take off glue-on nails at home;
Glue tips removal from the nail plate should not be in a hurry.
Only following all these recommendations, you can not only qualitatively and quickly remove a manicure on glue but also do it safely and accurately.
All methods of removing tips from the nails can be divided into two groups:
safe, i.e., those that do not damage or deform the natural nail;
traumatic, i.e., those that can cause pain or nail distortion.
If you choose the second option to remove the tips, it doesn't mean you can harm yourself. It's just that in such cases, you should take extra care and proceed slowly.
How To Remove Glued-on Nails: 4 Proven Ways
As a rule, the easiest way to remove nail glue is to have them taken off by a professional nail technician. But, it is quite expensive, and besides, it is not very convenient. It is necessary to spend a lot of time adjusting to the master's regime, collecting, and traveling. It is much easier to carry out the process of removing false nails at home.
1. Removing Glued-on Nails Using Professional Nail Care Products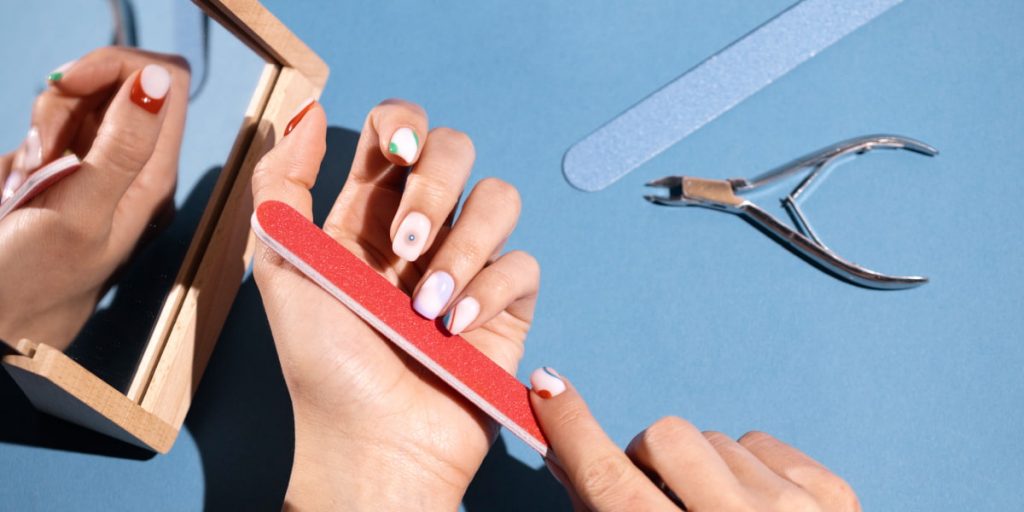 Use a professional nail remover for acrylic or gel false nails. These products have a gentle composition that contains beneficial substances for the nail and the surrounding skin.
The following steps are to be carried out step by step:
Use a nail clipper to cut the length of the false nail as short as possible;
Apply a maximum amount of nail polish remover to a cotton pad. Preferably, it should be a professional product designed specifically for artificial nails. Then, the disk is applied to each nail separately and wrapped in foil. This method will accelerate the chemical processes, and the nail plate will peel off much faster;
After a few minutes (the exposure time will vary, depending on the nail material), remove the foil;
Carefully lift the plate slightly upwards and peel it off. For convenience, use a cuticle stick;
When finished, grease the nails generously with a fat cream. Nail oil can also be applied. It will help to reanimate and repair the nails after a stressful experience. The nourishing agent should be used for at least one week.
Each manipulation should be done as delicately as possible so as not to damage your nail.
2. Removing Glued-on Nails With Acetone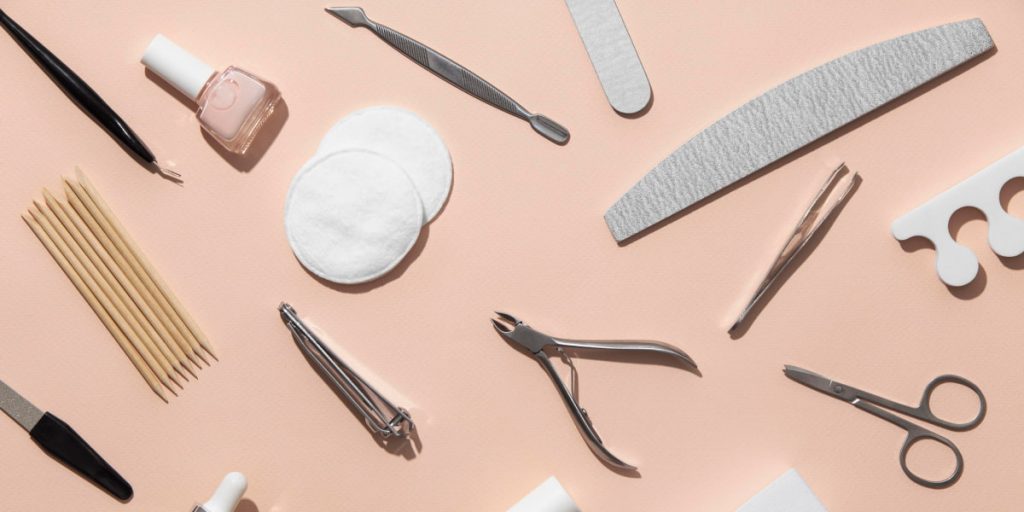 As in the previous method, you must first get rid of the length of the artificial nails.
Ordinary cotton pads should be well soaked in a solution of pure acetone. The solvent (acetone) can also be used. But, this substance is more aggressive. Therefore, the time of its effect on the nails should be significantly reduced;
Attach them tightly to the tips and wrap the foil on top in two layers;
Leave it on for 15-20 minutes, then remove the glue and start the procedure to remove the false nail;
It is recommended to use a wooden nail stick for this purpose. Place it under the base of the nail and gently lift the plate upwards;
Once the nails have been removed, make sure to apply to the natural nails any remedy: oil, lotion, or cream.
Acetone damages the skin and the nail plate itself. Therefore it is recommended to apply olive oil or fat cream to the fingers just before the procedure. It should be done half an hour before removing the manicure.
3. Removing Glued-on Nails By Sawing Off Tips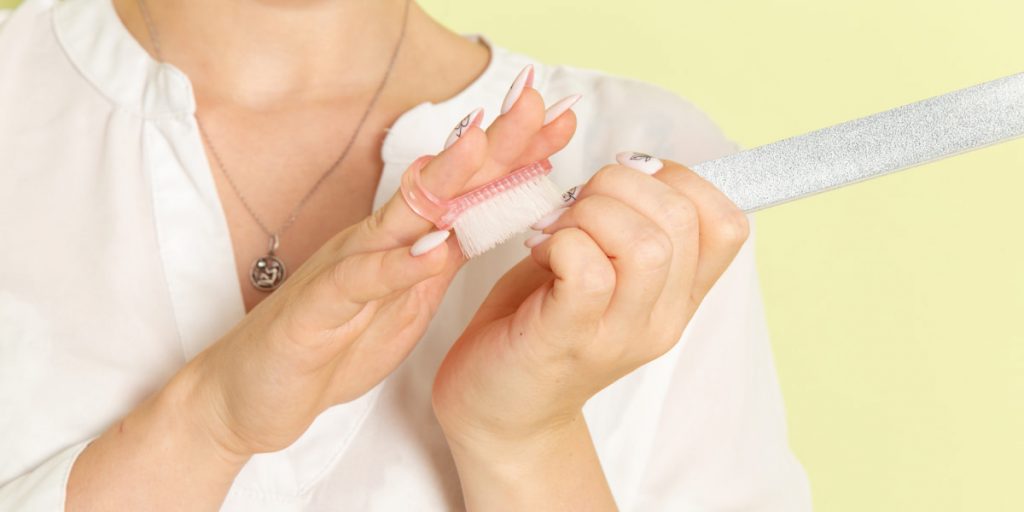 This is one of the most time-consuming and traumatic options for removing false nails. It involves using particular coarse- and medium-sized files, similar to those used to file false nails.
The tweezers remove the length and glue the false nail up to the place where your nail begins to grow;
Using an abrasive file, grind as much artificial material as possible. To avoid damaging the delicate skin around the nail, liberally smear it with a greasy cream;
A cotton pad should be soaked in nail polish remover and applied separately to each nail for 5-10 minutes. It will soften the rest of the material and be much easier to remove;
Lift the nail with a cuticle wand and gently peel it off. Do not tear the plate off under any circumstances. Otherwise, you could severely damage the natural nail;
Using a buffing file, grind the surface of the plate to an even natural glow on the nail;
Finish the procedure by applying any treatment to the nail and the surrounding skin, preferably of an oily consistency.
The procedure is time-consuming and dangerous, as there is a high risk of damage to the cuticle.
4. Removing Glued-on Nails By Steaming Nails In Hot Water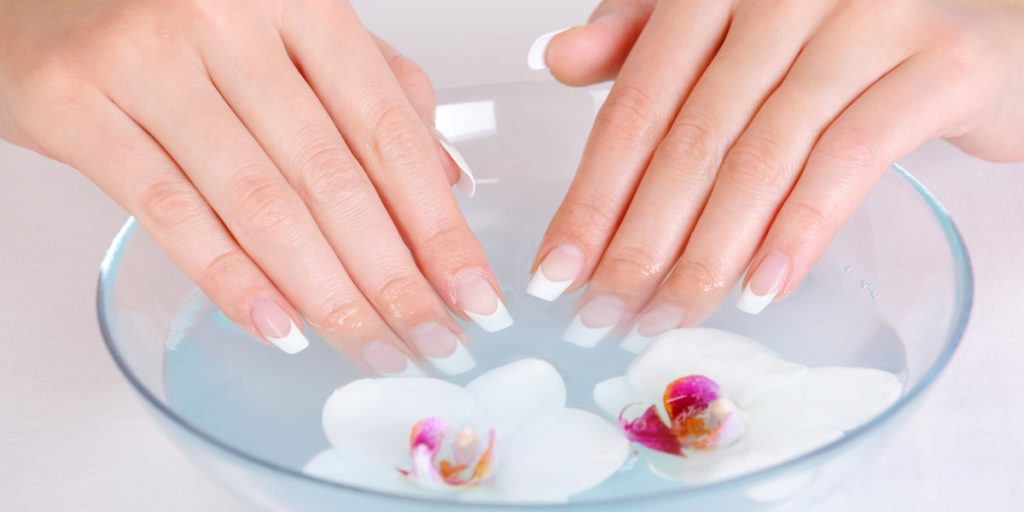 All that is needed is a small container of hot water and an orange wand:
First, dip the tips of the fingers into the water so that the entire nail plate and cuticle are submerged in the liquid;
After about 5-7 minutes, gently push the surface of the tips to the side of the cuticle with the stick, raising it towards the top;
If this does not work, add some boiling water to the container and soak the nails in water for 5 minutes.
Suppose you can still take off the glue-on nails. This method is the safest and most accessible. Nail oil and cream should also be used afterward.
Summary
Sometimes, not all glue-on nails will remove wholly and evenly. In this case, do not try to take them off in one session. Experts recommend waiting a day before repeating the procedure. Otherwise, you may damage your nails, which will cause them to become soft, brittle, and flaky. Therefore, it is essential to use the reconstruction after removal. You can buy them in specialized shops or make your own. It will nourish your nails, making them much more substantial, thicker, and denser.
FAQ
How Long Can I Wear My Glued-on Nails?
The full-time fake nails will stay on and look good in 14-15 days. To ensure that the tips do not come off before then, you should avoid going to saunas and baths.
How Do I Restore My Glued-on Nails After Removal Procedure?
To restore and regenerate your nails after removing the extensions, you should leave them unpainted for a week and apply special therapeutic techniques such as baths and masks. Using a special strengthening agent on the nail surface is also a good idea.
How Often Can I Wear And Remove New Press-on Nails?
After removing the false nails, do not immediately glue on new ones. It is best to repeat the procedure after a couple of days at the earliest. The nail plate should also rest and recover.
Are Fales Nails Harmful To To Real Thing?
No, it's a safe alternative. But in any case, you shouldn't wear extensions all the time; the damage is evident here, but it's somewhat minimal with the proper care. The care must be meticulous.
Can Iron Tools Be Used To Take Off Glued-on Nails?
It is not advisable to replace the orange peel stick with a metal tool as this multiplies the risk of injury. Adding files of different abrasives and buffs to your arsenal is better.