Published on February 13th, 2023
Last updated on February 14th, 2023
Different Types Of Nail Manicures: Everything You Need To Know
Estimated reading time:
8
minutes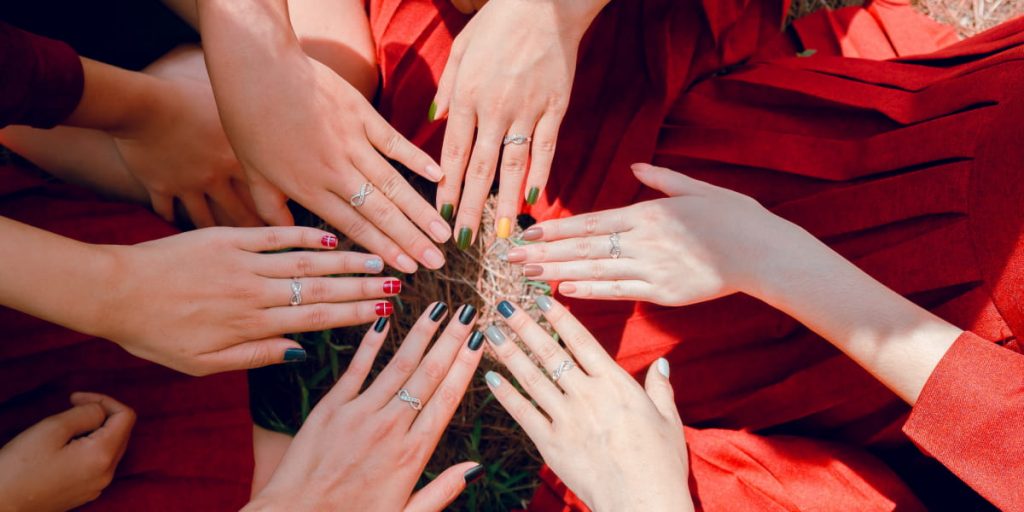 Well-groomed hands for a woman are an addition to her confidence. And it's not only about the soft and smooth skin of the hands but also manicures. Once upon a time, under this concept, people had well-groomed cuticles and transparent nail polish. But this field is developing so that now manicure is a manifestation of creativity. There are different types of nail manicures:
Basic;
French;
Acrylic;
Dip powder;
Gel;
American.
A manicure is not only about trimming, filing nails, and applying nail polish. A modern manicure consists of 4 main procedures: hygienic procedure, hand skin care, modeling of nail shape, and design. But the process can take place differently depending on the type of nail manicure. The contemporary variety of nail tools makes it possible to create manicure masterpieces. Even monochromatic nail polish can make your hands look great. If you wish, you can use rhinestones, sequins, or anything you want. There are so many types of nail manicures that there are no limits.
Basic Manicure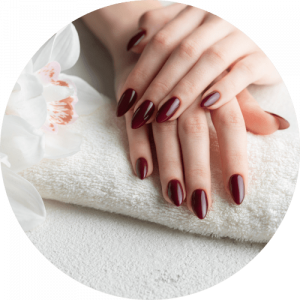 You can guess what a basic manicure is by its name. It is a classic that includes general nail ornaments. It is also called trimmed, as the master cuts off the excess skin. The procedure of this type of nail manicure does not require much effort:
The master cuts the nails and files them with a file to give them a shape.
Next, the master needs to trim your skin around the nails.
Then, you soften them in a hot bath for nails.
Usually, masters add ingredients beneficial for hands and nails to the bath. It can be sea salt, aromatic oils, or decoctions of medicinal herbs.
After the cuticle is softened, the master cuts it with tongs or scissors.
And then, the master polishes the nails.
Basic is the easiest and fastest among different types of nail manicures at the salon. You can choose any colors you like. But in most cases, the basic one is pastel.
Pros
It does not require a lot of time and effort. You can do this yourself even if you do not do manicures professionally. Moreover, among different manicure styles, this one is the cheapest and fastest.
Cons
One of the most significant disadvantages is that such a manicure is easy to break. Your nails can become cracked and unsightly.
French Manicure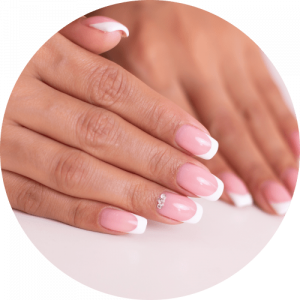 French is the type of manicure that always remains in fashion. It fits any wardrobe and any shape of a nail. Besides, the french manicure includes different types. It can be a classic, a chevron, or a colored french. The technique of its execution varies depending on the length of the nails and the type of varnish. But basically, the process is not complex:
First, the master applies light-colored gel varnish to the plate.
The tip is painted with a white coating.
Then, a master applies a base to fix the transparent composition from above.
Each type of French manicure is unique in its way. Thus, you need to choose it based on your preferences.
Pros
French allows you to experiment and choose a design by your wishes. It perfectly preserves the natural beauty of natural and extended nails. And even though the French manicure has light tones, it covers all the flaws of the nails.
Cons
Not every nail master can do this type of nail manicure. It requires a specific skill and extreme accuracy. If you draw lines on your nails sloppily, you can get a terrible manicure.
Acrylic Manicure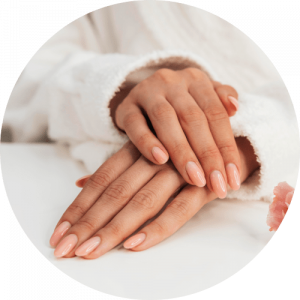 Acrylic combines liquid monomer and synthetic powder. Under the influence of LED lamps, this composition hardens. This mixture has some properties, such as strength and transparency. So, professionals often use acrylic for nail extensions. There are different manicures extension systems:
Acrylic powder – contains a catalyst.
Liquid – methacrylic acid-liquid acrylic.
When these two components mix, a plastic material forms. Interacting with oxygen, it hardens within a few minutes. During this time, the master must have time to model the required shape.
Pros
Among the different types of nails at the salon, this one has the largest variety of colors. And it's great that they are very stable and strong. It is quick to perform and easy to remove. But for this, you need a special solution.
Cons
Acrylic has an unpleasant smell. And its material has a dull color. So, you need to cover it with gel varnish or another coating. And if you choose an acrylic manicure, your nails must be completely healthy. Because it does not hold on fragile nails.
Dip Powder Manicure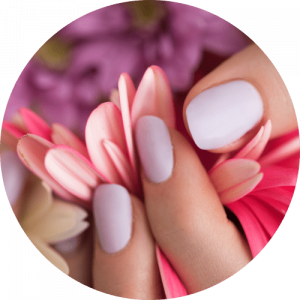 The choice of the color range is extensive so that you can make different dip powder manicures. There are even transparent powders that masters use to seal the nail plates. As for the execution of the design, pigmented compounds are suitable here. In addition, the powder is quite successfully suitable for straightening nails. It perfectly hides spots and irregularities. Dip powder is very easy to use:
The master applies acrylic powder to the base used for the nails, but not dried.
Next, you dry your nails with powder in an LED lamp.
After that, the master applies gel polish. It evens out the color and sets the result.
If you like experiments, you can try mixing several shades of powder. Everyone will appreciate this type of manicure.
Pros
Dip powder has the property of strengthening nails. Thus, with such a manicure, you will not damage your nails. And they will be beautiful for a long time.
Cons
Not everyone likes the process of creating a dip powder manicure. After all, its technique differs from the usual one.
Gel Manicure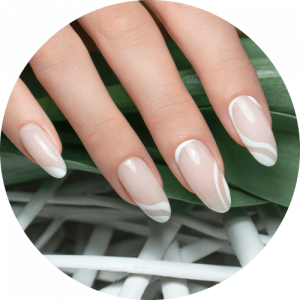 Gel polish is an innovative type of nail manicure. Its unique technology combines the properties of traditional varnish and gel. Thanks to it, there is no more eternal problem of unstable manicures. At the same time, the manicure pleases with saturated shades. And allows you to perform the most imaginative design. What are the steps for it, and how is it different from other types of manicures?
First, the master degreases the nail plate.
Next, she covers your nails with a thin base.
After that, the master applies gel polish.
To dry, you should put your nails in an LED lamp.
Gel manicure is a complex process. Remember that the coating must be even and without defects.
Pros
Gel polish is solid. Accordingly, it provides a stable coating and strengthens the nails. Besides, it is ideal for those with damaged nails. Its design options make it possible to create beauty even with short nails.
Cons
Different manicure styles do not need complex elements to remove the coating. But gel polish is an exception. It is difficult to remove. So, after a certain period of wearing it, the nails should rest.
American Manicure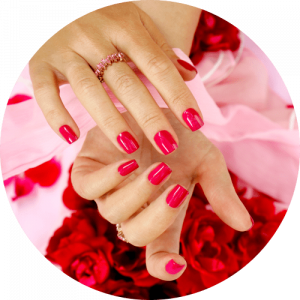 It is different from other types of nail manicures. After all, it is a nail coated with ordinary varnish several times. You can choose any shade of varnish. But the most trendy type of American manicure is a plain, bright varnish. The technique for this is not complex and is within the power of everyone:
First, the master processes the cuticles and shapes the nails.
Next, the master covers the nails with an ordinary varnish of the chosen shade.
After that, a fixing polish is applied to strengthen your nails.
In the process of performing different American manicure styles, it is essential to remember one rule. You can apply a new layer of nail polish only after the previous one has completely dried.
Pros
Unlike other types of nail manicures, this one is easy and versatile to perform. It is suitable for any nail shape and always looks great.
Cons
It is necessary to take good care of it so that the nails do not spoil their appearance. After all, the strength of such a coating is not very strong.
Bottom Line
Knowing what different types of nail manicures are, you will easily choose the ideal option for yourself. The main thing is to care for the nails' condition and choose the right design. Show imagination, and take into account your own wishes and trends. Choose the most relevant solutions for the decorative layer and be individual. Then your manicure will fill the hearts of others.
FAQ
What Are The 3 Types Of Nail Polish?
There are three types of nail polish:
– Basic.
– Acrylic.
– Dip Powder.
In addition, there are many other types of manicures and coverings.

What Is The Most Common Manicure?
There are so many types of manicures that it is quite challenging to determine the most popular one. After all, many have different preferences and choose other manicures. But one of the most common is gel manicures.
What Is A Manicure?
A manicure is a beauty treatment for the hands. Your nails will be cut, filed, and shaped. During this process, nail masters trim your cuticles and shape your nails. After that, you choose the color of varnish for covering the nails.
What Type Of Manicure Is Best For Nails?
Gel and powder manicures are among the best. But everyone has a different structure of the nail plate and its strength. Accordingly, different types of manicures can suit you. So, the most suitable style is the one your nails keep best.
How Often Should You Change Your Manicure?
With proper maintenance, they last between 6 and 8 weeks. But this period can vary depending on the growth of your nails. If your nails grow quickly or are damaged, you must change your manicure more often.