Published on August 25th, 2023
Last updated on August 25th, 2023
Coconut Oil For Hair And Skin: Benefits And Uses
Estimated reading time:
11
minutes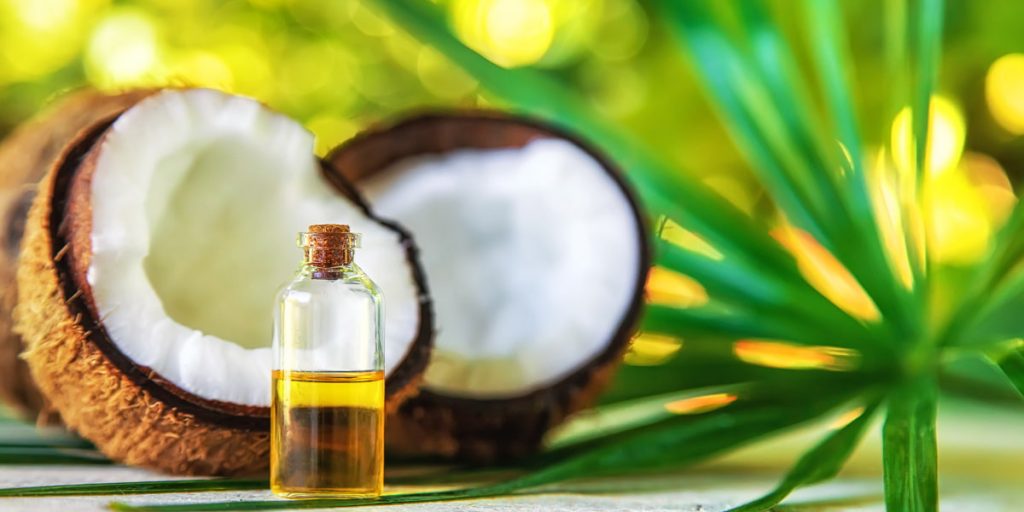 Nourishing coconut oil with revitalizing and soothing properties is heaven for dehydrated skin. Few people know it, but coconut is as good at soothing irritated and sunburned skin. It has almost the same action as the legendary aloe vera. It is rich in saturated fatty acids: lauric, palmitic, and myristic. There are many coconut oil benefits on hair. It is a good treatment for dry and frizzy hair. This oil is oily enough to keep strands supple and prevent breakage and splitting. It also hides a treasure trove of vitamins A and E, which have antioxidant properties. It has a softening and moisturizing effect due to its high content of fatty acids. This oil helps restore the hair's surface, giving it a healthy shine. It means that coconut can slow the aging process caused by oxidative stress. It smoothes out existing wrinkles.
Putting coconut oil can revitalize tired skin and brittle hair that looks like squeezed lemon daily. A great alternative to scissors if you want to grow long, shiny curls.
If you wonder what coconut oil benefits on skin and hair, read our article. We will also give you examples of the best products with coconut oil.
Coconut Oil Benefits On Hair And Skin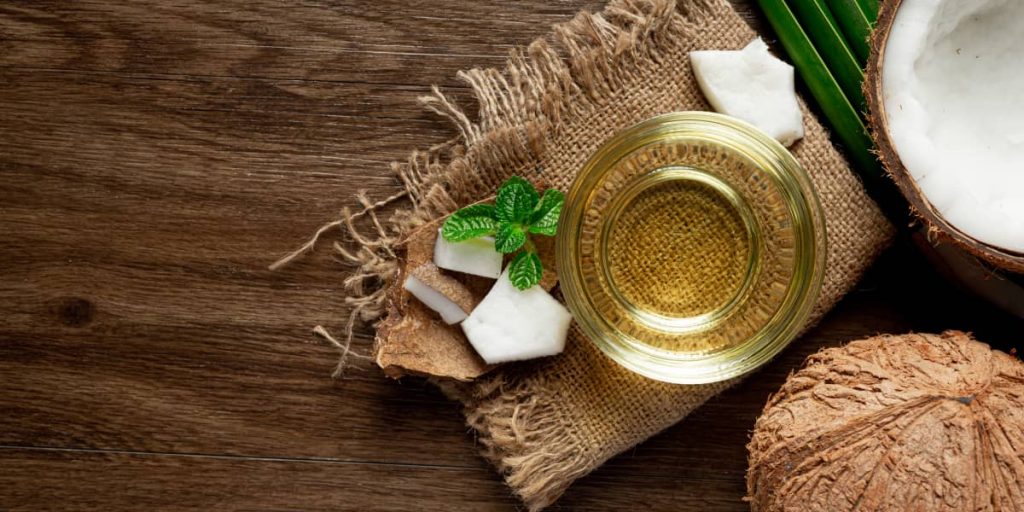 The secret of the benefits lie in the advantageous qualities contained in this product. The main pros are:
helps to slow down aging processes and activate cell development;
prevents moisture loss in the skin and hair;
helps repair minor damage;
supports youthfulness;
stimulates growth;
can reduce breakage;
helps to strengthen hair follicles;
has powerful antibacterial properties.
Many nutrient fats, amino acids, and trace elements are in the natural oil of coconut pulp. Regular coconut oil uses on hair will:
strengthen the immune system;
improve skin condition;
prevent early cell aging;
strengthen the hair.
In addition, coconut oil has gained popularity due to its benefits:
vitamins and acids. Coconut oil contains many useful fatty acids:
lauric, which has antibacterial and sebum-regulating effects;
myristic, which nourishes and restores the structure of the hair.
palmitic, which retains moisture;
oleic, which improves the protective functions of the hair and scalp;
linoleic and linolenic acids – essential fatty acids necessary for maintaining the barrier function of the scalp and hair.
hair strengthening. Coconut oil nourishes the hair follicles. It prevents hair loss and promotes hair growth.
restoration of the structure. It is one of the best coconut oil benefits on hair. Our experiments with hair can deprive the hair of moisture and creatine. It weakens the hair from the inside.
shine and color. If you have colored hair, coconut oil will help maintain the brightness of color. It retains the coloring pigments in the hair structure.
What is Coconut Oil Used For?
Coconut oil is a universal product. As we have already found out, it has many benefits. You can confidently use this product for body and facial skin, hair, and even teeth. Read below what coconut oil is used for.
| | |
| --- | --- |
| Zone to use for | Application methods |
| For hair | Coconut oil is a good remedy for split and brittle hair. You can leave it on the hair for a couple of hours or even overnight. You may also rub the mask into the scalp. But we recommend doing it no more than four times a month. To reduce hair loss, make a scrub of oil and salt. You should rub it into the scalp for 2-5 minutes before washing. You can apply coconut oil on the hair after washing it to nourish the curls and give them shine. It is one of the most popular coconut oil used on hair. It is better to avoid the roots. So that the hair does not seem greasy. |
| For the skin | Coconut oil tones and softens the skin. The film that forms on the skin protects it from the negative effects of the sun. Thus, you can use the oil as sunscreen – it helps to get an even and beautiful tan. It is also used to care for inflamed skin, including after waxing. As it has antimicrobial and soothing properties.To moisturize dry skin, it is best applied after a bath or shower. Also, you may use coconut oil for massage. You can use coconut oil as a body scrub by adding salt or brown sugar. After applying, you may notice the first coconut oil benefits on the skin. You can apply it to the whole skin or to particularly rough spots on, for example, elbows or soles of the feet. |
| For the face | Cold-pressed oil helps to fight wrinkles and gives the skin elasticity. It dries but does not dehydrate and regulates the sebaceous glands. And it helps care for oily facial and head skin. You can rub the drop of the oil in your hands and then applied to your face without rubbing it in. After a few minutes, you should blot the face, removing the rest of the oil with a napkin or hot damp towel.The oil is also used to make masks. Remember to use coconut oil for the massage of your face. You have to apply it to clean skin for 10-15 minutes and then wash it with a micellar gel. Also, we recommend thick oils for removing makeup instead of micellar water. It is especially good for sensitive skin. |
Read below for more examples of coconut oil uses on hair and body.
Deep Condition
For this purpose, you have to apply the oil thickly to the hair 1,5-2 hours before washing. (It is better to do it on a day off when you do not have to run anywhere). Then, you need to wash it out with shampoo without a balm or mask.
Styling and Creating a Wet Effect
Some hairdressers use a hair mask with coconut oil to detangle strands. Just apply it for 2-3 minutes. If you have long, unruly hair, take it from there! Some stylists use heated oil instead of styling – when it cools, it hardens and perfectly fixes the style. True, this method is only suitable for short hair and requires some skill – not to go overboard with the amount of oil. It is one of the most interesting coconut oil uses on hair.
Sun Protection
Ideally, not only should you apply sunscreen for your skin on the beach, but also sunscreen for your hair. If you don't have a suitable product, apply coconut oil all over your hair. It will protect your strands from drying out in the sun and protect them while swimming in seawater.
Brushing Curly Hair
You can also use coconut oil can tame curly hair. Apply a small amount of oil to your ends. The denser the curls, the tougher the hair, and the more oil you need. And after 2-3 minutes, start brushing your hair – from the ends, gradually going up.
Strengthening the Hair
Coconut oil used on hair with this method has a pretty simple way to application:
take the necessary amount of coconut oil and spread it over your scalp;
cover the head with polyethylene;
wrap with a towel;
wait 1.5-2 hours, and then rinse with shampoo.
You should perform the procedure at least once a week for 2-3 months for a good result. Some people like to make a coconut mask not during the day but at night – and leave the oil on the hair until morning. It is very good for the hair but detrimental to the bedding. Remember to cover your pillow with a towel.
Cut Dandruff
The daily use of shampoos with coconut oil is an excellent preventive agent against:
severe dandruff;
thinning hair.
You will notice lots of coconut oil benefits on hair.
Apply coconut oil to the scalp with light massaging movements for excessive dryness. Take some coconut oil and mix half a quantity of lemon juice. Rub it on your scalp and massage it for several minutes. Wash you're you should follow the procedure after at least 20 minutes. Use this remedy two or three times a week.
The Fight Against Cavities
Coconut oil is a powerful weapon against bacteria. As it causes plaque, tooth decay, and gum disease. If you rinse your mouth with liquid oil for 10 minutes, the number of pathogenic germs in it will decrease. It is the same as with a special antiseptic.
Cuticle Care
Do not forget about coconut oil benefits on the skin. The oil will help get rid of dryness and peeling of the cuticle. After all, everyone wants to keep the appearance of a manicure in good condition for longer. Simply rub it into the skin around your nails.
Nail Growth
The oil helps strengthen and restore the nail plate. It also gets rid of fungus, heals small cracks, and stimulates nail growth. For the greatest hydration of your hand skin, make a mask:
аpply a generous amount of coconut oil to your hands and nails;
then wear gloves for 10-15 minutes.
Beautiful Tan
Unlike sunscreen sprays, natural oil contains no extra chemicals. It contains hyaluronic acid and promotes the production of melatonin. It is one of the most underrated coconut oil benefits on the skin. It gives your skin a beautiful chocolate hue during tanning. You can use coconut oil for tanning. It is an excellent remedy if your skin is already used to ultraviolet radiation. Use it if your skin has acquired a darker color.
Growth and Strengthening of Eyelashes
The vitamins rich in oil promote eyelashes growth. Clean your face from cosmetics before application. With a cotton bud or a brush, apply the oil to the eyelashes and leave it for 2 hours, then wash it off with water. The procedure is more effective in the evening.
Relaxing massage
The coconut oil is ideal for massaging the body and face. The oil strengthens the nervous and lymphatic systems and restores muscles, which is ideal for athletes. The product does not have a strong odor and is suitable for massaging children and adults.
Lips Nourishing
Chapped lips are a familiar problem for many girls. Especially the situation worsens in winter when the lips require special care. Massage your lips with the oil once a day. Useful components of the oil will cope with cracks and improve the condition of the lips.
Top 3 Coconut Oil For Hair, Skin, And Nails
People have used coconut oil for centuries as a natural remedy for various beauty concerns. Almost everyone knows about coconut oil benefits on hair, dry skin, and brittle nails. It is rich in medium-chain fatty acids, which help to hydrate and nourish the skin and hair.
When choosing coconut oil, it's important to look for a high-quality, natural option. Here are three top coconut oil products for each:
Hair. OGX Nourishing + Coconut Oil Weightless Hydrating Oil Hair Mist is a great lightweight option for those looking to hydrate their hair without weighing it down.
Skin. Organic Coconut Oil is an organic and unrefined coconut oil that is rich in medium-chain fatty acids. So you can see an immense amount of coconut oil benefits on the skin. It is an excellent moisturizer for the skin. You can also use it as a natural makeup remover.
Nails. Fractionated Coconut Oil Liquid Moisturizer is a light and non-greasy option that you can use to moisturize and strengthen the nails. It works great as a carrier oil for essential oils.
The three coconut oil products listed above are all great options. They are natural, lightweight, and effective. So you can incorporate them into various beauty routines. You may read more detail about what coconut oil is used for in the following products.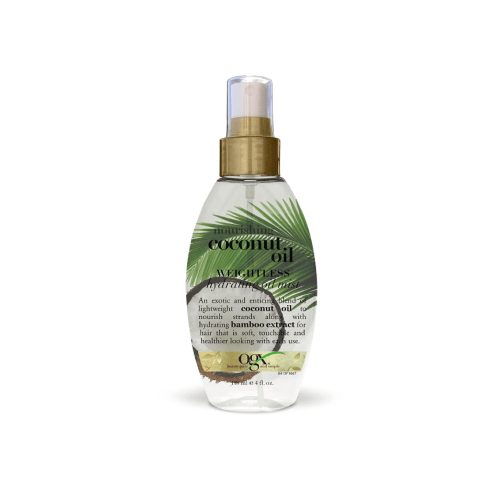 1. OGX Nourishing + Coconut Oil Weightless Hydrating Oil Hair Mist
This light mist from OGX is a great option for those looking to hydrate hair without weighing it down. Infused with coconut oil, this mist can help nourish and smooth the hair, leaving it shiny and healthy. Simply spray it onto damp hair before styling, or use it as a finishing mist for added shine.
Buy here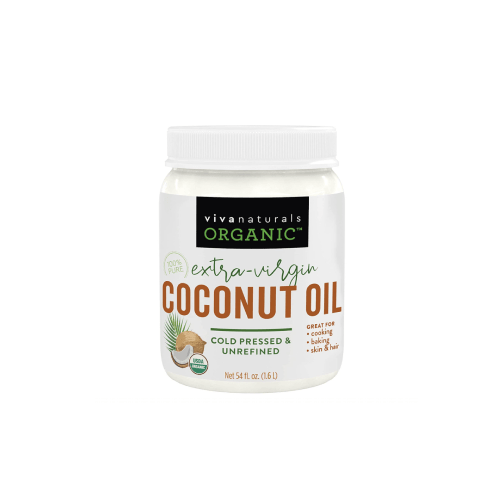 2. Organic Coconut Oil
This organic and unrefined coconut oil is a versatile and nourishing product. That's why you can use it on the hair, skin, and nails. It is rich in medium-chain fatty acids, which help to moisturize and protect the skin and hair. You can also use this coconut oil for massage. When applied to the hair, it can help to nourish and condition the strands. Also, it promotes shine and manageability. It can also be a body moisturizer or a natural makeup remover.
Buy here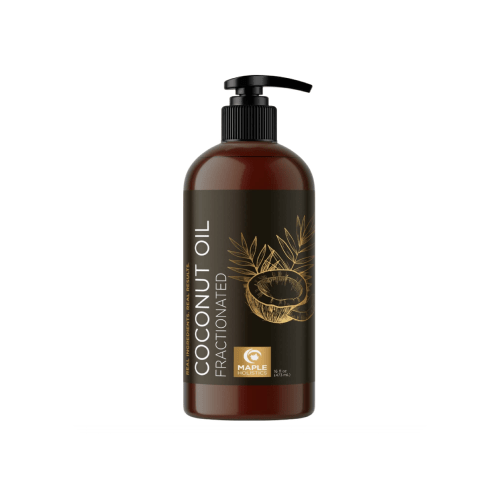 3. Fractionated Coconut Oil Liquid Moisturizer
This liquid moisturizer from Maple Holistics is a fractionated coconut oil that is light and non-greasy, making it an excellent choice for those with oily or acne-prone skin. After using this product, you may see quite noticeable coconut oil benefits on your skin. It can be applied as a daily moisturizer for the face and body or as a carrier oil for essential oils. It is also great for use on the nails, as it can help to strengthen and moisturize them. This coconut oil is free from additives and fragrances, making it a pure and natural option for those who prefer a simpler approach to their skincare.
Buy here
Bottom Line
Coconut oil is one of the basic ingredients of beauty. It is very highly valued because of its functionality. We recommend you try the products presented in this article. Use our tips, and don't forget to read other articles on our website. There you can find a lot of useful information for yourself.
FAQ
What oil to use for face massage?
There are various oils for face massage. And the best choice depends on your skin type and personal preference. Some popular choices include jojoba oil, almond oil, and coconut oil. These oils are known for their nourishing and moisturizing properties for the skin.
When should you put coconut oil in your hair?
You can use coconut oil in different ways to benefit the hair. One common approach is to apply it as a pre-shampoo treatment by massaging the oil onto the hair and scalp. Then you can leave it for 30 minutes to an hour before washing it off with a gentle shampoo. Another option is to apply coconut oil as a leave-in conditioner to add shine and smoothness to the hair.
Does the coconut oil cause hair growth on the skin?
Coconut oil has been suggested to promote hair growth due to its ability to penetrate and nourish the hair shaft. However, no scientific evidence suggests that coconut oil can cause hair growth on the skin. Hair growth on the skin is typically influenced by factors such as genetics, hormones, and age.
Can I use coconut oil on my skin every day?
You can use coconut oil on the skin daily, but it may not suit everyone. It is important to test the oil on a small area of the skin before applying it to ensure it does not cause any irritation or breakouts. For people with very oily skin, coconut oil may be too heavy and clog pores. However, coconut oil can be a great moisturizer for people with dry or normal skin. And it can help improve the skin's texture and appearance.