Published on August 25th, 2022
Last updated on January 25th, 2023
Itchy Dreadlock Scalp: General Care And Dandruff Treatment Guide
Estimated reading time:
7
minutes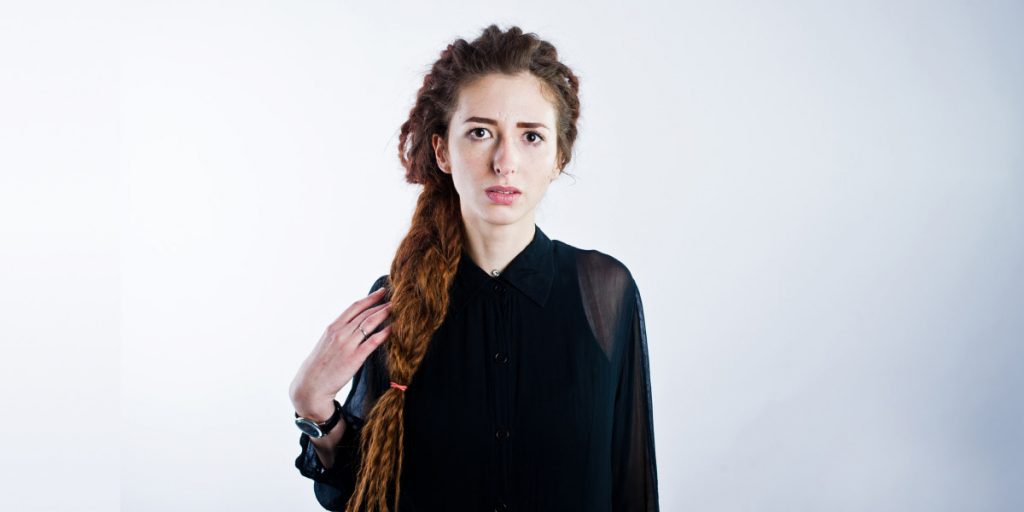 The scalp is susceptible. Care is therefore important to prevent symptoms such as dandruff and an itchy scalp on dreads. If the scalp is too dry, it can become itchy. Often the skin is dry due to external causes, such as frequent showers or constant blow-drying. The wrong shampoo can also cause skin irritation. Sometimes, a dry and itchy dreadlock scalp is due to illness. 90% of braided people show itching, irritation, and scalp redness, especially along the edge line (forehead, temples, occiput), as there are the head's most delicate and sensitive areas.
The Most Common Problems With Dreadlock Scalp
Afro hair is not always associated with discomfort, especially if you braid it with a professional master, but problems are quite common. Sometimes itching and irritation can occur immediately after the procedure as a skin reaction to changes. But this is easily remedied with special care. In more severe cases, allergies or improper care reactions can occur. Some of the most common causes of dry and itchy scalp with locs are:
1. The Scalp Feels Tight And Sore
It can have an addictive effect on your scalp. When your dreads are done, you shouldn't feel discomfort or tightness around your face's neckline or rim. Your head should feel an even, light tautness. You may experience unpleasant fatigue or skin irritation from a tight ponytail that you have been walking around with all day. You may also experience an itching sensation and a desire to scratch your head, so try to control it.
These unpleasant sensations may accompany you for the first couple of days after braiding and are called the period of habituation.
2. Red Spots Or Pimples On The Scalp And Itchy Dreadlock Scalp
It can occur 7-10 days after braiding and is usually caused by improper hair care in the early days. You may have scratched your head with dirty hands or sweated heavily and not treated your skin with antiseptic. In some cases, you may be allergic to the material, or the material may have been dirty when you wove it.
Either way, you need to stock up on an antihistamine ointment and treat the dreadlocked itchy scalp for 3-5 days. After that, the itching should subside.
3. Hair Skin Peeling Or Crusting Appears
This reaction can occur as the scalp becomes accustomed to the hairstyle.
It is usually because the habitual environment for the skin is to be hidden and protected by the hair. And when we pull our hair up into braids, the partings are exposed. Exposure to the sun, wind, or cold, which the skin is not used to, becomes exposed.
It is not something that needs to be treated with shampoo or other anti-dandruff products. As a rule, it passes immediately after braiding. It has been observed that the more often you braid, the less dandruff and dryness you experience on dreads.
4. Skin Irritation With Allergens
Other things can also cause irritation and an itchy dreadlock scalp. Usually, the symptoms are caused by an allergic reaction to particular hair care or styling product. Such allergies can suddenly occur – even if you've been using the product for years.
You can easily find out whether allergies cause your symptoms by having an allergy test done by your dermatologist. It is best to take the packaging of your product with you – this is the best way for your doctor to get an overview of the ingredients. Alternatively, you could use another product first – if possible without any additives – and see if the itching subsides.
How To Treat And Prevent An Itchy Scalp And Dandruff In Dreads?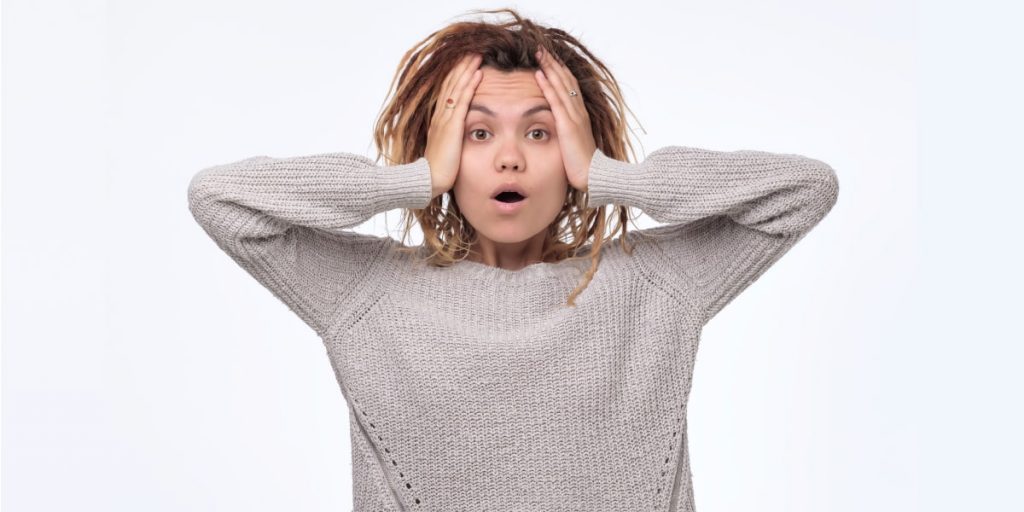 When you are convinced that the itchy scalp is due to dreads. And to determine this, it must be examined by a trichologist, dermatologist, and neurologist. That is, the nature of its occurrence is not neurological, allergic, or pathological. You can follow the helpful advice given below:
1. Choose Products Suitable For Your Scalp
Choose milder herbal shampoos enriched with plant oils and extracts. While wearing dreadlocks, they will help restore lost balance and remove hypersensitivity, redness, and irritation on the itchy scalp.
2. Add More Nutrients To Your Care To Reduce And Prevent Dandruff In Dreads
Use argan, and olive oil, which contains unsaturated fatty acids and vitamin E (tocopherol) that transform hair into volumetric, elastic, and silky hair. They contain linoleic, oleic, palmitic, stearic, and vanillic acids and fungicides, tyrosol, and sterols. This composition moisturizes the scalp and strengthens brittle hair.
3. Don't Shower Dry Scalp With Locs With Too Hot Water
Wash your hair with slightly warm water. Higher temperatures promote the removal of grease, so irritation occurs.
4. Increase The Interval Between Hair Washes
You may need to wash your hair daily if you use many styling products or if your hair becomes soft and greasy. However, remember that constant washing can lead to an endless cycle. Shampooing your hair can dry your scalp, which will naturally cause your skin to produce more sebum. If this is an issue, try increasing the interval between washes or use a mild shampoo.
The hair and scalp are also affected by UV rays and high temperatures, which can cause peeling of the skin, redness, and dandruff in dreads. Make sure you read the package directions carefully and pay special attention to products that contain vitamins when you choose a sunscreen spray. Not only will they help protect your hair from the sun, but they'll also help keep it healthy and strong!
Summary
A dry scalp is a problem faced by every second person who likes the style with dreadlocks. It is an unpleasant sensation that causes a lot of discomforts but can be treated. The main thing is to identify the cause correctly, and the issue will not stay with you. But if you still cannot get rid of an itchy scalp on your own, your scalp is inflamed and red, wet, crusty, or falling out, you should see a trichologist. It's worth remembering, however, that if you can't recall the reason at home and change your shampoo or eliminate stress, itchy scalp continues and is accompanied by hair loss or dandruff in dreads, you should see a specialist.
This doctor will determine the cause of your itchy scalp, rule out underlying organic disorders, prescribe the proper treatment, and choose preventive and home care products for your hair after a thorough diagnosis.
FAQ
How To Get Rid Of Dandruff From Dreadlocks?
Dandruff in dreads results from braiding, a layer of dead cells, with dry hair here to help with cold-pressed olive oil. Almond oil is the same burdock or linseed-all well applied with a dropper and rubbed vigorously into the skin. You can also use sea buckthorn oil when your skin is so dry that it squeaks.
Which Doctor May Help With Dreadlock Itchiness?
If your scalp becomes itchy, you should see a trichologist or dermatologist who will help you determine the cause of the problem and prescribe the necessary tests. Sometimes the allergic origin of the itching is undoubted. In this case, a visit to an allergist-immunologist is recommended.
For How Long Can I Wear Dreadlocks?
In this case, it's all up to you. Wear it as long as you like. The most important thing is that you take care of them. As a rule, safe dreadlocks are worn for 2 to 3 months.
What Shouldn't Be Done With Dredlocks?
After braiding your dreadlocks, you should not wash or wet your hair for a month. It is essential because the dreadlocks must not unravel or fall apart. After a month, it can be washed, and then you can go to the master for correction. The first correction is compulsory, and the subsequent ones are up to you.
Is It Possible To Go Bald Because of Dreadlocks?
The main danger is that dreadlocks can easily make a person go bald. Depending on the strength and duration of the exposure, hair loss can be temporary, focal, or permanent when the hair papilla is wholly destroyed, and the follicle is replaced by connective tissue.