Published on January 11th, 2023
Last updated on August 30th, 2023
How To Use Body Lotion: Its Benefits And Moisturizer Effects
Estimated reading time:
6
minutes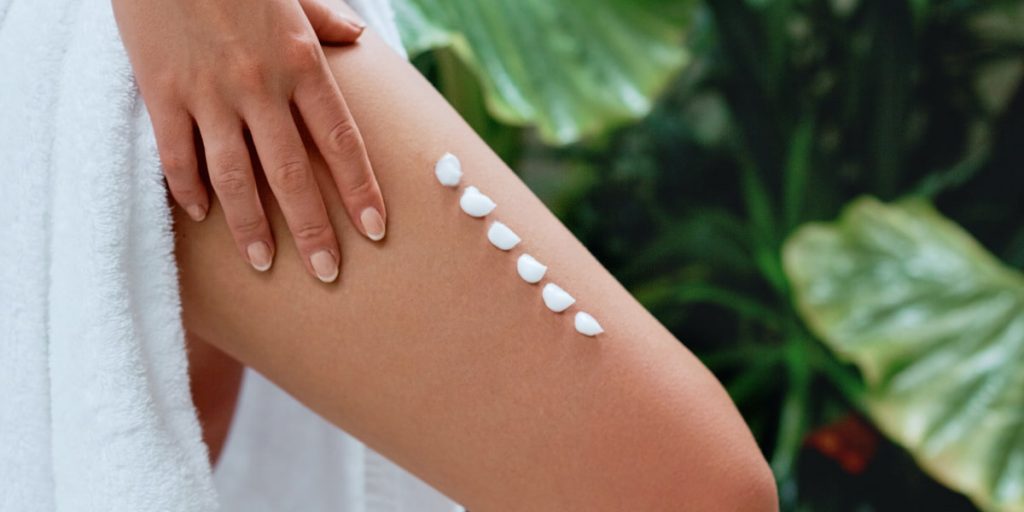 Any contact with tap water can leave the body feeling unpleasantly dry. Because water and aggressive cleansers wash away the protective layer of the skin. To avoid this, it is important to choose effective skin care products. The difference between cream, lotion, and body lotion is very blurred for most of us. And if the cream is the head, let's remember how to apply it and why to use body lotion.
A quality gentle care lotion will help moisturize the skin and cut flakiness. A woman's body requires meticulous care, nourishment and protection. It is necessary to care for the whole body, not just a few problem areas. The right product further cares for the body, giving it shine and beauty.
Below we will look at why we need body lotion. And also, we will tell you the main benefits of body moisturizer, the rules of choice, and application.
How To Use Body Lotion?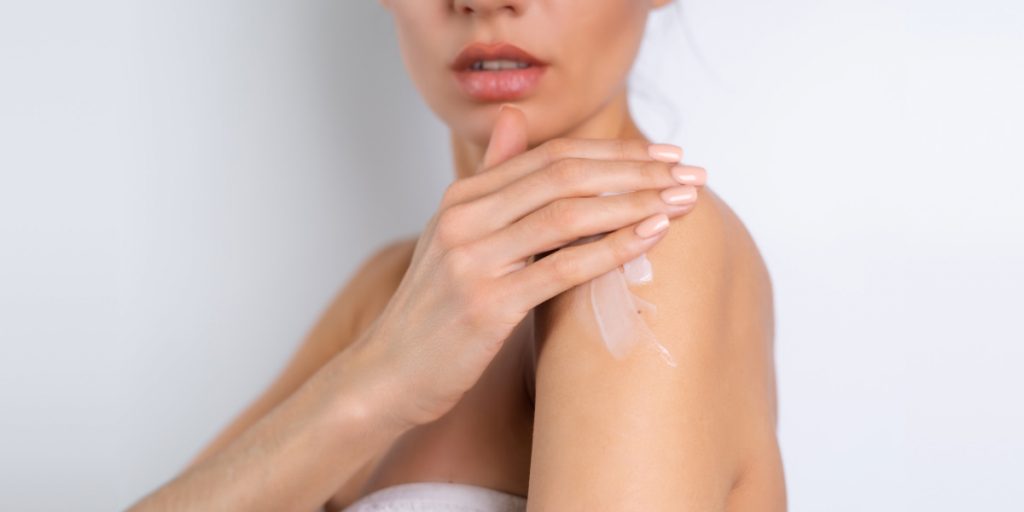 Many girls are interested in how to use body lotion to get the maximum effect. A few basic rules will help reveal its caring properties:
Choose a lotion considering its composition and your skin type. For example, aloe vera is great for sensitive skin, and oils and vitamins are great for dry skin.
For comprehensive care, you can use different lotions in the winter and summer. For example, during the hot season, your skin needs intensive moisturizing, but it needs nourishing and regenerating care during the cold season.
Apply the product of your choice only to clean skin to avoid redness and other unpleasant reactions.
For maximum body moisturizer benefits, you can steam the body and apply the caring lotion (the best option – use it after a shower or bath, going to the sauna).
Application Of Body Lotion
After buying a new product, test it on a small area of the skin to rule out possible allergic reactions to the active ingredients in the composition. Here are some tips for better usage of lotion:
Distribute the lotion, moving along the massage lines. Due to the light texture, you should not put much pressure or rub the skin. Your skin will absorb the lotion without any extra effort.
Apply the lotion in small portions so there is no excess. Too much lotion may slow down absorption and interfere with cellular respiration. Sometimes it is very profitable to use lotion on the body.
For extra hydration, apply lotion to damp skin – this method helps seal moisture inside and prevents dryness.
About 1-2 times a week, treat the body with a scrub or a special exfoliation – such a procedure will help the lotion to be absorbed faster and better reveal its caring properties.
What Is Body Lotion?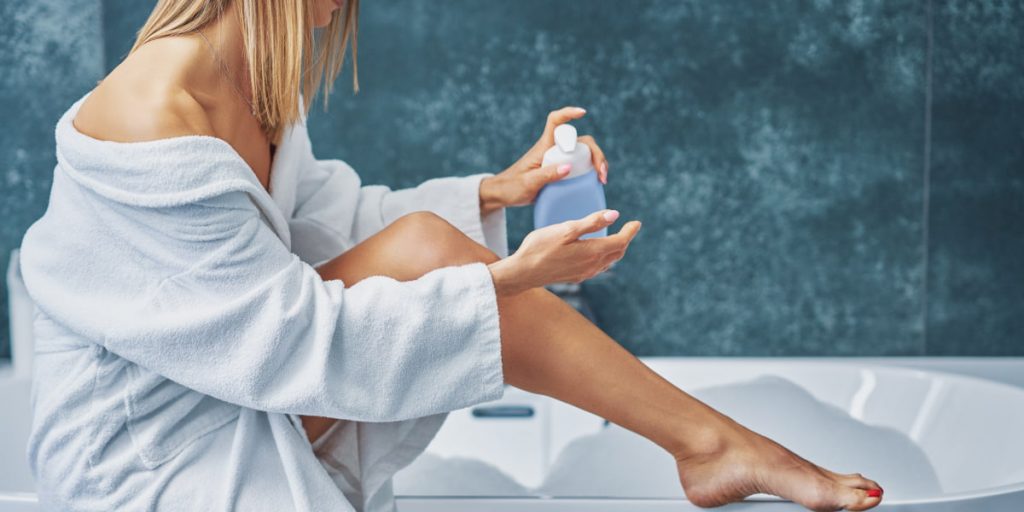 The lotion is a lightweight care option that absorbs almost instantly. It does not leave a greasy film, which is characteristic of using a cream. Regular use of cosmetic lotion nourishes the epidermis. It also gives elasticity to the tissues. It also helps to maintain a youthful glow, especially after depilation. Lotions have a less dense composition than oily creams. It allows the lotion to penetrate freely into the deeper layers of the skin.
Depending on your skin type, we can divide all lotions into five types:
Moisturizing. It is suitable for dry skin. Such lotions should not contain alcohol, as it further dries the skin.
Nourishing. It is optimal to use lotion in the body for oily skin. The main function is cleansing, moisturizing deep layers of the dermis.
Products for normal and combination skin. You should use them for combination skin. Otherwise, you will have to choose a whole complex of products and combine them.
Perfumed versions. Lotions with an intense fragrance can easily replace or complement the usual perfume.
Products with shimmer, tan effect. Besides their caring properties, body moisturizers have extra benefits. They give the skin a noticeable glow, a bronze-tan hue.
Why Use Body Lotion?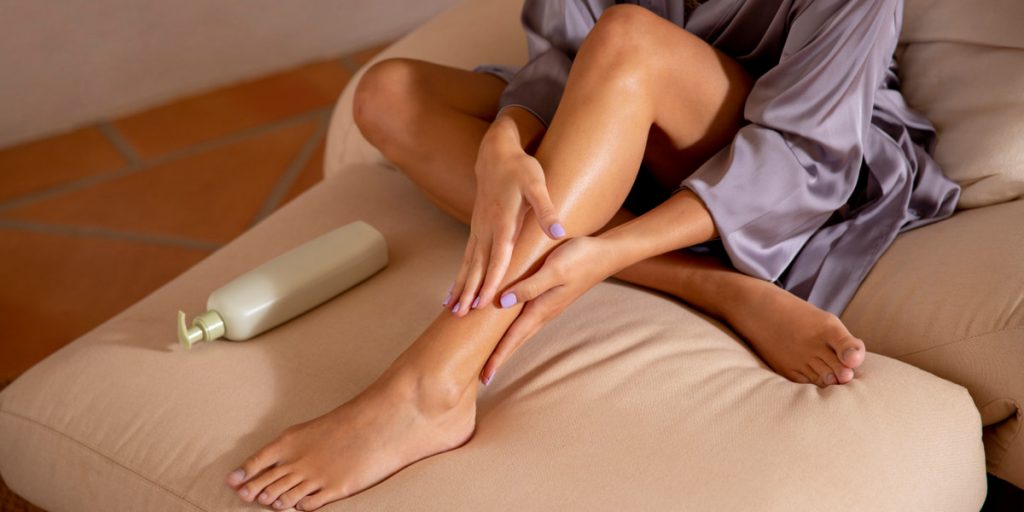 A quality lotion can quickly moisturize the skin. It can also cut flaking and provide long-lasting softness. The right lotion can keep your skin looking young. And skin care products can keep your skin in great condition.
We can answer simply why you have to use body lotion:
It cuts dryness and fine flakiness due to a lot of caring ingredients in the composition.
It is suitable for all skin types, including sensitive skin.
It nourishes and actively saturates with vitamins and essential minerals.
Lotion does not cause the appearance of stickiness and greasy film on the body.
It absorbs quickly and is ideal for the care of the body in the morning (after application, you can immediately put on clothes without fear of greasy stains on the fabrics).
It is ideal for quality skin hydration in hot weather. Especially when you need a refreshing effect and light textures in care.
It is good for daily use of lotion in the body. You can apply a light lotion twice a day.
It is convenient to use after depilation. It helps to moisturize and soothe the skin and quickly relieves minor irritations.
What Is The Composition Of Good Lotions?
Lotions are made on three bases: alcohol, water, and oil. In addition to the base, they include extra components:
Jojoba oil. Manufacturers use it for nourishing care. It is suitable for any age and skin type since it does not cause allergies. Its use of lotion in the body helps to get rid of stretch marks with it. Since it nourishes the upper and deep layers of the epidermis.
Aloe vera. This component helps to eliminate small cracks and improves the skin's condition.
Cocoa butter. It softens and protects.
Shea butter. This oil is good for dry skin. It nourishes, moisturizes, and removes peeling.
Almond oil. Refreshes and rejuvenates the skin.
Sometimes lotions contain fragrances. The skin will have a lasting fragrance if there are many of them. And you will not need to use perfume after using cosmetics.
Bottom Line
To get the most out of your usual skincare routine, it's worth knowing how to use body lotion correctly. This product's simple rules of selection and application will make your skin more gentle and moisturized, giving it a well-groomed look.
FAQ
How To Moisturize Your Back?
Use a good quality body lotion to moisturize your skin back. We recommend using lotions with aloe vera, which will regulate sebum production.
What Is Body Lotion Used For?
Body lotion gives the skin elasticity and relieves it of discomfort, such as dryness, flaking, etc. It is what the texture of the lotion is aimed at, being less dense and greasy compared to, for example, a regular cream. This lightness makes it easier for the lotion to reach the deeper layers of the epidermis.
What Is The Difference Between Moisturizing Lotion And Moisturizing Cream?
The difference usually lies in the consistency of the product. The cream is greasier, thicker, and slower for the skin to absorb. It is much denser than lotion, so sometimes you have to wait for it to absorb. It helps it penetrate deeper into the skin and saturate it from within.
Do I Need To Wash Off My Body Lotion?
Lotions do not need to be washed off under any circumstances. Because they have a long-lasting therapeutic effect and enhance the effect of the cream. Ten to fifteen minutes after application, the feeling of a "film" on the face will disappear.