Published on September 4th, 2022
Last updated on January 25th, 2023
Do Body Wraps Work? How Do Body Wraps Work And Their Use
Estimated reading time:
7
minutes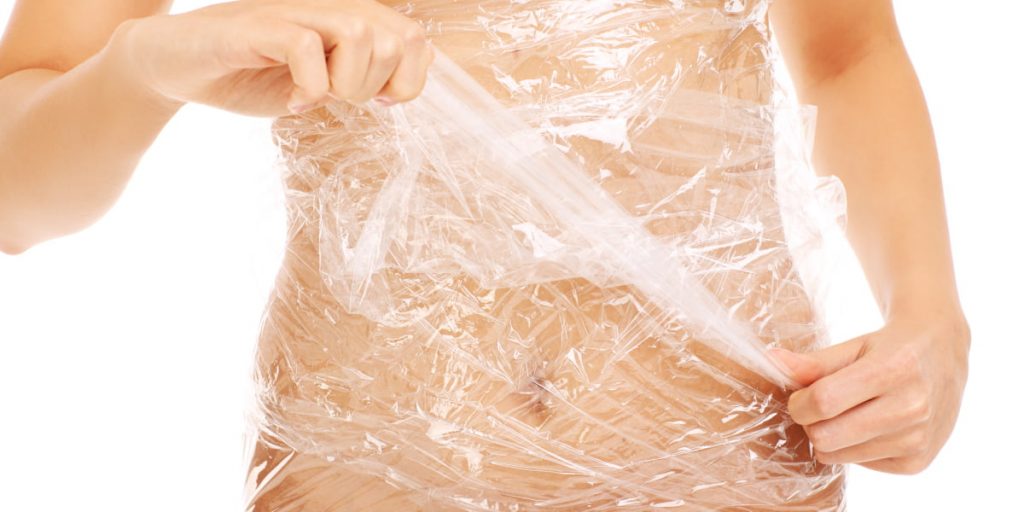 Plastic wraps are a proper cosmetic technique for mimicking specific body parts and weight loss. It enables you to enhance your appearance's appeal and your skin's health. Slimming wraps were initially used in Egypt (during the reign of Cleopatra).
Diet alone won't be sufficient to reduce waist and hip measurements by a few centimeters. Include wraps in your regimen for skin care to help the skin recover more evenly, give it tone, get rid of cellulite, and avoid the emergence of stretch marks caused by weight reduction. There are various kinds of wraps for losing weight. Belly wraps for weight loss focus primarily on two sorts of acts in salons: "warming" and "cold" wraps.
Although both solutions are good, they will have distinct outcomes. You can make how wraps at home. They help in weight loss and cellulite removal. For instance, cold wraps can improve skin tone, remove leg "stars" and vascular networks, and restrict blood vessels. Continue reading to learn more about body wraps.
How Does Belly Wrap Help Weight Loss?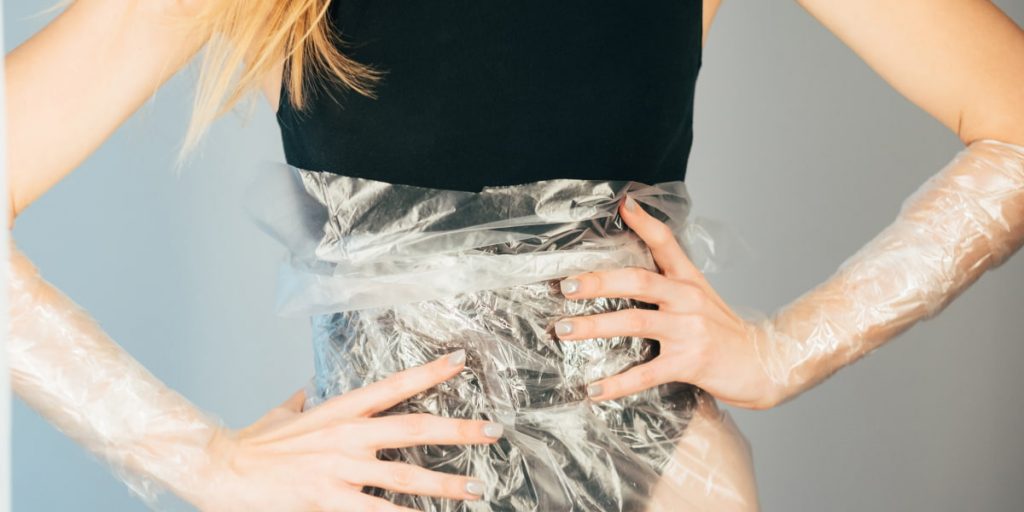 The following benefits come with effective wraps for weight loss:
increased overall metabolism and breakdown of adipose tissue;
increased local immunity and resistance to infectious agents;
normalization of lymph flow;
improvement of local hemodynamics;
stimulation of the sebaceous and sweat glands;
rejuvenation and saturation of the skin with vitamin and mineral substances.
Home plastic wrap for weight loss is as successful as weight loss with wraps in spas. Wraps refresh the skin, lessen the amount of subcutaneous fat, and improve the environment for forming and developing muscle fibers. Both home and cosmetology clinics can conduct the operation. You can buy all the necessary supplies in pharmacies or supermarket stores.
Of course, you can lose weight with a body wrap, but it has some restrictions:
any pathologies from the cardiovascular system;
pregnancy;
deep cuts and wounds;
long-term non-healing ulcers;
exacerbation of chronic gynaecological disorders;
infectious and inflammatory diseases of the skin of any etymology.
If you have any, you need an immediate medical examination. Only an expert can accurately assess the patient's health and decide whether wrapping is needed or not.
Types Of Belly Wraps For Weight Loss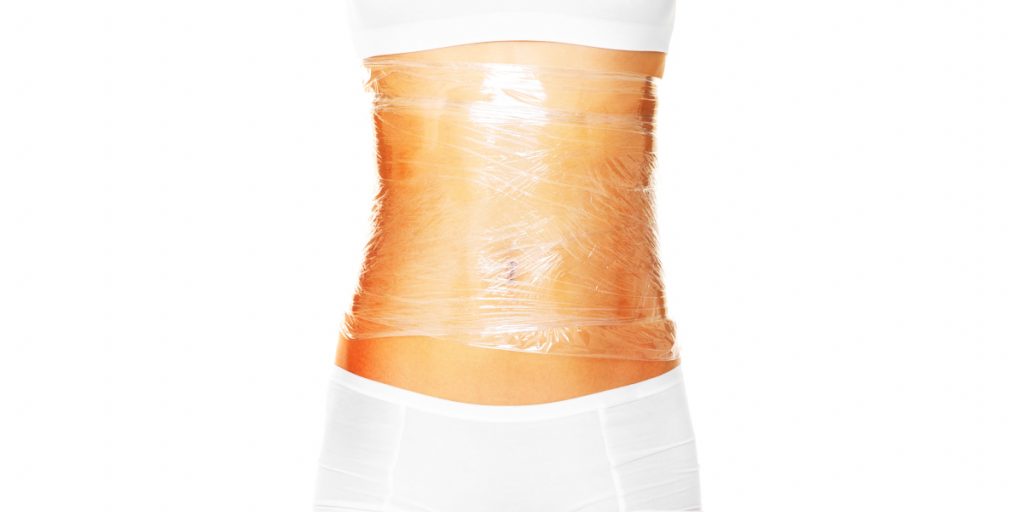 Therapeutic components cause the tremendous impact of isothermal wraps, and the cosmetic composition has a body temperature. In the salon, wrapping for weight loss is done in courses and frequently in conjunction with other techniques, allowing you to get a noticeable result and preserve it for a very long period.
1. Hot Wraps
The basis for that belly wrap for weight loss is how localized temperature increases affect various skin areas. The wraps are applied to 37 and 38 ° C warmer than body temperature. The local stress reaction brought on by the skin's heating causes blood vessels to widen and the flow of blood laden with oxygen and nutrients to be stimulated. The cells of adipose tissue break down to meet energy requirements.
The pores open 30 minutes after the process starts, allowing toxins, other dangerous chemicals, and some of the "melted fat" to be partially eliminated. Hot wraps are used for:
weight loss to treat and prevent cellulite;
reduce the amount of fatty tissue in problem zones;
avoid stretch marks and flabby skin;
make the skin smooth and elastic;
improve appearance.
2. Cold Wraps
This plastic wrap for weight loss makes use of a temperature that is between 15 and 22 °C. On the other hand, such a wrap decreases the capillary lumen, increasing blood flow and triggering the metabolism. The process is recommended for:
skin that is sagging and worn-out;
tissue that is swollen;
an abundance of subcutaneous fat;
active cellulite.
Various sorts of effective cold wraps for weight loss depend on the ingredients.
3. Oil Wraps
In addition to increasing blood flow, rich oils provide tissues with nutrients (vitamins, minerals and help to lose inches with a body wrap. Almond, olive, or wheat oil serves as the base. Less frequently used oil extracts are from sea buckthorn, lemon, lavender, pine needles, and other plants. The skin is covered with wool or a thermal blanket once the wrap has been applied, allowing you to stay warm.
4. Honey Wraps
One of the most effective cellulite treatments is honey. It penetrates deeply into the pores, enhances tissue tropism, boosts body resistance, and eliminates cellulite's telltale indications and manifestations.
5. Chocolate Wraps
The ingredient used to make chocolate, cocoa, has revitalizing, anti-inflammatory, and tightening properties. The product infuses the skin with essential proteins, minerals, and other elements. Other uses for a belly wrap include:
thorough skin cleaning;
age spot removal;
acne therapy.
6. Seaweed Wraps
Algae use helps reduce cellulite and edema and tighten the skin. More frequently, laminaria and vesicular fucus are applied. The high frequency of local or systemic allergic reactions necessitates extra caution during execution is a distinctive aspect of the technique.
How To Apply A Body Wrap?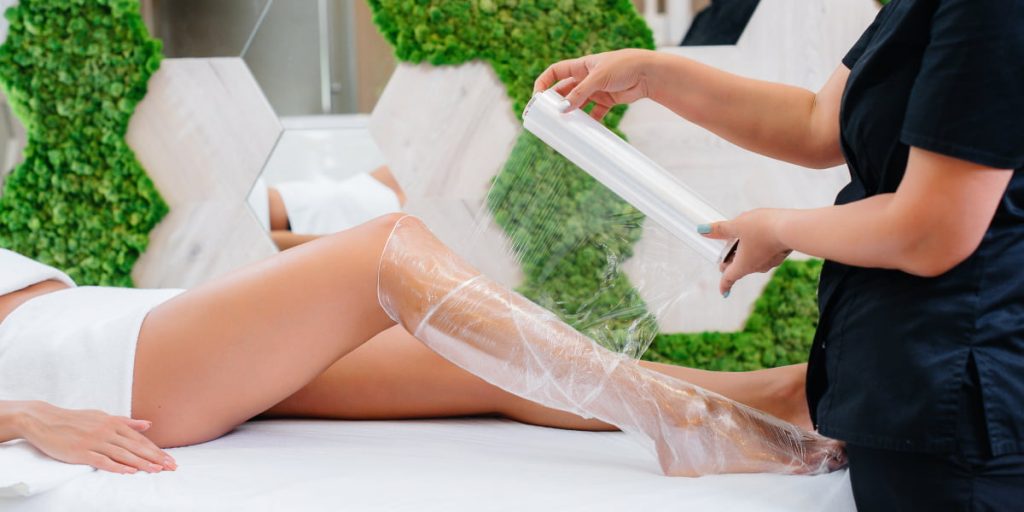 Abdominal fat deposits are not always successfully eliminated by diets and strenuous exercise. Targeting visceral fat is particularly challenging. Wrapping can be a helpful supplement or the only means of weight loss. The following mixes work well as weight loss wraps:
50 ml of liquid honey and 100 g of crushed kelp;
30 ml lemon juice, three egg whites, 100 g chopped kelp;
100 g of crushed algae and 50 ml of kefir heated to 40 ° C;
100 g of blue clay, 50 g of cinnamon powder, 20 ml of honey and 5 ml of water;
50 g of clay, 10 g of ground red pepper, and 50 ml of warm water.
An efficient belly wrap for weight loss follows a very straightforward method.
Body Wrapping Process
Use a scrub or cleansing foams to clean the skin;
Dry with a towel;
You should gently rub the entire surface of the abdomen with the composition in circular motions (the skin should not turn red);
Use cling film to enclose (in 2-3 layers);
Put on a warm blanket (woollen sweater, plaid).
For plastic wraps for weight loss to work, you must maintain the same state for 40 to 80 minutes (depending on the expected effect). The procedure's outcomes won't work if the time interval is not adhered to. Skin irritation will happen if the manipulation is done for too long, and there won't be any noticeable results if it is done for not long enough.
Once the assigned time has elapsed, and the film is cut, the liquid is correctly wiped from the belly. Then, to make the skin on the abdomen supple and smooth, any moisturizer is applied, or a warm bath with saline solutions is taken. A minimum of 12–14 procedures, spaced 2–5 days apart, are needed to get the desired result. It is possible to take a second course at least 2-3 months later.
FAQ
What Activities Are Prohibited After A Body Wrap?
Abstain from alcohol, caffeine, and carbonated beverages for at least 24 hours. Wait 12 hours before taking a bath or shower for the best results.
How Long Do The Effects Of Body Wrap Last?
There is zero downtime and immediate benefits from body wraps. The dropped inches will remain off for at least two to three months if you maintain (or reduce) your weight.
How Safe Are Body Wraps?
If you want to try body wraps, it's safe to do so if you keep a few things in mind. Drink a lot of water before, during (if feasible), and after your body wrap treatment because they might frequently dehydrate you and make you sweat.
How Does A Body Wrap Work?
By eliminating fat cells, body wraps help to tone the body. You lose weight after removing pollutants. Body wraps are effective for both sexes since they all help people detoxify their bodies.