Published on September 22nd, 2022
Last updated on January 25th, 2023
How To Make Body Scrubs? 9 DIY Scrub Recipes For Smooth Skin
Estimated reading time:
10
minutes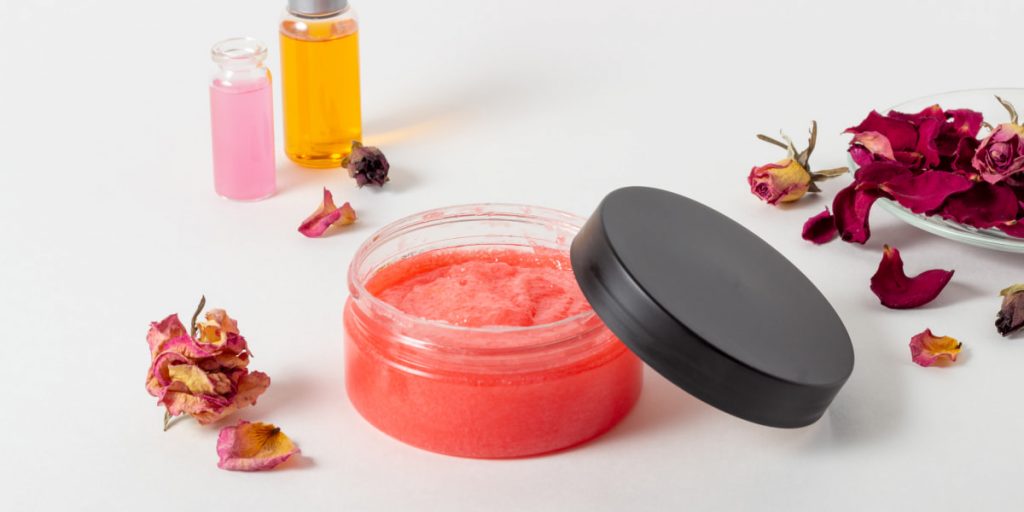 Body scrub preparation on your own is much simpler than it appears. You grab what you want from your kitchen cabinet after opening it. You can make an easy homemade body scrub using several ingredients. Additionally, you can customize this cheap and natural remedy by adding your preferred ingredients and considering your skin type. Some of my favorite homemade body scrub recipes are included in this article. Additionally, I will advice on how to make body scrubs with things you already have at home. Let's get right to it and begin our article with the fundamentals.
Popular Components Of DIY Body Scrub
Before we begin assembling the ingredients for a body scrub, let's understand what should be in the components of a scrub:
Any scrub should have an oil component (so you can put it on);
An essential component of DIY scrub for legs and body is small but solid particles that mechanically cleanse the skin from keratinized particles and accumulations of sweat and grease. This role is often played by salt, sugar, cereals, grass seeds, and grated citrus skins;
All other ingredients of a home body scrub are used to soften and moisturize;
To avoid harming your skin, use a body scrub once or twice weekly;
Before you head to the bathroom with a cup of easy homemade body scrub, apply the homemade scrub to a small area of your skin and see if there is any discomfort or redness.
General instructions:
Make the scrub;
Take a shower or lie in the bath;
Apply the scrub to damp skin with massaging movements;
Rinse off with lukewarm water;
Apply moisturizing cream or oil.
1. Anti-cellulite Scrub With Coffee And Honey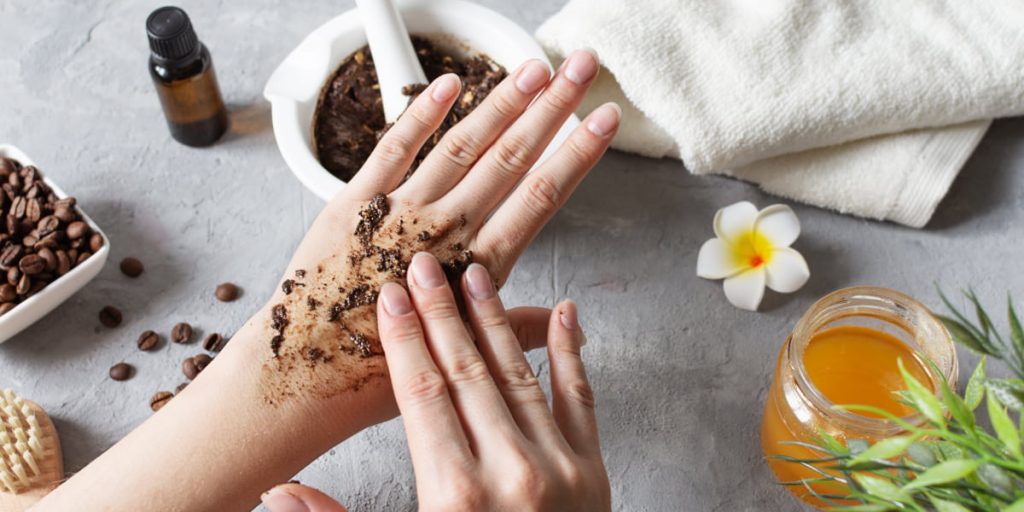 As you have already realized, a scrub is a popular cosmetic, the main functions of which are:
Cleansing the outer layer of the skin of impurities;
Removal of dead cells;
Improvement of tone.
Regular use of easy homemade body scrubs renews and refreshes the skin, making it smooth, firm, and radiant. The scrub helps fight cellulite and ingrown hairs. If you are looking for recipes for effective scrubs with anti-cellulite effects, pay attention to variants of means based on coffee grounds. The most successful coffee additions are honey, essential, and cosmetic oils.
Here is a set of ingredients and their proportions:
Coffee grounds – 3-4 tbsp;
Honey – 5 tbsp;
Olive or other vegetable oil – 4 tbsp.
Make and use the coffee scrub as follows:
Combine coffee, honey, and selected oil in a plastic bowl. Mix all the ingredients thoroughly;
Apply the scrub to damp skin;
Massage the body with gentle strokes. Rinse off with warm water and pat dry with a towel.
The Cosmopolitan magazine advises not to wash off the DIY leg and body scrub immediately after the procedure if you use the composition for the anti-cellulite effect but to leave the mix on the body for 15 minutes, wrapping the problem areas with plastic food wrap.
The scrub aims to strengthen the skin, improve blood circulation, deep cleansing, and increase elasticity. Cosmetologists recommend using coffee peeling 2-3 times a week.
2. Body Scrub With Lime And Sea Salt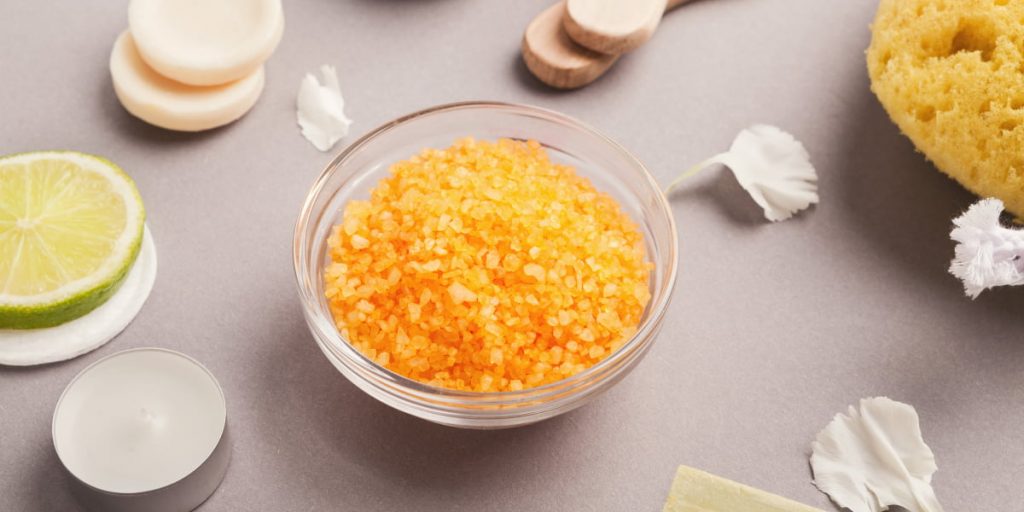 If you need to cleanse and cool your skin, prepare an ultra-relaxing scrub for it. The ingredients for this body scrub include:
Fine sea salt – 200 g;
Coconut oil – 3 tbsp;
Lime zest – 4 pcs;
Lime essential oil – 20 drops.
The peeling is prepared and used as follows:
Melt the coconut oil. You can do it in the microwave or a water bath;
Grate the lime zest on a fine grater;
Mix liquid coconut oil, grated zest, sea salt, and lime essential oil;
Apply the mixture to the body and rub with your hands or a soft brush for 2-3 minutes; rinse off with water.
This scrub recipe is beneficial to the skin and has a refreshing effect. The principal exfoliating agent in this scrub is sea salt. The oils nourish the skin, and the lime is refreshing. If you don't have lime, you can replace it with orange.
3. Strawberry Body Scrub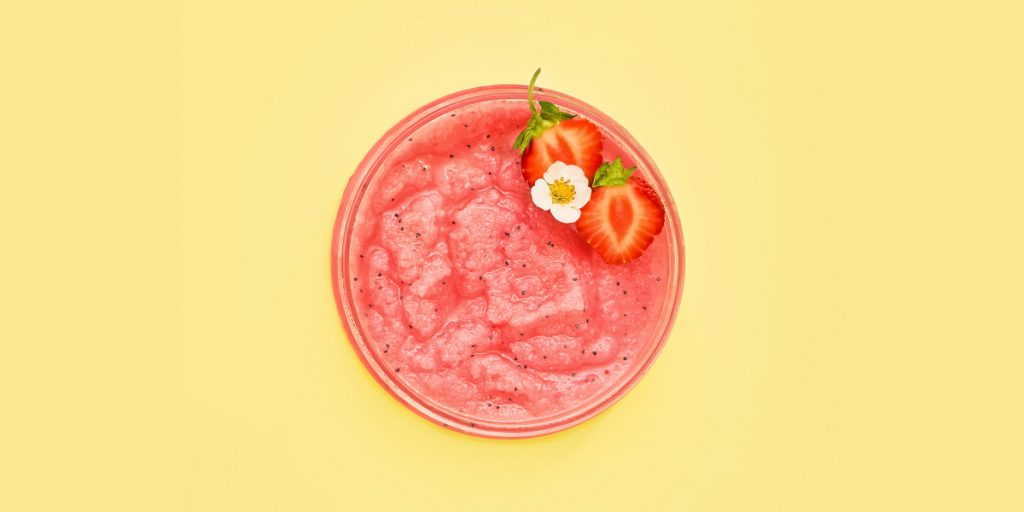 Another scrub recipe with anti-cellulite action that I would like to offer you. The ingredients for this body scrub are the simplest:
Strawberry puree – 3 tbsp;
Honey – 1 tbsp;
Almond (sesame or olive) oil – 2 tbsp.
Making this scrub is not tricky. Here is how you can create and use it:
Crush the strawberries with a fork until smooth;
Add the oil and honey of your choice. Stir thoroughly;
Apply to damp skin, and gently rub the scrub for 1-2 minutes;
Leave the product for 3-5 minutes, and then rinse off with lukewarm water.
In this scrub, strawberries will have a beneficial effect on the skin of the body. In addition, this scrub can be used on the body and face, as it does not contain solid exfoliating components.
4. Exfoliating Body Scrub With Oats And Glycerin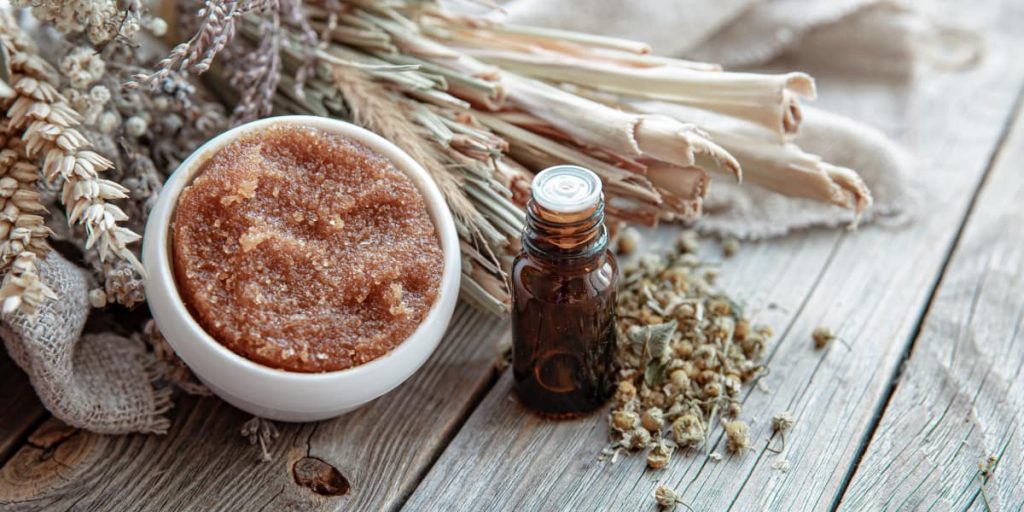 We share a recipe for a light exfoliator for sensitive skin. It uses only three simple ingredients:
Oatmeal flakes – 50 g;
Glycerin – 1 tsp;
Water – 2 tbsp.
Here's what to do to create an easy homemade body scrub:
Dump the oat flakes into a bowl and add water. When the flakes have slightly swollen, pour in the glycerin and stir;
Apply the product to the skin, and rub the mixture with your hands, increasing the movement in problematic areas;
Rinse off and apply a moisturizer.
In this scrub, the main ingredient is oatmeal, which has a soothing and anti-inflammatory effect. The mild product exfoliates, nourishes, and improves color and overall skin condition. Glycerin moisturizes the skin, and water acts as a bonding agent. You can add a couple of drops of peppermint or tea tree essential oil for additional effect.
5. Soft Body Peeling With Oatmeal Flour, Sour Cream, Salt, And Soda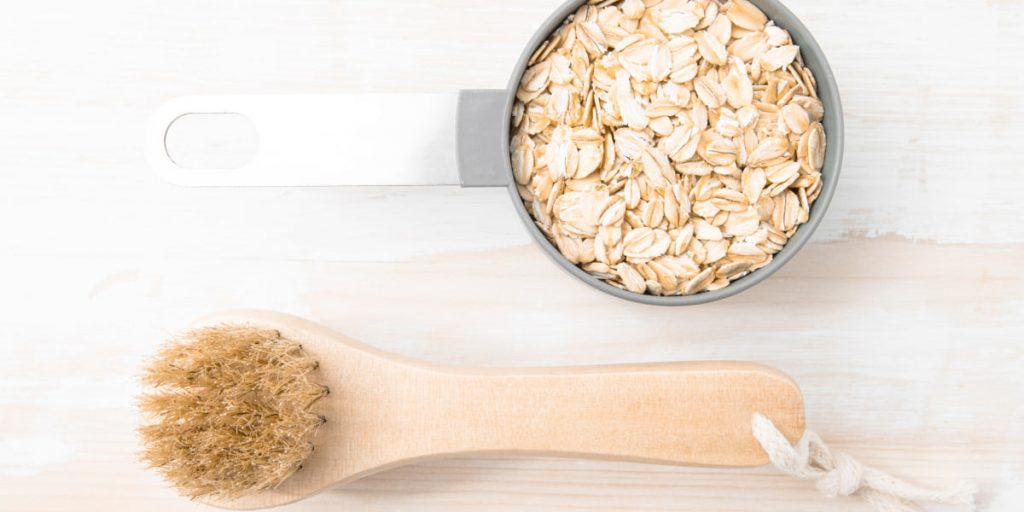 Another very unusual scrub recipe from the five components is available to everyone:
Oat flour – 3 tbsp;
Thick sour cream – 3 tbsp;
Salt and baking soda – 3 tsp;
Vegetable oil – 2 tablespoons.
DIY scrub for legs and body to make it very simple. Here is the procedure:
Mix all the ingredients until mushy;
Apply the mixture to your skin with massaging motions;
Wait 10-15 minutes and rinse off with lukewarm water.
Wipe the skin with a soft towel and lubricate the body with a nourishing cream.
6. Cooling Cucumber And Mint Body Scrub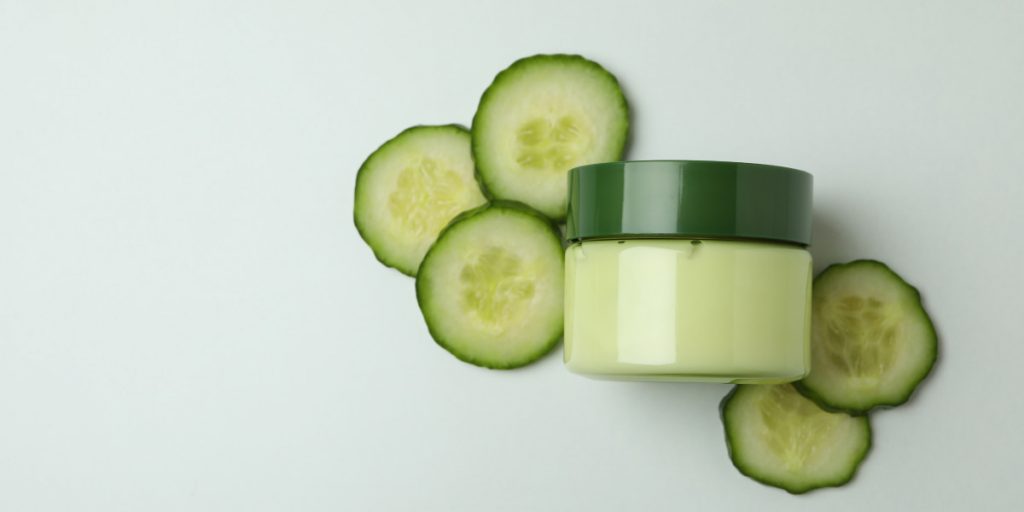 A scrub based on fresh cucumber and mint has a refreshing and cooling effect. To make it, you need the following ingredients for body scrub:
Granulated sugar – 1 cup;
Liquid coconut oil – 4 tbsp;
Eucalyptus essential oil – 4-5 drops;
Cucumber – half a large or one medium;
Mint – 5 leaves.
Prepare the composition as follows:
Wash the mint and cucumber, and melt the coconut oil if it is not already liquid;
Place chopped cucumber, mint leaves, coconut oil, and eucalyptus oil in a blender. Blend until smooth;
Add the white sugar and blend again with the blender (no more than 5 seconds);
Pour the mix into a bowl, then apply to clean skin and gently massage, rinse off.
Your skin will feel noticeably softer and fresher. If you want a slightly more refreshing and cooling effect, add more peppermint essential oil to feel a pleasant aroma and a slight chill on the body.
7. Tonic Red Pepper Body Scrub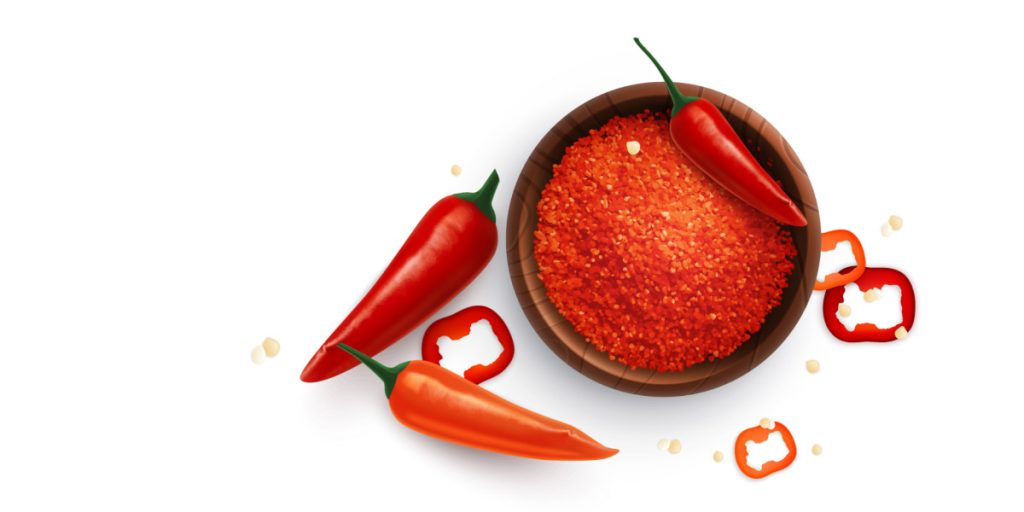 Prepare a DIY scrub for the legs and body based on hot pepper to improve blood circulation in the tissues. The ingredients and proportions are straightforward, but it won't take long before the effect is felt. You will need:
Coarsely ground nutmeg – 1 tbsp;
Candied honey – 100 grams;
Hot pepper – 1 tsp.
To prepare the scrub:
Mix all the ingredients;
Apply the mixture to the skin of the body, massaging movements;
Leave it for 10-15 minutes and rinse off with lukewarm water;
Do not forget to rub a nourishing cream or lotion into your skin after the procedure.
Do not use the scrub if there are wounds or cuts on the body; otherwise, you may have a severe allergic reaction.
If the scrub is very hot during the procedure, it is recommended to wash it off before the appointed time. Pepper scrub recipes require care and attention.
8. Therapeutic Blue Clay Body Scrub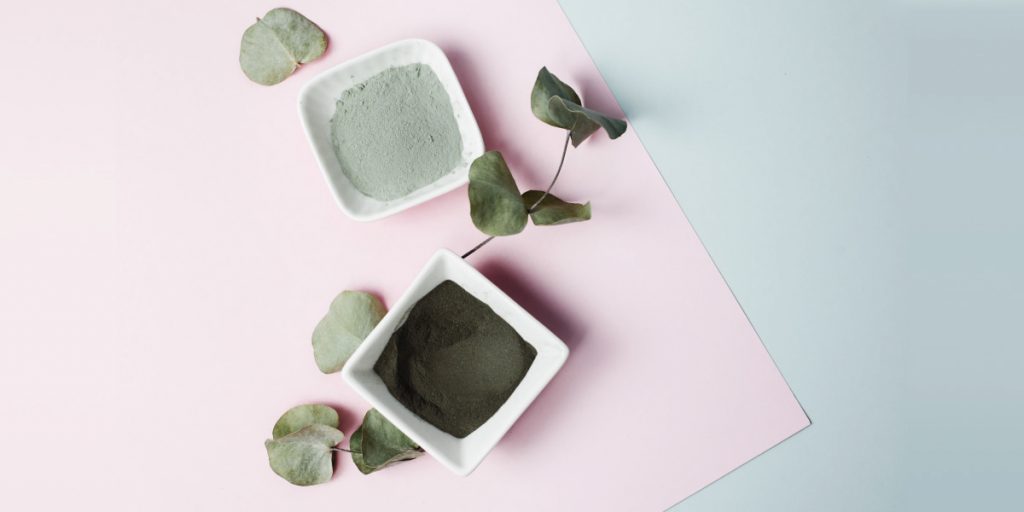 The main ingredient in this easy homemade body scrub is blue clay. It is known for its cleansing, anti-inflammatory, antiseptic, regenerating, and bio-stimulating effects. To prepare a therapeutic body scrub, you will need the following ingredients:
Blue clay – 5 tbsp;
Liquid honey – 50 g;
Sea salt – 3 tbsp;
Cream or unsweetened natural yogurt – 30 ml;
Jojoba oil – 2 tsp.
The instructions are simple:
Pour the desired amount of blue clay into a bowl. Add cream or yogurt and mix thoroughly. Pour in the honey and jojoba oil, add salt and stir the mixture well again;
Apply the mixed body scrub ingredients to a damp body. Massage the skin in circular motions, paying particular attention to problem areas;
Leave for 10-15 minutes until the product is dehydrated, and wash off the scrub.
9. Antibacterial Body Scrub With Turmeric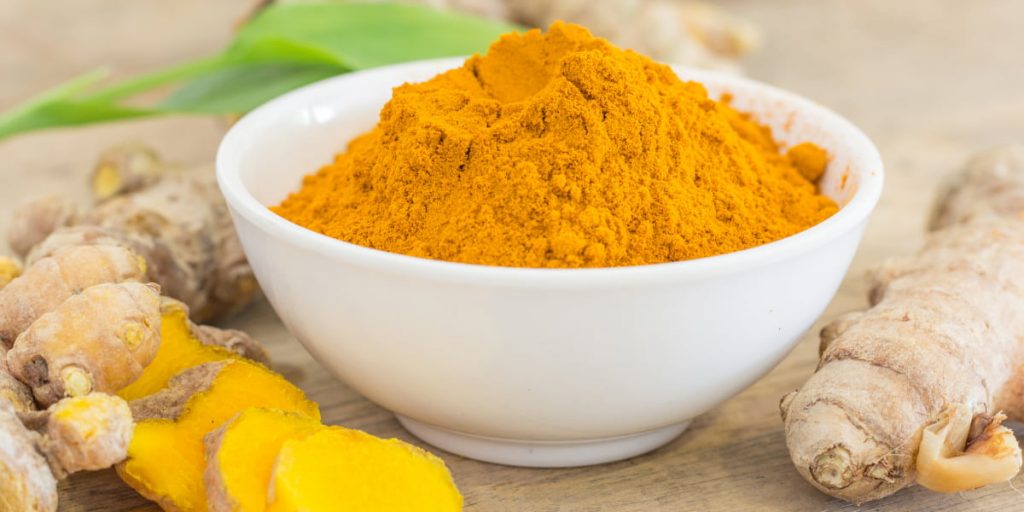 Turmeric is one of the best ingredients for homemade scrubs and body masks. This natural substance has antibacterial, anti-inflammatory, and toning effects. For a scrub, you need the following ingredients:
Salt or sugar – 200 g;
Coconut oil – 50 gr;
Turmeric – 2 tbsp;
Vitamin E – ½ tsp.
Follow these steps:
Mix all the ingredients for the body scrub, having previously melted coconut oil;
Apply the scrub in a circular motion to dampen the skin. Massage for a few minutes;
Rinse with warm water and blot the skin with a soft towel.
This scrub will give your skin a natural glow and softness.
Bottom Line
As you have understood, an influential body scrub is easy to prepare at home: mix a few ingredients according to the recipes. Prepare the peeling products just before use, and be sure to apply a moisturizing or nourishing cream after the procedure.
FAQ
How To Make Body Scrub On My Own?
There are many recipes for homemade body scrubs. The basic rules are to mix ingredients that will exfoliate old skin (like salt or sugar) and ingredients that will moisturize the skin (like some oils).
What Ingredient Do I Need For Making A Body Scrub On My Own?
The ingredients you need to make a body scrub depend on your chosen recipe. However, some of the most common ingredients in body scrubs include sugar, salt, coffee grounds, oats, honey, and essential oils.
How Often Should I Use A Body Scrub?
Most people find it helpful to use a body scrub 1-2 times weekly. If you have sensitive skin, you may want to use a body scrub less often.
What Are The Benefits Of Using A Body Scrub?
Most people find it helpful to use a body scrub 1-2 times weekly. If you have sensitive skin, you may want to use a body scrub less often.
What Are The Benefits Of Using A Body Scrub?
Body scrubs help exfoliate the skin, remove dead cells, and improve circulation. Body scrubs also help moisturize your skin and make it softer and smoother.