Published on September 15th, 2022
Last updated on January 25th, 2023
The Causes Of Dry And Cracked Hands: How To Heal Cracked Hands?
Estimated reading time:
7
minutes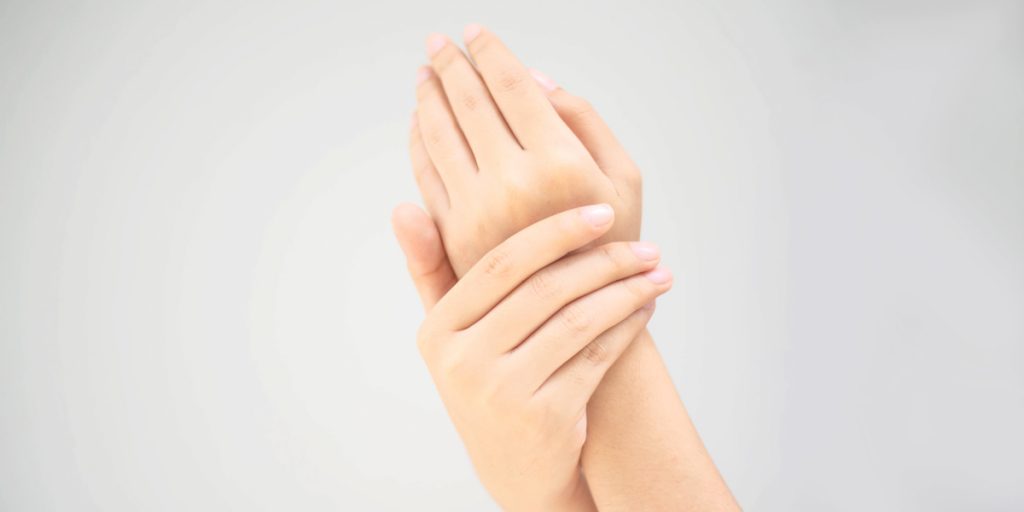 With the onset of cold weather, many people face the problem of dry and cracked hands. Some of us struggle with dry and rough skin all the time. There are many ways to deal with this issue, from creams and masks to severe cosmetic procedures. Cracked skin on the hands is indeed an issue. Those who have to deal with it have to go through unpleasant sensations such as pain when walking, burning, and itching when cleaning and washing up. However, it's worth realizing that severely dry, and cracked hands are not a disease but a consequence. You can treat them for a very long time, but they will still appear until you get rid of the cause.
Before considering treatment, let's first look at what factors cause a cracked hand. It will help you identify the difficulty more quickly and correct it.
What Causes Dry Hands?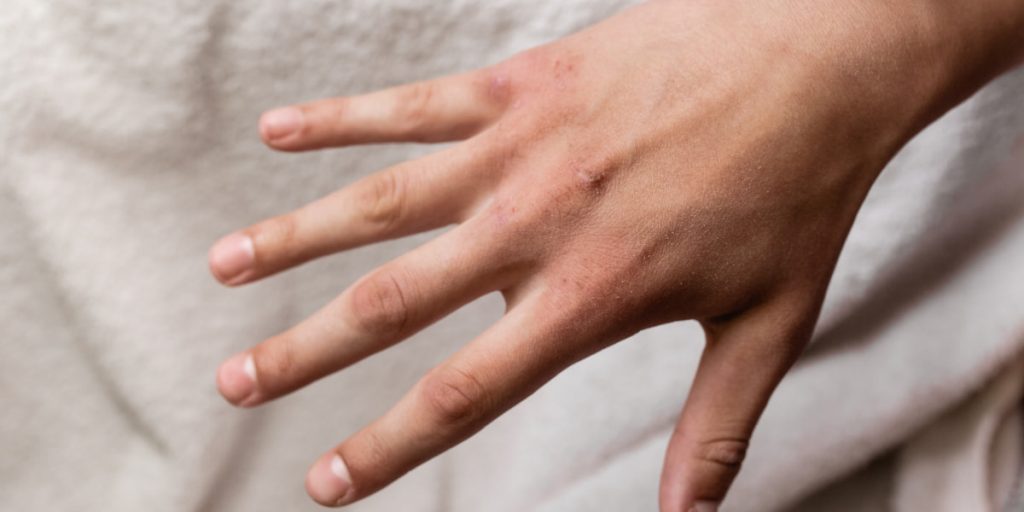 It is usual for micro-cracks to occur when the hands dry out considerably. External and internal factors can cause this problem. The general dryness of the air and low ambient temperatures, for example, quickly lead to dehydration and tightness of the hands. The heating season also harms the skin: hot radiators significantly dry the air and provoke dry skin. Frequent contact with tap water and cleansers (washing away the skin's protective oil layer) increases the risk of concerns. Contact dermatitis is often diagnosed, in which cracks occur due to external irritants.
External Factors
frequent use of household chemicals without protective gloves;
prolonged exposure to direct sunlight;
being out in the cold, sudden temperature changes;
poor quality hand care products;
prolonged work on land and with building materials without hand protection.
If cracks already appear, it is worth using mild cleansers and wearing special gloves when carrying out household chores.
Internal Factors
Above all, these are various dermatological diseases. The pathological phenomenon can also occur in both adults and children. Internal irritants also include:
development of fungus;
vitamin deficiencies;
infections of the skin;
dermatological diseases;
hormonal imbalances;
changes in metabolism.
While cosmetic treatments can heal external problems for dry, cracked hands, internal ones require medical intervention.
What Is The Remedy For Dry Hands?
To solve this problem better and faster, you should know specific ways to cope with them. As is usually recommended, you should change your caring or eating habits. You have to remember to consult with a proper specialist before taking any vitamins or modifying the routine.
Vitamins For Treatment Dry And Cracked Hands
A lack of vitamins and nutrients is a bad influence on the skin. For this reason, it is essential to regularly take vitamin and mineral complexes as a specialist recommends and add more fresh fruit and vegetables to the menu:
Caring Products To Heal The Problem Of Dry And Cracked Hands
If the skin on your hands breaks until it bleeds, you don't have to endure it. Plenty of protective creams are designed to restore the skin on your hands. The only problem is that so many products are available in shops and pharmacies that it's hard to choose the right one.
Firstly, look for jojoba oil, propylene glycol, lanolin, isopropyl palmitate, glyceryl stearate, and squalene in the cream's composition. These ingredients are essential to soften the epidermis. They act as a lubricant, filling the space between the cells. They ensure smoothness, elasticity, and softness, so they are suitable as a remedy for dry hands.
Common ingredients in moisturizing creams are:
lactic acid;
glycerine;
hyaluronic acid;
propylene glycol.
They increase the moisture concentration, ensuring moisturization of the skin on your hands. It's best to choose a cream with a thick consistency if the cold makes severely dry, cracked hands up to bleeding. Vaseline is a prime example of adequate protection in this case. It coats your hands in a thin layer and protects against cracking. You can also choose another cream that contains:
cocoa butter;
dimethicone;
shea butter;
beeswax.
You'll need to apply it to your hands overnight and wear cotton gloves. It will help make the skin on your fingers softer.
What Are The Preventive Measures For Cracked Hands?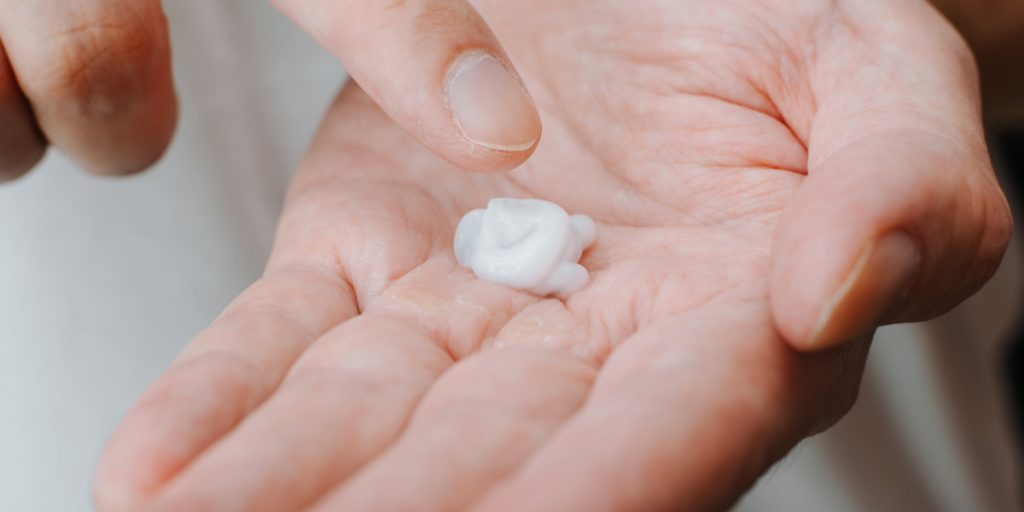 A healthy diet, a good caring routine, and keeping hands safe from water, cold, and cleaning agents are already excellent ways to prevent the problem of cracked hands.
Proper hand protection against hand fissures involves special preventive measures:
Limiting alcohol-based antibacterial products. They should only be used when washing hands with soap and water is impossible. Alcohol-based hand sanitizers will damage the natural surface fat layer that protects skin from moisture loss and the formation of microcracks;
For cleansing, it is vital to use soapy water at a comfortable temperature and a cream soap with skin-care additives;
Avoid keeping your hands too cold: this can constrict fine blood vessels and restrict cell nutrition;
It is significant to use hand cream as required or, at the very least, after each hand wash. You can wear cotton gloves in the evening after application and leave them on overnight to allow active ingredients to penetrate more actively.
Dry and cracked hands can occur unexpectedly and cause a lot of discomfort. You should check your diet, keep your skin soft and use efficient skin care products for treatment and protection from dry cracked hands. The suitable cream will eliminate dryness and tightness and speed up skin recovery.
Bottom Line
Hands are every woman's hallmark. Maintaining their proper condition and appearance is very important, which can be hindered by dryness and flaking. It is recommended to use cosmetics, correct nutrition, or masks to ensure proper care of dry skin to eliminate scaly, dry and cracked hands. They help eliminate dryness, normalize the water-lipid balance, and retain moisture in the skin cells. For the most part, proper care products solve the main problem of dry skin – water and lipid deficiency and promote healing of damages and faster skin repair and regeneration.
FAQ
What Should I Do If My Hands Dry And Cracked?
If the hand's skin is cracked and bleeding (joints are the most common), the first thing to do is to soften the skin on your hands and allow them to heal as quickly as possible. Products with a thick texture, such as natural cocoa butter, beeswax, or paraffin hand cream, can help at home.
Which Ointment Heals Dry And Cracked Hands Quickly?
Salicylic ointment, D-Panthenol, or Bepanthen is recommended. Many modern preparations – sprays, gels, and creams – can be used during the scarring stage, when the lesions are in the process of resorption. Ask your pharmacist for more information, but remember never to use medication without a doctor's recommendation.
What Happens If I Don't Treat Cracked Hands?
Without proper care and treatment, this problem can lead to deep cracks and, worst cases, festering. Cracked hands should be a cause for concern as it often signals the presence of a severe systemic illness.
Can A Poor Diet Affect Dry And Cracked Hands?
An unbalanced diet, eating unhealthy foods, excessive consumption of fast food, and harmful habits such as alcohol, nicotine, drugs, and other substances can cause skin damage, cracking and bleeding, and red spots. It is advisable to consume plenty of fatty plant foods and vitamins.