Published on November 18th, 2022
Last updated on January 24th, 2023
How To Get Rid Of Textured Skin? Ways To Fixing Bumpy Skin Texture
Estimated reading time:
8
minutes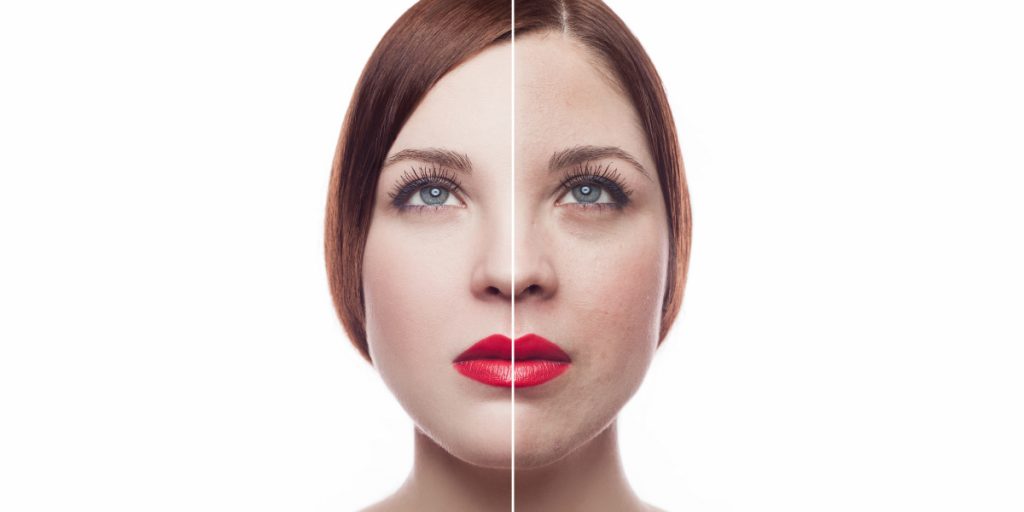 Many girls dream of perfectly smooth skin, on which there is no need to apply tonal products and other cosmetics. And what a shame you can not achieve the desired effect despite the impressive investments in cosmetics. Fortunately, bumpy facial skin texture is not the worst problem in cosmetology, and quite solvable. Rough, lumpy skin is a common problem, but it does not have to be permanent. You need to look a little further into how to get rid of rough skin texture. This article will look at the different causes of textured skin and offer treatment to help you get rid of rough skin texture. Keep reading to learn more!
Why Does Skin Care Texture Become Bumpy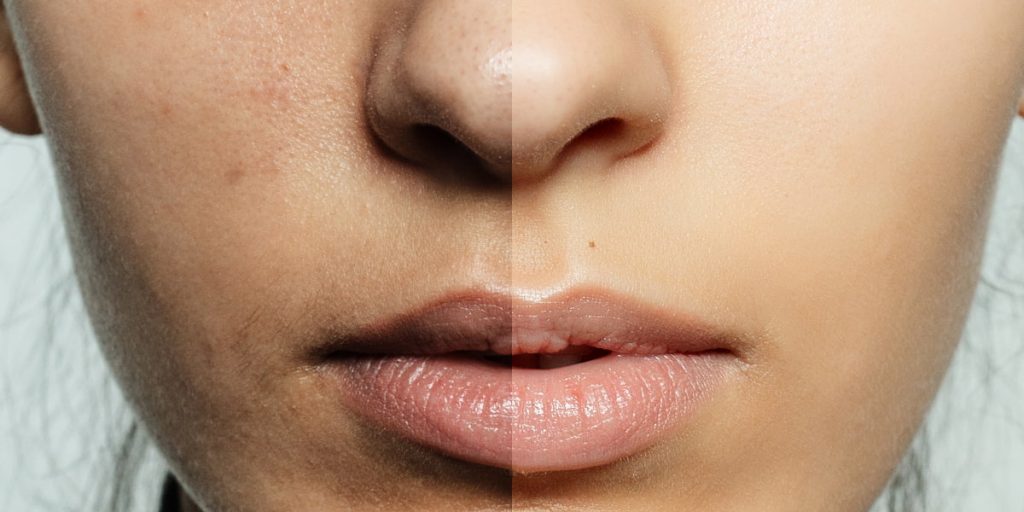 Let's start with the basics and reveal a secret: face textures alone cannot be perfectly smooth. There are tiny pores on our faces in one way or another. Usually, by uneven skin texture, we mean overly pronounced, large pores. That's normal. Also, it's not uncommon for acne, inflammation, and other blemishes to accompany the problem.
Where is the root of the problem? Cosmetologists identify the following leading causes:
improper skin care;
transitional age;
enlarged pores;
use of poor-quality cosmetic products.
In addition, our skin reflects all internal processes in the body, and it is evident that the problem of rough skin texture lies not only in cosmetics. Among the critical factors for the occurrence of tubercles stand out:
Bad habits: Tobacco smoke primarily affects the skin around the lips and eyes;
Heredity: A tendency toward problem skin can be inherited, but it is far from a decisive factor;
Lack of water: Our cells require moisture, like air, which can instantly affect your skin;
Exposure to UV light: Not only does the texture of your face become grainy, but pigment spots and an uneven complexion also appear. And the problem may arise not only from sunlight but also from infrared rays (tanning beds).
Opinion of cosmetologists: owners of oily skin most often face this problem. Due to excessive sebum activity, the skin is constantly clogged, negatively affecting its topography.
How To Make The Skin On Your Face Smooth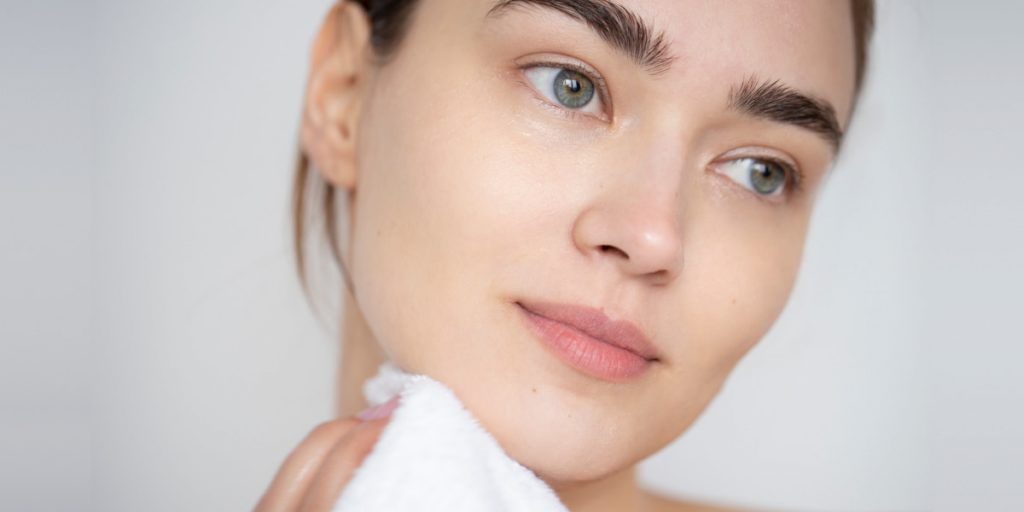 Some cosmetologists claim that it is impossible to treat skin texture entirely. It is partly true if the skin is very grainy. However, if the problem is starting to bother you, getting your face back to its former appearance is quite realistic.
There are two main methods:
Apparatus techniques;
Home techniques.
The fundamental difference is the effectiveness: salon procedures are aimed at deep cleansing, exfoliation, and cell renewal.
However, home procedures are more likely to have a supporting effect. Yes, home remedies also smooth the skin care texture, but they will not be as reliable and effective as machines designed and built by professionals.
Apparatus Techniques To Improve Skin Care Texture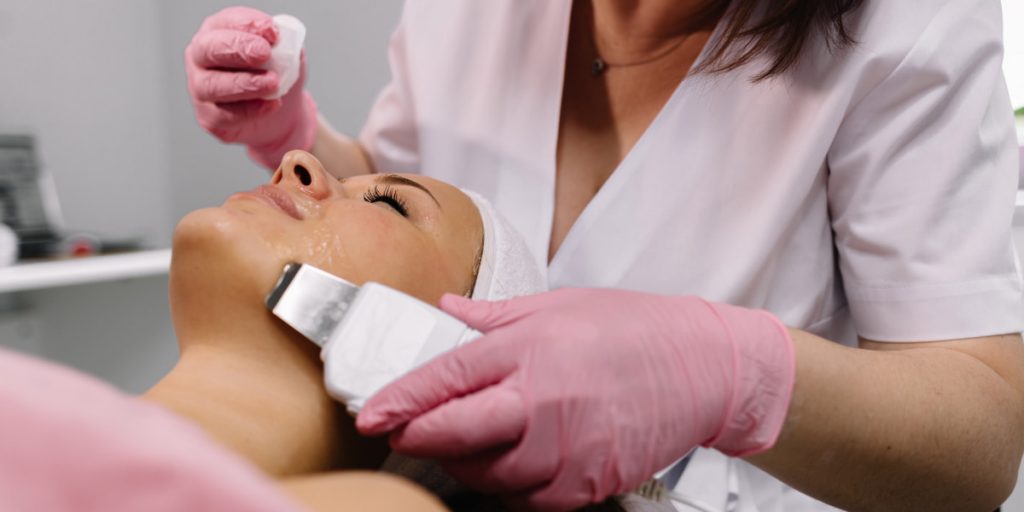 Let's start with the most effective and fast way to make your skin silky smooth. The use of apparatus techniques provides an excellent opportunity to achieve the desired result and consolidate it in the long term. The main procedures include:
1. Ultrasonic Peeling
Ultrasonic peeling is a great way to eliminate bumpy skin texture quickly. The ultrasonic waves emitted by the machine gently penetrate deep into the skin layers, helping to exfoliate dead cells of the stratum corneum, smooth out wrinkles, and give the skin a more youthful appearance.
In addition, this procedure perfectly tones the skin and cleanses the pores. If you have black spots on your face, you may additionally need mechanical cleaning. The process is painless, and the effect is noticeable immediately after completion.
2. Chemical Peeling
Chemical peels are one of the most effective ways to make skin smooth and bump-free. During the procedure, a unique solution is applied to the skin, which exfoliates the dead cells of the stratum corneum, stimulates collagen production, and makes the skin more elastic.
As a result, pores are cleared, black spots disappear, fine wrinkles are smoothed, and the skin care texture becomes much thinner. The main disadvantage of this method is that it can only be performed by a qualified cosmetologist in a beauty salon and requires a long recovery time.
There are three types of cleansing:
superficial;
median;
deep.
The last type helps even partially remove wrinkles.
3. Mesotherapy
Mesotherapy is another trendy and effective way to improve the skin's rough texture. The procedure involves injecting particular active substances under the skin into the deeper layers of the skin. Thanks to this, it is possible to achieve a significant improvement in the condition of the skin:
elasticity and firmness are increased;
pigmentation is reduced;
wrinkles are less visible;
the skin becomes more moisturized;
infections are eliminated, and inflammations disappear.
One of the most significant advantages of mesotherapy for skin texture treatment is that it can be performed at any age. And also has practically no contraindications (except for individual drug intolerance).
The course includes 8-10 procedures every 7-10 days. You can achieve a significant effect after the first treatment.
4. Galvanic Massage
A galvanic massage is another cosmetic procedure that perfectly evens the face's texture. The essence of the procedure is that a particular device generates low-frequency electrical impulses. It saturates the cells with oxygen and speeds up blood circulation and metabolism.
As a result, uneven skin texture is eliminated, fine lines are smoothed out, and the facial contour is lifted. A course of galvanic massage (10-12 treatments) can achieve excellent results.
5. Phonophoresis
Phonophoresis is a procedure that uses ultrasound to inject medications into the skin. This technique allows several times greater penetration of active ingredients and, as a result, a significant improvement in the skin's condition. After phonophoresis, the skin care texture becomes more elastic and lump-free.
6. Oxygen Therapy
Oxygen therapy is the last salon procedure we describe to correct bumpy skin texture. Its essence is to saturate the cells with oxygen using special equipment. Thanks to this, it is possible to achieve the following results:
stimulation of collagen production;
smoothing of fine lines and wrinkles;
clearing of pores;
improvement of blood circulation;
excretion of toxins and waste products.
The course includes 10-12 procedures. The positive effect is already noticeable after the first session.
Home Techniques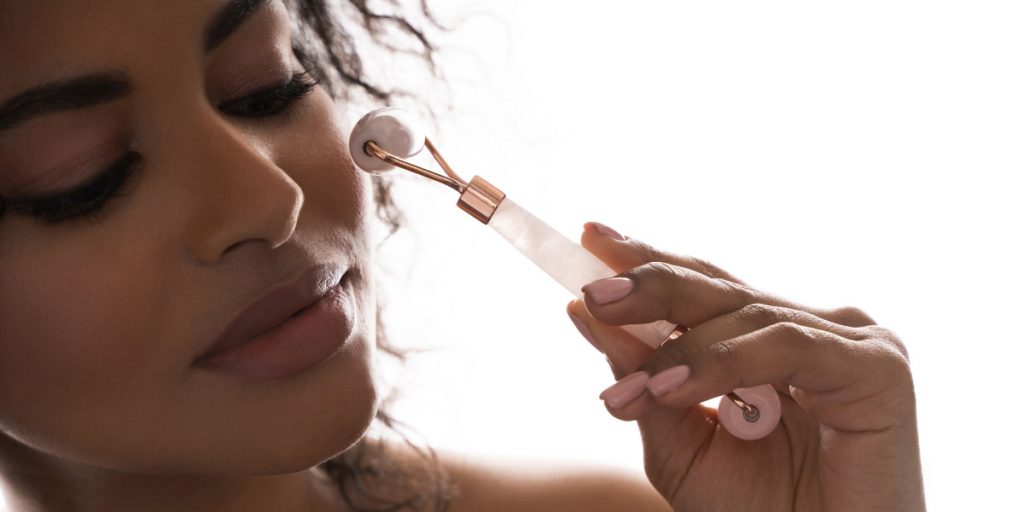 At home, you can also smooth the relief of the skin. Or you can use these methods as supporting procedures after the salon. Once again, the effect will not be the same as the salon procedures, but it will still please you.
1. Proper Cleansing
Proper cleansing is the first and most crucial step in getting rid of rough skin texture. Cleanse your skin in two phases: remove your makeup and wash your face with a cleanser. Also, do not forget to use special cleansing milk or foam (without SLS and other aggressive substances).
Wash your face twice a day: in the morning and the evening. After cleansing, it is advisable to use lotions, tonics, or other products to normalize the water-lipid balance.
2. Massage With Derma Roller
A derma roller is a small device with hundreds of tiny needles. It opens up channels through which the active ingredients can be better absorbed. The device should be used carefully so as not to traumatize the skin.
Run the derma roller over the skin in different directions 10-15 times. After that, treat the skin with a nourishing cream or serum. Carry out this procedure 1-2 times weekly for 2-3 months.
You can buy the derma roller on any buy-and-sell website or in a cosmetic store.
3. Peelings
Peeling is another way to get rid of the rough texture of the face. The procedure removes the top dead skin layer, stimulating cell regeneration. As a result, the skin becomes softer and smoother, and the lumpy texture of the skin disappears.
You can buy ready-made peeling products in any cosmetic store or drugstore. Or you can prepare them yourself from natural ingredients. For example, you can use the following:
caustic soda;
sugar;
coffee;
ground oatmeal;
baking soda;
fruit acids (e.g., lemon juice).
Remember that fruit acids can damage delicate skin. So be careful with them and always test on a small skin area first.
4. Good Nutrition And Hydration
Remember that what you eat and drink affects the condition of your rough skin texture. To have smooth, lump-free skin, you must eat healthy foods and drink plenty of fluids. Be sure to include the following in your diet:
fresh fruits and vegetables;
nuts and seeds;
oils (olive oil, linseed oil, etc.);
lean meat and fish;
low-fat dairy products;
whole-grain cereals;
water (at least 2 liters per day).
Eliminate from your diet: fast food; sugary sodas; baked goods and sweets; fatty, fried, and smoked foods. Also, give up bad habits such as smoking and drinking alcohol.
Bottom Line
Uneven facial skin relief is a common problem. Grainy skin makes you look older and attracts possible inflammations and pimples like a magnet. That's why the problem should be solved as soon as possible. And if you can not worry in adolescence, you need to solve the problem in adulthood. And I hope that my tips will help you decide whether to perform a salon procedure or use home methods.
FAQ
How To Get Rid Of Textured Skin?
There are several ways to get rid of textured skin:
salon procedures (chemical peeling, phonophoresis, etc.);
home methods (proper cleansing, massage, etc.)
Is It Expensive To Get Rid Of Textured Skin?
The cost of the procedure depends on the chosen method. Salon procedures are usually more expensive than home methods.
How Long Does It Take To Get Rid Of Textured Skin?
The duration of the procedure also depends on the chosen method. Salon procedures usually have a shorter duration than home methods.