Published on October 23rd, 2022
Last updated on January 24th, 2023
How To Use A Dry Brush For Skin Cleansing? Definitive Guide
Estimated reading time:
7
minutes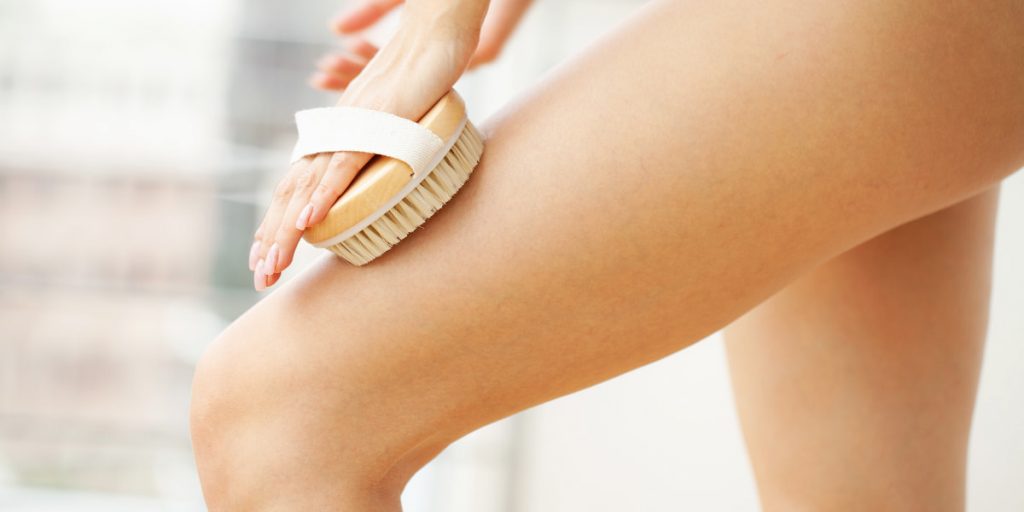 The skin will become tighter and smoother, and cellulite, puffiness, and stretch marks will be reduced if you use dry brushes regularly. The dry skin brushing technique, or dry anti-cellulite massage with a brush, is considered a fairly popular beauty treatment, especially in demand during the pre-summer season. The effect that dry brushing produces is similar to that of exfoliating products. The main thing is to use products from proven brands.
The advantage is that the procedure does not require additional costs and is very convenient. You can use a dry brush for lymphatic drainage daily, as it has less impact on the skin than some granular cosmetics. In addition, removing dead cells with a dry brush does not disrupt the skin's acid mantle, which protects it from bacteria, fungi, and infections. Many women already practice the dry skin brushing technique. How to do it properly is discussed further in the article.
What Is A Dry Brush Massage?
It is a full-body massage with a natural bristle brush, dry and without water. The dry brushing technique is one of the easiest ways to improve skin tone and fight cellulite. A dry brush massage is not only the way to aesthetic skin but also healthy skin. And, of course, there's a whole list of benefits of dry brushing skin. Here you may see why it's worth incorporating this treatment into your body care routine:
1. It Cleanses And Tightens The Skin
A dry massage brush does an excellent job of cleansing the pores on the skin. In addition, during a dry brush massage, you get rid of keratinized skin particles and renews its top layer. By improving blood circulation, the skin becomes softer and smoother, but at the same time firm and countered.
2. It Helps In The Fight Against Cellulite
The most significant skin brushing benefit is that it gets rid of cellulite. The effect of "orange peel" appears due to the poor circulation of the skin and the accumulation of various toxins in it. Dry massage helps to eliminate both causes at once, so we can say that this is one of the easiest, fastest, and most inexpensive ways to get rid of cellulite.
3. It Improves The Immune System
Our immune system constantly needs support because it is responsible for the body's condition. A dry brush massage helps to stimulate the lymph in the body and also cleans our tissues and cells – a kind of natural detox. By ridding our body of harmful toxins, our immune system starts to feel much better, which is immediately reflected in our well-being.
4. Dry Brush Stimulates Blood Circulation And Sebaceous Glands Work
In the process of dry-brush massage, we not only clean the skin but also improve blood circulation, which helps the circulatory system to work correctly. In addition, removing sebum from the pores makes the skin look healthier and allows the sebaceous glands to work correctly. If the skin is clogged, metabolic products cannot leave the body through sweat. As a result, our other organs – kidneys and liver- must cope with this task. Therefore, dry massage and the immune and circulatory systems also help the digestive system.
5. Dry Brush Massage Stimulates Important Body Systems
It helps you wake up and get an active start to the new day. Therefore, it is a good practice to have a dry massage in the morning to energize your body with positive energy.
The dry skin brushing technique is an excellent addition to a detox plan to eliminate toxins. Using it in combination with cold and hot wrapping procedures is recommended. With a cooling effect, the product helps fight the signs of cellulite, speeds up the metabolism, and corrects weight. Wraps with a warming effect reduce volume, relieve swelling, and have a pronounced lifting effect. A comprehensive approach allows you to get the declared result much faster.
How To Properly Massage Skin With A Dry Brush?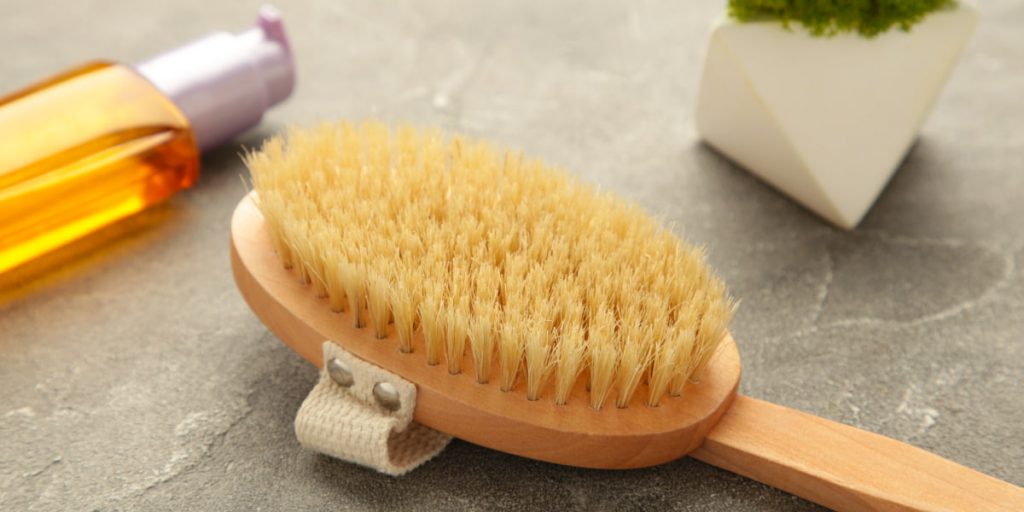 Like other types of massage, dry skin brushing is the correct technique. Catch the step-by-step instructions on how to massage your body with a dry brush properly:
Perform the procedure before showering. The skin should be dry, with no lotion or oil. Although there's an obvious oxymoron in the beauty product's name, it's just light oils that absorb quickly without creating a shine or greasy film;
Start on your feet and work your way up to the center of your body. Then repeat the same process with your hands: start with your palms and move toward the center;
The golden one of skin brushing benefits is that there is no need to rub and damage the skin;
Movements are equal and quick. Combine circular strokes near the joints with longitudinal strokes on the shins, hips and arms. The direction is always towards the heart, and against the hair follicles; this helps to activate the lymph flow. If the skin is slightly red and tingling – no big deal, but the burning and bright red spots are a sign that you overdo it;
You should reduce the brush's pressure on sensitive areas (bikini, abdomen, underarms). If you have a susceptible neckline area, it is better to leave it untouched;
A shower will help get rid of exfoliated particles;
The final step is to replenish moisture levels, for which you can use cream or oil. To affect cellulite in a double blow, apply an anti-cellulite product. Thanks to the exfoliation and increased blood circulation after the treatment, it will be absorbed and take effect faster.
Before performing a dry face massage, you should carefully familiarize yourself with the technique and rules of the procedure so as not to harm your skin and health.
Dry Brush For Lymphatic Drainage Massage Technique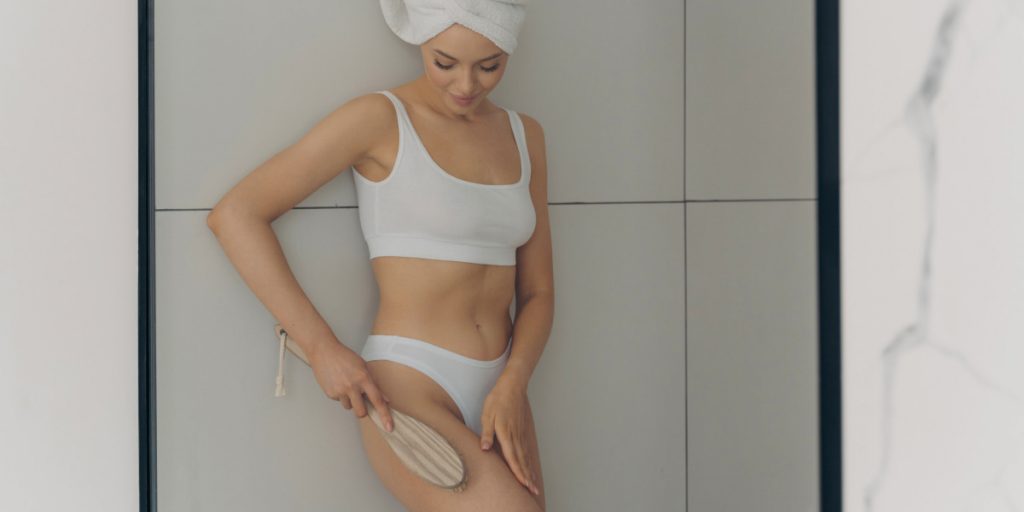 As with any procedure performed at home, you have to follow a strict guideline. You can do a lot of damage to your body if you misuse this device. Below, you can read a more detailed description of the most common mistakes when massaging with a dry brush at home:
Excessive effort. After the dry brush massage, the skin should be a light pink hue. Too red color indicates excessive pressure. Such actions will not do any good. When performed correctly, there is no discomfort;
Massaging the chest can be harmful to health. It is not recommended to massage this part of the body. The treatment of lymph nodes and veins is dangerous for vascular disorders;
The face and body should be massaged with separate brushes. The body brush should have coarser bristles. The harm that can be caused in this case is obvious. A dry facial massage brush is softer;
The procedure of dry brush on wet skin will not give the expected effect. On the contrary, the steamed epidermis can be easily traumatized;
Irregular procedures will not bring the desired result. Dead skin cells appear on the skin very quickly. Performing dry massages occasionally is the same as starting from scratch every time.
Summary
The dry brush massage tightens the skin and makes it firmer, improves blood flow, removes swelling, invigorates, and evens skin tone and relief. Also, you can add body wraps to reduce cellulite faster. Despite the many benefits of dry brushing skin, it also has contraindications. The brush should not be used for any dermatological diseases (psoriasis, eczema), sunburns, irritations or skin lesions. Therefore, always be cautious about your health.
FAQ
Can I Massage Skin With A Dry Brush During Pregnancy?
Pregnancy is not a contraindication for dry brush massage. But the future mother should consult her doctor. The dry skin brushing technique has some contraindications and rules that should be followed.
What Products To Use After A Massage With A Dry Brush?
In summer you should not forget about sun protection. In addition, regular dry massages make the skin more sensitive to ultraviolet light. So use good sunscreen: for example, an intensive face and body cream with SPF50+. And you can also use special moisturizing oils to prevent skin dryness during all seasons.
How To Choose The Right Massage Brush?
It is better to select wood-based products with a natural pile, such as cactus, palm, or boar bristles. However, you can also give preference to artificial bristles – the nylon has less bacterial growth than natural hair, which reduces the risk of rashes.