Published on December 8th, 2022
Last updated on January 24th, 2023
How To Put On And Wear A Lace Front Wig? Detailed Instruction
Estimated reading time:
7
minutes
Perhaps you recently cut your hair, and now you want to have long curls. Or you are struggling with an illness that is causing your hair to fall out. In any case, you can get long and thick strands of hair fairly quickly using a wig. However, not everyone knows how to put on a lace front wig properly, and we want to help you do it right. For applying a lace front wig, use the following steps:
Do an adhesive tolerance test;
Remove your hair;
Put on a special hat;
Prepare your skin;
Put on your wig and make sure it is secure;
Remove lace;
Determine the beginning and end of your wig;
Apply glue or wig tape;
Style your wig hair.
In fact, putting on a wig is not that difficult. You just need to buy special tapes for gluing a wig or glue, as well as choose a wig that suits your appearance. After that, you will need to follow detailed instructions with steps that will teach you how to do it correctly.
In this article, we will look at instructions that will help you with applying a lace front wig correctly.
How To Install A Wig Correctly?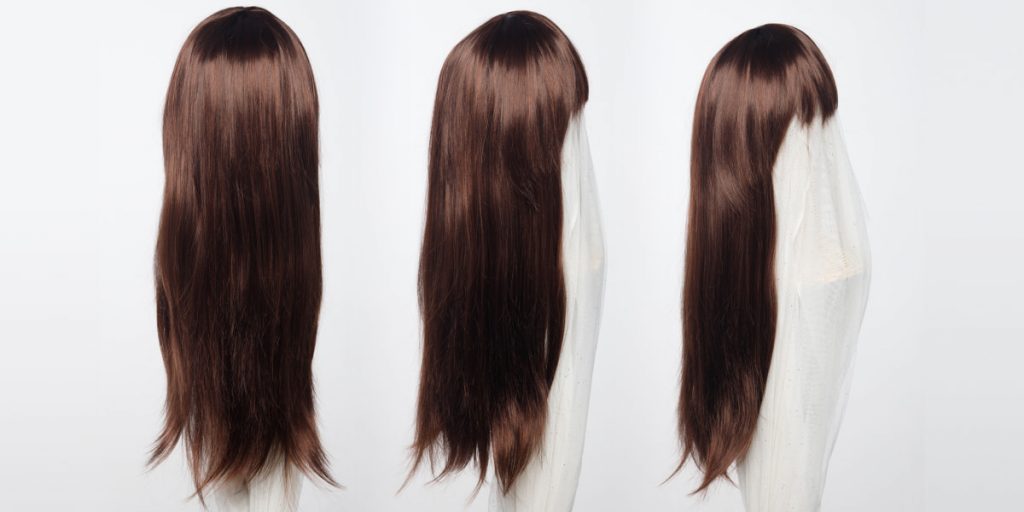 You need to start with the fact that wigs are different. You can find wigs made of real hair and artificial ones. In this article, we are looking at lace wigs. These wigs were designed to hide the hairline more closely and thus provide a more natural look.
A wig is a great option for those who want to experiment with looks often but don't want to expose their hair to harsh dyes or hot tools. However, it is important to know how to wear a lace front wig properly. It will not only look beautiful, but it will also be safe for the hair. Since the improper application of glue and fixation of the wig can irritate the scalp and even spread the infection.
We have prepared for you a series of steps that help you with applying a lace front wig properly on your head. Let's consider them in more detail.
Do An Adhesive Tolerance Test
Some people who want to wear a wig face intolerance to the chemicals that make up the glue. To make sure that the glue is harmless to you, conduct a test. Apply a small amount of glue or double-sided tape to the back of your hand and leave it on your hand for a day. Within 24 hours, observe the reaction of your skin. You can use this glue to fix your wig if you don't get any irritation or redness. Otherwise, you should buy a hypoallergenic wig glue.
Remove Your Hair
The first step in getting ready to wear a lace-up wig is to braid your hair. If you have long hair, you can braid it to keep your head flat. If you have short hair, you can curl it. You need to make sure that your hair is carefully tied up. Otherwise, you will not be able to attach the wig securely.
Put On A Special Hat
In stores, you can find a special cap that presses the hair to the head. This helps to keep your hair well in place before you start putting on and fixing a lace front wig. You should wear such a cap so that it barely covers the hairline. All your hair should be covered with this cap. If you have almost no hair, you can skip this step.
Prepare Your Skin
Wash your skin with a cleanser and pat dry with a towel. Also, soak a cotton pad with rubbing alcohol and wipe your hairline. So you can remove excess fat from your skin. If you have a sensitive skin type, apply a scalp protection serum.
Put On Your Wig And Make Sure It Is Secure
When you put on your wig, make sure it fits securely on your head. Align the wig with your natural hairline. If your wig has drawstrings on the inside, adjust them. You should not feel much pressure while putting on a lace front wig. This means that you did something wrong. Try to loosen the straps. Do your best to make the wig sit comfortably on your head.
Remove Lace
When you are sure that your wig fits comfortably on your head, remove the lace. Take sharp scissors and cut the lace along the natural hairline. Leave about 3 mm of lace after cutting the lace's main length.
Determine The Beginning And End Of Your Wig
Once you have tried on your wig, take it off and lay it on a flat surface. Lay it so that you can determine which part corresponds to the hairline and which is worn at the back of the head.
Apply Glue Or Wig Tape
Take about a dozen pieces of wig tape and glue them to your scalp. You should end up with a straight line of strips pasted onto your skin. After that, remove the gaskets that are glued on the other side of the adhesive tape. Instead of adhesive strips, you can use liquid glue. As with the strips, apply wig glue to the hairline. If you are using the soft version of the glue, you will need to wait until it thickens enough so that you can apply it to your head.
Style Your Wig Hair
It's the next step of lace front wig installation. If your wig is made from natural human hair, you can use the same styling techniques and tools you used before the wig. Comb your hair gently, and curl it with styling tools if desired. If you have a synthetic hair wig, use a wide-toothed comb and avoid hot tools.
Bottom Line
Thus, we have talked about lace front wig installation. A wig is an excellent item for those who love experimenting with their hair but don't want to mess it up. It is also suitable for those who, for whatever reason, cannot currently have long curls. Be sure to do a preliminary reaction test with your glue to ensure you are not allergic to it.
FAQ
How To Put On A Lace Front Wig?
To properly put on and fix the wig, remove your hair, put on a special stocking cap, apply glue to the hairline, then put on the wig and press it to your head. If you do everything right, your wig will look pretty natural, and you won't get an infection or scalp irritation.
How Long Does A Lace Front Wig Last?
If you take proper care of your lace wig, a real hair wig will last you for about a couple of years. As for a synthetic hair wig, you can expect about six months of use.
How To Wear A Lace Front Wig?
If you choose to wear a wig, don't forget to take care of your scalp and your wig. When wearing a wig, you must ensure that it does not press on your head and that you feel comfortable. From time to time, remember to wash your wig using special products gently. In this case, the regular shampoo will not work due to aggressive agents in the composition.
How Long Can A Lace Wig Be Worn?
A lace wig can be worn for approximately 2-6 weeks. After that, it will need to be removed. The exact time to wear a wig depends on the quality of the wig, the type of hair, and how well you take care of it. To wear your wig for as long as possible, wash and condition him daily to keep his hair clean and in good condition.
How Often Can A Lace Wig Be Washed?
If you need to wear a lace wig daily, you should wash it every two weeks. If you use wig styling products regularly, take the time to wash your wig every seven days.
Do Lace Wigs Negatively Affect The Hairline?
Due to the aggressive adhesives used to fix the wig, you may experience hair loss. If you wear a lace wig all the time, you may experience damage to your scalp and hair, which can lead to partial baldness.