Published on November 26th, 2022
Last updated on January 24th, 2023
What Is Facial Cupping: Crucial Benefits, Facts And How To Apply
Estimated reading time:
8
minutes
Facial cupping therapy is a modern procedure that has some advantages. You will need special suction cups and a little time to complete this procedure. The procedure of massaging the face using special suction cups has a lot of benefits and positive effects on the skin. Although immediately after carrying it out, a person may experience reddening of the skin. If your skin may become slightly reddened or irritated, you should not refuse to carry it out. We advise you to massage your skin using suction cups from time to time to tidy it up.
This guide will tell you about the many advantages and disadvantages of using cups for facial massage and how to perform this procedure correctly.
What Are The Facial Cupping Benefits?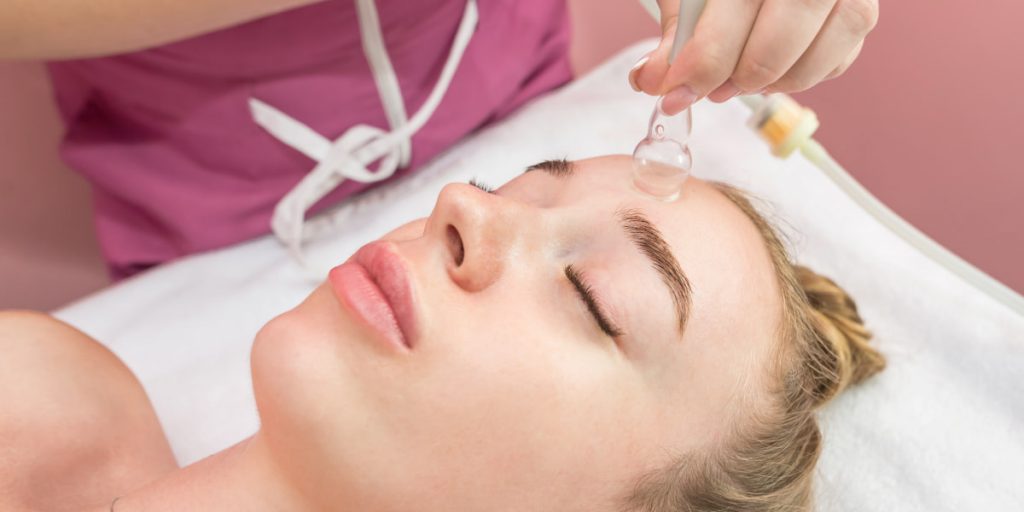 First, we need to consider the benefits of this procedure. Facial massage using cups really has a lot of benefits. We have prepared a small list of beneficial properties of this procedure that you should know about. So, the facial cupping procedure has the following benefits:
Increases blood circulation;
Strengthens the skin and connective tissues;
Stimulates the production of collagen;
Promotes muscle relaxation;
Helps to brighten the skin;
Facial cupping helps to minimize possible scars, fine lines, and wrinkles;
Tones the chin, jawline, neck, and decollete;
Reduces swelling;
Improves nutrient delivery and product absorption.
Side Effects
While facial massage with a cup is considered safe, you may experience minor side effects. Usually, they appear during or immediately after the end of the procedure. Among them, you can note:
Dizziness;
Nausea;
Cold sweat.
Some experts advise avoiding using face cups if your skin is damaged or inflamed. It can provoke the appearance of more inflammation, rashes, and ulcers.
Leave Traces For The Bank?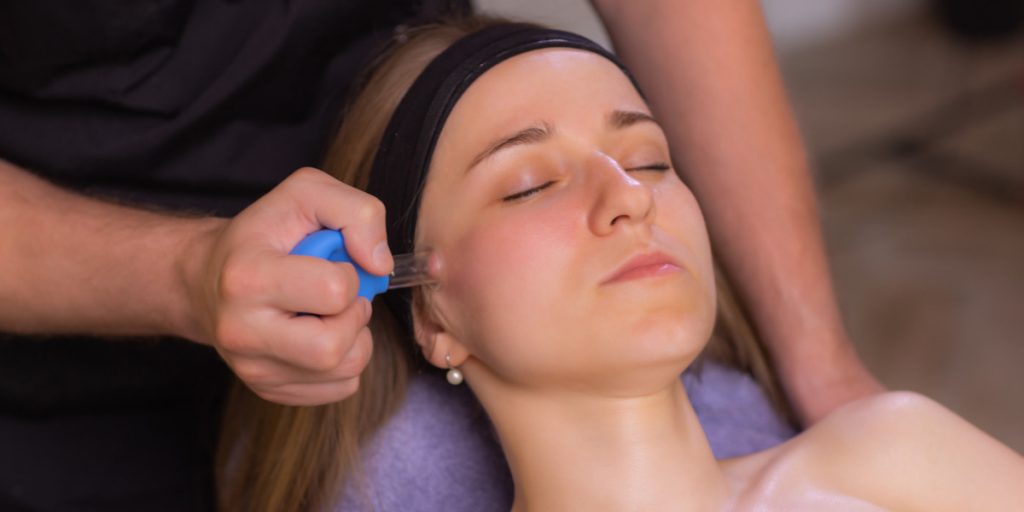 It is an individual question since each person has their skin type. Since cups designed to work on the face constantly move over it without staying in place, this should not leave bruises on your face. We have selected a few recommendations that will help you avoid marks on your face after the procedure:
To accurately avoid any marks on the skin, your task is to quickly and smoothly move the suction cups s all over the face during cupping. Do not leave the jar on one area of ​​the face for too long.
Also, do not put much pressure on your face during this cosmetic procedure. It's better to touch the suction cups to your face gently. You should not feel discomfort while working with banks and faces.
You can lubricate your face with cleansing oil to make it easier to glide over your face with suction cups.
Don't worry if you experience slight skin reddening after using facial cups. You use cups to bring your blood to the surface of your skin. Therefore, it is logical that your skin may become a little red. It's good that you have small red marks on your face after cups. It suggests that you have pressed enough pressure on your skin with the jar, giving each part of the face enough time. It ensures that you have performed the procedure correctly, and you can expect positive effects after this cosmetic procedure.
The Scientific View Of The Procedure
Earlier, we told you about some advantages of face cupping. However, these data are based more on the feedback of those who performed this procedure. Science does not yet have concrete data on this procedure's usefulness. Often this procedure is used for a rejuvenating effect.
Although one study has shown stretching of the layers of the skin, there is no evidence that this helps to get rid of wrinkles.
In terms of the body, cupping procedures are used for diseases such as diabetes, heart disease, musculoskeletal problems, and emotional stress. It can be assumed that cupping the face may also improve well-being in such conditions.
Also, we should tell you that a new form of cupping, known as plasma cupping, promotes accelerated wound healing. Their job is to influence the genes, resulting in the skin condition improving significantly.
Thus, there is no evidence of benefit or harm from facial cupping at the scientific level. However, many people who have had this procedure talk about some positive effects that they have noticed on their faces. Science will continue to study this question to give an accurate assessment of the benefits of this procedure. It is also essential to rule out the placebo effect that causes people to perform this procedure.
How To Make A Facial Massage With A Cup?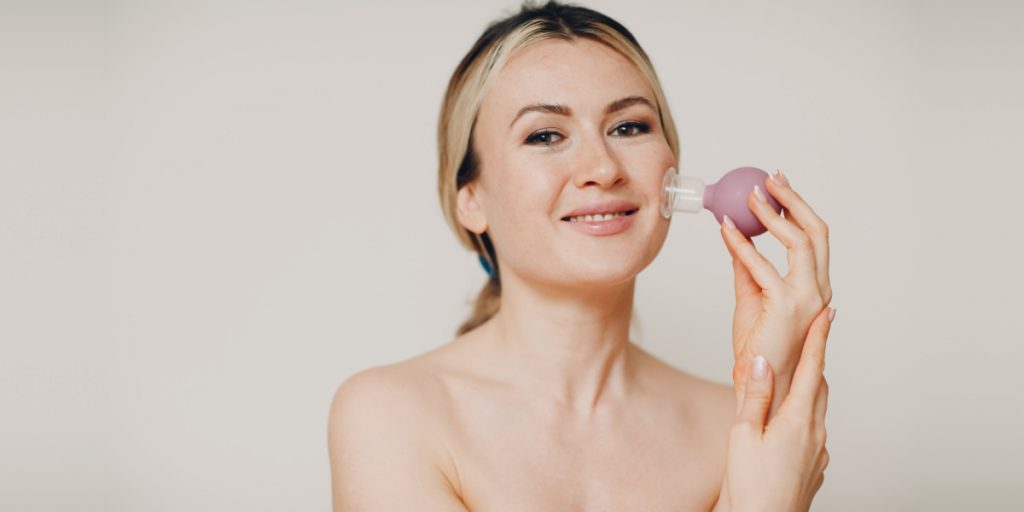 There are several different ways in which you can do this procedure. So, some suction cups for this procedure are made of hard plastic. Some are soft and jelly-like. You can choose any option since the shape of the cup does not have much influence on the result of the procedure. You can find instructions on each suction cup. Always read it carefully to follow the procedure correctly. Instructions for doing the cupping on the face:
Wash your face and pat it dry.
Massage your face with your hands to relax it.
You can apply a small number of oils to your face. It is unnecessary, but it can help prevent bruising and other skin damage during the procedure.
Apply a small cup on your chin and around your mouth. Leave the cup in place and hold it there for a few seconds, then move it up to the adjacent area.
Take larger suction cups when working on the forehead or other large areas. You can change the size of the cups depending on how large the area you are currently working with.
Continue slowly to process all the necessary areas.
At the end of the procedure, clean your face and dry it.
Thus, thanks to special cups and simple actions, you can perform facial cupping, giving you many benefits.
What To Do After The Procedure?
After the procedure, you may have a question about what you should do after the procedure. We must tell you that there are no specific steps that you must follow after cupping your face. However, you can follow a few guidelines to ensure your face recovers properly after the procedure. Here are some of them:
Make sure you moisturize your skin enough, as this is important so that toxins can leave you.
Refrain from drinking alcohol after the procedure.
Rest after the procedure. You can carry out this function before going to bed.
After the procedure, you will soon be able to see the result for which you did it. Your face should be rejuvenated and acquired a healthy glow. To keep your skin toned and beautiful most of the time, do this procedure with suction cups at least once a week.
Tips For Making Facial Cupping Therapy
We also want to give you tips on applying suction cups to your face. So, keep these essential points in mind when you want to perform this procedure:
Don't worry if you notice slight redness or irritation on the skin. It happens after the procedure and goes away on its own within a couple of hours.
It is better to perform the procedure before going to bed so that the skin can recover overnight and all redness disappears by morning. Take an evening shower, apply serum to your face and start massaging with suction cups.
After finishing the procedure, wash your cups with warm water and soap.
Get cups of different sizes to treat other areas of the face. So, with the help of small tools, you can treat the area under the eyes, near the nose, and mouth. You will need large cups for working on large areas of the face, such as the forehead and cheeks.
Bottom Line
So, we told you about several face cupping benefits. While there is no scientific evidence that facial cupping is really beneficial, people who have had the procedure report some positive effects. Try this treatment once or twice a week and notice the changes in your skin. It can make your skin healthier and more attractive.
FAQ
What Is Facial Cupping?
This is a modern cosmetic procedure that consists of facial massage using cups. For this, special suction cups are used, which need to be lightly pressed to move over all areas of the skin.
What Are The Benefits Of This Procedure?
There is no scientific evidence of benefit or harm from this procedure. However, people who have used facial cupping have noted a reduction in scars, wrinkles, chin and jaw tone, and less puffiness. Basically, this procedure is carried out to improve blood circulation and stimulate facial cells.
How Often Should Face Cups Be Done?
If you notice an improvement in your skin after this procedure, do it two to three times a week. Each session should last approximately 15 minutes. Perform this procedure before going to bed on clean skin lubricated with oil.
What Can Not Be Done After Cupping?
After the procedure, you should avoid drinking alcohol, coffee, sweets, and dairy products. Also, refrain from hot showers and strong air conditioning. Doing strenuous exercise is also not worth it.