Published on February 6th, 2023
Last updated on April 21st, 2023
The Benefits Of Sound Bath Meditation
Estimated reading time:
6
minutes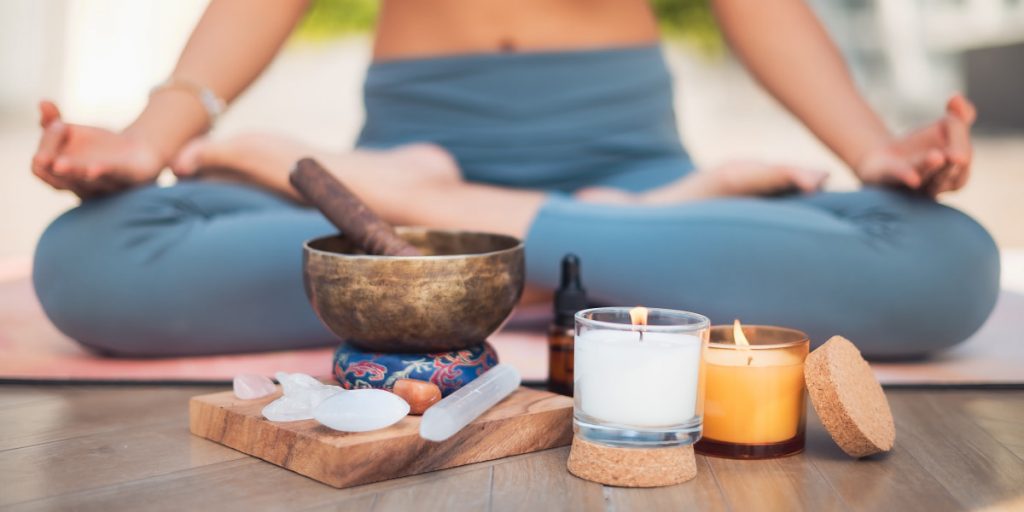 Ancient spiritual and healing practices are increasingly attracting the attention of scientists. They are also becoming a new wellness trend. It is one of the best ways of personal care. In recent years, much scientific evidence of meditation's benefits has been available. Another popular one is sound bath meditation. Scientists have not yet studied it enough. But the sound bath has already gained many followers. A sound bath is an authentic way to restore mental balance and cope with neurosis. It acts like a meditation. And the vibrations of different frequencies enhance its effect. The sound bath or gong bath has nothing to do with water and hygienic procedures. It is one of the oldest rituals for stress relief and relaxation and the prevention of many diseases. Sound bath healers can help create magic. It is when you close your eyes and succumb to the soothing sound of singing instruments.
In this article, we'll tell you what it is. And you will also find out if you can heal yourself with the sound bath spa treatment.
What Are The Benefits Of Sound Bath Meditation?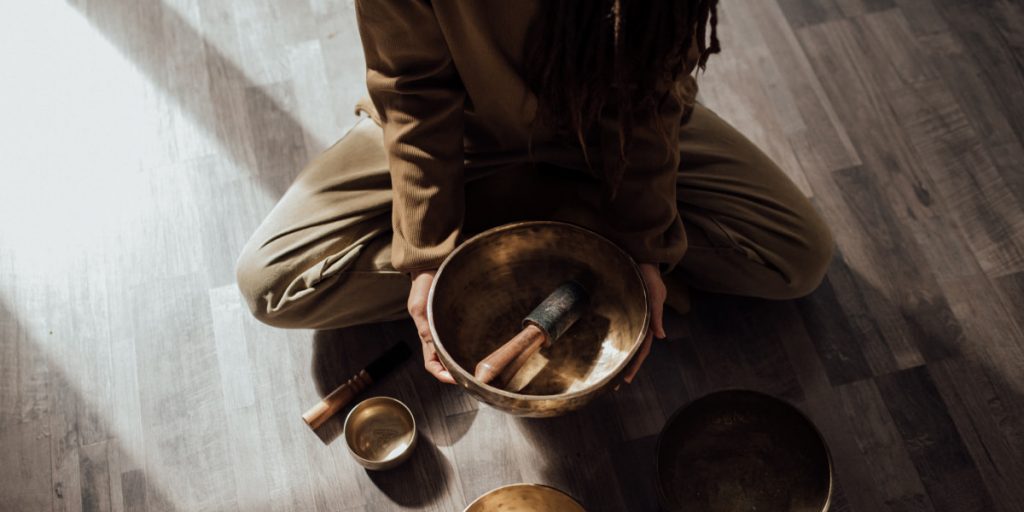 Sound is capable of slowing the heart rate and breathing itself. Sound baths will be useful to anyone who just wants to relax. They are also good for explorers. Since everyone wants to feel what it is like to immerse in a meditative state. Sound bath meditation will be helpful for beginners and experienced practitioners alike.
The goal here, as always, is self-exploration and self-discovery. For centuries, people have been using sound to harmonize imbalances and trauma in:
physical body;
mental body;
emotional body.
The sound is particularly effective in relieving stress and headaches. As the vibrations help to alleviate discomfort.
It calms the mind, manages anxiety, and eliminates unwanted thoughts. To increase self-confidence, it is essential to:
pay more attention to details;
listen to others;
meditate.
The "presenters" also claim that the transformation of consciousness is the most powerful effect of sound bath healer.
Consciousness is a state of wakefulness and awareness. One changes and expands one's awareness of oneself, the world, and a relationship with it. It happens when he listens deeply, without distraction, and with full concentration.
What Is A Sound Bath Meditation?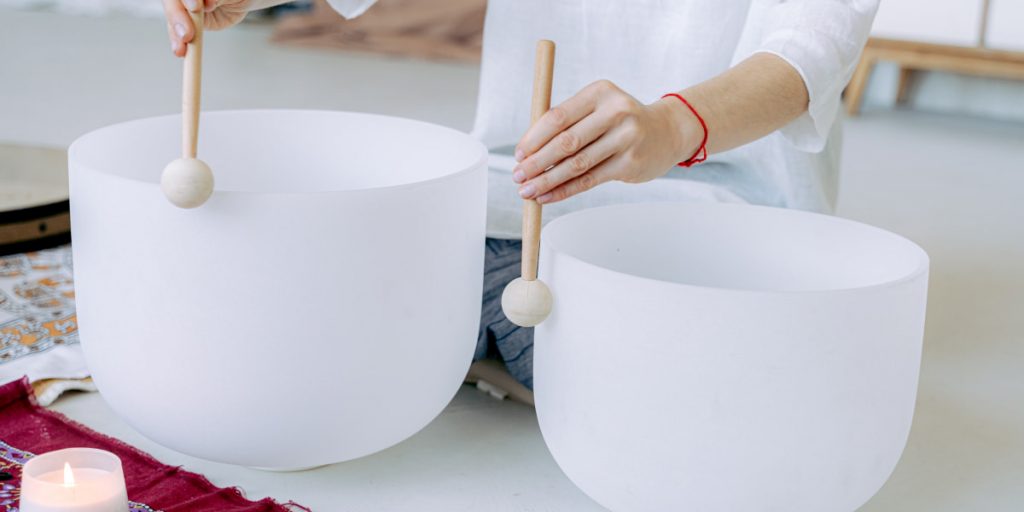 It is a meditative practice but accompanied by the sounds of gongs, brass, or glass bowls. People have used sounds in:
various religions for deep thought immersion;
a distraction from everyday problems.
It combines vibration and sound therapy that soothes and harmonizes the body. The gong bath is sometimes compared to floating. It is one of the types of sound therapy. It also gives excellent relaxation to all systems of the body.
The ancient Greeks were the first to understand the therapeutic properties of sound. Aristotle wrote that melodies and vibrations can:
conquer eating disorders;
muscle pain;
normalize sleep.
Sound therapy fought fears, neuroses, and mental disorders. Sound bath meditation at home is now a popular tool for:
meditation;
relaxation;
yoga;
medical practices related to biorhythms.
People began using music therapy in psychiatric institutions in the 19th century. During World Wars I and II, doctors used music as anesthesia:
in childbirth;
dentistry;
surgical procedures.
In the 20th century, people created several schools of music therapy. And music therapy centers became in demand in Europe and the United States.
Sound baths are a practice where people feel sounds of a certain frequency. A sound therapist leads a class that:
makes a list of relaxing songs;
plays the necessary sounds with the help of instruments.
How To Do Sound Meditation?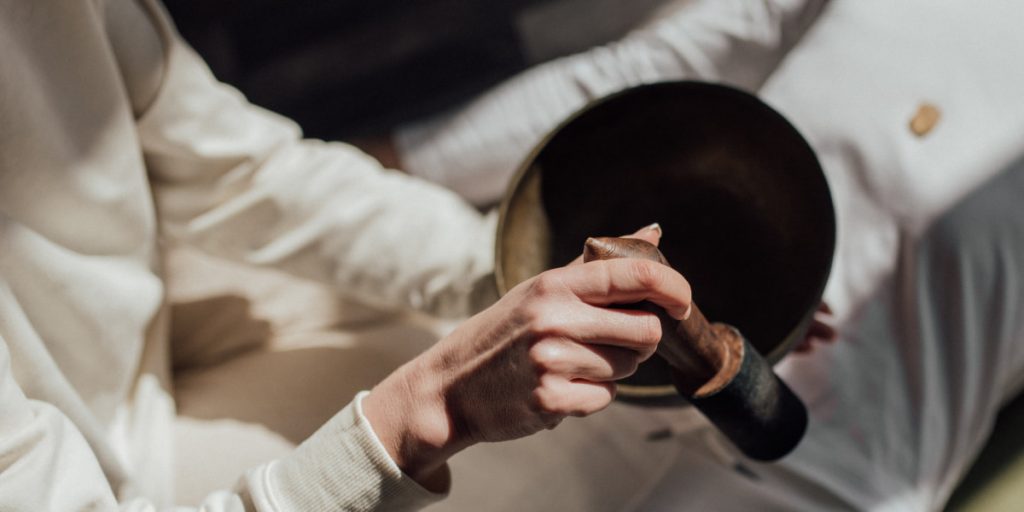 During the session, you have to lie on the floor in a dark room, trusting the techniques of your mentor. With a special instrument, the master swipes the edge of the vessel in a certain direction. Each of them creates a different frequency, which affects the human body differently. There is no standard for this procedure. As sound bath meditation has lots of benefits, mainly:
relieves muscle tension;
soothes the mind;
relieves headaches;
combats stress and anxiety.
The healing frequency of 442 Hz is good for the body and balances the chakras, so it is worth trying a sound bath spa treatment.
A sound bath can include any number of instruments, including the human voice. Many scientists suggest that this phenomenon has a relaxing and healing effect on the mind and body. In addition, people believe that the new crystal bowls, introduced in the 1970s and made of crushed quartz, transmit the healing energies present in the crystal.
Most sound therapists in the U.S. use Asian and South Asian instruments – gongs and singing bowls. Also popular are Indian flutes, African rain sticks, and South American indigenous pan flutes. So, you will get different types of sound therapy you using several materials.
Taking a sound bath usually goes like this:
participants lie down on a yoga mat;
close their eyes;
relax;
and the sound practitioner plays the instruments.
Even if a person falls asleep during such a session, this will not diminish the beneficial effect. Because the sound vibrations will still penetrate the body.
Does A Sound Bath Meditation Help Heal The Body?
Some adherents of sound baths call such procedures almost a cure-all. For example, The New York Times wrote about Sarah Auster. She claims to have recovered from paralysis with the help of sound therapy. After her high-profile story, Auster held a mass sound bath practice at New York's Museum of Modern Art. She was also invited to Google to give a lecture on sound baths.
Tamara Goldsby, a research psychologist and professor at the University of California, San Diego, has studied the benefits of sound bath meditation on anxiety and depression. Her research has shown that singing bowls relieve stress, relieve symptoms of depression, anxiety, and physical pain, and elevate mood.
Bottom Line
Everyone in society is stressed, and sound baths trigger a relaxation reaction in the body. The body vibrates, our muscles relax, our blood pressure goes down, and our heart rate calms down due to the sound bath healer. You can experience the effects of sound baths without going to a sound therapist. There are many videos of sound baths and healing tones. They are not as impressive as live music, but they still have some effect.
FAQ
How Is The Practice In The Sound Bathtub?
In fact, there are many variations, but it is most often done with a preceptor. For an hour, he immerses you in a meditative state with sounds and mantras. The sounds of the bowls may cause confusing, ambivalent feelings at first. But in the end, you will still relax and even be able to take a good nap.
What Tools Can I Use To Relax?
In addition to gongs and bowls, you can use percussion instruments, a tuning fork, and even a specific human voice timbre. Nothing in the healing sound vibes would be akin to rock music or rap. But they are a carefully calibrated combination of sounds at a resonant frequency and the overtones of a master or mentor's voice.
Can I Treat Serious Diseases With A Sound Bath?
No, there is no conclusive scientific evidence yet of the healing power of sound baths in the fight against cancer and other serious diseases – there is indeed almost no research on the practice.
Besides, the fact that sounds can benefit the human psyche has long been known to scientists.
Can I Do Sound Meditation Every Day?
Yes, it has a very positive effect on the brain. Also, it can induce a feeling of blissful awe, reduce pain, and protect the brain from aging. Meditation helps relieve anxiety, depression, insomnia, and fatigue.