Published on October 24th, 2023
Last updated on October 24th, 2023
How To Remove Peach Fuzz Safely
Estimated reading time:
15
minutes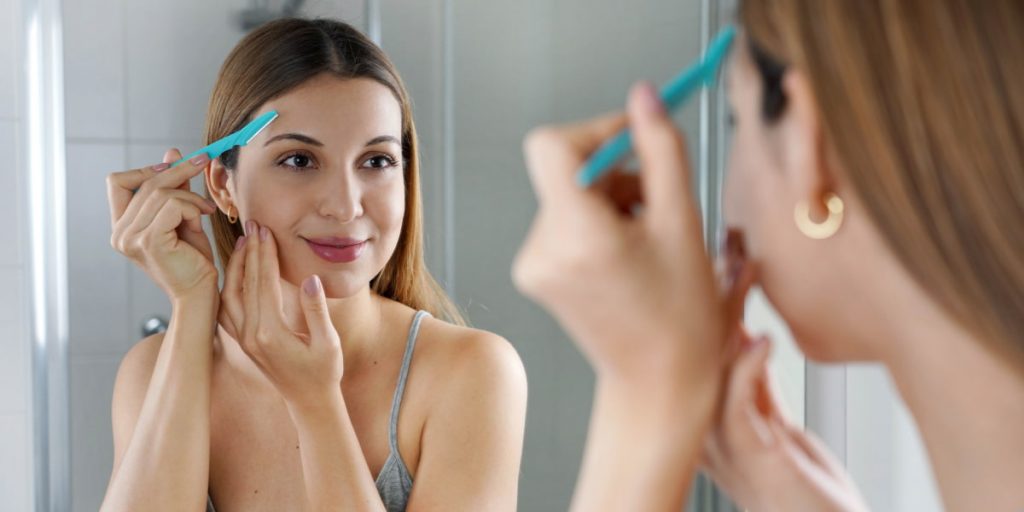 Are you tired of pesky peach fuzz on your face and simply want smoother skin? Removing peach fuzz can be a game-changer for your beauty routine. But it's essential to do it safely. And there are many methods for this:
Dermaplaning;
Sugaring;
Face depilatories;
Dry shaving.
Abundant peach fuzz on the face in women causes severe complexes. A large amount of peach fuzz can be a serious psychological problem. If you do not get rid of them in time and correctly, then there is a threat of growing self-doubt. So, doing face hair removal safely is vital to achieving a smooth and glowing complexion.
There are two modern methods of removing unwanted facial hair. These are those that have short-term effect and those that with a long-term one:
Short-term methods include tweezers, razors, depilatory cream, sugaring, and waxing. The duration of their action varies between 3-21 days. Then you should repeat this procedure.
Long-term methods include laser epilation, electro-epilation, and various dermatological procedures. As a result of exposure to high temperatures of such tools, the energy of the follicular epithelium cells is damaged. It leads to the death of the hair bulb. Thus, after completing this course, you will get smooth skin.
But these are far from all methods of face hair removal for women. In this article, we will explore the various techniques of peach fuzz removal. It ranges from dermaplaning to threading. Besides, we offer tips and tricks to avoid irritation and potential harm to your skin. So grab a cup of tea and prepare for a comprehensive guide to achieving peach-fuzz-free skin.
What Is Peach Fuzz?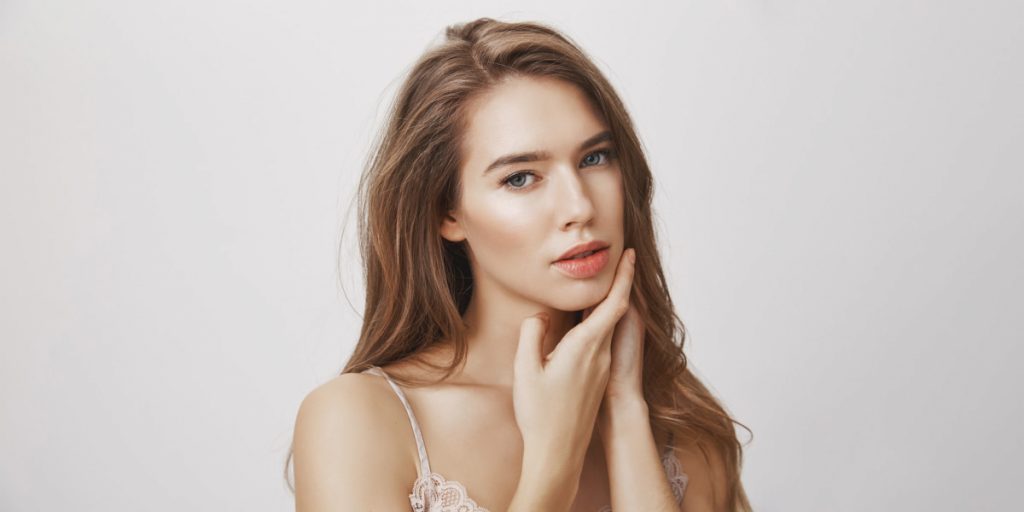 Peach fuzz is a type of human facial hair. It is shorter, softer in texture, and has a lighter color than other body hair. Inconspicuous fuzz hair covers a significant part of the human body. It appears almost immediately after birth and remains for life. Also, such hair is usually light, thin, and short. And this length and thickness are individual for each person.
The presence of such a hair cover allows you to protect the skin reliably. It normalizes the work of the sebaceous glands and effectively preserves heat. On average, the length of each peach fuzz hair is no more than 2 mm. Follicles are not associated with sweat glands. So, they very rarely cause inflammatory formations.
Peach hair is usually invisible to others. But the intensity of their growth is unique for everyone. Thus, the number of hairs can vary. It depends on a person's sex, age, and hormonal fluctuations. The amount of fuzzed hair can become more noticeable or less noticeable at any period. But when it becomes more on the face, people immediately ask how to get rid of peach fuzz on the face. After all, it causes considerable discomfort when applying makeup. And it can also spoil the general appearance of the skin of the face. But thanks to modern technologies, it has become easier to avoid this problem. Now there are many ways of face hair removal, after which you will forget about the extra hair on your face.
Is face hair removal safe?
Yes. Face hair removal can be safe as long as you do it correctly or by a trained professional. Sugaring, laser epilation, or a razor actively fight against peach fuzz on the face. But such procedures have both benefits and side effects. Side effects can appear if you approach the procedure carelessly. Or it can be if one method of removing peach hair does not suit you. So, each technique has its own set of risks and benefits. It is crucial to consult with a dermatologist to determine the best method of facial hair removal for you.
Best Tools to Remove Face Hair
Sugaring, electroepilation or tweezers? These are far from all the options for face hair removal for women. Modern cosmetology tools for facial care will not leave you without smooth skin. These can range from simple and affordable methods like shaving or waxing to advanced and expensive options like laser hair removal. Because the selection of tools is large, it becomes challenging to decide on them.
The condition of the skin affects a person's confidence. It is not only an obstacle for smooth skin but also for applying makeup. Besides, a person can feel uncomfortable due to the presence of facial hair. Thus, you can cut it for a long time by choosing the proper method for removing peach fuzz on the face. The main thing is to approach this procedure correctly if you do it yourself. And if you entrust this matter to a specialist, they should be good at it. It is the only way to achieve the desired and safe removal of peach fuzz. So, in this article, we will explore some of the most popular methods and tools for facial hair removal. Whether you're looking for a quick and easy solution or a more permanent option, we will help you.
Dermaplaning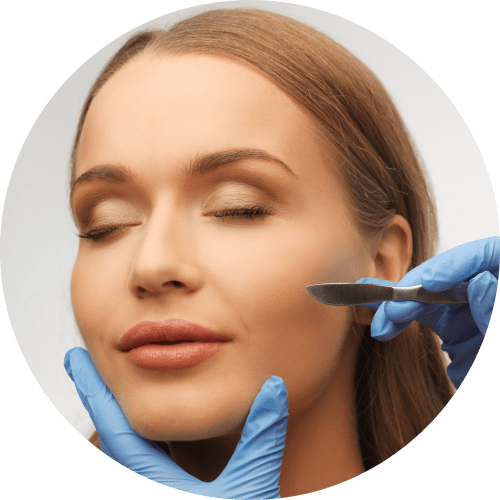 Want to remove fuzzy hair and dead skin at the same time? This option is just for you. Dermaplaning is a procedure of scraping the superficial stratum corneum of the skin and peach fuzz. According to cosmetologists, dermaplaning helps effectively remove unwanted peach fuzz on the face:
Before starting the procedure, you need to clean the skin of the face of makeup and dirt.
Then the dermatologist passes the dermatome over the entire surface of the face. It removes the cornified layer of the skin along with excess melanin, all fat, and other impurities. It allows the skin of the face to look fresh, radiant, and smoother.
Dermaplaning is not a painful procedure. But it can cause slight tingling and skin irritation.
So, after the procedure, the specialist applies a soothing cream or mask to the skin. It helps reduce inflammation and soften the skin.
Dermaplaning does not obliterate fuzzy hair with the bulb. Thus, after a certain period, hair can grow back. So, cosmetologists recommend dermaplaning once every 4-6 weeks. It supports the health of the facial skin and its youth. You can do this procedure in beauty salons or dermatology hospitals. The main thing is that professionals perform it. Then, you will know how to get rid of peach fuzz on your face with this method correctly.
| | |
| --- | --- |
| Pros | Cons |
| It stimulates the growth of new skin cells | It can cause skin damage |
| It improves skin texture and tone | It has the possibility of increasing the sensitivity of the skin |
| It makes the skin look more radiant and smooth | |
| The procedure is non-invasive and does not require time for recovery | |
Shaving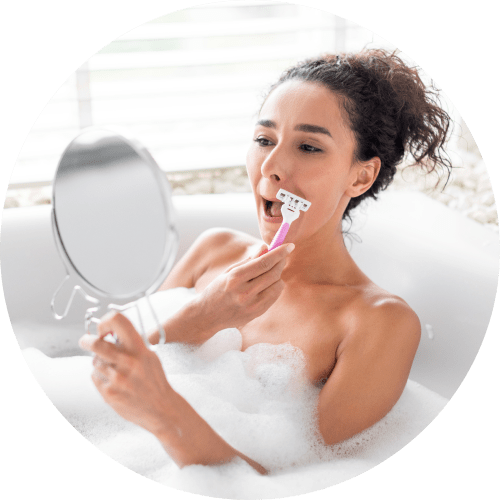 A classic home method that knows how to get rid of peach fuzz on the face with the help of a manual razor. To simplify and improve the quality of the procedure, use exceptional foams. After shaving, use skin care products that relieve skin irritation and redness. Of course, this procedure takes a lot of time. But for the skin to be perfectly smooth, you should constantly repeat the procedure. It is the only way you can feel calm without fuzzy hair on your face:
Cleanse your face thoroughly with a gentle cleanser and warm water.
Apply a shaving cream or gel to the areas where you want to remove peach fuzz. It will help the razor glide smoothly over your skin and cut irritation.
Use a clean and sharp razor. It's best to use a single-blade or facial razor specifically for face hair removal for women.
Hold the razor at a 45-degree angle and gently glide it over your skin toward hair growth.
Do not press too hard or shave the same area repeatedly. It can cause irritation and razor burns.
Rinse your face with cool water to remove shaving cream or gel residue.
Apply a soothing moisturizer or aloe vera gel to help calm any irritation or redness.
If you have problematic and sensitive skin, do not start this procedure yourself. It is better to consult with a specialist to be sure of the chosen method for face hair removal.
| | |
| --- | --- |
| Pros | Cons |
| This procedure is speedy and does not take much time | It has a high risk of skin trauma and infection |
| It is a cost-effective hair removal method compared to other options | It has an undesirable and frequent side effect – ingrown hairs. |
| It is painless | |
| It can provide some exfoliation benefits by removing dead skin cells | |
Laser epilation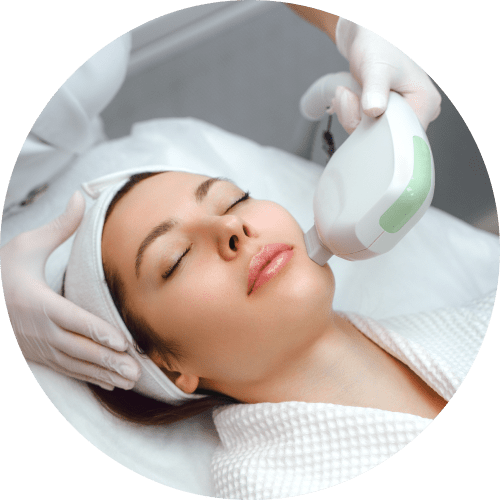 Any woman at least once dreamed of removing body hair forever. And peach fuzz on the face is the first thing they want to remove. However, it is the smallest but most noticeable, especially in the light. But you can end this problem for a long time thanks to laser epilation.
Laser hair removal targets the hair follicles with pulses of laser energy. The melanin in the hair absorbs the energy. It then heats the hair follicle and destroys it. It prevents the hair from growing back or significantly reduces the regrowth of hair. Several types of laser epilation exist for removing facial hair. And the best option for you will depend on your needs and skin type. Some of its common types include:
Alexandrite Laser: It is for lighter skin tones and can effectively target hair follicles while minimizing damage to the surrounding skin.
Diode Laser: This type of laser is for various skin tones and targets coarse and fine hair.
Nd: YAG Laser: This laser is often used on darker skin tones. It can effectively target hair follicles while minimizing the risk of skin damage.
IPL (Intense Pulsed Light): It uses broad-spectrum light to target hair follicles. It can be an effective option for some skin types and hair colors.
Laser epilation is the most effective method for face hair removal. After completing a course of procedures, you can be sure that after a month or two, you will not have to remove your hair again. Usually, experts recommend a course of 6 to 8 procedures. After that, the peach fuzz will not bother you anymore. But speaking with a professional is essential to determine which option is best for you. Only an experienced specialist can choose the right type of laser hair removal for you. It helps to improve the effectiveness of the procedure and avoid side effects.
| | |
| --- | --- |
| Pros | Cons |
| It provides long-lasting hair reduction | It is expensive |
| It can treat many hair follicles at once | It can cause some discomfort for sensitive skin |
| It does hair removal without damaging the surrounding skin | |
| It does not cause ingrown hairs | |
Electric epilation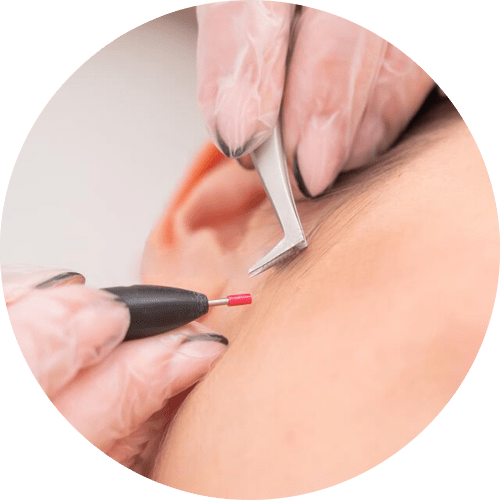 Have you tried all the methods to remove extra hair, but nothing worked? This procedure will definitely help you. Although electric epilation can be a painful and expensive procedure, it can effectively remove unwanted peach fuzz on the face. Its results can be long-term. After all, the removal of hair follicles makes them unable to grow.
Specialists perform the electric epilation with the help of a thin needle. They insert it into the root of the hair. Then an electric current passes through this needle. It destroys the hair follicle, making it unable to grow. You can do this procedure on any body part with unwanted hair. And the face is no exception. That's where the most fluffy unwanted hair is. And electric epilation copes with this perfectly and efficiently. It acts as an ideal face hair removal for women.
Usually, the procedure is performed on small areas of the skin in one session. But it is important to note that electric epilation can be a long and painful process. Since professionals remove each hair separately, however, after this procedure, you can get rid of fluffy hair forever. Then you won't have discomfort with not smooth facial skin. On the contrary, you will have a radiant and soft face.
| | |
| --- | --- |
| Pros | Cons |
| It is suitable for all skin types | It can be painful |
| It can lead to permanent hair removal | It is expensive |
| Even if the hair is not completely removed after the first treatment, the regrowth will be slower. | |
Facial depilatories
Facial depilatories are products designed to remove hair from the face. It especially refers to the upper lip, chin, and cheeks. These products are with a combination of active ingredients. Among them are calcium thioglycolate and potassium hydroxide. Together they work to dissolve the fuzzy hair. So, there are several types of facial depilatories to remove peach fuzz from the face:
Cream depilatories: this is the most popular option. Its use involves applying the cream to problem areas. You need to apply the cream to the area with fuzzy hair growth. Then, wait 10-15 minutes and wipe it with a damp cloth.
Wax strips: apply them to fuzzy hair and remove them sharply. It will pull the excess hair off your face in no time. Epilating devices are typically more painful than other hair removal methods. But the results can last for several weeks.
These options are far from all facial depilatories. Among them are different other kinds. And to learn more about them, we've prepared a special list for you. So, keep the best tools for face hair removal: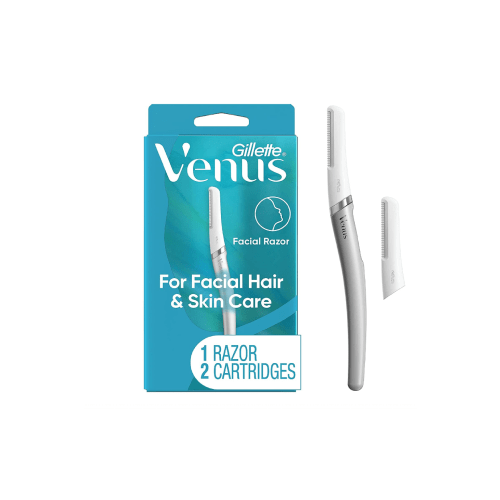 It is ideal for those who want to care for their skin at home. This tool allows you to easily remove dirt, dead cells, and hair from the top layer of the skin. It can stimulate cell regeneration. This helps reduce the appearance of wrinkles and makes the skin more elastic.
And even if you run out of razor blades, it's not a problem at all. Simply remove the used blade and easily install the next one. And you can then use the fantastic face hair removal tool for women. It is designed specifically for women, who usually have more sensitive skin than men. The blades on this tool are generally smaller to allow for more precise dermaplaning.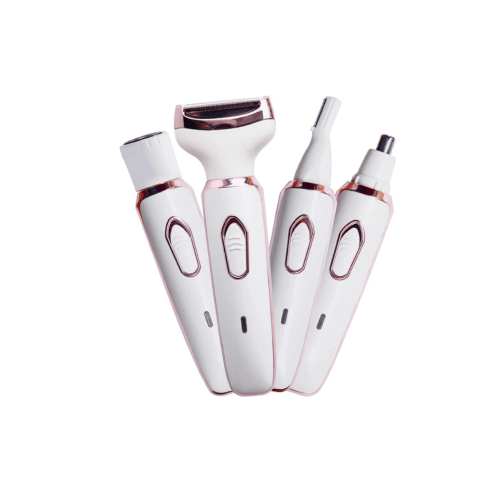 It is ideal for those looking for a convenient and effective way to care for their skin. This women's electric shaver is safe to use in foam or dry. Thus, in any case, you can avoid peach fuzz on the face. This tool is also perfect for those who want to remove facial hair painlessly. With this, you can get rid of fuzz in the nose, eyebrows, beard, and so on. You will be able to feel the difference from the first use and enjoy the smoothness of your skin throughout.
In addition, a big plus of this is access to power. You can charge it from a computer, laptop, and power outlet. A little time and your face hair removal for women tool is ready to use.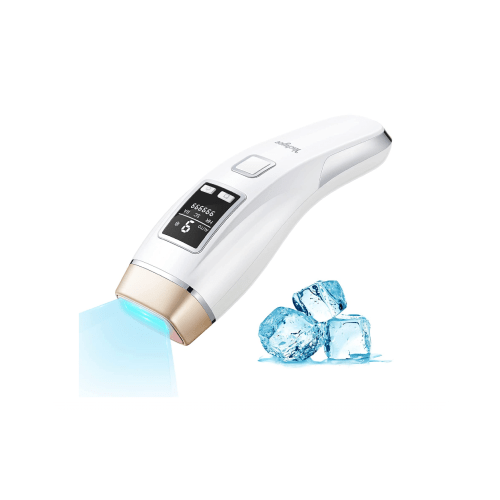 Yachyee IPL is an innovative hair removal tool. It lets you quickly and painlessly end excessive hair on any body part. This tool has an ice-cooling function, which ensures comfort and safety during the procedure. This feature also reduces the risk of skin irritation and dull skin.
Generally, it allows you to remove hair on the face, legs, arms, bikini, and other sensitive areas. Besides, it can be for both women and men. Two modes of the device know how to get rid of peach fuzz on the face. It will help to overcome the prevalent problem of facial hair in both women and men.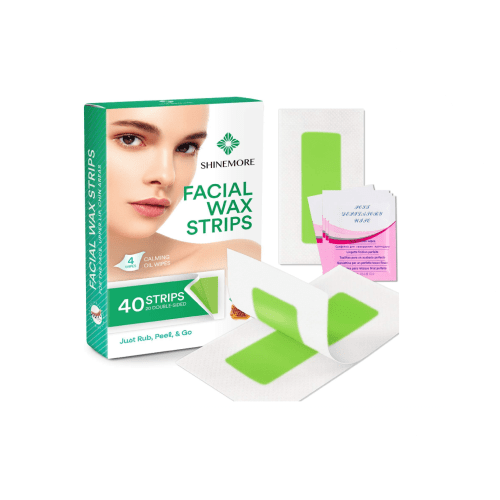 Don't want to visit the salon? Do you want to quickly and independently remove excess facial hair? Offer your face tenderness and charm with such wax strips. They are made of high-quality materials. They fit nicely on the face and effectively remove hair. Besides, they do not contain harmful substances and don't irritate the skin. It makes removing peach fuzz on the face easy and comfortable.
The package of wax strips contains 40 strips for removing facial hair. Thus, this will be enough to keep your facial skin smooth for a long time. With such depilatory strips, your face will look delicate and attractive, emphasizing femininity and elegance.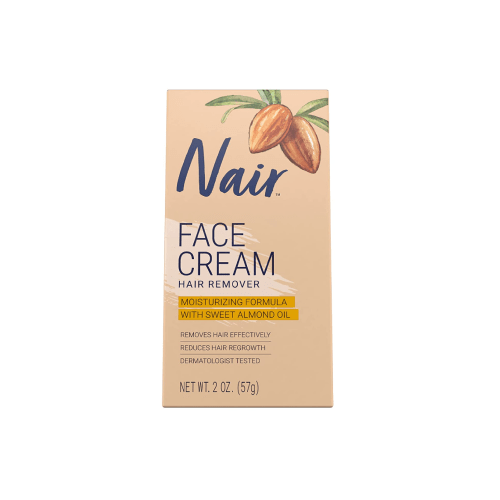 Feel confident and beautiful with our facial hair removal cream. This cream helps you get rid of unwanted facial hair quickly and painlessly. It has a gentle formula, so it's perfect for sensitive skin. Besides, the cream is easy to apply and convenient to use. Thus, it allows you to remove hair from any area of ​​the face effectively. Just a few minutes of using this tool, and you can forget about peach fuzz on the face.
This cream does not contain toxic substances. So, this cream is an entirely safe option. It provides long-lasting results and does not require constant use. It makes it ideal for people looking for a quick and effective way to remove peach fuzz on the face.
Bottom Line
Even the slightest flaw, such as peach fuzz on the face, can become a significant problem for women. And to gain self-confidence and remove extra hair, there are many tools and procedures for this. You can perform them both at home and in the salon. But before removing peach fuzz, it is better to consult a specialist. They can precisely recommend types of tools for removing hair on your hair and skin type. In this way, you will get smooth facial skin without extra hair.
FAQs:
Will shaving my facial hair cause it to grow back thicker?
No. Shaving does not affect changing the thickness of new hair growth.
Is peach fuzz actually hair?
Yes. It is a specific hair that protects your layer of skin. But it is much shorter than normal hair.
Does peach fuzz stop growing?
It is individual. Peach fuzz only grows to a certain length and stops growing. But with a hormonal failure, it can have a more pronounced growth.
Does peach fuzz mean hair growth?
If you notice peach fuzz on the scalp, your hair is growing. But peach fuzz elsewhere does not indicate hair growth.
Is plucking peach fuzz bad?
It can be bad if you do it wrong. In all other cases, this standard procedure does not harm your health.