Published on October 4th, 2023
Last updated on October 4th, 2023
Best Bridal Hair Accessories in 2023
Estimated reading time:
8
minutes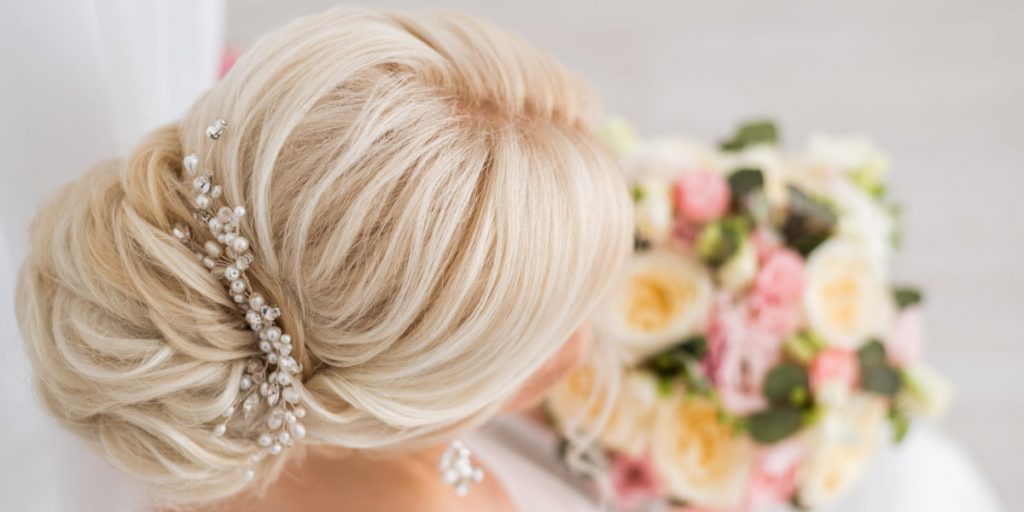 The right hair item may complete a bride's appearance when it comes to wedding fashion. The beginning of 2023 ushers in a fresh selection of bridal hair accessories. There are endless alternatives, from the traditional and timeless to the bold and contemporary. Every one of them may accommodate the unique style and topic of the bride's wedding.
Pearl wedding hair accessories are highly hot right now. They provide a touch of classic sophistication to the bride's hair. For outdoor and garden weddings, floral hair accessories are ideal. They also give the bride's hair a romantic and natural appearance at the same time. Use ornaments like wreaths and vines as a result. Brides look stunning in extravagant headpieces like opulent tiaras and intricate bridal headbands. On their important day, they want to make a strong impression.
An approach to giving the bride's hair texture is using mixed metal ornaments. Wedding hats, capes, and short bridal veils with colored or patterned patterns are also fashionable. They choose non-conventional veil choices. Brides with any hair length can enjoy the adaptability of a hair accessory. The extensive selection enables you to finish your bridal outfit.
We'll talk about accessory alternatives and how to pick the best one for you in this post. Then let's get going!
How to Choose the Best Hair Accessories?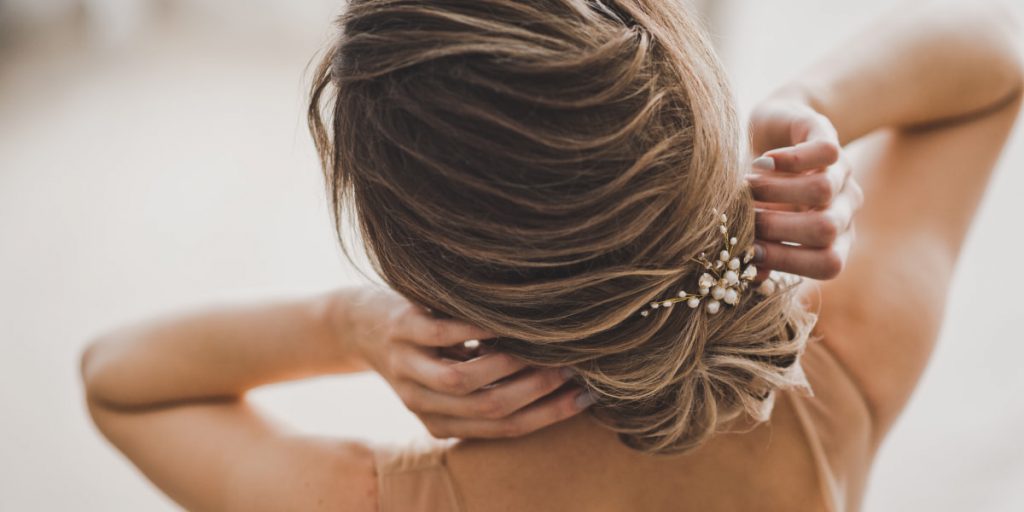 The bride's image at her wedding is one of the most important aspects of the entire event. All eyes are on the bride, and it must look and feels her best on her special day. The image of the bride includes everything – the dress, hair, makeup, and accessories.
Hair and makeup are also crucial elements of the bridal image. The right hairstyle can complement the dress and give it elegance. Makeup should emphasize the bride's natural beauty and create a flawless complexion.
Accessories, including a veil, jewelry, and shoes, can also add to the bridal image. For example, a beautiful hair accessory can be the perfect finishing touch to the look.
When choosing the right hair accessory, it is important to consider hair length and style. This way you can complete your wedding look. Here are some suggestions for choosing bridal hair accessories based on hair length:
For short hair, hairpins, bridal hair comb, and small tiaras can use to add a touch of elegance and sparkle. These accessories can use to accentuate the hairstyle and add a touch of glamour.
Medium-length hair offers more styling options, including tiaras, headbands, and veils. These wedding hair accessories can use to create a classic, romantic, or modern look.
Long hair provides the most versatility. Vines, wreaths, and headpieces are popular options. These accessories can use to create a bohemian, vintage, or glamorous look.
When choosing an accessory consider the bride's image and wedding theme. A pearl hair accessory can add timeless elegance. At the same time, a floral accessory will emphasize natural beauty. You should also consider the weight and convenience of the accessory. Especially if it will wear for a long time.
The right hair accessory should look beautiful. But it is also important not to forget that it should be practical and comfortable to wear. Take into account the length and style of your hair, the bride's image, and personal taste. So you will be able to choose the perfect hair accessory. It is he who will be the finishing touch in the wedding image of the bride.
Here are Unique Wedding Hair Accessories to Shop Now
On her wedding day, every lady wants to look her absolute best. The ideal hair accessory is one method to do this. The veil and tiara are timeless bridal hair accessories that will never go out of style. But there are many distinctive wedding hairpieces available. They are the ones that can give a bride's complete appearance charm and flair. There are several variations to suit every preference and personality of the bride.
Let's take a look at some of the unique wedding hair accessories that are currently available to buy. Whether you are looking for something bohemian, vintage style, or modern and chic. There is something for every bride on this list. So, let's dive in and discover some unique and beautiful wedding hair accessories. These are the wedding hair accessories that will be perfect for your special day.
Headband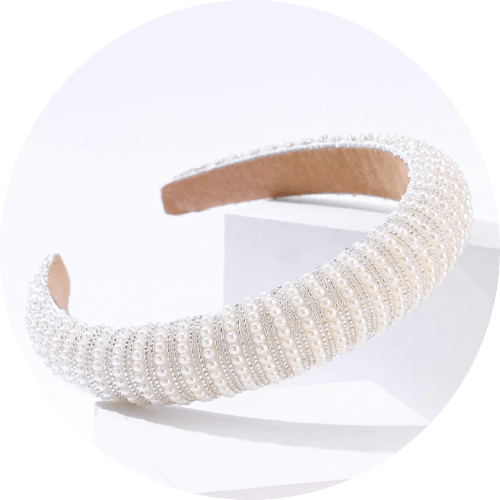 Pearl bridal headband for women has been a popular fashion accessory for many years. They have now become a staple for brides who want to look classic and elegant. The white headband is especially popular at weddings. It complements the bride's white dress and adds sophistication to the whole image.
To wear a pearl headband, first style your hair to complement it. Then, put the bridal headband over your head and adjust it until it's secure and comfortable. Wear it across your forehead for a classic look or further back on your head for a modern look.
Comb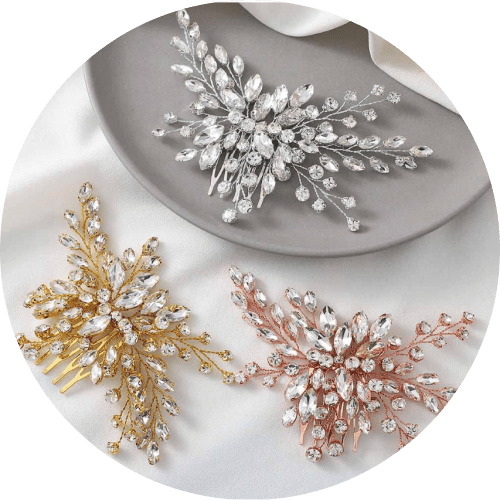 The bridal hair comb is a beautiful accessory that adds an elegant touch to any bridal hairstyle. This silver crystal hair comb is perfect for brides who want to add some sparkle to their wedding day look. The comb decorates with an exquisite pattern of intricate crystal flowers and leaves. They sparkle in the light, creating a beautiful and timeless piece of jewelry.
To use a hair comb for your wedding hairstyle, first style your hair as desired. Then gently insert the comb into your hair, positioning it based on your hairstyle. Use additional bobby pins if needed to secure them in place. The hair comb can also hold a veil or other bridal hair accessories.
Pins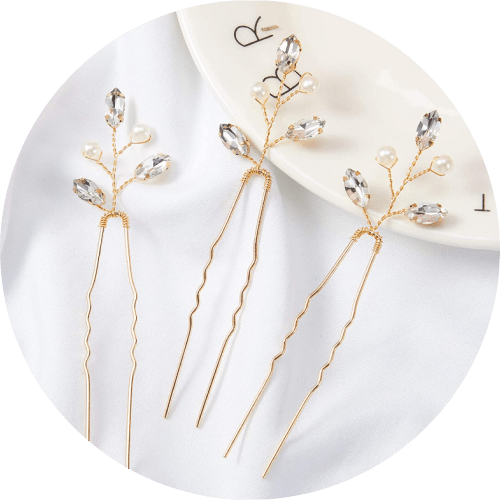 The bridal hair pins are stunning hair accessories that can add a touch of elegance to any hairstyle. These hair clips have a beautiful and intricate design of sparkling rhinestones. They resemble beautiful flower buds.
To use hair pins, style your hair as desired and gently insert the pin where you want it to sit. Make sure it's securely fastened but not too tight. Adjust as needed for comfort. You can add many bridal hair pins for a more dramatic look or use them to secure a veil or other hair accessories.
Short Veil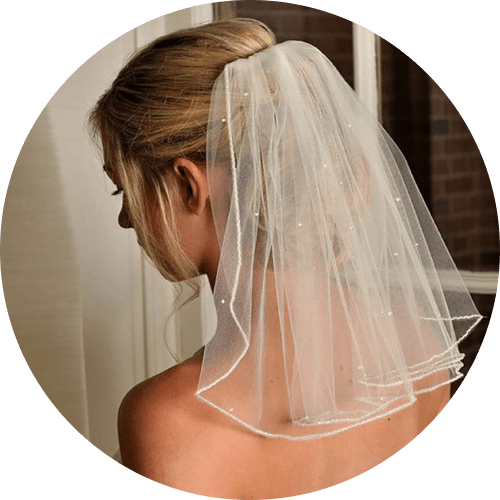 The short bridal veil is a stunning accessory that can add a touch of sophistication and glamour to any bridal outfit. This short-tiered veil makes of soft mesh material. It's embellished with beautiful crystal embellishments that sparkle in the light. The veil also comes with a comb to help secure it in place.
To wear a veil, first, style your hair as desired and place a comb where you want the veil to sit. Carefully put the veil on your head, making sure it's centered, and the comb is secure. Adjust as needed for comfort. You can wear the veil alone or combine it with other hair accessories, like hairpins or a tiara. It's versatile and can pair with a variety of bridal hairstyles.
Hair Bow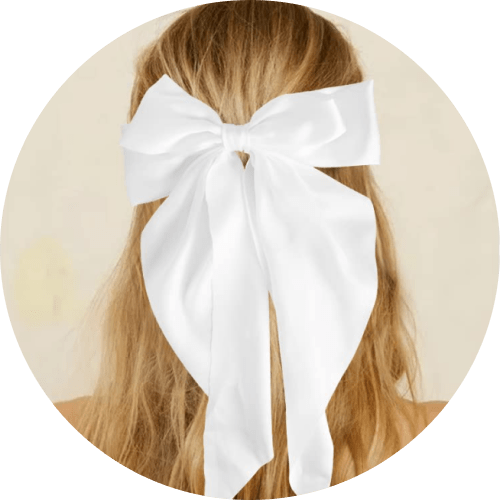 The bow is a stylish and versatile accessory that can add a touch of elegance and femininity to any outfit. This bridal hair bow makes of high-quality satin material and comes in various colors and sizes.
To wear a hair bow, style your hair as desired and position the bow where you want it to place. You can position it at the back, side, or top of your head. Secure it in place with bobby pins or hair clips, placing them underneath the bow to keep them hidden.
Bridal Crown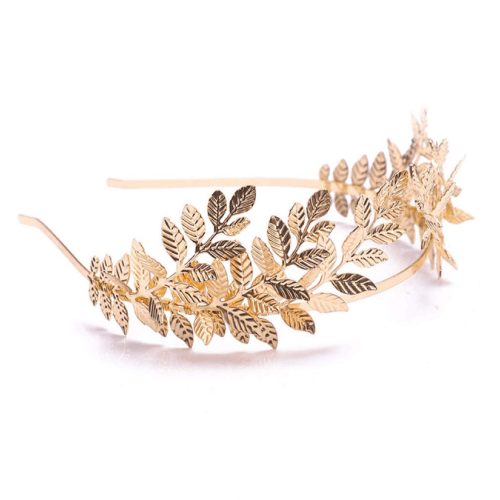 The bridal crown is a gorgeous accessory that can add a touch of elegance and royalty to any bridal outfit. This tiara adorns with a beautiful gold leaf pattern and encrusted with sparkling rhinestones and crystals. This makes it the perfect accessory to complete any bridal look.
When wearing a bridal crown, style your hair and position the tiara on your head in the location you want it to sit. The tiara should wear like a headband, with the ends resting behind your ears. Make sure it fits comfortably and securely in your hair.
Bottom Line
In the end, the bride's appearance at the wedding is important. A lovely hair item might be the ideal way to complete the outfit. You may select the greatest bridal hair accessories by carefully taking your hair's length and style, wedding theme, and personal preferences into account.
FAQs
What are the different types of bridal hair accessories?
There are many different types of bridal hair accessories available. Here are some of the most popular ones:

Veils;
Hair combs;
Tiaras;
Hairpins and hair clips;
Headbands;
Fascinators;
Hair vines;
Hair wreaths.
What types of hair accessories are appropriate for weddings?
Many types of hair accessories are appropriate for weddings. The specific type of appropriate accessory depends on the formality of the wedding. It is also important to consider the individual style of the bride and the theme of the wedding. The best hair accessory for a wedding is one that makes the bride feel beautiful and comfortable.
Which bridal accessories are trendy now?
Wedding fashion trends are constantly evolving. But some of the current bridal accessory trends include:

Hair accessories with pearls;
Floral hair accessories;
Statement headpieces;
Mixed metal accessories;
Non-traditional veils.
Which hair length is better for bridal hair accessories?
Bridal hair accessories can wear with any hair length. From short pixie haircuts to long cascading curls. But, the length and style of the hair may influence the type of accessory that is most suitable. Here are some general guidelines:


1. For short hair, accessories such as hairpins or hair combs can use to add a touch of elegance and sparkle to the hair.
2. Medium-length hair offers more styling options. Many people choose to have their hair parted or choose to have it gathered. Also, hairstyles use small accessories in the form of hairpins or tiaras.
3. Long hair offers the most versatility when it comes to hair accessories. Brides can wear almost any accessories. Including hair vines, wreaths, tiaras, veils, and headbands.